George Taylor Jester, businessman, banker, and lieutenant governor of Texas, was born in Macoupin County, Illinois, on August 23, 1847, to Levi and Diadema Jester. Levi died in 1858, leaving Diadema with six children and 3,000 acres of land in Illinois. That same year she moved her family in a covered wagon to Texas. Her father, Hampton McKinney, had moved there in 1847 and had constructed the first home, a log cabin, on the site where the Navarro County Courthousenow stands in Corsicana. To support the family, George Jester and his brother Charles worked for fifty cents a day on the construction of the Navarro County Courthouse, the first brick building in Corsicana. Jester attended a day school occasionally and read law, but abandoned these studies in 1865, when he joined the
Fourth Texas Regiment of John Bell Hood's brigade to fight for the Confederacy. He left for Richmond, Virginia, but heard of Gen. Robert E. Lee's surrender before the end of the trip. In 1866 Jester had enough money to purchase a wagon and a horse and began trading and buying hides. In 1867 he became a clerk in a dry-goods store in Corsicana, where he earned twenty dollars a month. The United States Census of 1870 reported his property as $2,000 in real estate and $100 in personal estate. That year he retired from clerking; his salary had risen to $125 a month.
From 1870 to 1881, Jester worked as a merchandiser, buying cotton from farmers and shipping it directly to spinners in the eastern United States. This process avoided the expensive middlemen, and the practice caught on. Jester also owned land and raised dairy cattle. He used some of his land to experiment with cottonseed. The United States Census of 1880 listed Jester as a horse and warehouse merchandiser. He quit merchandising in 1881 and embarked on a banking career with his two brothers. The bank became the Corsicana National Bank in 1887, when it had $125,000 in capital. Jester was its president. In 1890 he was nominated by acclamation by the Democratic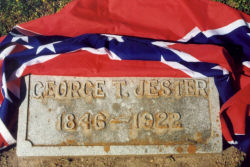 Convention of the Sixtieth District, and he was elected in November of the same year to the Texas House of Representatives of the Twenty second Legislature. In the House, Jester served on the State Affairs; Revenue and Taxation; Roads, Bridges, and Ferries; Insurance, Statistics and History; and Stock and Stockraising committees. He also helped frame and pass a Railroad Commission bill. In 1892 he was elected to the Texas Senate, where he served as chairman of the Finance Committee. In 1894 he was elected lieutenant governor of Texas; he served under Governor Charles A. Culberson until 1898. Upon leaving office Jester returned to his banking career in Corsicana.
Jester and his family were members of the Methodist Episcopal Church, South. In 1886 and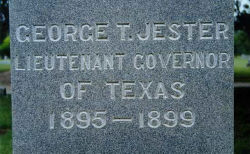 1890 he was sent as a lay delegate to sessions of the general conference. He was director and treasurer of the Navarro Bible Society and a member of the Corsicana Relief Association, the Navarro County Fair Association, and the Corsicana Board of Trade, as well as a stockholder in the Corsicana State Railway Company and the Corsicana Manufacturing Company. Jester was also one of five citizens to subscribe $5,000 to the campaign to build the Corsicana YMCA and one of the founders of Southern Methodist University. In 1871 he married Alice Bates of Mississippi. They had three sons, one of whom, Beauford H. Jester, served as governor of Texas from 1947 to 1951. George died on July 19, 1922, at his home in Corsicana and was buried in that city.
[ Oakwood Cemetery ]
The New Handbook of Texas; Texas State Historical Association - Austin; 1996
---
Home of George Taylor Jester Family. Governor Beauford Halbert Jester was born Jan 12, 1893 in this house. It was located on the corner of West Seventh Ave. and South Fifteenth Street in Corsicana. The house burned in the 1950's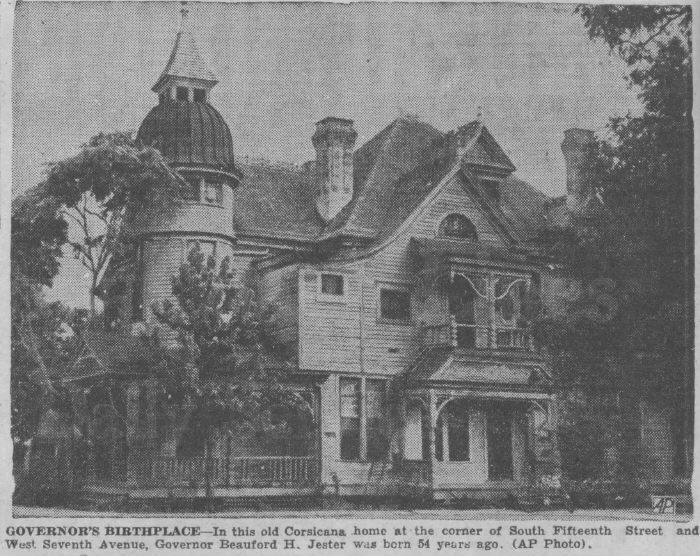 News paper clipping submitted by Barbara Shore
---
Notes: