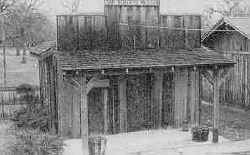 The Sam Roberts Museum and the Carriage House were added to the Village during the 1980's. Both buildings were built by Charles Walpole of Corsicana.
Sam Roberts Museum was built to house a collection given in memory of the late historian, Sam Roberts, by his wife, Nancy and their two sons, Sam, Jr. and John. The focus of the museum is a Civil War Saber. There is a collection of belt buckles, some originals, other replicas, Civil War books, side arms, bayonets, railroad and farm implements and many more interesting artifacts that Sam collected. Historians responsible for cleaning, identifying, cataloging and appraising were: Margie Williams, Peggy Drain, Wayne and Sherri Darnby, Pat McGuyer, Dana Stubbs, Mike Dillard, Virginia Scholle, Ines Waggoner, Liz Gillispie and Wyvonne Putman.
Dedication Program

Sunday, April 10, 1988 - 2 P.M.

Master of Ceremonies ... Hubert Farmer, President, N.C.H.S.

Invocation ... Rev. B. F. Risinger, First Baptist Church

"Remembering Sam" ... By Margie Williams, Assistant Curator, Pioneer Village

Dedication of Building ... Gary Brown, Senior Trust Officer, First Republic Bank

Dedication of Plaque ... Nelson Ross, Past President, N.C.H.S., Honoring Katherine Church Carmody, Corsicana Benefactor

Acceptance of Building ... Wyvonne Putman, Executive Secretary, N.C.H.S., Curator, Pioneer Village

Ribbon Cutting by Mrs. Sam (Nancy) Roberts, assisted by mr. and Mrs. Herman Roberts and mr. and Mrs. Sam Roberts, jr. and their two daughters, Jessica and Bessie.
"Remembering Sam"
Today's a special day for us
As we open the Sam Roberts Museum
Our thanks again to Nancy
For this way of remembering him.
Sam collected so very many things.
Some we couldn't even name.
Some were from the common man,
Some were for men of fame.
Remembering Sam today, let's think
Of the heroes that peopled his mind
While he was busy collecting and saving
What his heroes left behind.
Some people pass through our world
And leave no memories that will last,
But Sam looked into the future
And saved some treasurers from our past.
By Marjorie Williams