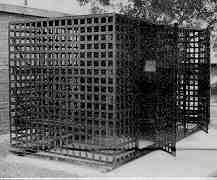 One special arm for law enforcement in the oil field, was the roving jail-a-cage-affair placed on the back of a small truck and was known as "Harmon's Hoodlum Wagon" since Deputy Sheriff Harmon Chandler of Eurekawas the operator. Tucker Town was an Oil Boom close to Eureka and Mildred. So much criticism was directed at this roving jail coming through Corsicana with these rowdy men behind bars, that curtains were installed for the town folk.
By August 1923, there were 350 derricks in the Tuckertown oil field, on November 23, 1923, the peak of 354,893 barrels was recorded. During 1924, there were 40 million barrels of oil produced here.
Paul Moore editor of the Daily Sun.
Donated by Eric Meyers and Sam Roberts.
See Also: