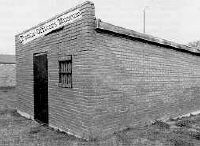 Pictures and artifacts highlight the careers of law enforcement legends: Lone Wolf Gonzaullas, Jess Sweeten, Ted Hinton, Ben Krueger, and outlaws Bonnie Parker, Clyde Barrow, Floyd Hamilton, and John Wesley Hardin.
---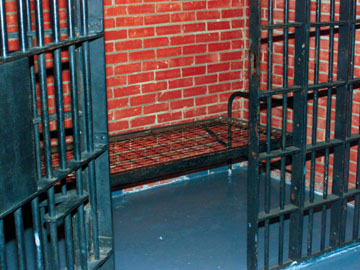 7/8/2002 Pioneer Village's Peace Officer's Museum filled with history
By RUTH THOMPSON/Daily Sun Staff
Built like an old jail, with bricks and a mock vault door, the Peace Officers Museum at Pioneer Village is filled with photographs of law enforcement officers and the Texas Rangers from Navarro County, as well as famous outlaws like Bonnie and Cylde. In fact, kids often refer to this museum as the Bonnie and Cylde museum, because almost half of the wall in the first room is devoted them and outlaw John Wesley Hardin.
Many people in Corsicana have always been fascinated with Bonnie and Cylde. Maybe it's because Bonnie and Clyde visited Corsicana on numerous occasions. Cylde sometimes stopped here to buy Bonnie some flowers on his way to his Uncle Frank's farm. Once they were even chased by a Corsicana police officer down Beaton Street. However, the officer soon questioned the wisdom of this and chose to just notify the authorities, Pioneer Village records indicate.
The museum isn't just filled with pictures and accounts of the past, but various objects that depict the careers of early law enforcement officers. Along the two glass display cabinets rest an assortment of handcuffs, leg cuffs, guns, pictures and paintings of famous Texas Rangers, and a collection of badges from all over the United States, and Canada.
The back room could be an object of the past all by itself. It's a reconstructed jail cell, made out of bars from three different jail cells, including the old Corsicana jail. Inside the jail cell is an old cot and a leg cuff with a ball and chain attached to it. The leg cuff was worn by a prisoner who was held in the old Navarro County jail in the early 1900s. The prisoner was taken from his cell by a mob and burned on a stake on the courthouse lawn.
To the left of the jail cell rests an old police filing cabinet and a set of chairs and a table from the Carrousel Club owned by Jack Ruby.
Pioneer Village has created a Peace Officer's Hall of Fame to show appreciation for law enforcement in Navarro County. On the wall facing the jail cell are pictures of officers in their uniforms who have been named Peace Officer of the Year. Last year, in light of Sept. 11, Pioneer Village decided to honor all the firemen and police officers, instead of one, in Navarro County with a plaque.
All rights to this story reserved. Copyright Corsicana Daily Sun and Community Newspaper Holdings, Inc,. Content may not be archived, retransmitted, saved in a database, or used for any commercial purpose without the express written permission of the Corsicana Daily Sun and CNHI.