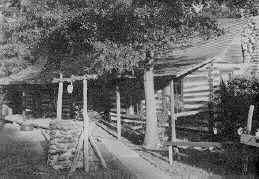 Known as a "Dog Run" type of house (a two-room building with an open passage between, and a fire place and chimney in the outer wall of each room), this Frontier Home was built for Dr. James K. Cooksey in 1854 at Chatfield. It was typical of the most popular style of the 1850s.
Donated to the Navarro County Historical Society by L. A. Bates in 1958, the house was moved to Pioneer Village and reconstructed. Authentic and genuine antique furnishings were supplied from contributors all over the County, including among others, the compass used to outline the boundaries of the County in 1848, and a 100-plus year old rocking baby crib.
First building to be located in the park, the home was rebuilt under the technical supervision of the Rev. Carlos Love, whose markings on each log are still to be seen to this day.