by Wyvonne Putman
Reprinted from the Navarro County Scroll; Volume XIX - 1974
Printed with permission of the Navarro County Historical Society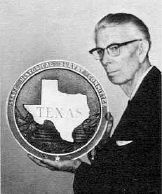 Alva Everett Taylor was born on July 19, 1891, one mile east of Dawson in Navarro County. He was the second child of Mr. and Mrs. James Lewis Taylor. He died on December 8, 1965 of a heart attack in Corsicana at the Palace Theater, while taking pictures. The members of his family are: Mrs. Taylor, wife (still living in their home at 645 West 6th Ave.); Coy Taylor -- a son born February 8, 1916 in Corsicana, Ollin Taylor -- another son born September 8, 1917; Verlene Taylor Ellis -- a daughter born on May 20, 1922.
Mr. Taylor attended a one-room school in Dawson that was a mile from his home and "in the winter you could hardly travel." By the standards of education today we would term Alva Taylor as a self-educated man.
In 1911, Mr. Taylor went to Baylor University in Waco to study art for three years. He met Miss Maud Stockard in 1913 and they were married on December 12, 1914 at the bride's home.
Mr. Taylor farmed land around Dawson until 1921. That year he moved his family to Corsicana. In 1923, there was an oil boom in Corsicana. Men became millionaires or lost every dime they owned overnight. Mr. Taylor teamed up with W. A. Green and drilled for oil. He as later to recall, he lost $14,000 in ninety days. Mr. Taylor bought the Prest-O-Lite Battery Company in 1921, so that when the oil venture failed, he continued to make batteries and later changed the name to the Taylor Electric Company.
He later sold the shop to Rob Battery and Electric, who continued in the same location, in the fall of 1935 and worked for the company until 1936. He then went into business as a lock-smith. Mr. Taylor was a member of the First Baptist Church, Mason Lodge, IOOF and Chamber of Commerce. In 1940, he sold the key business and opened a studio.
Mr. Taylor was always interested in photography. He took pictures and collected paintings of the men from Dawson. In 1921, he printed five hundred copies of "Dawson's Part in the World War." One can see how Mr. Taylor's interest grew as the years went by and how this interest in later years became a livelihood.
As early as 1946, the Taylors would take drives to the towns of Navarro County and visit the people. He would talk to them about the first settlers who came to Navarro County, who they were and how they lived. When they returned home, Alva would record this information. He later compiled this information into a book.
When Corsicana celebrated its centennial, Mr. Taylor was the official photographer. He later said that "I picked up several historical items and clippings and, in 1951, I put together several pages of information on 'Corsicana and Navarro County' which I published in 1952."
Some of the papers and books Alva Taylor published include a History of the First Baptist Church, in 1952; Jose Antonio Navarro's Life in 1953; Short Stories of Navarro County and My Boys Play Ball in 1954; The Big House, The Roaring Eighties of Corsicana and The Lost Towns of Navarro County in 1956; Dawson's 75th Anniversary in 1957; and in 1959, Taylor's History of Navarro County.
By the year 1954, Mr. Taylor had collected a great deal of History. One day he and Mr. Joe Daniel (1880-1968) were having coffee in the Navarro Hotel. From this meeting, the Navarro County Historical Society had its beginning. "In the summer of 1955, Alva Taylor and I met frequently and weighed the possibilities of success for a historical association for Navarro County. At each meeting, Alva's enthusiasm grew. Finally, we sent out notices to all persons interested in our history to meet at the Corsicana Public Library. Eleven persons responded. But from this nucleus, the association was formed. It was Alva's optimism and skillful and dedicated guidance that brought ultimate success to the various activities in which the association has participated.
Alva Taylor gave the inspiration which helped each of us to delve into the historical facts, human anecdotes, manners of life in the decades, past, and the hopes, sorrows and accomplishments of Navarro Countians during its one hundred and fifty year history. Much that has been recorded would have been lost to posterity had it not been for Alva Taylor's leadership. All that is to be recorded in future scrolls can be contributed to the foundation he lay."
The Historical Society was organized on the first Monday in January of 1956 at the Chamber of Commerce building in Corsicana. The organization was as follows: By-laws written by a lawyer, Mr. Matt Dawson, of Corsicana; Joe Daniel, President; Alva Taylor, Vice-President; Lewis Hodge, Second Vice-President; Mrs. Kirke Steele, Third Vice President; Mrs. E. D. McCormick, Secretary; Mrs. Edward Hale, Treasurer. There were one hundred and seventeen charter members. A paper was to be published each year entitled the Scroll. The Society was to meet four times a year on the first Monday in each quarter.
The Pioneer Village, under the leadership of Alva Taylor, had its beginning in 1958. Joe Daniel and Mr. Taylor discussed the idea of a county museum at the Navarro Hotel coffee shop and, from these two men, one can see a plan take shape -- a plan to build a Navarro County Frontier Home in Jester Park in Corsicana.
Rev. Carlos Love (1898 - 1966), an independent minister in Corsicana, was the official log cabin builder. The first log house was a dog-run type of house from Chatfield. IT was the home of Dr. James K. Cooksey, built in 1854 by the slaves of Capt. Robert Hodge. The cedar logs were torn down and hauled to Jester Park and reconstructed by numbering each log. After the Cooksey double cabin was completed, the members of the Society, under Alva Taylor's leadership, outfitted this home with furniture of that era. All of the logs, furniture, artifacts, etc. in the Pioneer Village are from Navarro County and almost all were donated by the people of Navarro County.
In 1959, the second cabin was built known as the Melton Kitchen. The logs were moved from Dresden and were given by the heirs of Ethan Melton, the first post master of Navarro County, built in 1843. The fire place is five feet wide and made of native rock. This kitchen contains all hand-made furniture: a big table, the first cook stove of Navarro County, old pots and iron and tin plates, cowhide covered chairs. Also, Ethan Melton's old rocker and his straight chair. Mr. Love put these logs together and built this cabin.
The third building is a blacksmith shop. These logs were donated by Mr. Wallace Pryor and came from Pursley, Texas. This shop contains an old bellows type forge, anvils, horse collars, all type of plows, blacksmith tools and a buggy. Mr. Carlos Love constructed this shop in 1960.
In 1960, the fourth log building was donated. The logs are cedar and it is a General Store. This store has a post office and all the different types of medicines and clothing of that day. This building is filled with the history of our early southern way of living -- the things they used and would buy at the only store they had. This building was donated by Ordway Ferrell and it came from Dresden. It was built in 1851 by Jacob Hartzell. Mr. Love reconstructed it at the present location in Jester Park.
The fifth building was donated by Mrs. Lillie Thomas, entitled the "old barn". These logs were hauled from near Corsicana and was one time the home of John Pickett of 1865. Mr. Love rebuilt this log barn in 1961 and it contains over 100 pictures of the men who were instrumental in creating and developing Navarro County. Alva Taylor did all the research and making of these pictures. One can see how Corsicana looked in the late 1800's and early 1900's. There is also a very valuable collection of war guns, swords, gun powder and flags. A replica of a Confederate soldier stands in a glass case.
In 1961, the old cedar logs for the slave cabin were donated by Mrs. Oletha Pillans of Winkler (Navarro County). Mr. Love rebuilt this in 1961 and it contains all the bare necessities the slaves had at that time. Included is a bed, a slave boy in chains, and a leather bench used to make shoes. The replica slave boy is life size and very old. This building still has its original fireplace.
The seventh building is the trading post built in 1838 by George Washington Hill. This building has a historical marker beside it of the State of Texas. This trading post tells the story in pictures of the Battle Creek Fight between the white Surveyors and the Indians in 1838. Alva Taylor performed a work of art in restoring the old Indian pictures in this cabin. There are also all types of Indian artifacts and an Indian skeleton found at Lake Navarro Mills. These logs were donated by Mr. Matthews ( a descendant of George Washington Hill) in 1962.
In the beginning years, all the cabins had dirt floors. These cabins were built by Rev. Carlos Love. The dream was Alva Taylor's and this dream was made into reality by Mr. Love.
Since 1971, there have been many improvements in the Pioneer Village. The Navarro County Historical Society has been blessed with the help of the City of Corsicana -- the mayor, Sue Youngblood; the city manager, Dick Ballenger, and the park superintendent, James Phelps, and the Navarro County Action Committee, headed by Jerome Vocek. The City of Corsicana furnished the materials for improvements and the Navarro County Action Committee furnished the free labor.
The office building has been covered with treated boards to look old. This building was donated by the Mackee family. During World War I, it was used to sell war bonds and stamps.
The floors in all the cabins that originally were dirt were covered with concrete in 1972, side walks were added in 1972 also.
The Pioneer Village is under the auspices of the Navarro County Historical Society and the City of Corsicana.
The Navarro County Historical Society has placed a historical marker in Pioneer Village in the memory of Alva Everett Taylor because of the historic village and the years of research he did for Navarro County.
---
Alva Taylor Rites Friday
Funeral services for Alva Taylor, 74, retired photographer, 654 West Sixth avenue, who died of a heart attack Wednesday morning, will be held Friday at 2 p.m. from the chapel of the First Baptist church. Burial will be in the Dawson cemetery.
The rites will be conducted by Rev. Robert J. Potts, pastor of the First Baptist church, of which he was a long-time member and deacon.
Taylor was the author of a history of Navarro county and is generally credited with the establishment of the Pioneer Village at the Jester City Park on West Park avenue. He had been one of the officials and leaders of the Navarro County Historical Society and was a member of a historical panel appointed several years ago by the Navarro county commissioners court.
Native of Dawson, Taylor moved to Corsicana in 1923 and operated a generator and battery business until World War II when he established the Taylor Studio from which he retired last year, although he still made photographs. He was at the Palace Theatre Wednesday morning to make some photos when he was stricken and rushed to Memorial hospital where he was pronounced dead on arrival.
Surviving are his wife, Mrs. Maude Stockard Taylor, Corsicana; two sons, Olin Taylor, Quincy, Mass., and Coy Taylor, Corsicana; a daughter, Mrs. Atlas Ellis, Corsicana; seven grandchildren, two great-grandchildren, a sister, Mrs. Doc Sykes, Dawson; two brothers, Melvin Taylor, Denton, and Lewis Taylor, El Paso, and other relatives.
Pallbearers will be A. S. Fulton, Frank V. Williams, Paul Moore, Hoyte Moore, Marvin Tekell, J. R. Howell, L. B. Dawson, and Roy Bristow.
Notes:
Corsicana Semi Light - Dec 10, 1965
See Also: