1959

Uncle Claib French


Mr. Claib French was born on March 11, 1859, in Marshall County, Alabama, and died on March 5, 1959. He came to Texas with his parents in a covered wagon when he was only a few months old; in fact, he was only six months old when they arrived at Alliance Hall, some six miles north of Dawson. Spring Hill was then the nearest town.
Soon the Civil War started, bringing many hardships for this pioneer family. When Mr. Claib was twenty seven years old, he went to Albany in Shackleford County where he worked for eight months driving a freight wagon to earn enough money to get married.
In 1887 he married Miss Josephine Toten, who died a few years later, leaving three small children. Then Mr. Claib married Miss Johephine's twin sister, Miss Hood Toten. When the later died in 1944, Uncle Claib moved from the farm which he had worked for sixty four years to Dawson where he resided until his death in 1959. Had he lived just six days longer, he would of been one hundred years of age.
Two daughters survive him - Mrs. Lorene Hendrix, DeQueens, Arkansas and Miss Katie French, Dawson, Texas.
John W. Carpenter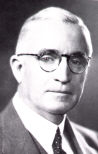 Mr. John Carpenter was born near Corbet in Navarro County, on August 31, 1881. After attending North Texas state Normal College in Denton, Texas, his first employment at the age of nineteen years, was with the Corsicana Gas and Electric Company in Corsicana. He received thirty dollars a month to dig post holes. In 1917, he moved to Dallas to become Vice-President and General Manger of the Dallas Power and Light Company where he remained until he later became head of the Texas Power and Light Company in Dallas.
During Mr. Carpenter's lifetime, he was instrumental in organizing some twenty five major companies in the Southwest. These companies include the Southland Life Insurance Company, the Lone Star Steel Company, the St. Louis and Southwestern Railway Company and the Trinity Improvement Association.
Although he lived in Dallas, Mr. Carpenter kept in close contact with his friends of Corsicana; he maintained membership in Corsicana I.O.O.F. lodge and was a member of the Navarro County Historical Society and supported and encouraged the efforts of the Society.
John Carpenter died on June 17, 1959 and was buried in the Hamilton Cemetery in Navarro County. He was a member of the Presbyterian Church.
Surviving him are his wife and a son, Ben H. Carpenter, and a daughter, Mrs. Dan C. Williams.
See Also:
---
1960

Mrs. Robert Neblett Molloy
The Christmas Season of 1959 was darkened for the Navarro County Historical Society, the family and innumerable friends by the death of Mrs. Molloy on December 19, 1959.
Bert, as she was affectionately and familiarly known to her host of friends, was a valuable charter member of the Society. A descendant of pioneers in this area, she had a great interest in the Society and made valuable contributions to the transactions of the Society.
Of superior intellect and well educated, she knew and loved the great things of life, in the broadest sense. Music, art, literature, the sciences were all encompassed in her ken. Particularly, was she well versed in the flora, and fauna of our country. She was at home in the consideration of any and all subjects.
To paraphrase, slightly, Oliver Goldsmith:
"Yet she was kind, or if severe in ought
The love she bore learning was at fault
The village declared how much she knew
While words of learned length and thundering sound
Amazed the gaping crowd ranged around
And still they gazed and still the wonder grew
that one small head could carry all she knew
But past is all her fame."
Bert is and will be sorely missed by the Society and her friends. --- Carl F. Mirus
Aurthur (Doc) Boldin
The Navarro County Historical Society, as well as the City of Corsicana was saddened last February at the passing of "Doc" Boldin at the age of 53.
"Doc", as many friends affectionately called him, was well liked by all who knew him, as he had a way of making and keeping friends.
Mr. Boldin was very much interested in the youth of our City and County, was a member of the IOOF lodge, an active member in the Methodist Church and was a charter member of the Navarro County Historical Society. He contributed many of the articles assembled in the Frontier Homes in the City Park.
"Doc" was born and reared in Navarro County. He took much interest in the annual Corsicana Fair and Rodeo, of which he was a director, and was also an enthusiast of the Navarro County Quarterhorse Association. He raised many fine animals on his farm near Corsicana.
Death came to "Doc" Boldin last February 13th in the Baylor Hospital in Dallas, Texas. His many friends and associates would like to take this opportunity to express their sympathy to his wife, son and daughter. We will all miss such a fine citizen and friend.
-- Alva Taylor
Mrs. Lillian F. Oransky
The Navarro County Historical Society wishes to honor the memory of Mrs. Lillian F. Oransky, who passed away July 21, 1960.
Mrs. Oransky was the daughter of Mr. and Mrs. S. S. Freedman, one of Corsicana's pioneer families.
Mrs. Oransky was a charter member of the Historical Society. Although her health prevented her attending the meetings, she would keep in touch with the Society's work. Mrs. Oransky was interested in the reconstruction of the Frontier Home at the Park, and gave many valuable items for the furnishing of the log cabin.
There is no doubt that the Society has lost a valuable member, and the town has lost a fine citizen.
--- Alva Taylor
John D. Mahoney
John D. Mahoney, one of the charter members of the Navarro County Historical Society, passed away on September 30, 1960.
Although his busy schedule of work kept Mr. Mahoney from attending all the meetings of the Society, he never missed an opportunity to boost the work of the Society, and to contribute to its building program.
Mr. Mahoney had a multitude of friends throughout Navarro and neighboring Counties.
He served his Community well for several years as Commissioner.
Mr. Mahoney served his Creator with sincerity and humbleness as a Deacon in the Pursley church of Christ.
The SCROLL deems it an honor to place his name on the Memorial pages of the 1960 issue.
--- Alva Taylor

Notes:
John Dallas Mahoney born 24 November 1896
---
1961

Billie Robinson Caldwell
Billie Robinson Caldwell 1900 - 1961. The Navarro County Historical Societydedicates this page of the 1961 "Scroll" to the memory of Billie Robinson Caldwell. Mrs. Caldwell was a charter member of the organization.
Billie Caldwell was born June 30, 1900, at Dresden, Texas. She was the oldest child of Huldah Hodges Robinson and the late Elmer Bose Robinson. Billie was a descendant of several of the earliest settlers of Navarro County. Captain Riggs, one of the founders of Corsicana, was her great-grandfather on the paternal side, and her grandparents were Dr. Wm. S. and Adelaide Riggs Robinson of Dresden.
The Navarro Historical Society was one of Mrs. Caldwell's main interests, especially the buildings in the Pioneer Village in the City Park. She was also very interested in Texas History, United States History, and European History.
Minnie Warren Gatlin
In memory of Mrs. Minnie Watten Gatlin who passed away July 31, 1961, the Navarro County Historical Society wishes to pay tribute to a life-long resident and descendant of a pioneer family.
Mrs. Gatlin, although a native of Chatfield, will best be remembered as a primary teacher in the public schools of Corsicana where she taught for many years. She was also an active member of the First Methodist Church, the Daughters of the American Revolution, and the Corsicana Garden Club.
"Miss Minnie", as she was affectionately called by many friends, was a horticulturist of some distinction; and she made of her garden a showplace of rare Iris and other blooming plants, which she fondly referred to as her "children."
She was a kindly, lovable, and well-loved person who will be remembered by her many friends in so many ways. As Grace Noll Crowell wrote of her mother who loved flowers:
"I see a lily on a stem,
I see a Shasta daisy's star
And you are there bent over them ....
The first pale Jonquil of the spring,
A frail Wisteria blowing grace
Brings back, through sudden blossoming,
Your voice, your form, your kindly face.
So much a part of you they are --
Each fragrant flower that I see --
That any garden, near or far,
Has power to bring you back to me."
Jeanne Lovett
Al Kindel
In the early morning hours of December 1, 1961, Almighty God summoned to his immortal legions Al Kindel, a charter member of the Navarro Historical Society.
Al, although not a citizen of Navarro County until 1953, was deeply interested in the historical past of Navarro County. He was active in his church and the civic affairs of Kerens and Navarro County.
in token of our common loss of a devoted member of our society, it is a privilege for us to enter this page in honor of Al Kindel in the 1961 Scroll of the Navarro County Historical Society.
W. Perry McCammon
W. P. McCammon, a man well known and respected by all who became associated with him, died October 24, 1961.
Perry was a native of Navarro County, and the son of Mr. and Mrs. J. M. McCammon who were among the passengers aboard the first train to arrive in Corsicana in 1871. Perry succeeded his father in the operation of the McCammon-Lang Lumber Company of Corsicana.
In 1929 he bought the Banks-Southerland Funeral Company and continued in this operation until his death. This business is located at 420 West 6th Avenue here in Corsicana.
Perry McCammon held many titles during his lifetime such as President of the Corsicana Public Schools, a title he held for a quarter of a century. He was also a director of the Chamber of Commerce for many years. He has been a great help in the work of the Navarro County Historical Society, and his services to our Society as well as to our town will be deeply missed by all.
-- Alva Taylor
---
1962

Mrs. Joe T. Wilkes
Mrs. Joe T. Wilkes, Ella Bellezora Westmorland, daughter of Mary Annie Jones and W. T. Westmoreland, Sr., formerly of Dawson, Navarro County, Texas, died at her home, 5125 Swiss Avenue, Dallas, Texas, November 18, 1961.
Although not a native of Navarro County, she was a native Texas, having been born in Hill County, near old Mount Calm, on September 28, 1872. She lived in Dawson from 1882 until 1895, receiving her education at Dawson Masonic Institute, which her father helped to establish. In 1892, she was married to Joseph Thompson Wilkes. They had four children; Gladys, a native of Navarro County, now Mrs. Lyndon L. McCutchen, who lives in Waco, Joe L. Wilkes and Mae Wilkes Crowe, natives of Hill County, now living in Dallas, and Jane Wilkes, born in Dallas, September 1, 1913 and who died September 16, 1914.
"Zorz", as she was affectionately called, made friends among all ages and races, wherever she went, and she kept her friendships "in constant repair" by many thoughtful deeds, letters, poems and flowers. The attached poem, read by her son-in-law, the Reverend Dr. Lyndon McCutchen, at her interment, applies so fittingly to her beautiful life.
She was active in the Presbyterian Church and in City Mission work as long as her health permitted and kept her interest in World Missions and in the Navarro County Historical Society, of which she was a member at the time of her death.
Of her, the family friends say:
"You are not dead - life has set you free!
Your years of life were like a lovely song...
You took life tip-toe to the very last,
it never lost for you its lovely look;
You kept your interest in its thrilling book.
To you, Death came no conqueror in the end -
You merely smiled to greet another friend!"
-- Gladys Wilkes McCutchen
---
1965

Mrs. Mary Pearl Houston Fountain
On January 12, 1965, a brave and patient and lovable lady passed from this world to her home in Heaven. She will always be missed by her family and friends to whom she was devoted.
Mary Pearl Houston was born in Petersburg, Tennessee on December12, 1881, daughter of Dr. Benjamin Franklin Houston and Mary Ann Elizabeth Elliott Houston, both of whom were natives of Tennessee. There were six other children: Eugene, Trim, David, Ruby, Joy, and Burgess. The family moved to Texas when Mary Pearl was six years old. They lived in Waxahachie for a short time, then moved to Corsicana where they made their permanent home. Dr. Houston had the first hospital in Corsicana. Associated with him was Dr. Wade Davison Fountain to whom Mary Pearl was married on December 12, 1903. They had one child, Mary Lydia Fountain, and an adopted daughter, Maie.
Mrs. Fountain was a member of the Church of Christ from girlhood and was a devoted and active member. In earlier days she was a member of Kinsloe House and was active in Red Cross work and with Campfire Girls. She was a member of the 20th Century Club, Garden Club, Nature Study Club and the Navarro County Historical Society. The pioneer bed in the east room of the Cooksey House was donated by Mrs. Fountain, as well as some pictures and other items.
Mrs. Fountain, affectionately called "Nannie" by her family, was intellectual in mind, kind and tender in heart, gracious in manner and a wonderful example in Christian living. She was devoted to her family and was a true friend. her memory lives on.
John W. McAdams
The Navarro County Historical Society wishes to dedicate this page to the memory of John W. McAdams.
Mr. McAdams was born November 15, 1898, and died May 2, 1965. He was married to Miss Georgie Marcio Bass, daughter of Mrs. Etta Bass Hubbard of St. James, Missouri. They have two children, Lt. Commander John W. McAdams, Jr. of the U.S. Navy, stationed at new Orleans, Louisiana and Joe McAdams of Granbury, Texas.
Mr. McAdams was a native of Tennessee, came to Corsicana in 1922, and was, at the time of his death, the owner of the McAdams Pharmacy at 100 North Beaton Street.
Mr. McAdams was active in civic and other circles of Corsicana. He and Mrs. McAdams were charter members of the Navarro County Historical Society when it was organized in 1956. They have donated several articles to the Pioneer Village located in Jester Park.
Mr. McAdams was a friend to all mankind. Our City has lost a valuable citizen indeed.
--- Alva Taylor
Alva Taylor
To Alva Taylor, the dominant personality and the creator of the Navarro County Historical Society the SCROLL is dedicated.
Alva Taylor possessed a greater knowledge of historical facts than any other person in our county, and he gave of his time, his substance, and his information to make the Navarro County Historical Society the best known unit in the State of Texas.
It was in the summer of 1955 that Alva Taylor and I met frequently and weighed the possibilities of success for a historical association for Navarro County. At each meeting, Alva's enthusiasm grew. Finally, we sent our notices to all persons interested in our history to meet at the Corsicana Public Library. Eleven persons responded; but from this nucleus, the association was formed. Then it was Alva's optimistic, skillful, and dedicated guidance that brought ultimate success to the various activities in which the association has participated.
Alva Taylor gave the inspiration which helped each of us to delve into the historical facts, human, anecdotes, manner of life in the decades past and the hopes, the sorrows and the accomplishments of Navarro Countians during its one hundred and fifty year history. Much that has been recorded would have been lost to posterity had it not been for Alva Taylor's leadership. All that is to be recorded in future SCROLLS can be contributed to the foundation laid by him.
We can refer to Mr. Taylor as Mr. Historian of Navarro County, and let us each pledge to be better members of the Navarro County Historical Society as our personal memorial to this unusual individual who inidatated our interests.
--- Joe M. Daniel
[ Biography]
---
1967

Mrs. Lyda McGee Fortson
The year 1967 has witnessed the passing of another native and lifelong resident of Navarro County, Lyda McGee, wife of Joseph Benjamin Fortson, Sr. Mrs. Fortson was born in Rice, Texas, on December 22, 1880, the second child of six to Dr. John Abraham McGee and his wife, Laura Paralee Sessions McGee. Mrs. Fortson's paternal grandfather was a doctor, and he and his wife were natives of Tennessee who settled in Winnsboro, Texas, after a brief residency in Arkansas. It was during this stopover of a year or so at the White Plantation on the White River in northeastern Arkansas in 1844 that John A. McGee was born. Dr. McGee, a staunch booster of Texas, never volunteered the information, however, that he was born in Arkansas, but preferred to state simply that he "was born on the way to Texas". After serving as a volunteer in the Confederate army and after operating a sawmill and lumber business in Winnsboro for a few years, John McGee went to Tennessee to study medicine. Upon receipt of his medical degree, Dr. McGee moved to Rice to begin his practice and to operate his own drug store. Mrs. Fortson's mother, Laura, was one of eight children born to Isaac Boone Sessions (a great, grand nephew of Daniel Boon) and Rachel Minerva Hammonds Sessions in the Sessions community about three miles northeast of Rice in Navarro County, July 25, 1856.
Lyda McGee graduated in 1901 from Kidd-Key College in Sherman, Texas. On June 22, 1904, in the Methodist Church at Rice, Texas, Lyda McGee was married to Joseph Benjamin Fortson, who was born March 31, 1872, in the Sessions Community, Navarro County, the son of James Thomas Fortson and his wife, the former Ida Clayton. To the J. B. Fortsons were born four children, all at Rice: Joseph Benjamin Fortson, Jr., Laura Fortson, who became the wife of Eliot Alexander Johnston, and James Edwin Fortson, all residents of Corsicana, and John McGee Fortson, who died at the age of two years.
Lyda McGee Fortson was a model mother and a tireless homemaker, and she lent invaluable encouragement and assistance to her husband as he and his brother, John, as partners built their mercantile, cotton gin, finance and banking businesses, as they accumulated a sizeable farming and ranching operation in Navarro and Denton Counties, and as her husband and family became interested in ice and hotel businesses and in various investments.
While in Rice, Lyda Fortson was an active member of the Haynie Memorial (named for her mother's sister, Mrs. W. D. Haynie) Methodist Church and its Ladies' Missionary Society, the Red Cross, school and civic affairs. In August, 1923, Lyda Fortson and family moved to 220 North 14th Street, Corsicana, where she resided until her death, December 13, 1967. In Corsicana, Lyda Fortson was an active member of the First Methodist Church and served for many years as a circle leader in the Women's Society for Christian Service. She was a member of the Nevin Club and maintained an active interest in most fine arts activities in the community. She was a member of the Kinsloe House, Better Gardens Club, and the James Blair Chapter of the Daughters of the American Revolution. As an early member of the Navarro County Historical Society, she helped in the planning of the pioneer village, and she both provided and helped to secure items of historical interest which are on display in the village.
Interment was in the Oakwood Cemetery, Corsicana, where Lyda McGee Fortson rests besides her infant son and husband, J. B. Fortson, Sr., who preceded her in death on November 22, 1950.
---
1971
M. Blair Autry, retired educator, died Tuesday, Sept. 28, 1971. Born Feb 1, 1881 in Ashland, Miss., he came with his family to McGregor, Tex., in 1895. He attended school there and in Oglesby and later attended Baylor University, receiving a B. A. degree in 1914 and a master's degree in 1917. He has done graduate work at the University of Chicago and at Columbia University in New York City.
Mr. Autry served as a school administrator in Texas for over 35 years and has taught at Baylor University and at Mary Hardin Baylor in Belton. After serving as superintendent of schools at Wharton, Welborn and Somerville, he came to Corsicana in 1930 and served as principal of the Petty's Chapel School until his retirement in 1941.
Active in retirement, he continued to write poetry, some of which has been included in school texts. He has prepared and had published histories of the Autry family, his mother's family the Dishongs, and the family of his wife, Mamie Taylor, whom he married in 1913. He was a member of First Baptist.
Survivors include his son, Dr. J. Frank Autry of Corsicana; a brother, Joel Vaty of Dallas; three sisters, Mrs. Fronie Wiggins of North Carolina, and Mmes. Janie Roundtree and Carrie Pearson of Jacksonville; and two nephews, J. D. Hunter of Dallas and J. J. Hunter of Tyler.
---
1985
Henry Coleman Keathley - 1898 - 1985
Coleman was the husband of Alline Keathley, who is a Charter member and also an active and dedicated member of the Navarro County Genealogical Society. She serves as the Chairperson of the Member Committee currently.
Coleman was born at Frost, Texas, the fifth of nine children born to Henry Stevens and Addie Johnson Keathley. He worked 43 years for the Cotton Belt Railroad, mainly in Plano, Mt. Pleasant, and Tyler as cashier in the freight office. Upon retirement, he and Alline moved to Corsicana where they have loved for the past 18 years.
He was a member of St. Luke United Methodist Church in Corsicana, the American Association of Retired Federal Employees, the last because of Alline's Federal Service. He was a member of the Brotherhood of Railway, Airplane and Steamship Clerks, and a member of the Navarro County Genealogical Society. Several years ago, he received recognition for his 50 years of membership in the Masonic Lodge.
---
1999
Christine Burke Sloan, 99, of Powell passed away Aug 20, 1999 in Corsicana. Christine and her late husband, Paul Sloan, were charter members of the Navarro County Genealogical Society. She was a member of the Church of Christ in Kerens, Texas, the Daughters of the American Revolution and the Navarro County Historical Society. Memorial contributions can be made to the Cherokee Home for Children P.O. Box 295 Cherokee, Texas 76832
Notes:
---
2003
The passing of Nelson Ross has robbed Navarro County of it most dedicated genealogists and historians. Nelson dedicated years to the perpetuation of the history of Navarro County and also to documenting the genealogy of some of Navarro's pioneer families.
He descended from families who lived in the Richland Crossing and Mt. Pisgah regions in southwest Navarro County. Some of his ancestors were also at Dresden at an early date. As genealogists, we will remember him for his preseverence in keeping alive the history of these families. As friends, we will, simply, miss Nelson.