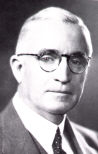 CARPENTER, JOHN WILLIAM (1881-1959). John William Carpenter, utility and insurance executive and rancher, was born on August 31, 1881, on a farm near Corsicana, Texas, to Thomas Wirt and Ellen Isaphene (Dickson) Carpenter. He attended a country school as a youth and later took courses at North Texas State Normal College (now the University of North Texas) in Denton, at Draughon's Business College in Fort Worth, and from the International Correspondence School of Scranton, Pennsylvania. In 1900, after a short time with a Corsicana implement-supply firm, Carpenter rose in the Corsicana Gas and Electric Company from day laborer through line man, plant engineer, bookkeeper, collector, and superintendent of distribution to general superintendent. He went to Schenectady, New York, in 1905 to work in the testing department at General Electric and took the company's student apprenticeship course in electrical engineering. For two years he worked in Ohio and Indiana for GE, then returned to Texas in 1907 to become president and general manager of Corsicana Gas and Electric.
In 1918 Carpenter moved to Dallas to become vice president and general manager of Dallas Power and Light Company, and the next year he assumed the same position at Texas Power and Light. In 1927 he become president of TP&L and in 1949 chairman of the board. He resigned this position in 1953 but stayed on as a board member and chairman of the company's executive committee. From 1927 to 1947 he served as president and general manager of Texas Public Utilities Corporation, which ran Texas Electric Service Company as well as TP&L.
In 1930 Carpenter organized Texas Security Life Insurance Company, which through various combinations and mergers became Southland Life Insurance Company and was, at the time of his death, the nation's fifteenth largest publicly owned life insurance company. Carpenter was the founder and first president of Lone Star Steel; this company's contribution to the development of East Texas earned him the East Texas Achievement Award for 1953. He served as president of Dallas Railway and Terminal Company (1927-35) and Texas Refrigeration and Ice Company (1945-49). In all, Carpenter managed or organized nearly twenty-five major companies in the Southwest, including eleven utility companies and the St. Louis and Southwestern Railway Company.
One of his major interests was agriculture and horse and cattle breeding. With his son he owned and operated four ranches and one farm. He introduced the technique of artificial insemination to Texas with a $5,000 grant to Texas A&M.
Carpenter served as president of the Dallas Chamber of Commerce for two terms, chairman of the board of the Southwestern Legal Foundation, vice president of the State Fair of Texas,qv a director of the National Safety Council and the Southwest Research Institute,qv and chairman of an organizing committee that established the National Conference of Christians and Jews in the Southwest. In an advisory capacity he worked with the United States Chamber of Commerce Southwestern Business Council, the Edison Electric Institute, the Southwestern Regional Committee of the National Association of Manufacturers, and the National Rivers and Harbors Congress.
His concern for agriculture and the Texas landscape placed him on the boards of the Texas Research Foundation and the Texas Forestry Association.qqv As a member of the executive committee of the Big Bend National Parkqv Association, Carpenter was instrumental in obtaining for Texas its first national park. He was an avid supporter of canalizing and developing the Trinity River and served as president of the Trinity Improvement Association for twenty-nine years. He served on the first board of regents of Texas Technological College (now Texas Tech University) and held a bachelor of laws degree from there. He was a fellow in the American Institute of Electrical Engineers and was awarded an honorary doctorate of engineering by Southern Methodist University. His many other activities included memberships in the Dallas Historical Society and the Texas State Historical Association.qqv Carpenter Freeway in Dallas is named for him. On June 18, 1913, he married Flossie Belle Gardner of Palestine, Texas; they had three children. Carpenter was a Presbyterian and a Democrat. On June 16, 1959, he died at his home of a heart attack. He was buried in Corsicana.
BIBLIOGRAPHY: Dallas Morning News, September 17, 1950, March 11, 1951, February 28, 1953, April 12, June 17, 1959, September 7, 1963, January 24, 1967. Who Was Who in America, Vol. 6.
Joan Jenkins Perez
"CARPENTER, JOHN WILLIAM." The Handbook of Texas Online. http://www.tsha.utexas.edu/handbook/online/articles/view/CC/fca60.html
See Also:
----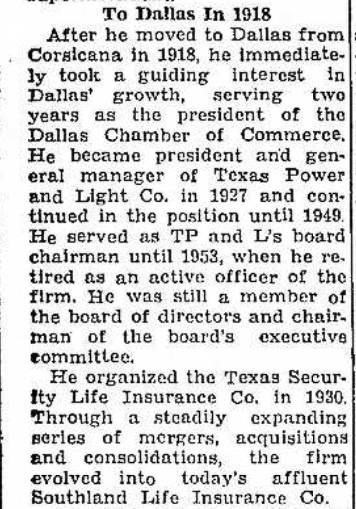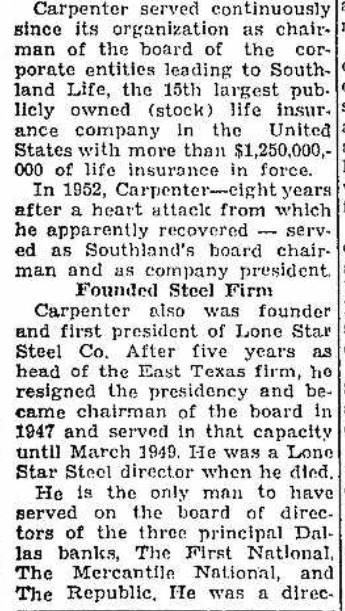 Notes:
---

J. W. Carpenter Rites Thursday; Burial Here

Funeral services for John W. Carpenter, 77, who died of a heart attack in Dallas Tuesday night, were held from the Highland Park Presbyterian church, of which he was an elder, Thursday at 1:30 p.m. The rites were conducted by Dr. Wm. M. Elliott and Dr. Arthur V. Boand.

Graveside services were slated at Hamilton cemetery southwest of Corsicana Thursday at 4 p.m. where interment was to be made. The Corsicana rites were to be conducted by Rev. W. A. Dealey, Dallas Presbyterian minister.

A native of Corbet, Carpenter headed 25 corporations during his busy life. At the time of his death, he was chairman of the board of the Southland Life Insurance Company and formerly was president and general manager of the Texas Power and Light Company, after heading the Corsicana Gas and Electric Company where he began his career as a day laborer.

He founded the Lone Star Steel Corporation and was a director in all three major Dallas banks, Cotton Belt Railroad, and many civic, religious and agricultural organizations.

Surviving are his wife, a son, Ben H. Carpenter; a daughter, Mrs. Dan C. Williams; a sister, Mrs. W. A. Wofford; a grandson, John W. Carpenter, III; five granddaughters, Miss Carolyn Carpenter Williams, Mrs. Harriett Williams, Miss Suzanne Williams, Miss Laura Carpenter and Miss Elizabeth Carpenter, all of Dallas, and other relatives.

Carpenter moved to Dallas in 1918 but retained his IOOF lodge membership in Corsicana Lodge No. 63.

Pallbearers were Fred F. Florence, L. S. Dupree, Bruce Wright, Dr. L. S. Thompson, James B. Goodson, Wayne Hurd, Ben Chovanetz, Neal Johnson, Jr.; Newton Roman and Fred Skelton.

Honorary pallbearers were officers and directors of the Southland Life Insurance Company and the Texas Power and Light Company.

McCammon directed.

Notes: