U.S.S. Navarro (APA-215)
Researched by Wyvonne Putman
There were many important happenings that transpired during the 150 years of Navarro County history. One occurred during World War II. The ship U. S. S. Navarro (APA-215), which is named for Navarro County, Texas, was designed and built by the Permanent Metals Corporation of Richmond, California in 1944. On November 15, 1944 she was acquired by the Navy and immediately took her place among the Amphibious Forces of the U.S. Pacific Fleet with Commander F. E. Angrick as her first Commanding Officer.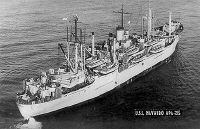 Navarro, along with other ships of her class, was developed and built to cope with the unique problems of modern amphibious warfare. Due to the nature and location of our enemies in World War II it became essential to perfect a system of warfare whereby troops could be moved and landed on enemy shores with a maximum amount of surprise and striking power, and a minimum amount of loss in men and material. The attack transport was the answer to this difficult problem. The mission of an assault vessel, such as the U. S. S. Navarro, is vastly different from that of a battleship or aircraft carrier, for while the primary duty of combatant ships is to actively engage and destroy the enemy with guns in the case of aircraft carriers; the APA's primary mission is to load combat troops and cargo, transport them close to enemy shores, then carry these troops to beaches in landing craft. Navarro's main armament for performing this vital ship-to-shore movement is her 26 landing craft.
Navarro has an overall length of 455 feet, a beam of 62 feet, a full load displacement of 12,450 tons, and a flank speed of 19 knots. She carries a war time complement of 41 officers, 412 men with extra spaces to carry over 1,500 additional troops. For armament she carries 26 landing craft: (22 LCVP, 2 LCM, and 2 LCPL); one 5"/38 gun and several 40mm and 20mm mounts.
After the commissioning ceremonies, Navarro moved to the Naval Supply Depot, San Francisco, where all hands began work at the huge job of loading aboard tons of supplies, stores and equipment. Then, in a series of moves to San Francisco Bay, Hunter's Point, and Mare Island, the ship was loaded with ammunition and properly degaussed. On 1 December 1944, the ship began her first cruise, steaming to San Pedro, California, for a 12 day shakedown cruise. On the 16th she moved to San Diego for a strenuous week of amphibious exercises, returning to Terminal Island for a shakedown availability until 31 December 1944.
On New Year's Day 1945, Navarro got underway for Seattle, Washington, arriving there on 4 January 1945. Troops and equipment were on board by the 12th of January, and on that day she set sail for Honolulu, Hawaii. Pulling in at the Hawaiian Islands on 20 January 1945, she began the second phase of her maiden voyage on the 31st. The ship reached Guadalcanal on 10 February, unloaded her cargo and troops, then moved to Sunlight Channel, Russell Islands. While at the Russells, the ship carried out intense rehearsals for a yet unknown and highly secret amphibious operation. A few weeks later she took on a maximum load of troops and equipment.
On 27 March she began steaming toward Japan in company with a large convoy of vessels of similar type and design. In the early morning of Easter Sunday, 1 April 1945, she reached her destination, Okinawa, and the invasion began. Unloading was accomplished in record time and not a single boat was lost in the treacherous coral reefs and surf. It is interesting to note that Navarro was one of the very few ships to come through the invasion with all her boats in working condition.
Each day at Okinawa brought several air alerts, but only once did a plane single out Navarro for attack -- and that one was deflected by flak and plunged flaming into the sea. So effective was screening and air cover that the gun crews fired on the enemy only three times.
When all of her troops and equipment were unloaded, the wardroom was rigged as an emergency casualty station and made ready for receiving wounded men from the beach. Landing craft brought the wounded out to the ship to be hoisted aboard where their injuries were diagnosed, dressings made and surgery performed. On succeeding days the wounded were transferred t hospital ships for a short distance away. After six days in the area, Navarro got underway for Guam on 7 April 1945. She arrived on the 11th and the next morning sailed for Pearl Harbor, arriving on the 23rd.
After more training and waiting, the ship was ordered to return to the United States. On the morning of 30 May she steamed under the Golden Gate Bridge into San Francisco Bay. After a welcome 10 day period of rest and liberty, the transport sailed for Seattle, Washington, where she loaded troops and equipment, the steamed for Ulithi via Eniwetok on 21 June.
The ship reached her ultimate destination, Okinawa, on 24 July 1945. She soon discovered that Japanese planes were still hovering over the island, punctuating most of the nights with calls to General Quarters.
Soon afterwards she sailed back to Ulithi, and was anchored in the lagoon when news of the Japanese surrender reached the crew. Ready to pull out for the United States, Navarro got a hurried rerouting and set out for the Philippines, arriving at Leyte on 23 August. A few days later she left for Yokohoma, carrying port of the American Division which was to occupy the Yokohama district.
The end of the war produced an even greater task for all ships of this type; that of returning our troops to the United States. This was known as the "Magic Carpet" operation. Upon completion of her "Magic Carpet" duty, Navarro was ordered to the 18th Fleet for inactivation.
On 15 March 1946, her commission pennant was hauled down and she was placed in mothballs at Stockton, California. Although this phase of her career had been comparatively short, she nevertheless had traveled more than seventy thousand miles carrying troops to all parts of the Pacific area.
U.S.S. Navarro was awarded one battle star on the Asiatic-Pacific Theater Service Medal for the assault and occupation of Okinawa Gunto, from 1 to 7 April 1945. She was also awarded the Navy Operation Service Medal for the periods 6 to 15 September 1945, and 24 August to 1 September 1946. She won the China Service Medal for the period 9 October to 25 November 1945.
After resting almost four years as a member of the "Mothball Fleet", Navarro was recommissioned on Saturday, 2 December 1950 at the Naval Supply Annex, Stockton California. Once again the crew, through hard work, blood, sweat and tears, finally saw Navarro slowly come back to life.
After Captain R. E. Westbrook took command of the newly de-mothballed ship, Navarro passed through the Panama Canal to report to the Commander Amphibious Force, U.S. Atlantic Fleet at Norfolk, Virginia, in the spring of 1951. The Bureau of Ships wasted little time in putting the re-activated Navarro to work, and sent her on exercises and troop movements to Bermuda, Casablanca, Vieques, Newfoundland, Cuba, and Puerto Rico.
On March 1952, Captain William S. Estabrook, Jr., became skipper of the ship. From early in May until 8 October 1952, Navarro was officially attached to the amphibious element of the United States Sixth Fleet. She steamed 23,904 miles during that period which included two crossings of the Atlantic, one before and one after the tour of duty with the Sixth Fleet, visiting 16 ports and 7 different countries or possessions. From Gibraltar, Navarro visited other ports including Siracusa, Sicily; Marseilles, France; Malta; Algiers; Genoa, Italy; Pireus, Greece, and many others. On 2 January 1953, Captain W. H. Kirvan relieved Captain Estabrook of command. After the Mediterranean cruise the ship made another short cruise in the Caribbean while based at Gunaives, Haiti. On 5 December 1953, Captain W. H. Kirvan was relieved, and Captain R. H. Wilkinson assumed command of Navarro.
On 8 August of the following year a group of Explorer Scouts boarded the ship for a week's cruise where they learned the fundamentals of knot-tying, navigation, and seamanship. On 13 August 1954, the U. S. S . Navarro steamed into Rockport, Massachusetts, where she acted as guard ship in the North American Stanley races at Sandy Bay. Shortly afterward, on 18 November 1954, Captain E. B. Ellsworth, Jr., relieved Captain Wilkinson.
On 5 January 1955, the U.S.S. Navarro, being assigned to the U.S. Pacific Amphibious Force, set sail for her new home port, San Diego, and again passed through the Panama Canal. Once in the Pacific, Navarro participated in one of the biggest peacetime invasions in history - Operation SURFBOARD.
After an intensive five weeks of training, Navarro sailed to Seattle, Washington, for a welcome 3 days liberty. From 18 May to 2 August the vessel was Todd Shipyard, Seattle, Washington, for a general overhaul. Shortly afterward, Navarro's home port was changed from San Diego to Long Beach, where preparations were made for underway training.
On 6 September, she steamed into San Diego Bay to begin a two-week period of underway training. Although all departments were given a complete and vigorous workout they came through with flying colors - receiving either a well earned "good" or "excellent" for their labors.
After underway training and a few weeks acting as a submarine target vessel, she was directed to report on 17 October to the Amphibious Operational Training Element (AOTE) at Coronado, California, for refresher training in amphibious warfare. For the next two weeks the word "Set Condition One-Able" and "Away all boats" were heard almost constantly and the surf-swept beach at Coronado became an all too familiar sight to the bat crews.
On 21 November 1955, Navarro steamed into the Naval Shipyard at Long Beach for upkeep and repair where she stayed until loading troops on 10 January 1956.
On 12 January 1956, Navarro set sail with 500 Marines for a 22 day journey to Yokohama, Japan.
After a rather stormy crossing, Navarro sailed into Yokohama, Japan, on 3 February 1956, off-loading her troops, then proceeded to the Yokosuka Naval Facility, a short distance away. There she began to prepare herself for NAVMARLEX 1-56, an enormous Navy-Marine assault landing exercise. Navarro, along with other APA's arrived at Iwo Jima on 17 February 1956 and the "invasion" began. While on these exercises, several crew members were given commendations for saving the lives of a boat load of battle-equipped Marines aboard a sinking LCVP - another example of Navarro's fine crew in action. While still at sea, on 22 February 1956, Captain A. G. Pelling relieved Captain E. B. Ellsworth, Jr., of command of the ship.
A reunion was held in Corsicana in October of 1994 with a full day of activities. Captain Angrick told of seeing the Navarro anchored at San Francisco Bay before she sailed to a scrap yard, he was the last to see her.
Note:
The USS Navarro visited Rockport, Massachusetts on August 13, 1954 and was anchored inside the
breakwater on Sandy Bay for several days. I remember it because I was a kid in
Rockport at the time and went on it. The Stanley North Americans were hosted by
the Sandy Bay Yacht Club of Rockport, MA, an organization I joined as an adult.
Another organization I joined as an adult, in no small way because of the visit
of the Navarro to our town, was the U.S. Navy.
Dennis J. Ahern - Acton, MA
See Also: