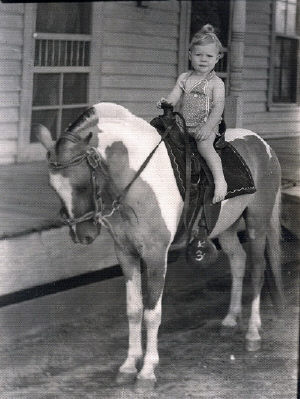 This isn't a goat wagon, but may be a new topic for you.
I hope these pictures aren't too large. I should send these smaller, possibly.
This is me, when I was about age 3, (I think! Could have been about 2.) in front of the home of my grandparents, James DeGraffenreid Miles Jr. and Emma Arnett Miles, in Navarro county. That would be about 1941 or 1940, depending on how old I actuall was. This was on the Miles farm, originally owned by J.D. Miles Jr.'s father, James DeGraffenreid Miles and his wife, Ellen L. Day Miles. My mother and her sister, Ellen Carolyn Miles Conitz, and Emma Dee Miles Livingston, were raised on this farm.
I'm not sure exactly where the farm was located, but I assume it was in the area of Powell and Kerens. I remember the road going up to the house, and the house, but don't remember how we got there from Calvert.
The Miles family moved from there about the time of WWII, and went to work in the aircraft plant, Consolidated, in Ft. Worth, as part of the War effort.
My mother, Ellen Carolyn, was, by that time, married and living in Calvert with her husband, Alfred Conitz. This was the home of his family.
I clearly remember the day this photo was taken. I had gone with my parents to visit my grandparents on the farm and were getting ready to go home to Calvert, when a traveling photographer pulled up in front with a pony. There was much discussion and finally I got to sit on the pony and have my picture taken. I begged to keep the pony!
My one remaining aunt, on my father's side of the family, told me that she thought that the Miles left the farm before I was born, so I couldn't remember the house and spending time on the farm. But I have the picture of me on the pony in front of the house. And, I drew a floorplan of the house, and a diagram of the farm. I even remember the sticky black mud when it rained.

Cecelia Conitz Heinrich