This is a rather unique category of photographs !
Got a Little Miss Blue Bonnet - Navarro County Goat & Wagon Photograph ?
We need a copy !!
... ed williams
According to Georgia Ruth Bivin-Guynes in September 2002, she remembers having the goat/cart picture taken. She said it was old photographer who went around taking pictures. She said it was not a special occasion or contest, just a photo op. .....Rhonda Cravins
After posting this page, I have received numerous emails concerning the Goat & Wagon photos. I have also found examples of Goat & Wagon photos from San Antonio to Dallas. I once thought that this might be a local thing, but it appears these photographers covered a wide territory. ... ed williams
---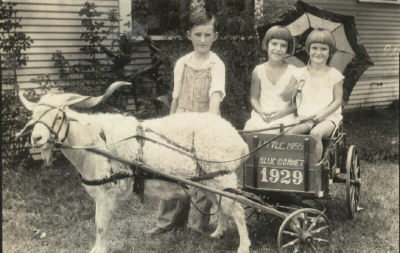 Bivin Children - Caxton Rufus Bivin, Georgia Ruth Bivin, Gurlie LaVerne Bivin
Corsicana, Navarro Co., TX
Link to: Bivins Family Photo Website
---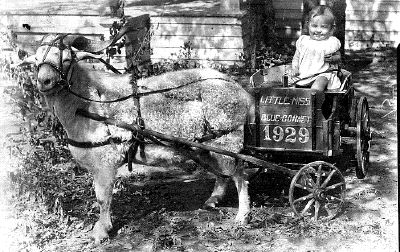 Nell Jones Wafer of Dawson, Navarro Co., TX
Submitted by Ben Broughton
---
This Little Miss Blue Bonnet picture has my mother Bonnie Kate Holcomb and her sister Audrey Lucille Holcomb. Mom was 6 and Audrey was 1 at the time this was taken in 1929. Photo taken in Dallas on 8th Street.

Submitted by Russell Windle
Notes: this appears to be the same goat (before being clipped) and waggon as the Nell Jones Wafer of Dawson photo. Notice how the "9" in 1929 tilts a tad to the right.
---
Looks like the same goat & wagon in 1930
I have no idea who these children are but assume
it is someone related to the Springer or
Williams or Forshaw Families.
... Edward L. Williams
---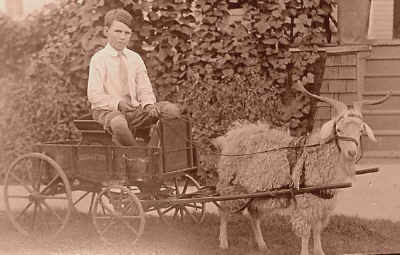 Another Example of a Goat Wagon Photo,
This one from Temple, Bell Co., TX
---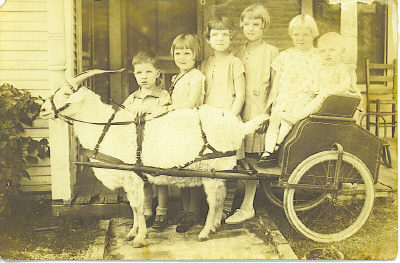 ---
It says on the back:

Aline; Hazel Ruth; Dorothy Louise; Charles Allen; Ernestine; Jackie Boy

And then way below it says "Aunt Fannie."

Aunt Fannie was most likely my great Grandmother, Fannie Kirk-Nowlin. Obviously, the kids are not listed in their order, so I really am not sure who is who. I would probably assume, Jackie Boy is the baby and Charles Allen is the first little boy. I believe he is a Nowlin, but maybe a Kirk…also and whoever Ernestine is-they were my grandmothers first cousins. And I am pretty sure they were brother and sister. My granny was from Navarro County Texas and it is probably around East Texas where this picture was taken, I imagine.
Lola Philpott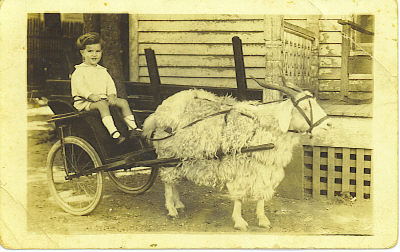 On the back it says Noma Derwood Baxter...he was the son of Maggie (Kirk) and Dick Baxter. Noma was my grandmother, Florence Nowlin-Hill's first cousin. His mother and her mother were sisters. If anyone has any information I would welcome e mails!
Thanks, Lola Philpott
---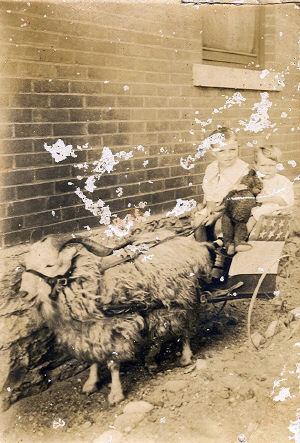 I don't have any idea who might be in the photo, or where it might be from.
When my dad, Alfred Conitz, born 1911 in Calvert, Texas, was small, he had a goat wagon. I don't have any pictures of that one, that I have found, at least. When my sister and I were small, he brought the goat wagon from his parents' home to our home, and stored it in the rafters of the garage. He said he would get us a goat so we could ride in it. However, we both wanted a horse, instead. We got the horse, and the goat wagon stayed in the garage until the house was sold in the 1980s. A lot of old treasures like the goat wagon, were left in the garage, and I guess, thrown out when the garage was torn down.
I don't know if this picture is from Navarro county, as that is where my mother, Ellen Carolyn Miles Conitz, was from, or if it was from Robertson County, or elsewhere. There is nothing to identify the picture.

Cecelia Conitz Heinrich
[ See also Cecelia's horse photo ]

---
Cathryn (Cathy) Ratzolff send in some photos she found, including a 1929 Miss Bluebonnet photo.
We are not sure who these children are or where the photos were taken. View Word Document With Pictures
---