9/19/2005 Bandits on the run: Gangsters made Angus one of their regular stops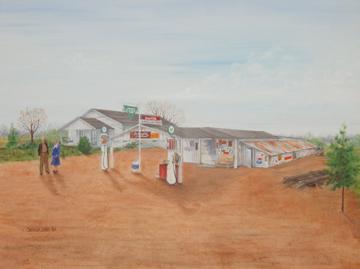 Local artist Sheralon Dobbs painted this picture of the Anglin Grocery and Conoco station which was located between Angus and Richland. John and Minnie Lee Anglin, Allyn's parents, are pictured in the painting. Daily Sun photo/DEANNA PAWLOWSKI
By DEANNA PAWLOWSKI/Daily Sun Staff
Allyn Anglin grew up during the Depression, the youngest of nine children born to John and Minnie Lee Anglin.

And he knew Bonnie and Clyde personally.

The notorious, Depression-era bank robbers Bonnie Parker and Clyde Barrows would stop from time to time at Anglin's father's gas station, while on their crime spree through Texas and Oklahoma. Allyn worked at his dad's station until he was 18.

"Bonnie and Clyde always bought gas from the second pump," Anglin said. "He had an uncle in Navarro or Eureka, and always asked dad about him."

Gas sold for 11 cents per gallon at that pump. Anglin's family grew their own food, because John Anglin was too proud to accept food from the government. Times were tough, and the family of 11 never went hungry, mainly because they worked hard. They did look forward to Bonnie and Clyde's visits, however.

"They were Robin Hoods," Anglin said. "They robbed the rich, and gave to the poor. They weren't that bad -- he always said, 'Fill it up,' and never looked at the pump, just gave me a big bill."
Bonnie was never without a cigar, and would visit with Allyn's mother while Clyde talked to his dad. They were all good friends, and as the Anglins didn't have a phone or electricity -- either in the station, or in the house -- the gangsters felt quite safe.

"We had a bench swing on the front porch of the house," he said. "Bonnie and Clyde sat in that swing one night until midnight. I also had a brother named Clyde, and my mother hollered outside for Clyde to come in and go to bed. Clyde Barrows said, 'It's all right, sweetheart, we're almost done.' And the next morning, daddy found a big bill in the screen door that got him completely out of debt."

Anglin said the help they received from Bonnie and Clyde is probably what helped the family get through the Depression. Allyn attended Richland High School, and was drafted by the army right out of high school. After serving two years during the war, he returned to Texas and went to work for the Ford Assembly Plant, where he retired after 24 years. Anglin and his late wife are parents to Caroline, who lives in Lindale, and Lisa Hoppe, who resides behind Anglin. His brother lives next door.

When Anglin's father died in 1965, the Conoco station and Anglin Grocery closed. Both are gone now, along with the house and barn. John Anglin and Jack Glass, Allyn's uncle, each planted a pine tree where the station once stood. The original pine trees are huge, and have spawned even more trees.

Several years ago, Allyn Anglin commissioned a painting by local artist Sheralon Dobbs. She painted a picture of the station and grocery store from an old photograph, which also included his parents.

"She won many awards for the picture," Anglin said. "She comes to borrow the painting to take to art shows, and wins awards. I told her, 'Girl, I'm going to have to start charging you for borrowing my picture!'"

Anglin is an interesting character, with lots of stories, including ones about his house that was lifted by a tornado while he, his wife and children were in it -- and set back down 10 feet over, and his house that burned to the ground. But the Bonnie and Clyde stories are some of his favorites.

"They were good to us," he said. "Just good friends. They came by at least 10 times, probably more than that. It was usually late in the afternoon, many times while we were out feeding the stock when they stopped by."


Reprinted with permission of the Corsicana Daily Sun
www.corsicanadailysun.com|| Articles Index || Article Usage
All rights to this story reserved. Copyright Corsicana Daily Sun and Community Newspaper Holdings, Inc,. Content may not be archived, retransmitted, saved in a database, or used for any commercial purpose without the express written permission of the Corsicana Daily Sun and CNHI.