THE SPRING HILL MAP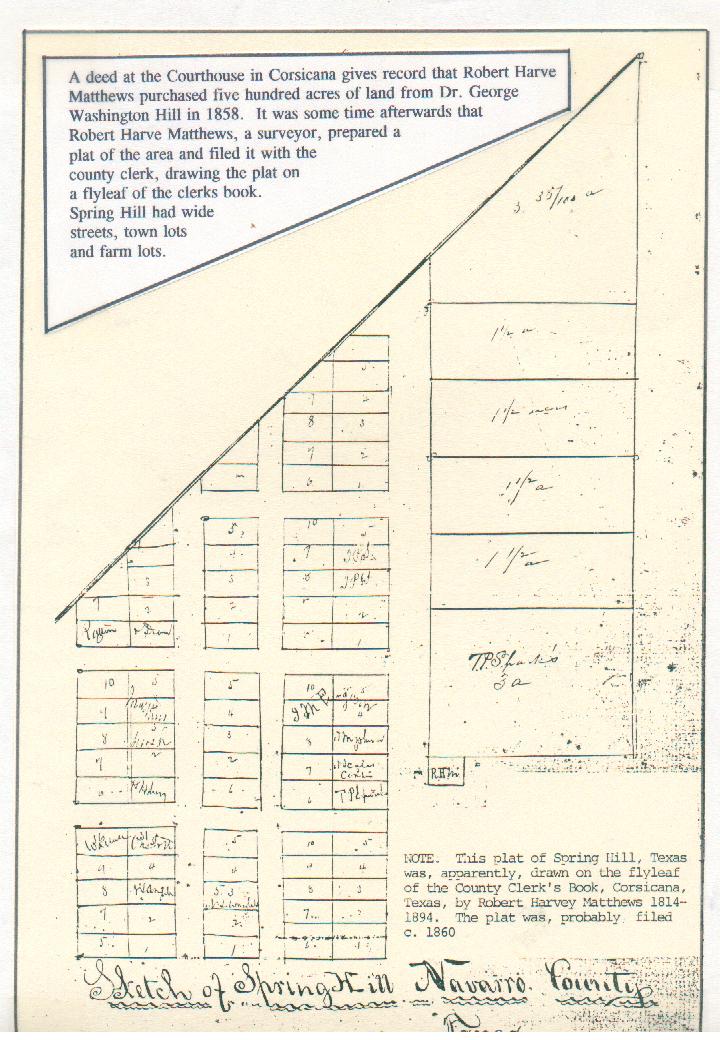 This
Map....of THE NEW SPRING HILL....was drawn on the flyleaf of the Clerk's Book at the Navarro Co Couirthouse byi Robert Harve Matthews 1814-1894. Notice that some lots had been sold and the name written at those locations. The map was drawn at some point after 1858 when Robert Harve Matthews purchased the property from his brother in law, Dr George Washington Hill
---
Spring Hill, Navarro Co. Texas, began in 1848 when Dr George Washington Hill moved his newly acquired family from Fort Franklin to a area about sixty miles north and not far from a stream known as Richland Creek. Dr. Hill had married, apparently for the first time, in November 1847. His bride was Minerva Kathrine Matthews Slaughter, daughter of Robert and Mary Ann Stewart Matthews of Maury Co, Tennessee, and widow of Francis Slaughter who had died at Fort Franklin in 1842.
Three Slaughter children, also, made the move.
Robert Francis Slaughter born 1836 Texas
Mary Ann Jane "Puss" Slaughter born 1841 Maury Co TN
Louise Slaughter born 1842 Texas
Others making the move with Dr. Hill included Robert Harve Matthews, younger brother of Minerva Kathrine, and family servants.
Minerva Kathrine, her husband, Robert Harve Matthews and the family servants, had arrived at Fort Franklin on December 1, 1835 after making the journey from Maury Co. Tennessee. The journey began with a small boat that went north on the Tennessee River until it reached the Ohio River east of Maysville, Kentucky. There, a large paddle wheeler moved the passengers down the Ohio and Mississippi Rivers to New Orleans where the travelers boarded a three masted sailing vessel, called a schooner. Seven days later they were at the mouth of The Brazos River and boarded flat bottomed boats that would carry them up river to where The El Camino Real…aka..The Old San Antonio Road…. crossed the Brazos River.
Wagons from Fort Franklin were waiting at the landing and by nightfall the destination of Fort Franklin, Robertson's Colony in Mexican Texas was reached. It is likely that Francis Slaughter has been employed by Sterling Clack Robertson for some time, possibly as early as 1831. He became Judge Slaughter upon arrival and began to record activities generated in the settlement…marriages, deeds for land, etc.
Dr. Hill and his group settled on a hill overlooking the valley created by Richland Creek and near a fresh water spring that had supplied water for Indians and buffalo long before the white men came. It was there that a cabin and trading post were erected using logs from trees that grew near the creek.
The Webb Family, relatives of Dr. Hill's, arrived in August from Giles Co. Tennessee. When twenty-two year old Sarah Webb died, she was buried two hundred or so yards north of the cabin and trading post and became the first person to be buried at Spring Hill Cemetery.
Nine years passed and Robert Harve Matthews…in 1857…purchased five hundred acres of land from Dr. Hill. The price was five hundred dollars and the land was located, perhaps, a mile north of the trading post and across a small stream later named Treadwell Branch.
Robert Harve Matthews had worked as a surveyor's helper in Maury Co and through the years had become skilled at the trade. He had served as the state appointed surveyor when the land district which became Young Co. opened and records show that he bought and sold land in the Graham, Texas area in the early 1850s.
Now, upon his return to Spring Hill and his acquisition of a large acreage, he dreamed of creating a town. Today, on the flyleaf of one of the old books found in the office of the Navarro. Co. Clerk, is a drawing entitled
"Sketch of Spring Hill Navarro County
Texas"
Robert Harve Matthews drew his dream on the flyleaf and the New Spring Hill,Texas began. Heretofore, families just settled here and there, but now there would be a real town…just like in Maury Co. Tennessee. There were tiny town lots west of a wide street called Broadway. Farm lots were located on the north end of Broadway and the commercial area to the south.
Notations on the sketch, made by Robert Harve Matthews one hundred thirty-seven years ago, are interesting. One small area on the south end of Broadway has initials RHM and leaves little doubt that this was the site where the General Store owned by Rbert Harve Matthews once stood.
The name….T P Sparks owned the next property north. Beneath his name "3 a" is written. Another store would be constructed there by T P Sparks. Sparks would sell the site to Robert Younger who married one of the Slaughter daughters. Alonzo McSpadden, no doubt of the McSpaddens of Blooming Grove, had married the other Slaughter daughter and is recorded to have operated the store at one point. James Rucker Smith bought the property in 1879, but sold it to Robert Harve Matthews in 1883. Smith, then, opened a very successful mercantile business in the new town of Dawson.
Broadway Street has already been mentioned and its width, compared to the other streets, is apparent. Broadway continued southward until the rock crossing of Treadwell Branch was reached. The rock crossing was used for hundreds of years by Indians and by the buffalo herds. The Old Broadway Street can still be identified during winter months when trees and brush are clear of leaves. It runs north from the rock crossing and connects with Broadway at the top of the hill. A bridge, upstream from the rock crossing, was constructed at a later date and remains in use.
Waco Street , the first named street north of Treadwell Branch, ran east and west….so named, probably, because that was the direction of the little village of Waco which was occupied mostly by a tribe of Indians. The next street north was Mechanic Street.
Four streets ran north and south, but only the names of three have been identified. Broadway was the first street on the east side of town. The next street has not been identified. The third street, north to south, was Commercial Street. The fourth street was named Fleet Street.
Block 1 was, apparently for businesses. Dr. Dean purchased three lots; J M Ferguson purchased four on the north of the block; J Scales …and an illegible name …each owned a half lot on Broadway; T P Sparks owned the lot on the southeast corner. T P Sparks, also, owned Lots 3 & 4 in the next block north, apparently for his residence. Dr. Dean owned a residential lot on Mechanic street as did a man by the name of Rattan who operated a saloon and may have married a sister of W W Turner.
Newton Lafayette Wright, son of Samuel and Prudance Shaw Matthews Wright, purchased Lot 3 of Block 5 on South Commercial Street. Newton Lafayette Wright, a nephew of Robert Harve Matthews, married Eugenia Capitolia Cockrill. He died in 1891. Two years later, his wife married his nephew, James Boydston Wright.
Joseph Calvin Matthews, another nephew of Robert Harve Matthews, arrived at Spring Hill in 1869 after traveling from Maury Co Tennessee as part of a wagon train composed of family and friends. Joseph Calvin purchased two farm lots on the east side of north Broadway. His General Store operated on Broadway for many years, but in the 1890s, his son, Dr H L Matthews, persuaded him to build a new General Store on Waco Street. That building stood until the 1930s when it was demolished by a windstorm.
Lots 4 & 5 of Block 5 , just north of the Wright lot, were purchased in 1889 by Dr. H L Matthews, a Grand nephew of Robert Harve Matthews. He built a residence on Lot 5 and a large barn on Lot 4. He and his family lived there until 1911 when a move was made to Dawson. His son, Virgil Matthews, lived there for many years thereafter.
Spring Hill grew by 1880 into a prosperous community that boasted black smith shops, a wheelright, a cotton gin located on Treadwell branch, physicians, a saddle shop, a flour mill, a school and a church, a brick kiln, several saloons, and general stores. A rock quarry was located on the side of the hill west and north of the road that ran to the old Iron Bridge that crossed Richland Creek. The huge dam that created Lake Navarro Mills covers the rock quarry. Several pieces of stone from the quarry remain piled across Commercial Street from the Joe Kyle residence….all that remains from the J M Johnson home.
When the railroad arrived in 1881 it was routed several miles south of Spring Hill, a new town called Dawson was created …and Spring Hill began to die. Residential and commercial sites were offered for sale in Dawson in the summer of 1881 and many were purchased the first day by some of the most prominent Spring Hill residents.
As property values in Spring Hill diminished, Walter Matthews, the bachelor brother of Dr. H L Matthews, began to acquire the vacated property at fire sale prices. He eventually owned all but one lot of Blk 1 where the business had been located, all of the farm lots east of Broadway, and all lots of Blk 10 which had been owned by R B Marsh….then by Samuel Barber…then, his son, Doyle Barber…who sold the property to Walter Matthews.
The stone monuments, placed at Spring Hill by the Texas Historical Commission, stand today on one of the farm lots once owned by Walter Matthews. The monuments offer bits and pieces of Spring Hill history and glimpses of those who once lived there.
Waco Street remains, but all the old structures have long since vanished. Fleet Street was, eventually, enclosed by a fence, and became property of the land owner under the Texas Seven Year Fence Law. Mechanic Street has disappeared as well as the unknown street that once ran between Commerce and Broadway.
Joe and Pat Kyle have, today, a beautiful home that faces the once proud Broadway where businesses once flourished and where horse racing was said to occur on many Sunday afternoons. A survey in recent years indicated that the present fence line on the east side of Broadway is many feet west of where the original fence was positioned, verifying the stories that told of the wideness of the street.
The Lord Giveth,
The Lord Taketh Away
Spring Hill, Texas is Gone,
But not…forgotten.
Map Found in the Navarro Co Clerk's office
Trading Post Drawing
Dr H L Matthews Wedding day…1889
The Markers As they look today
Walter Matthews Candid shot
The Broadway store Very old photo
The Waco St store Drawing by Carla Allen, Ft Worth
French Home Very old photo
Notes: