Jewell Ellis Anderson - 90th Birthday Announcement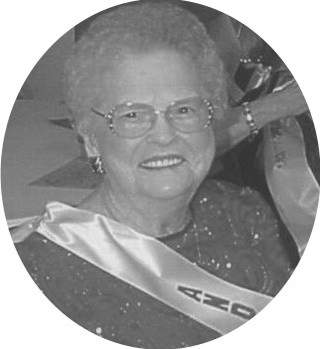 The children of Jewell Ellis Anderson wish to announce her 90th birthday celebration at 2 p.m. Saturday. The occasion will take place in the Optimist Club at 400 Oaklawn Ave. Friends and family are welcome to share in this celebration.
---
Joe D. Hambrick - 78th Birthday Announcement - 2001
Hambrick Birthday
Joe Hambrick, a long-time resident of Corsicana, celebrated his 78th birthday at a surprise party held in his honor on Saturday, September 22, 2001 at Northside Baptist Church Activities Building.
The theme of the party was tied to the Bible verse, John 15:5 "I am the vine, you are the branches. If a man remains in me and I in him, he will bear much fruit." Family and friends gathered for the afternoon to reminisce and share stories about how their lives had been touched by Joe. Cody Seale of Chandler, Paula McClure of Blooming Grove and Dr. David Hale, former pastor of Northside Baptist Church, shared their specific thoughts. Ginger Stewart, of Del Valle, and friends, provided music. The guest of honor was presented with a scrapbook, compiled by his daughter, filled with letters, memories, pictures and birthday wishes from more than 125 family members and friends from as far away as North Dakota, Kentucky, and Switzerland. A wall in the Activities Building depicted a tree with branches illustrating each decade of Joe's life in pictures.
Refreshments were provided by Rose Faucett, former florist and caterer of Corsicana, who dusted off her catering skills for the event, and Paula McClure. Cason's Flowers provided tropical floral centerpieces that included bird-of-paradise, orchids and anthiriums.
Born September 22, 1923 to Dee and Lillie Hambrick, Joe grew up near Emmett until the family moved near Frost when he was 17.
After graduating from Frost High School in 1941, Joe received the Purple Heart and an honorable discharge for injuries sustained while serving in the US Army during WWII in France. Having worked for Borden's Dairy and Buck's Appliance, he retired from the US Postal Service after serving as a Corsicana letter carrier for 26 years. An active member at Northside Baptist Church, Joe was ordained as Deacon on September 11, 1960. In 1996, Joe received the Outstanding Older Texan of Navarro County award. Many friends and family have read a compilation of memories, "As I Remember It", that Joe wrote in 1998 with the help of his niece, Elaine Bell. Today, Joe continues to be active at Northside and the seniors' Triple L group, attends his weekly "42" games and keeps in touch with many family and friends by letter, phone and even e-mail.
Joe and his wife, Faynell celebrated their 57th wedding anniversary this year. Their daughter and grandson, Jonell and Cameron Ralston, reside in San Antonio. Hester Hambrick Seale, of Kerens, and Lester Hambrick of Corsicana are his two remaining siblings.
Notes: