---
7/25/2004 Bogart 60th Anniversary




Walter and Edith Bogart of Corsicana recently celebrated their 60th wedding anniversary with a dinner in their honor. The celebration was hosted by their family, Vivian and Robert Isbell, Christie and Alan Mayer, Caide Southard, Steven Isbell all of Corsicana, and Allison, Katelyn, Sydney and Todd Rash of Mansfield.

Walter and Edith were married on July 25, 1944 in Dallas. Walter served in the Navy during World War II and they both retired from LTV Corporation in 1980.
Notes:
---
8/1/2004 Ford Anniversary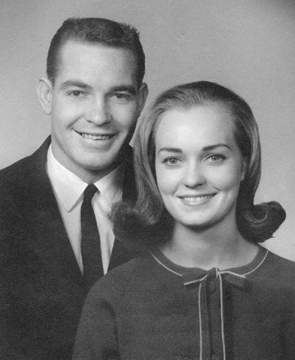 Bobby and Beverly Ford are celebrating their 40th wedding anniversary.

They met by attending the same elementary school and church in Bowie, Texas. They became high school sweethearts in 1962. After they graduated in 1963, Bobby moved to Corsicana to play football and baseball for Navarro College, while Beverly continued working in Bowie. They married on July 31, 1964 in Bowie.

Bobby and Beverly made their home in Corsicana and began their careers. They have three children: Michelle Coker of Corsicana, Glenn Ford of Austin and James Ford of Austin.

After many years of hard work, community involvement and putting three children through college, Bobby and Beverly continue to enjoy their lives together and time with family.

Bobby has retired from Union Pacific Railroad and Beverly continues to work as a bookkeeper and receptionist.


---
8/1/2004 Rash Anniversary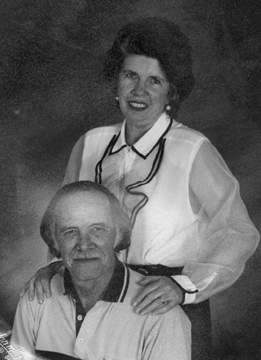 Billy Roy and Bette Nell Rash will celebrate their fourth anniversary July 29. They were joined in marriage that date in Eden's Garden by the Rev. Wayne Mahoney.

Mr. and Mrs. Rash have nine children, 26 grandchildren, and three great-grandchildren.
Note: this may be in error, may be their 40th


---
12/26/2004 Nichols Anniversary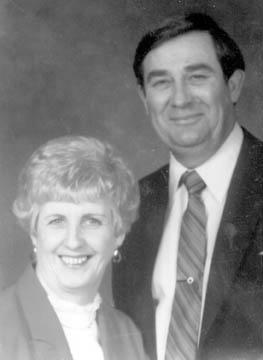 Mr. and Mrs. Geral Nichols of Corsicana celebrated their 50th wedding anniversary Dec. 18 in Martin Hall at the First United Methodist Church in Corsicana with family and special friends.

Geral and Bobbie Nichols were united in marriage Dec. 24, 1954, at 6:30 p.m. at the First Baptist Church parsonage in Kerens. The Rev. Frank Gillham officiated at the wedding, his first after becoming an ordained minister.

Bobbie's brother, Ray Scott, served as the best man, and Betty Fink Scott attended as maid of honor. The couple made their home in Corsicana.

Bobbie is the daughter of the late Mr. and Mrs. Robert Scott of Kerens. She was employed by J.C. Penney Co. Inc. for 24 years, and later owned her own business.

Geral is the son of the late Mr. and Mrs. T.W. Nichols of Corsicana. He was self-employed in the construction business, and retired after serving in the Army National Guard for 24 years.

Both are active members of the First United Methodist Church in Corsicana.

The celebration was hosted by the Nichols' three children, Tommy Nichols who is a lieutenant in the Navarro County Sheriff's Department, Marsha Stearman who is an office administrator for Gander Mountain and Tim Nichols who worked at the K-Mart Distribution Center for 23 years and currently owns Tim's Tires and Wheels in Corsicana.

Joining in the celebration were the Nichols' grandchildren, Stacy Nichols Ladd of Corsicana who is employed at Bank of America, Brandi Stearman who is a senior at the University of Texas at Arlington, T.J. Nichols who is a second-year student at Navarro College employed at the Old Mexican Inn, and Justin Stearman who is a second-year student at Navarro College employed at Tim's Tires and Wheels.

The couple has one great grandchild, Kaliegh Ladd, who is a student at Bowie School. Their son-in-law, Mike Stearman, is employed in management at TruServ Corp. in Corsicana, and a grandson-in-law, Tim Ladd, is employed at Guardian Industries in Corsicana.

The reception was catered by Alisia Greer of Affordable Affairs Catering.


---
1/16/2005 Smith 50th Anniversary





Clayton Smith and the former Dorothy Jamison celebrated their 50th wedding anniversary Dec. 23. They were married in 1954 by the Rev. Gene W. Dean in Corsicana.

The couple has two daughters including Cindy McCary and husband Mike of Corsicana and Sheri Warner and husband Paul of Thorndale, and son Tim C. Smith and wife Julie of Lindale.

Grandchildren are Emily McCary of Dallas, Drew McCary of Corsicana, Josh and Tyler Warner of Thorndale, and Jared, Braden and Mackenzie Smith of Lindale.

Dorothy Smith retired from Columbus Ave. Baptist Church Preschool in Waco in 1992, and Clayton Smith retired from the Texas Dept. of Public Safety in 2000. He served twenty years as a Highway Patrolman, fourteen years as a Texas Ranger and seven years as a civilian in the Motor Vehicle Inspection Division, completing a total of 41 years of service.

The couple celebrated their anniversary with a cruise to Cozumel, and during the Christmas holidays they enjoyed a trip to San Antonio and nearby Gruene with family members.

They spent their anniversary weekend with their children and grandchildren, enjoying a steak dinner at the family ranch at Grape Creek. A family portrait was presented to them in honor of the occasion.

---
July 3, 2005 - Sheets' 60th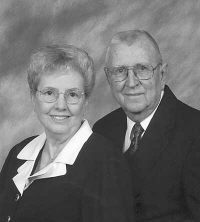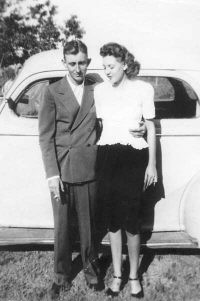 Billie Lou Gorman of Roane and Charles Afton "Bid" Sheets of Chatfield were married July 23, 1945 at 2 p.m. in the Methodist parsonage at Chatfield with Pastor James Williams officiating.
In honor of their 60th wedding anniversary, their family attended a surprise celebration June 19 at Wesley United Methodist Church in Corsicana.
In attendance were their sons, Jerry Sheets of Salt Lake City, Utah; Anthony Sheets of Corsicana; and their daughter Casina Sheets-Cobb and husband Larry of Carrollton.
Also present were five of their six grandchildren including Michael Sheets, Michelle Sheets-Mizerak and husband A.J. (Andrew John) of Salt Lake City, Utah; Christine Sheets-Tyykila and husband Randall of Corsicana; Paul Orsborn of Carrollton; and Terry Shelton of Tyler.
Terry Shelton's wife Stephanie and their daughter Madelyn, granddaughter of Casina Sheets-Cobb, were unable to attend. Shawn Shelton of Tyler also was unable to attend, but was represented by his wife Amy and their daughter Ava, granddaughter of Casina Sheets-Cobb.
In addition, six more of the couple's eight great- grandchildren were present including Zachary, Tryston, and Kirkland Mizerak of Salt Lake City, Utah, children of Michelle Sheets-Mizerak and grandchildren of Jerry Sheets; Myriam Sheets, and Crystal and Elizabeth Tyykila of Corsicana, children of Christine Sheets-Tyykila and grandchildren of Anthony Sheets.
Don Chenault of Chatfield, nephew of "Bid" Sheets, was present as well.

---
July 3, 2005 - Hilliard 60th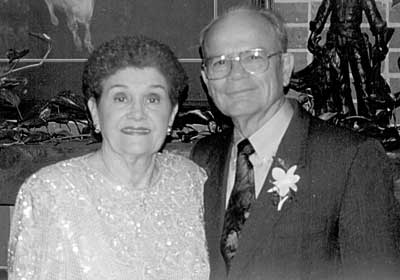 Hobart and Jean Hilliard of Kerens will celebrate 60 years of marriage July 9 at 2 p.m. at Lighthouse of Praise, 200 E. Collin St. in Corsicana.
They were married July 5, 1945, in Canyon.
Brandon Burden, the son of Pastors Larry and Kathy Burden, and youth pastor of Kingdom Life Christian Center of Frisco, will lead his grandparents in a ceremony renewing their vows.
A reception will follow and friends are invited to attend, however the family has requested no gifts please.
The couple has four children including Larry Hilliard and wife Linda of Hewitt, Kathy and Larry Burden of Frisco, Rick and Kathy Hilliard of Tallahassee, Fla., and the late Dennis Hilliard.
In addition, they have seven grandsons, a granddaughter and one great-grandson.
The couple has planned an Alaskan cruise to celebrate their anniversary.

---
July 3, 2005 - Boyd 50th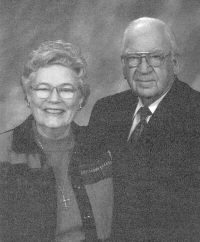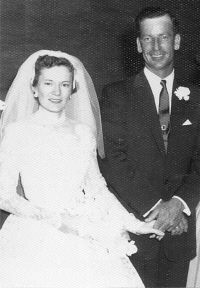 Robert and Helen Boyd celebrated their 50th wedding anniversary June 24-26 with their family at the Gaylord Texan Resort in Dallas.
Robert Boyd and the former Helen Bonner were married June 25, 1955, in Corsicana at Westminster Presbyterian Church.
Hosting the party were the couple's children Mack and Molly Boyd of Ennis, and Jane and Jerry Williams of Waxahachie along with Jean O'Leary and Bobby Bonds of Dallas.
Also, in attendance were the couple's grandchildren Kaitlin, Sara, and Lindsey Williams along with Jamie and Rob Boyd.
The couple has lived in Eureka on the Boyd family farm and ranch for 50 years. Robert Boyd is retired from the former Federal Crop Insurance Corporation and continues to work part time in the crop insurance business. Helen Boyd is a homemaker. Both are active members of the Westminster Presbyterian Church as they continue to operate their farm and ranch which has been in the family for more than 100 years.


---
Rev & Mrs. Abe Mulkey - 40th Anniversary - Dec 15, 1909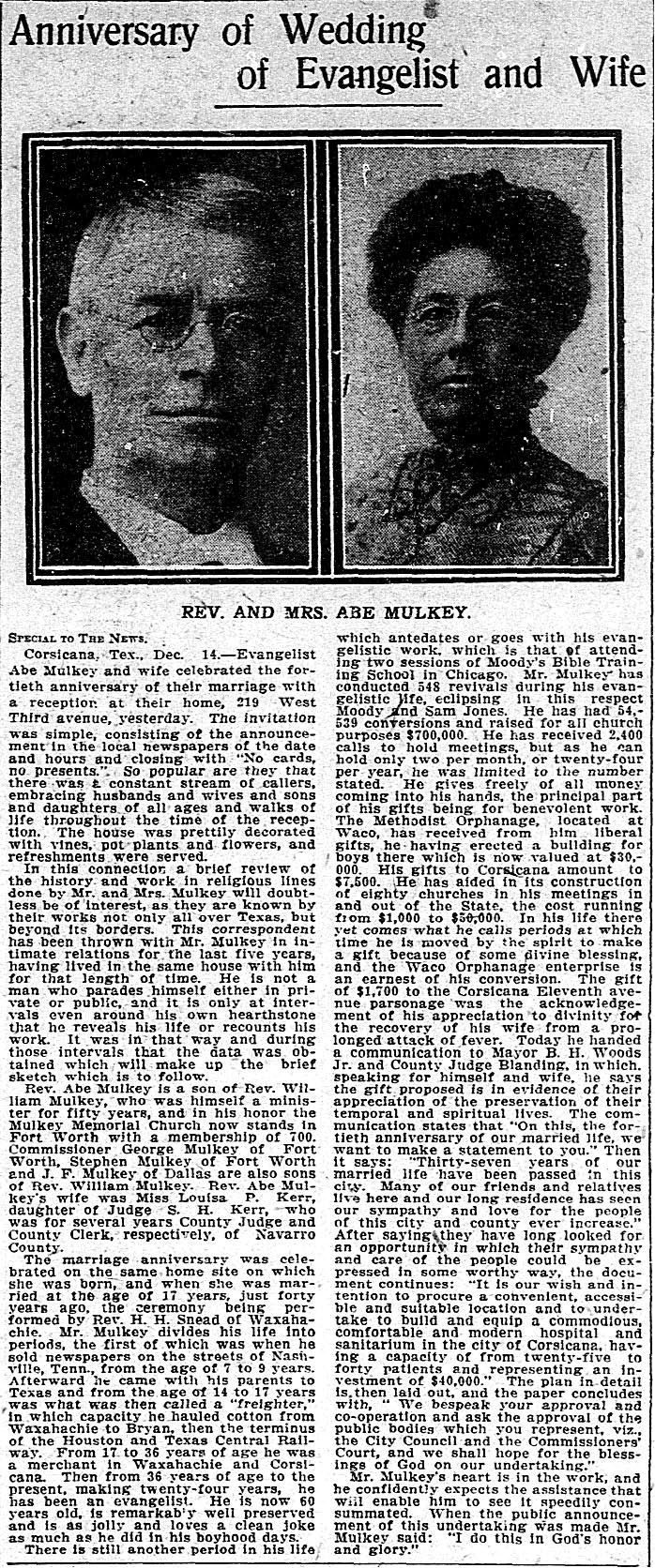 Notes:
---
J. S. Russell - 65th - Oct 18, 1925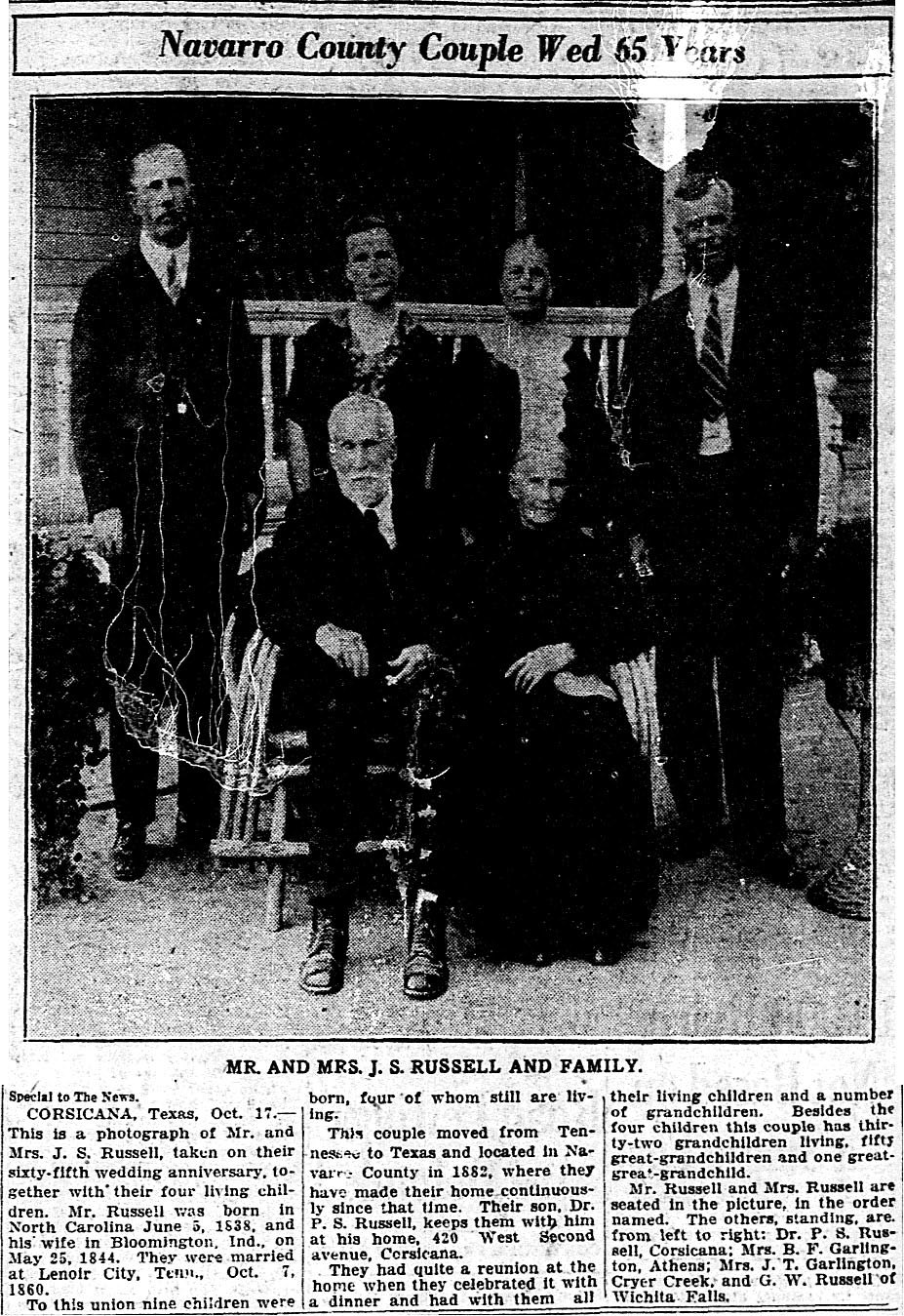 Notes:
---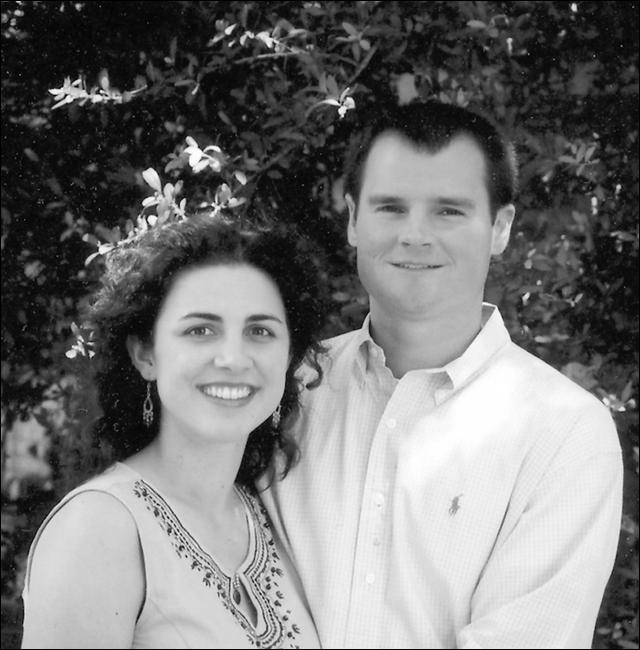 Mr. and Mrs. Gene Gardner of Corsicana are pleased to announce the engagement and approaching marriage of their daughter Bethany Ann to Josh Martin of Frost.

The bride-elect is the granddaughter of Mr. and Mrs. Rex Folmar of Winkler, and Mr. and Mrs. Gene Gardner Sr. of Huntsville, and great-granddaughter of Mrs. H.W. Binford of Conroe.

She is a 1999 graduate of Corsicana High School and a 2004 graduate of the University of Mary Hardin-Baylor with a bachelor of science in nursing degree. She is currently employed by Scott and White Hospital in Temple as a registered nurse.

The groom-to-be is the son of Mr. and Mrs. Ronald Martin of Frost. He is the grandson of Mary Helen Green and the late Irvin Green of Frost, and Dorothy Martin and the late Charles Martin of Frost.

He is a 1996 graduate of Frost High School and a graduate of Texas A&M University with a bachelor of agriculture economics degree in 2000 and a master of agribusiness degree in 2001. He is currently employed by Corsicana National Bank and Trust as a loan officer.

The wedding will take place July 1 at Second Avenue Baptist Church in Corsicana.

Note:
---
Charles N. Manfred & Minnie Mae Van Nort

Corsicana Daily Sun
August 21, 1922

Former Corsicana Girl Married in New York

The following which appeared In the Dallas Times Herald Sunday concerning the marriage of Miss Minnie Mae Van Nort will be of interest to her many Corsicana friends. She is a granddaughter of Mrs. S. J. Van Nort of this city.
The notice in The Times Herald was as follows:
Announcement has been received of the marriage In New York, August 16 of Miss Minnie Mae Van Nort daughter of Mrs. Alice McAfee Van Nort, formerly of Dallas, to Charles N. Manfred, a publisher of that city.
Mrs. Manfred has been a prominent soloist of New York, singing for the last two years at the First Methodist Episcopal Church of Yonkers.
During the war she was active In relief work and organized the "Cheer a Buddy Club" which continues as an entertaining organization in various hospitals. Mr. and Mrs. Manfred are spending their honeymoon in the Bermudas. Upon their return In November they will open their home in Brooklyn, N. Y.
Submitted by James H. Douglas, Michigan

---
Arlis Rankin Franch & Clara Zolema (Breedlove) French
Mr. & Mrs. French to note Golden Wedding
Mr. and Mrs. A. R. French, 500 South 27th St., will celebrate their 50th Wedding Anniversary Sunday, July 17. A reception will be given in their honor at the Navarro Mills Baptist Church Fellowship Hall from 2:30 until 5 p.m. by their children.
Mr. and Mrs. French were married at Emmett July 16, 1927. She is the former Clara Zolema Breedlove. They have three daughters, Mrs. Glen Taylor of Amarillo, Mrs. Dean Melton of Dresden, and Mrs. Wayne Richards of Andrews; eleven grandchildren, and four great-grandchildren.
Their children invite friends and relatives to share in this anniversary occasion.
Notes:
The Corsicana Daily Sun - Thursday, July 14, 1977

Submitted by Diane Richards

Were married July 16, 1927 at Emmett, Navarro County, Texas

Arlis died Nov 18, 1979, Clara died Jan 25, 2002. They are buried at Restland Memorial Park in Dallas, TX
---
William Franklin Morris & Nancy Jane "Jennie" (Moreland) Morris
The Corsicana Daily Sun - Tuesday, Oct 16, 1962
Submitted by Diane Richards
---
Oscar James Skinner Sr & Etta May (Patterson) Skinner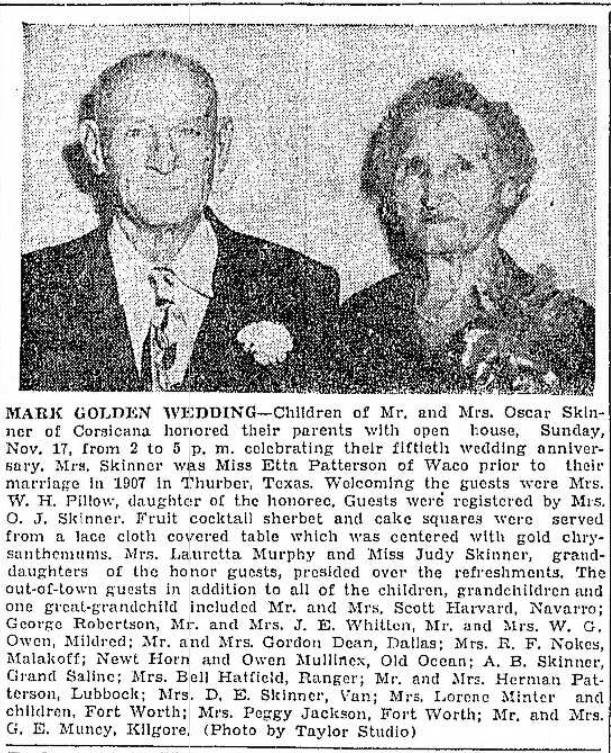 The Corsicana Daily Sun - Nov 26, 1957
Submitted by Diane Richards
---
William Pitts Moore - Mary Delle Bills

The Corsican Semi-Weekly Light (Corsicana, Texas) July 23, 1946
---
Charles Edward "Charley" Roney and Myrtle (Young) Roney
Golden Anniversary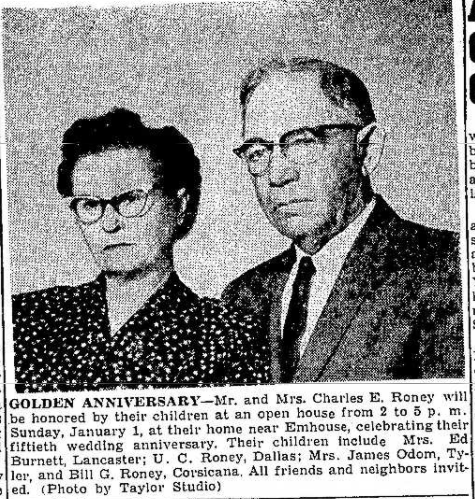 Notes: Resthaven Memorial Park; Mertle's Obituary
Submitted by Diane Richards