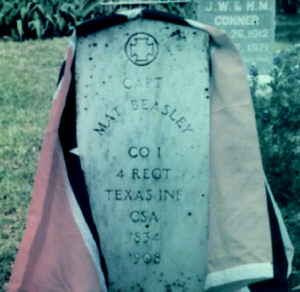 Photo by Dana Stubbs
Capt. Mat Beasley
Co. I 4th Regt. Texas Inf
CSA
1834 - 1908
1st sergeant/lieutenant/captain. Was the original 1st sergeant of the company. He was promoted to 2nd lieutenant on Dec 14, 1861 and to captain on Nov 10, 1863. Was wounded in the thigh in the battle of Gaines' Mill, Virginia on June 27, 1862. While leading the company in battle at Chickamauga on September 19 or 20, 1863, Beasley was wounded again. Died in Navarro County in 1906.
Enlisted in "Navarro Rifles" militia on July 17, 1861. Was original first sergeant of the unit which became a part of Company I, 4th Texas infantry, Army of North Virginia. Wounded twice during war and was promoted to Captain before war's end. Wife, Eliza Conner. Became minister of several churches in Navarro County, served as Navarro County Treasurer. (Navarro Leaves & Branches Feb 1999)
Conner Family Cemetery; Navarro Co., TX
1834 - 15 September 1906
Notes:
Submitted by Norman Stubbs, Commander of J. L. Halbert Camp 359, SCV
---
Georgia Elizabeth. Beasley
Apr 12, 1855 - Sep 4, 1935

Mrs. Georgia Beasley Buried
Funeral rites for Mrs. Georgia E. Beasley, 80, wife of the late Matt Beasley, early Baptist minister in Corsicana and Central Texas, were held Friday at the Poole Funeral Home, with burial in Conner Cemetery, northeast of Corsicana. Mrs. Beasley died Wednesday at her home, 827 South Winnetka.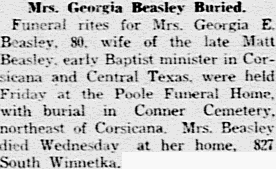 Notes: