Joseph Patterson Campbell
Father of Birdie Jane
my Grandmother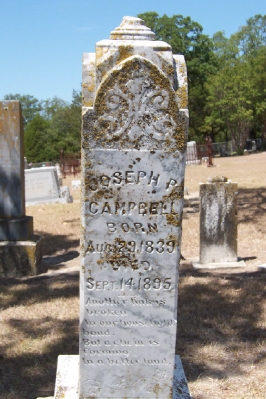 Photo by Karen Rost
Campbell-Elrod Cemetery|
Navarro Co., TX
Joseph Patterson Campbell was born in Robertson Co. TX. on August 29, 1839, to David Wilson Campbell and Rosetta Jones.
Joseph married Martha A. Melton on June 5, 1866, in Navarro Co., TX. Martha and their child both died during childbirth.
He married again on September 15, 1869, to Lutitia Louise Willis. She was born March 18, 1851 to William E. Willis and Mary Jane Lemmon. I read where they first moved to Bosque County when Lutitia was 8 years old. They were in two covered wagons pulled by teams of oxen, her father driving on and her mother driving the other. It was in the Spring and when they crossed the Brazos River it was high and swift. The water was up to sides of the wagon. They did not live in Bosque, Co. very long, before they moved back to Navarro Co. Texas.
Joseph was a Singer Sewing Machine agent. He was a member of the Methodist Church, and fought in the Civil War. Joseph Patterson served in Co. F, of Parson's 12 Texas Calvary, during the War.
He died April 14, 1895. And is buried in the Campbell Cemetery.
After his death, some of his half-brothersí children tried to take the home place from Granny Campbell and their children. They went to court trying to prove that Joseph was illegitimate. On the day of the Courtís decision, Lutitia and Ed, her oldest son, went to court leaving the younger children at home. That afternoon, just about sundown, the children saw their mother and brother about a mile away, coming fast down the road. She was standing up,
Waving the buggy whip with the deed tied on the end---a sign that they had won.
Lutitia died October 23, 1928, and is buried in the Campbell Cemetery.
---
Family of Joseph Patterson Campbell
1 Joseph Patterson Campbell b: 29 August 1839 in Robertson Co., TX d: 14 September 1895 in Navarro Co., TX Burial: September 1895 Campbell-Elrod Cemetery, Navarro Co., TX
.. +Martha Ann Melton d: Bef. September 1869 in Martha and their child both died during childbirth m: 6 June 1866 in Navarro Co., TX
*2nd Wife of Joseph Patterson Campbell:
.. +Louisa Lutitia Willis b: 18 March 1851 in Freestone Co., TX d: 23 October 1928 in Corsicana, Navarro Co., TX m: 15 September 1869 in Navarro Co., TX Burial: October 1928 Campbell-Elrod Cemetery, Navarro Co., TX
........ 2 Minnie May Campbell b: 8 September 1873 in Drane, Navarro Co., TX d: 23 July 1962 in Corsicana, Navarro Co., TX
............ +Sam Houston French b: 15 January 1867 in Raleigh, Navarro Co., TX d: 30 April 1941 in Purdon, Navarro Co., TX m: 9 August 1891 in Navarro Co., TX
........ 2 David W. Campbel b: 10 February 1872 in Navarro Co., TX d: 18 October 1873 in Navarro Co., TX Burial: Campbell-Elrod Cem, Navarro Co., TX
........ 2 Joe Etta Campbell b: 19 August 1875 in Navarro Co., TX d: 3 February 1883 in Navarro Co., TX Burial: Campbell - Elrod Cem, Navarro Co., TX
........ 2 Dora Campbell b: 30 June 1870 in Navarro Co., TX
............ +Lee Hadley b: 28 November 1866
........ 2 Edmond P. Campbell b: 12 February 1878 in Navarro Co., TX
............ +Maymie Williams m: 4 April 1923
........ 2 Marvin Felix Campbell b: 19 November 1881
............ +Rose Galloway
........ 2 Byrdie Jane Campbell b: 12 November 1886 in Drane, Navarro Co., TX d: 28 October 1982 in Meridian, Bosque Co., TX Burial: Waco Memorial Park, Waco, McLennan Co., TX
............ +Ernest Brown McDowell b: 19 December 1881 in Blackstock, S.C. d: in Meridian, Bosque Co., TX m: 3 May 1907 in Navarro Co., TX - (or Feb. 7, 1907) Burial: Waco Memorial Park, Waco, McLennan Co., TX
........ 2 Joseph B. Campbell b: 4 January 1889 d: 13 March 1951
............ +Gertrude Crow
Notes: