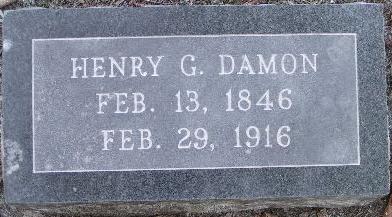 Photo by Dana Stubbs
Oakwood Cemetery, Corsicana, Navarro Co., TX
Excerpts from Reminiscences of the Boys in Gray, 1861-1865
H. G. Damon, Corsicana, Texas-Born Feb. 13, 1836, at Tallahassee, Leon County, Fla., where I enlisted on the 20th of May, 1861, in the Confederate Army as private in Company D, Second Florida Infantry, Garland's Brigade, Longstreet's Corps, Army of Northern Virginia. My first Captain was T. W. Brevard, and first Colonel was Geo. T. Wara. Being under age, was discharged on Sept. 17, 1862, and in February, 1864, joined John H. Morgan's Cavalry as member of Company D, Second Kentucky Cavalry. Was taken prisoner at Cynthiana, Ky., June 12, 1864, and sent to Rock Island, Ill. Escaped Sept. 19, 1864. Was recaptured about Sept. 30th and sent to Camp Morton, Indianapolis, Ind., from where I escaped Nov. 14, 1864. Was never promoted. Was in the battles of Williamsburg, Mechanicsville, Beavers' Dam, Gaines Mill, Frazier's Farm, Second Manassas, Sharpsburg, Wythville and Cynthiana, Ky.
Now for a few reminiscences: My prison experience began at Rock Island, Ill. On the 9th of September, just a little after dark, I escaped from the place through a cat hole under the fence, which I had enlarged with a case knife. Of the 15,000 or more prisoners confined at different times in Rock Island prison, I have the honor of being the only one who ever escaped this way. I waded from the island across the Mississippi to the Illinois shore, and walked up the railroad towards Chicago, laid in the woods next day, and on the next night boarded a train for Chicago, riding part of the way between the cars, reaching Chicago next morning. Before leaving prison I was given the address of a Mrs. Judge Morris at Marshall, Ill. where several Confederate soldiers were hiding out there for a special purpose. They had been sent there to raise troops for the Confederate Army out of the thousands of Southern sympathizers in Southern Illinois and Southern Indiana. Their purpose was to release the prisoners at Camp Morton and Camp Chase and cross the Ohio and attack Gen. Thomas in the rear. It was a great scheme and might have succeeded if it had not been for a traitor in our ranks. The men selected to lead this venture were Capt. John B. Castleman, Capt. Hines, Lieut. Mumford and myself. At the little town of Sullivan, on the Wabash River, some scoundrels had been stealing horses and committing other depredations. The citizens had organized a band of regulators and were arresting all suspicious characters. They looked on us as suspicious and arrested us. Castleman had some letters on his person which led them to suspect we were worse than horse thieves. We were sent to Indianapolis for confinement, and soon afterwards a dirty villain named Shanks, who claimed to be a Confederate soldier, exposed our whole plot.
Castleman and Mumford were put in close confinement and I was sent to Camp Morton, where about 5,000 other Confederate soldiers were. The prison was rectangular in shape, and enclosed by a fence about twelve feet high. There was a walk on the outside of the fence about three feet below the top, where the sentinels walked. These sentinels were about 100 feet apart. On the prison side of the fence were lamps with reflectors that threw such a bright light that you could see the smallest object 100 yards off. About ten feet from the fence was a ditch which was called the "dead line." The guards had orders to shoot any prisoner who attempted to cross that dead line.
I had not been in Camp Morton long before I began to look for a chance to escape. The next day a Tennessee boy, named Dave Young, and I made the attempt, but were caught and came near being shot. We were taken before the adjutant of the prison, who applied all kinds of vile epithets to us, tied our hands behind our backs, tied us to a post and ordered us to mark time.
Just as we began marking time, the sentinel on the fence called out: "Nine o'clock, and all is well." The next sentinel repeated it, until it went the whole rounds of the prison guards. We heard them make the same call every hour during the night. Once we came near stopping from complete exhaustion, when the man on the fence said: "Boys, I do not want to shoot you, but my orders are strict; you must keep on marking time." Finally, after fifteen hours' punishment, we were allowed to stop. You may think that fifteen hours of marking time was awful, but it was not to be compared to the additional excruciating torture of having our hands tied behind us. Our failure, however, did not deter us from trying again.
We planned to charge the guard and escape over the wall. The success of this plan involved: First, getting forty or fifty men who had the nerve to try it; second, getting a sufficient number of ladders to scale the 12-foot fence; third, crossing a ditch six feet deep and several feet wide before getting to the wall; fourth, charging without weapons a guard posted on a high fence who would be sure to pour a volley of shot into them, with the chance that several would be killed. After due deliberation, we concluded to get up the crowd and make that charge or die in the attempt.
The greatest difficulty was in getting the material for the ladders. This they solved by tearing up our bunks and using the pieces to make ladders. We saved every nail and used them in fastening the cross pieces, supplementing this by pieces of blankets which were torn into strips and used in place of ropes. All this had to be done quickly and secretly. Delay was dangerous, so they began work in the morning. Late in the evening all was ready, and as the twilight fell forty-six men, five of whom had ladders, the others being armed with rocks, bricks and whatever missiles they could find, started on the perilous enterprise. The place decided on for the charge was barrack No. $ on the north side, which was long and about ten feet from the ditch and parallel with it. This barrack was inhabited by about 500 prisoners, and was selected because it was so close to the ditch and offered cover to our men forming.
I was sitting on my bunk getting ready to go to bed when one of the men came in and said: "Damon, I just saw a crowd of fellows running across the yard towards No. 4 with ladders. I reckon they are going to make a charge." Instantly I said: "Come on, boys." Not a man stirred. Dave Young, with all the bitter remembrance of our recent punishment, sat where I left him. "Ain't you coming?" I asked. "It is no use," said he. "It's been tried before. You will get killed." There was no time for remonstrance, so I left them and started for No. 4. It was getting quite dark, but objects could be seen 100 feet away. When I got to No. 4 I saw our men behind the barrack out of range of the guns of the guards. Some were in front with ladders calling out rather feebly: "Come on, boys," while those behind were saying with tremendous emphasis, "Go ahead, boys." I said, "All they want is for some one to take the lead, and I will do it." The memory of the fiendish and unmerited cruelty that had been inflicted on me nerved me and I rejoice in an opportunity to lead a forlorn hope. In a second I had made up my mind to lead that crowed, but I did not get the chance. When I got within ten feet of the front the foremost men made a dash and the whole crowd followed.
The guard fired a volley into us, but no one fell, and I do not know to this day haw many were wounded. As long as I live I will never forget the fierce delight of this wild charge. It thrills me even now as I think of it. Into the ditch we jumped and scrambled like cats up the other side. When I got across there was a ladder against the fence. Two prisoners were climbing up, and the two guards who had emptied their guns at them, were standing over them with fixed bayonets. A man behind me on the ditch handed me a ladder and I placed it against the fence and climbed up. I was the first man on the second ladder, and when I reached the top the two sentinels who had been trying to use their bayonets were gone.
After getting outside the prison walls we scattered into groups of twos and threes. I did not know any one, so I struck out by myself. I ran about half a mile to where there was some timber, then turned square to the left, and coming to a road I took it and entered the city about half a mile south of Camp Morton. Though I was eighteen years old, I did not look to be over sixteen. I wore a citizens suit, and I did not believe that anyone would take me to be one of those terrible rebels. I walked through the city till I came to the Terre Haute Railroad. My aim was to reach Marshall, Ill., about ninety miles distant.
When I reached Marshall the Confederate boys had disappeared, but I found friends who gave me sufficient money to pay my way to Cincinnati, where I crossed over into Kentucky, and in about a month I joined a company of recruits that Capt. Southall, one of Duke's recruiting officers, had gathered together. In the group I found Tam and Clint Brooks. Both with their feet so badly frostbitten that they had to tie up their feet in rags, but they were once more free and that was enough to compensate for their suffering.
While I had nothing to do with the plot to escape, I got credit for the whole thing. Sam Pasco, who was afterwards Senator from Florida, got home from Camp Morton the next summer. I lived in Tallahassee, Fla., and saw him soon after he returned. He told me as soon as it was learned that prisoners were escaping, Davidson, with drawn sword, came rushing to barrack No. 5 and said: "Where is Damon?" Some one answered: "He is gone." Pasco said Davidson made the night lurid with maledictions and said: "Oh, the scoundrel. He is the head of this and when I catch him I will kill him." I have little doubt that if he had caught me he would have killed me.
---
List of Duties while serving UCV camp
H. G. Damon was a member of the Winkler Camp UCV in Corsicana, Texas.

Damon was Adj. at annual meeting of Winkler Camp UCV 14 Mar 1896 at Corsicana; plus, on the reunion committee.

Damon was Adj. of Winkler Camp UCV at the called meeting at the Corsicana City Hall, March 27, 1897

Damon was Adj. at the annual meeting of Winkler Camp UCV 26 Mar 1899 at Corsicana and reelected Adj. & made delegate to the Charleston, SC Convention.

Damon was Elected Adj. at the annual meeting of Winkler Camp UCV 01 Apr 1900.

Damon was Elected Adj. at the annual meeting of Winkler Camp UCV 3 Apr
1909 at Corsicana, 3 Apr 1909 and Delegate to Mt Pleasant, Texas Convention and the Memphis TN National UCV Convention.
---
FROM THE NAVARRO COUNTY HISTORY VOL. FOUR, PAGE 67
...HENRY G. DAMON DIED FEBRUARY 18, 1916, AND WAS BURIED FROM THE FIRST BAPTIST CHURCH WHERE HE LAY IN HIS CONFEDERATE UNIFORM WITH HIS BADGE OF VALOUR ON HIS CHEST IN A CASKET DRAPED WITH THE CONFEDERATE FLAG. REV. B. W. VINING CONDUCTED THE SERVICES AND THE REV. DR. RAY GAVE THE EULOGY IN WHICH MR. DAMON WAS DESCRIBED AS BRAVE BUT LOVING AND AN EXAMPLE OF THE CHILVAROUS SOUTHERN MAN. HE IS BURIED AT OAKWOOD CEMETERY IN CORSICANA AND HIS FUNERAL WAS ONE OF THE LARGEST HELD THERE AT THE TIME OF HIS DEATH, FILLING BOTH THE AUDITORIUM AND GALLERY OF THE CHURCH WITH MANY PERSONS LEFT STANDING.
---
OBITUARY
H. G. Damon Passes Away
At Tuesday morning, Mr. H. G. Damon, age 70 years, quietly fell asleep to awaken in the heavenly home. Simple and unassuming as the life he led in just such wise God saw fit to call him home. No fondness of farewell, but one clear call and he has "crossed the bar." For many years Mr. Damon has been a resident of Corsicana, and at all times his name has been honorably borne, in his life were centered the attributes of charity, integrity and Christian manhood. As a soldier he had a brave honorable record. All Confederate veterans were requested to be the honorary pall bearers and met at the family residence on West Third avenue Wednesday afternoon at and accompanied the body of their beloved comrade to the First Baptist church where the funeral services were held at .
In the community, the church the home, his good deeds shall live on as a monument to his name and memory, symbols of man's goodness on earth. The sympathy of the entire community, goes out to the bereaved family. March 1, 1916
Notes:
Submitted by Norman Stubbs, Commander of J. L. Halbert Camp 359, SCV
----

WELL KNOWN CITIZEN DEAD.

Capt. H. G. Damon Died Early Today After Hour's Illness

Capt. Henry G. Damon, aged 70 years, and one of Corsicana's oldest and most highly esteemed citizens, died at his home on West Third avenue at 5 o'clock this morning from an attack of heart failure after one hours' illness. He awoke about 4 o'clock suffering with his heart, and a physician was summoned, but death came before the physician could reach him.

The deceased was at his office all day yesterday and was on the street until late yesterday afternoon, and the news of his death, as it spread over town at an early hour this morning, came as a distinct shock and the sad news of the sudden death of this good man cast a gloom over the entire community, for everybody respected and esteemed him, and he was sincerely loved by a large circle of personal friends among our leading and best citizens.

Mr. Damon came to Corsicana from Tallehassee, Florida, his birthplace, in 1875, and had been a resident here since that time. He was a Confederate Veteran and an active member of the Baptist church, and a man of fine intelligence, unblemished personal character, and leaves behind him a name that is untarnished and a life that was honorably spent.

Surviving the deceased are his widow and two children, Mr. Gordon Damon and Mrs. Nell Damon Pace, to whom the sympathy of the entire community goes out in their hour of sorrow.

The funeral will take place from the First Baptist Church tomorrow afternoon at 4 o'clock, with Rev. B. W. Vining officiating. The pall bearers will be as follows:

Active—Guy M. Gibson, Geo. A. Duren, J. S. Millerman, Byron Cheney, O. L. Albritton, Lowry Martin and Sterling Wood.

Honorary—Camp Winkler, United Confederate Veterans, J. L. Halbert, Geo. T. Jester, W. J. Gordon, W. J. McKie, Lucius Halbert, C. H. DeLafosse, C. E. Lee, Will Cheney, J. Y. Roberts, Geo. F. Miller, J. S. Millerman, J. C. Calhoun, J. F. Taylor, Dr. J. T. Hunt, B. K. Duncan, Dr. J. A. Jones, W. N. Markham, J. D. Robinson, J. H. Woods, F. N. Drane, Judge R. S. Neblett, Judge J. H. Rice, Judge J. M. Blanding, Ralph Beaton, J. D. Jackson, Dr. I. N. Suttle, A. M. Milligan, S. A. Pace, C. H. Allyn, W. M. Tatum, Fred Fleming, J. E. Butler, J. J. McClellan, R. E. Prince, A. L. Lotspeich, Dr. R. N. Holloway, W. M. Elliott, Gen. Felix H. Robertson, Ben Fortson and W. M. McAfee.

Interment will be in Oakwood cemetery.

On all sides are heard regrets at Mr. Damon's departure and invariably there follow words of praise for him.

Capt. J. Y. Bates expressed great sorrow at his death and declared he was a man of many fine traits of character and he was never known to speak evil of any man.

Rev. Abe Mulkey said: He was a remarkable man who was always steadfast in his devotion and adherence to a cause that he regarded as being right. In this connection Mr. Mulkey said. "He was the first National Prohibitionist I ever saw and in the first state-wide prohibition election he paid one of the great North Texas daily papers $500 of his individual funds for a page advertisement in behalf of prohibition in that paper. He was always steadfast to the cause—never wavering.

Members of Camp Winkler speak of him in sorrowing tones and with voices choking with emotion, while the eyes of the Daughters of the Confederacy fill with tears at the mention of his name.

He visited the Sun office for the last time yesterday morning, and that visit was for the purpose of handling in the call for the annual meeting of Camp Winkler and the Daughters of the Confederacy next Saturday in the Johnson building. He was true to his family, his church, his country, his friends, the cause for which he spent four years of his life—was true to himself and his God. He fought a good fight and is now in the full enjoyment of the promised rewad.

H. G. DAMON PASSES AWAY.

A Prominent Citizen and a Good Man Gone to Rest.

At 4:30 this morning Mr. H. G. Damon, aged 70, quietly fell asleep to awaken in the heavenly home. Simple and unassuming as the life he led, in just such wise God saw fit to call him home. No fondness of farewell but one clear call, and he has "crossed the bar." For many years M. Damon has been a resident of Corsicana, and at all times his name has been honorably borne. In his life were centered the attributes of charity, integrity and Christian manhood. As a soldier he had a brave honorable record. All Confederate veterans are requested to be honorary pall-bearers and will meet at the family residence on West Third avenue Wednesday afternoon at 3:30 to accompany the body of their loved comrade to the First Baptist Church where the funeral services will be held at 4 o'clock.

In the community, the church, the home, his good deeds shall live on as a monument to his name and memory, symbols of man's goodness on earth. The sympathy of the entire community goes out to the bereaved family.

A FRIEND.

WILL ATTEND FUNERAL

U. D. C. Requested to Meet Tomorrow Afternoon At 2:30.

The Daughters of the Confederacy are requested to meet at Carnegie Library at 2:30 tomorrow afternoon to attend in a body the funeral of Mr. H. G. Damon, Adjutant of Camp Winkler.

MRS. BEN HARTZELL, President

Notes:
--

When the Grim Reaper overtook Mr. H. G. Damon and gathered him to the fathers one of Corsicana's most beloved citizens was taken from the daily walks of men. He was a man of quiet demeanor, reserved in his habits, but of wonderful will power, a high order of that kind of courage that is known only in gentlemen and possessed of an energy and qualities of endurance that were remarkable. He was always on duty and always at work but always had a smile and cordial greeting for all who entered his office or whom he greeted on the street. No word of complaint ever escaped his lips and he was not unacquainted with sorrow nor many of the His that beset life's pathway. As a boy of fourteen in the Confederate ranks he marched as steadily and as unflinchingly against the enemy as he faced life's battles when he laid down his arms. In those qualities that go the make-up of the true man few if any man possessed more of them than did Mr. Damon. He will be missed. There are few like him. The world would be better if there were more like him. To his family, to whom he was wonderfully devoted, he has bequeathed the priceless legacy of a good name and to his friends and country he leaves a name and an example of patriotism that is well wor (the rest of the sentence is torn off)

Notes:
--

THE LAST SAD RITES

Remains of H. G. Damon Are Laid to Rest in Oakwood.

Seldom has there ever been in Corsicana a more largely attended funeral than the one of the late Capt. H. G. Damon at the First Baptist church, this afternoon at 4 o'clock. Long before the appointed hour the house was filled with the friends of the departed and his family, and the chancel was a veritable bower of the most beautiful flowers and evergreens. At 3:30 o'clock the body was borne from the home, and from there the procession wended its way to the church, followed by the members of Camp Winkler, Confederate Veterans, accompanied by Gen Felix H. Robertson of Waco, commander of the Confederate Veterans of Texas, and a large procession of friends followed these and the other honorary and active pallbearers.

The services at the church were conducted by the pastor, Rev. B. W. Vining, assisted by Rev. Jeff D. Ray of Fort Worth, a former pastor of the church. Both of these paid beautiful tributes to the memory of the deceased and the songs for the occasion were beautifully rendered by Mrs. J. E. Butler, Miss Lois Noble, Douglas Johnson and Will Cheney, led by Miss Marian Cheney on the pipe organ. The services were impressive and solemnly beautiful, and a sad hush prevaded the big throng to the close of the sacred service.

The procession which followed the body to its final earthly abode was an immense one, and at the conclusion of the services at the grave the mound was hidden beneath an immense bank of floral tributes.

All Corsicana realizes that one of the town's best men has gone from among them, and his memory will linger as long as men love the brave and the true.

Notes:
---

MOURNS LOSS OF GOOD MAN

High Tribute Paid Life and Character of H. G. Damon

It was a splendid tribute the ministers, the church of which he was a faithful member, the Sunday school class of which he was the teacher and the public, paid Mr. H. G. Damon yesterday. At 4 o'clock in the afternoon the funeral services for this valued and universally beloved citizen were held. There were conducted by Rev. B. W. Vining, pastor of the First Baptist church, of which Mr. Damon had been a faithful member for many years, assisted by Rev. Dr. Jeff D. Ray now of Fort Worth, but formerly pastor of the church here, and like all former and preceding pastors of this church, was a warm personal friend and great admirer of Mr. Damon. The services were held in the First Baptist Church.

Prior to the arrival of the hour for the funeral both the auditorium and gallery of the church were filled and many stood during the service. The altar was a veritable garden of floral beauty—tributes of friends who sought to give some expression to their love for this man for whom everybody who knew him has a kindly word and in every heart in Corsicana there is a feeling of sorrow because of his death.

Confederate Veterans, Daughters of the Confederacy and the Anchor Bible class, of which he was the beloved teacher, the members wearing their colors, attended the funeral in a body. On the casket was a Confederate flag and in its narrow confines lay the form of this chivalric Southerner and Christian gentleman clad in a Confederate uniform.

Solemnly and slowly the funeral party came into the church, treading softly to the mellow tones of the organ presided over by Miss Marian Cheney. Then there came a great hush which was broken by the quartette composed of Mrs. J. E. Butler, Miss Lois Noble and Messrs. Douglas Johnson and Will Cheney. AS the sympathetic notes were heard there came deep sobs all over the house while tears streamed down many cheeks.

Rev. Dr. Ray, choking with emotion, offered a prayer which he introduced with the words: "Though our heads are bowed in the midst of a great bereavement, Thou will not leave us comfortless." Then he prayed that the spirit of the Lord might be in the hearts of the congregation, the friends and the wife and the children and that as a result of the taking away of our beloved friend that the fragment of life that is left us may be made purer and cleaner.

Another song by the quartette was followed by the reading of the 90th Psalm by Rev. Dr. Ray, after which he began what proved to be a most eloquent eulogy that unquestionably came from the lips of a man who had been drawn very close to the friend who had been called to the unknown world. Dr. Ray spoke with unmistakable evidence of sorrow and frequently paused that he might not give way to his emotions. He came not, he said, to pronounce a post-mortem eulogium upon Henry Damon. He was thankful that his happens not to be needful. My eulogy is in writing addressed to him three months ago. The speaker then told how, moved by some peculiar impulse, he had one day written Mr. Damon a letter in which he had said to him that he wanted to say a word to one who had so completely met his idea of a chivalric man and Christian gentleman. In the letter I told him how much I loved him and appreciated his character and friendship and noble life and that I regarded him as an immeasurable asset to his state, his community and his church. I am glad I placed those flowers on his brow while he lived that his wife and children might enjoy them with him. For years I have regarded him as a sworn brother. Then Dr. Ray told how he and Mr. Damon and two others had met here and each had agreed to pay respect to the death of the other. Today of that number I am alone—the only member of that quartette to weep with you and feeling more deeply than any of you can feel a since of heartbreaking bereavement. He spoke of Mr. Damon's great loving and sympathetic heart and his chivalry and devotion to the South saying, When as a child of 15 with unusual courage he followed the meteoric movements of John Morgan, carrying a musket that was taller than himself, he never knew the sensation of fear. The speaker quoted a couplet paying a tribute to the "Beautiful flag" which he said was very dear to Mr. Damon's heart and eloquently referred to him then being clothed in a suit of Confederate gray with a cross of honor on his breast and a Confederate flag on the casket in which he rested and said though fearless he was brave but not cruel in battle, neither was he quarrelsome. I knew him and in knowing him I have known a brave man. Of physical courage he had the highest type, as he did of moral courage. I have seen him tried in both. He was a chivalrous and knightly gentleman. He had heard a lady say that Dr. Damon was chivalrous to every woman and the speaker said this chivalry was not forgotten in the domestic circle. No one ever knew him to be guilty of other than chivalry and courtesy in the presence of women and no one ever knew him to be guilty of uttering a profane or obscene word—and there was no act of his that suggested other than modesty and purity. I thank God for the pure ideals of Southern womanhood but I know none of more sincerity of soul than that of Henry Damon. He was a chivalrous gentleman. Whether in prosperity of meager funds, he was a devoted Christian. With a few others he raised the money that built this house. This is a sample of the contributions that he made to the moral and spiritual welfare of this community. He hadn't the gift of holding on to things but whether fortune came or went he was unfaltering in duty. What did he leave? Henry Damon left no fortune in property but he left something worth much more than every house on Beaton street, more than every black acre in the county and more than every dollar piled up in the vaults of all your banks. He left an untarnished name from boyhood to white-haired old manhood. No man has said that Henry Damon ever soiled his name. It is worth something to leave an untarnished name. In all the struggles in which the people have been engaged in his life he was on the side of righteousness. He has achieved much in noble Christian principles. All his life he has been true to himself and to God. No minister who ever occupied this pulpit was more devoted to those things that stand for right and Christianity than Henry Damon. We have lost a good man, many have lost a good friend and this community has lost a noble, model Christian gentleman. This church will miss him. The community will miss him. Dr. Ray spoke feeling of Mr. Damon's "wonderful devotion to his family" and paid him a glowing tribute at that point. When I heard of his death, the speaker said, I said I am going to be a better man, that the remnant of life that is left me shall be purer and better and may a great iron purpose come into your hearts to contribute your part to the work that he has left.

Rev. Mr. Vining, the pastor, after the quartette had given another appropriate number, after making a few prefatory remarks, read the 13th verse of the 14th chapter of Revelations and said that Mr. Damon was a perfect type of the Southern gentleman and Southern chivalry and was a man whom all honored. He was the first member of the church that any one had spoken of to him in a complimentary way. The man who did that was Fred Freeman, who had remarked to him, "I want to tell you about my friend Damon, and then there had followed many kindly words. His weaknesses were exaggerated virtues. His loyalty was peculiarly strong. He was also very true to duty and God. His reward is sure as they who die in the Lord surely shall live. He died in the faith of God. He died in the service of the Lord. The purpose of his life was to glorify his Master. The speaker said he had never known so many people in all the walks of life to speak so favorably of a man. All of them asked questions about his death and then paused to express unbounded confidence in his life and to say he was the "best man I ever knew." His life was hidden in God. To a Christian death is very much like a birth. Picturing eloquently Mr. Damon's relations at home, which he said were most pleasant, he declared that "truly was God right when he said, "Blessed are they who die in the Lord." Speaking of the close relations of this life to the life to come he said "Truth in this world finds its true issue in the life to come and our brother now comes in contact with the things he believed." There is nothing that has more brightness than the message of his life. In his simple life he preached a sermon every day. I think it fitting that we should sing the message of his life, said Rev. Mr. Vining, as he closed, and the quartette immediately sang that always expressive and on this occasion particularly appropriate hymn, "Take Time to Be Holy." Then Mr. Vining announced that the service would be completed at the cemetery. It was noticed that the great majority of the large audience followed the remains of this truly noble and pure man to their last resting place, making it one of the largest funeral processions in the history of the city and in that way hundreds of men and women as did numbers of the youth of the city, show their deep devotion to this chivalric Southerner and true Christian gentleman.

Notes:
--

TRIBUTE TO H. G. DAMON

Pastor's Praise Man Who Lived Useful and Blameless Life

The funeral of Mr. H. G. Damon, one of Corsicana's most beloved citizens, was held at the First Baptist church Wednesday afternoon. The Sun carried a full report of the services. Rev. Jeff D. Ray, a former pastor of the church here, but not of Fort Worth, who was a warm personal friend of Mr. Damon's, was called here to assist the present pastor, Rev. B. W. Vining, in conducting the services. Mr. Damon was a member of this church and was regarded as a very useful and active one. A stenographic report of the remarks made by these two ministers was taken and are reproduced in full today at the request of Mr. Damon's family.

After a scripture reading, Rev. Dr. Ray spoke with much feeling as follows:

I have read the 90th Psalm. I shall pronounce no postmortem eulogy upon Henry Damon. I thank God that in his case it happens not to be needful, for my eulogy of Henry Damon is in writing, addressed to himself three months ago. I know not why, but at the time my soul went out to my sworn brother and I felt like I wanted to say a word to one who in all the years of my acquaintance with him so completely met my ideal of a friend and a Christian gentleman, and I said to my stenographer, "take a letter," and I dictated three pages to Henry Damon—not in my anticipation of this event, but in fulfillment of the honest utterances of my heart. In this letter I told him how much I loved him, how I appreciated his character and his friendship, how I valued his noble life and how I regarded it as an immeasureable asset among the good things of this community and this State. It gives me joy that while Henry Damon lived I put that flower on his rugged path, and that while he lived it was the privilege of his wife and children to read before he died the estimate of one who has known him lovingly and intimately for nearly a third of a century. May I be a little personal without impropriety when I say that he who now lies before us and two others besides myself for many years had regarded each other as sworn brothers, and a few brief months ago three of that quartet met in this room to pay the last tribute of respect to the first of the four who had passed to the other side. Today I come alone, the remaining one of the quartet being absent in a distant State, to weep with you, feeling more deeply than any of you can the sense of personal heart-breaking bereavement in the death of one who meant more in his life to me than any blood brother.

Henry Damon loved this body of brave comrades whose presence here brings to mind all the love of his chivalrous knightly hearts. He entered the Confederate service as a child of the age of fifteen years, when his musket was taller than he, and I am told followed with the unusual courage the metoric movements of his brilliant chief, Morgan, making although but a child, a model soldier. He never knew the sensation of fear, and followed his flag with unfaltering courage and loyalty. Beautiful flags are floating over the world, but the flag of a vanished nation has been furled deep in his heart for to these many years. It was his wish that he might be honored in his death being clothed in the Confederate gray, to bear upon his breast the Confederate cross, to have wound about his bier the Confederate flag. I have said he was brave, but he was not a quarrelsome man; he was not the sort of man who cared for physical bravado, but I think I know something of men, and I can say of Henry Damon, and God knows I speak the truth when I say it. I never in my life knew a braver man. He not only had no fear of physical danger, but far more than that, he had the highest type of moral courage. I have seen it tried in both cases and know the truth where of I speak. He had that twin sister of courage, chivalrous knighthood. It was said by a woman of your town who has known him from girlhood, and from his very young manhood that he was chivalrous to every woman; that even in the commonplace, too often commonplace, domestic circle he never forgot the chivalry man owed to woman. Is there a woman in the world that ever knew Henry Damon guilty of anything but the highest chivalry and the most knightly courtesy where woman's presence was involved? I never knew a cleaner man than Henry Damon. I was as intimately associated with him as I have ever been with any man, and I say to you gentlemen, I never heard an obscene word fall from his lips. I never saw an act of his that in the least suggested anything prurient or unclean. I thank God for this ideal of purity and Southern manhood. I never knew a Southern woman, nor wife, not mother, nor daughter who seemed to me cleaner of soul than Henry Damon. He was a Christian gentleman. All these years whether during the years of wealth, when he had unusual prosperity, or during the longer periods when he had to struggle for existence, all these years from his young manhood, he has been unwaveringly the Christian. Most of you gentlemen know that with one other he raised the money by private solicitation among his friends of this city and built this church. And this is but a small contribution that Henry Damon made to the moral and spiritual welfare of this community. Two or three times he had a fortune in his hands, but being a dreamer, somehow he had not the gift of holding on to these fortunes, and these fortunes slipped from his hands. But whether fortunes came or went, his loyalty to duty never varied. When Dr. Carrol died somebody said, "What did he leave?" They meant by that how much land did he leave. Well he left a front yard. But what did he leave" You ask me what did Henry Damon leave, I cannot answer for I knw not what turn fortune had taken with him in the last few years, but I take it that he left no great estate in the estimation of the world, but if you ask me what did Henry Damon leave? I say he left something that was of more value than every house on Beaton street. I shall answer that he left something more than every black acre in Navarro county. I shall say that he left more than all the gold and silver heaped in the vaults of every bank in this city and in every other city. He left an untarnished name. From boyhood to whitehaired old manhood no man ever said that Henry Damon has soiled his good name. It is worth something gentlemen for this to be said when a man lies as he now lies; it is something of great value to be handed down as a precious heritage to his children, that he left in the judgement of all men an untarnished name. I would rather inherit the untarnished name of Henry Damon if I was his child than to be heir to countless acres and untold wealth that he might have gathered. What did he leave? He left to the community here, not only in Corsicana, but throughout this State the distinction of honorable unsullied name. He was a good man, an unselfish man, a man with a strong devotedness to give himself to the good of the people. There has never been a struggle in Texas on any subject that Henry Damon was not upon the side of righteousness in that struggle. Who can say that he ever fought any side but the right side. If some of his neighbors think that he is a man that accomplished but little because they measure these questions by dollars and cents, I come to you with a loving heart and say that this man has fought in every fight on the right side for morality, purity and religion. He has been on the right side in every question. His life has not been in vain. He has accomplished something worth-while, gentlemen. When we take an inventory of what Henry Damon has accomplished, I would have you turn your mind from all the black land, all the money, all the honors, and turn your mind to the high ideals, Christian principles, and great moral questions to which with unflagging zeal and unwavering courage all his life long he has given himself. He was singularly consecrated to the things that were good and I say to you gentlemen that there is something in this. When you ask what a man has done in this life, I want to say that a man who has contributed to the high ideals of a people, who has upheld the high standard of Christianity, morality and religion in any community that man has done something.

But I said I have not come here to pronounce a postmortem eulogy upon my friend. The things I have said are the same words that living witnesses have heard fall from my lips as one who loved him. I am not speaking out of the emotion that comes from the presence of the body of the dead friend. I am simply reiterating words I have spoken over and over while my friend lived. My neighbors, I say neighbors for there are men looking up into my face today who have never ceased to be neighbors to me. My neighbors, we have lost a good man; some of you have lost a good friend, and this community has lost a noble model of a Christian gentleman.

We will bear him now in a little while to sleep in the same acre with Frank Cheney, over whose body he wept with me a little while ago. This church will miss him as it missed the other deacon; not only in the months that have passed this community will miss him, will miss him more than they know. The old men are passing away mighty fast. This is true of us, gentlemen. We are all passing rapidly into that unknown country where we shall give an account of the life we spent here.

When the news came yesterday I kept repeating over to myself, I am going to be a better man now. The fragments of life that are left me I am going to pack more full of the things that are good, fuller than ever before. There are men here who will feel like saying the same thing and who will be better men for having known Henry Damon, and if some life shall be purified and ennobled and given to higher things, his life shall not have been in vain. So I say, may God bless you my neighbors and friends. I call you all my neighbors, for I know how you have borne the heat and burden of the day in the making of Corsicana what it is in the last forty years, and I say God bless you, the young men of Corsicana, and may a great iron purpose enter your life and soul to take the place in a worthy way of these older men and contribute your part to the work that Henry Damon has left. God bless you.

Rev. Mr. Vining, with unmistakable evidence of being deeply moved, said;

The character of Brother Damon is such that it is both becoming and fitting that both phases of his life and his life work shall be touched on at this service, the last for him on earth. It is becoming and fitting that I, as well as his friend and one-time pastor, who has spoken so well and expressed a man's devotion and affection, as this brother has, shall turn and speak of another phase of his life as it is my privilege for just a few moments to do.

My text is from the 14th chapter of the Book of Revelations, 13th verse:
"And I heard a voice from heaven, saying unto me right blessed are the dead which die in the Lord, from henceforth; Yea, saith the Spirit, that they may rest from their labors; and their works do follow them."

I said privately in his home that we bury a typical old Southern gentleman. So beautifully did Brother Ray refer to him as a type of Southern chivalry of the years that are past, typical of the chivalrous men who are honored by everyone.

He was the first member of this church whom I heard spoken of complimentary, and many times since have I heard the same sentiments expressed. Just a few weeks after I became pastor of this church I met Brother Fred Freeman who said he had just a minute that he wanted to talk to me about Brother Henry Damon, and he told me so many beautiful things about him that have just been amplified to us today by his friend, Brother Ray. It has been said that all men have their weaknesses. Brother Doman's weaknesses were exaggerated virtues. He stood for all that was right, and his loyalty was peculiarly marked. He was true to his duty. He believed in his God, and God and his works were first in his mind and heart. So it seems to me that the text here is peculiarly applicable to Brother Damon. "Blessed are they who die in the Lord." To die in the Lord means to die in the faith of God. Surely there is no doubt of it, for the only hope that we have must rest in the merits of Jesus Christ, and if there ever lived a man who put his faith and trust in the merits of Jesus Christ, it was our friend and brother who is now gone from us. He died in his faith in God.

To die in the Lord, means to die in the love of God. To love him who first loved us. That love in Christ Jesus and to so live was the great object of Brother Damon's life; the chief subject of his thought and the great purposes of his life were to glorify his Lord and serve him. To die in the Lord means to die in obedience to the law. If we want to die in the Lord we must live in the Lord, and surely he lived in the Lord. We have abundance evidence of this in his life, Jew and Gentile, Christian and non-Christian have said, this is the best man I ever knew. Surely, he died and lived in the Lord. To die in the Lord means to die in communion with God, dead to the world, dead to sin. Those who lived with God die filled with the love of the Lord. They die in the Lord. The relations of this life are not abiding, they are constantly changing. None of these relations to him were sweet, and the relation that was severed for him such a short while ago has now been restored and will not again be broken. Surely he was one of the blessed who died in the Lord.

Then is given the reasons, because they rest from their labors and their works do follow them. In the words of the text, they rest from their labors. In other words; there is no more physical pain, mental anxiety or spiritual depression. No more anxious moments, no more physical pain, no more spiritual depression for him. There are no Mondays in heaven! No return to another week of service and work. Heaven is one eternal Sunday; every day in that glorious home is Sunday; neither pain nor sorrow is there. His life of service and love has reached its full fruition; his face is shining now with eternal brightness in the presence of God. Some lives have no message; some lives seemingly give no message to the world, but this man in simple even tenor of life preached a mighty message every day. I think nothing would be more fitting at this time, the closing of his service on earth this meeting with his church, than to sing the message of his life. Take time to be holy. Let us sing "Take Time to Be Holy."

Notes: