11/30/2003 Big Man on Campus: Daniel retiring after 38 years at Navarro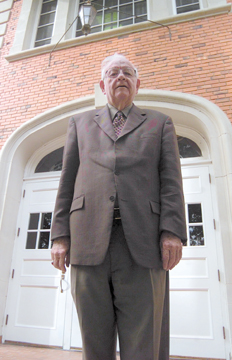 McAfee Daniel, chairman of the English Department at Navarro College, is retiring in December after 38 years of teaching at the institution. Daily Sun photo/SCOTT HONEA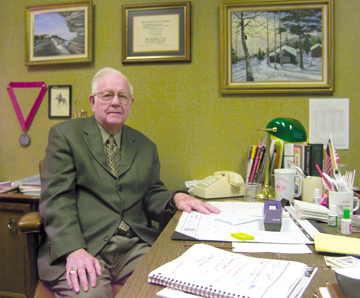 McAfee Daniel says he will remain active in the community after his retirement. Daily Sun photo/SCOTT HONEA
By MICAH CHAPLIN/Daily Sun Staff
Two years at Navarro College is enough for most people who pass through those hallways. But it clearly wasn't enough for young McAfee Daniel.
Forty was more his speed.
He has known all five Navarro College presidents, whether it was as a student or as faculty. He has also seen first-hand all the changes Navarro College has undergone, including the removal of the old airport buildings and the construction of new buildings.
On Dec. 31, the Daniel era will end. The much respected and celebrated English instructor will retire after 38 years of service to Navarro College.
"Navarro College is a really important part of my life and I shall always think of it with the fondest of memories," Daniel said.
Dr. Lary Reed is the only current faculty member who has been at Navarro College longer than Daniel.
"I consider McAfee to be a friend and a master instructor," Reed said. "He has a true love for the community and the college. He truly cares about people and I think the world of him."
Prior to teaching at Navarro, Daniel attended the institution, and graduated in 1948. This distinction makes him a member of the Barracks Bunch, a name given to Navarro's earliest students. After continuing his education at Georgetown and Baylor, and a few stops at other institutions along the way, Daniel found his way back to Corsicana and Navarro College.
"Coming to Navarro was the biggest mistake of my life," Daniel said, "because I came back as a teacher and from that moment, I never planned to teach anywhere else."
Daniel, who also owns and operates a ranch near Emmett, knew very early in life that he wanted to teach. He developed a passion for the language and had great respect for teachers he had in high school and middle school.
"If I had to choose again, it would be ditto," Daniel said. "I'd rather teach than work."
Although he doesn't consider teaching to be work, Daniel has a routine that he has followed for much of his career. It begins very early in the day, as he arrives on campus early to avoid parking headaches. He teaches only in the mornings, from 8 a.m. to 11 a.m.
"Once I've finished my duties, I eat lunch in the cafeteria with the students," Daniel said. "Then I have to visit all the offices."
As he visits these offices, Daniel carries scraps he's picked up from the cafeteria. The scraps are for his cats, a subject Daniel discusses in class as well as with his colleagues.
"Anyone who's ever been in one of his classes knows the stories of his cows and his cats," said Susan Johnson, director of public relations and market information. "He somehow manages to work it in with literature and English."
When he's made his rounds, Daniel sits down with the Corsicana Daily Sun, or what he calls "the most famous paper in the county," and reads it all the way through.
This pattern has not changed and is very familiar to all of his co-workers.
"I have several idiosyncrasies," is all Daniel can say.
But he can't have nearly as idiosyncrasies as he's had students. He has literally taught thousands, including as many as three generations of some families and at least 15 of his colleagues.
Brenda Duncan, business manager, has known Daniel for 50 years, and was once in one of his classes.
"I've seen him share his love of education and his desire for people to learn," Duncan said. "He's very open minded and he has a phenomenal memory."
Daniel also has the ability to remain in the memory of former students.
"I still hear from students I taught 25 years ago," he said. "When they come back, they always ask if I'm still here. They enjoy visiting with me."
Duncan says the enjoyment is mutual.
"He has always been supportive of students and their activities. He makes sure they feel like he really cares about them and that they're not just a number or a seat-filler," Duncan said.
Teaching means the world to Daniel and has been a satisfying experience for him.
"To teach other people and touch their lives in a positive way and be remembered by some one is the most gratifying experience," he said.
At the same time, Daniel has left an impact on the college, one that will be honored Friday at the President's Tea, scheduled for 5:30 p.m. in the Arrowhead Room.
"He's such an icon. This gesture was only appropriate," said Dr. Richard Sanchez, president of Navarro College. "He has been a role model for faculty and students alike. The institution will honor his legacy forever."
Daniel's colleagues have bittersweet feelings about his decision to retire. They wish him the best, but say the college will certainly feel the loss in his absence.
"Navarro will lose something stable, something constant," Duncan said. "He was someone the alumni could relate to. But even though he will be gone, I feel like we will always have his love and support."
Indeed, Daniel plans to continue his support of the college and the community, even if he has no other formal plans for his retirement.
"Each day will have its own experiences and special moments. I will stay busy in the community and active in my church," Daniel said. "My roots go deep and I don't plan to leave Corsicana. As I told someone when I arrived in '66, when I came, I came to stay."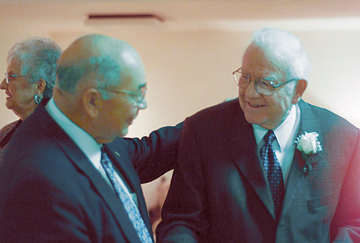 Homer G. Wasson, left, laughs it up with retiring instructor McAfee Daniel during the annual Navarro College president's tea Friday night at the Arrowhead room. Daily Sun photo/SCOTT HONEA
---
8/24/2008 McAfee Daniel 80th Birthday
Note: View Newspaper Clipping from the Corsicana Daily Sun
---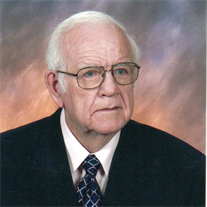 Herman McAfee Daniel
Aug 27, 1928 - Aug 14, 2016
McAfee was born on August 27, 1928 and passed away on Sunday, August 14, 2016.

McAfee was a resident of Herman, Texas at the time of his passing.

He was graduate from Frost High School as valedictorian in 1946 he attended Navarro College in Corsicana TX After finishing at Navarro College he continued his education at Southwestern University where he graduated in 1950 with his BA with a focus in English. Furthering his passion for learning he went on to receive his MA and complete his PhD requirements at Baylor University.

He entered the U.S. Army during the Korean War and joined the efforts in Germany for 2 years.

Visitation will be 6 - 8 pm Friday August 19 2016 at Griffin - Roughton Funeral Home. Funeral services will be Saturday August 20 2016 at 10 am in the Chapel at Griffin - Roughton Funeral Home. Burial will follow at Emmett Cemetery.

In lieu of flowers memorials may be made to First United Methodist Church 320 N. 15th St. Corsicana Texas 75110; Emmett Cemetery 2837 NW 3300 Frost Tx 76641 or Samaritan Purse PO Box 3000 Boone NC 28607-3000.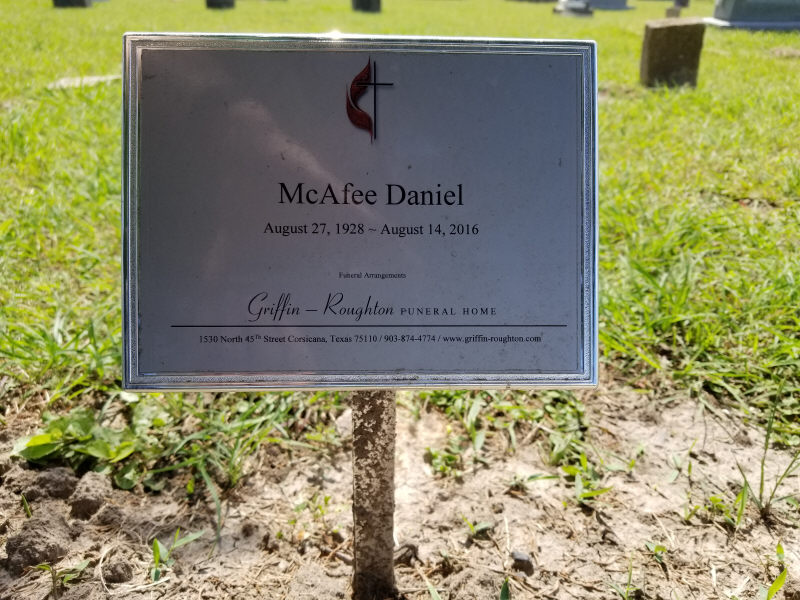 Prairie Grove Cemetery, Emmett, Navarro Co., TX
---
Notes: