Back Row:: Left to Right: A friend; and Reverend Conway,
3rd Row: Fred and Eva; Dewitt; Irvin and Ronnie;
Russell and Clemmie; Ira; Mattie and Iva Lou.
2nd Row: Cousins, Clay and Jettie; Steve, Nita, and Georgia;
H. E. and Betty McAfee; Edmond, Ollie, Rufus.
1st Row: Claris; Marcelle; youngest son Richard; Maurine, Ruth.
Photo from the Collection of Herman McAfee Daniel
In the fall of 1869, following a year's stay in Arkansas from Mississippi, the Hugh McDuffie McAfee family joined a wagon train that inched its way toward Texas and Navarro County. They settled in the soon to be named Emmett Community where the unmarried twenty-one year old, Hugh Embury, purchased his first hundred acres with silver dollars borrowed from neighbors and where the single log cabin that housed the school and church was situated. Shortly he married Elizabeth Groves, fifteen year old daughter of a Corsicana Cumberland Presbyterian minister [Richard B. Groves]. In 1886, the couple purchased an adjoining hundred acres and promptly gave to the growing community four choice acres, designated for "school and church purposes" where a single dwelling became the school and on Sunday the two congregations, Methodist and Baptist, met. In 1888 he donated two acres for the Emmett Cemetery [Prairie Grove Cemetery], and later in 1898, an additional two acres for a new Methodist Church and parsonage, with its deed reading as follows: "Of the love we bear for the cause of Christ and from an earnest desire to promote his heritage on earth, we give ---."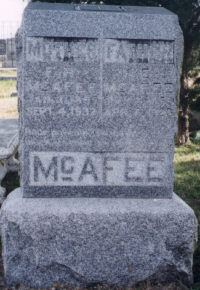 A deeply religious man, he named some of his sons, Ira, Dewitt, Irvin, Edmond, Rufus, Richard - after Methodist Bishops; and some of his daughters - Mattie, Eva, Clemmie, Georgia, Ollie - from Methodist missionaries. A musician himself, he taught each daughter save one to play the piano an each son to play other musical instruments. Both a church and community leader, he was active as a song leader in Sunday School and at revivals and taught singing schools. A composer, he wrote words and music to four gospel hymns. Methodist preachers, assigned to the Emmett circuit, found the McAfee home a welcome place to visit. Indeed one minister, W. E. Hawkins, later of Radio Revival KRLD, lived in the McAfee home some three months before his marriage, where Betty McAfee was known as an excellent cook and immaculate housekeeper.
Thus the McAfee children "played church," learned early to sing, and matured, all having been born in Emmett, except Richard, the youngest who is a native of Blooming Grove, where the "singing" McAfees moved for five years so the older daughters could attend the finishing school there. Each child was baptized in the Emmett Methodist Church, and as each married remained life-long Methodists save one. These eleven became active church participants with the girls playing the piano or teaching classes and the sons leading the song services or serving on boards. One son, Edmond, became a Methodist minister and served in Arkansas. A daughter, Ollie, purchased and gave to the Methodist Church at Emmett the organ and later became Sunday School Superintendent at Brushie for over twenty years. Another daughter, Clemmie, taught music at Emmett. Three children became school teachers - Ira, Ollie, Rufus - with Ollie teaching twenty-five years and Rufus, School Superintendent and coach for thirty-five years. The sole surviving child, Rufus, currently sings in the choir of the First Methodist in Hillsboro.
Graham, in Young County, played an important role in the life of this family for the father bought a third farm near Graham and later five married children - Georgia, Dee, Clemmie, Irvin, Richard - maintained homes there simultaneously (other children - Ira, Eva, Edmond - having lived in Graham at different times), with all being active in the Methodist Church there. Later Georgia was to become to her relatives the acknowledged matriarch of the clan. Often the Emmett McAfees visited Graham, once traveling by surrey, a journey that took a week, with the children walking beside the wagon to help "pass the time." Two McAfee children graduated from Graham High School, Ollie, salutatorian, in 1913; and later Rufus, valedictorian, in 1923.
So lasting an influence had their father on the children that several openly expressed a desire to be buried near him. Thus four generations of McAfees are buried in Emmett cemetery, including three of the children - Ira, Eva, Ollie, the last named one beside her father. And is was Mattie, the oldest, who lived to be eighty-nine, who chose the epitaph for the parents' stone.
And Hugh Embury's influence reached to grandchildren whose careers include public school teachers and college professors, musicians, and artists. Three of Ira's children taught school, Thelma, Vivian, Decherd, the latter a chemistry professor at U.T.A. Another daughter, Aletha, ;published a volume of poetry. Other teachers include Mary G. Hill, daughter of Rufus, and Lometa Brinkley, daughter of Irvin. College instructors include Wayne McAfee, art instructor in Arkadelphia, and McAfee Daniel, English instructor and chairman at Navarro College. Two are newspaper writers, Nita Miller, daughter of Georgia, a and the late Claris Crist, daughter of Eva. Another daughter of Eva, Ruth Nevins, currently teaches piano in Dallas. Many of the grandchildren are musically inclined, including Sue Allison of Dallas who possesses significant piano ability. And Pat Stroder of Emmett is the artist. Among great grandchildren hail a Ph.D., several school teachers, an artist, a minister, a psychologist, and a former football player for Southwest Conference.
The original McAfee property in Emmett is still in the family with Pat and Aldrich Stroder owning the "lower" place, and McAfee Daniel and Sue Allison, the "home" place. And two descendants bear the given name of McAfee, a grandson, McAfee Daniel; a great-grandson Joel McAfee Stroder. Thus the McAfee clan, stretching from Navarro County to Oregon, maintain a strong identity with close church ties and often exerting a leading role in church and community - for education and religion appear to be the indelible twin pillars most influential in their legacy.
---
Hugh Embury McAfee Home
The original farm of 82 acres was purchased by H. E. McAfee in 1886 with silver dollars at fifty cents an acre. the land remains in the family and is co-owned by Sue Daniel and McAfee Daniel. the home was built by the owner, H. E. McAfee, with the assistance from a local carpenter, Mr. Wylie.
This story and a half frame structure was built in 1907 and stood on the H. E. and Betty McAfee property directly west of the Emmett Cemetery (Prairie Grove Cemetery). The total price of construction was $2,200. Six rooms with twelve-foot ceilings were downstairs and a bath. A wide hall connected the front porch that fronted the house on the east and south with the back porch. The upstairs was a single room.. Together they comprised some 3,200 square feet of living area.
Eight hundred pounds of nails were used in the construction and a single chimney served two fireplaces in adjacent rooms. This building remained the home of H. E. and Betty McAfee and their eleven children.
In 1933 one of the sons-in-law and daughter, Herman and Ollie Daniel, purchased the house and the eighty-two acre farm where it remained in the family.
On December 6, 1961, the home was destroyed by fire.
---
From "An Update of our McAfee Family"
HUGH EMBERRY McAFEE (1859 - 1926). Born in Mississippi, he came to Blooming Grove in Navarro County. After one year, he bought and moved with his bride, Elizabeth Rice Groves, to a black land farm at Emmett. He was also a music teacher and wrote sacred songs, some of which were published. All of his children were musicians and singers. Ira and all the girls played piano, and the other boys played violin and/or guitar or mandolin. Three children taught music and three taught school. He donated the land for a Methodist church where the present-day community church and cemetery are located. In that cemetery the gravestones of Hugh McDuffee, Rosanna, Hugh Emberry and Elizabeth are no more than twenty feet apart. [ Prairie Grove Cemetery, Emmett, Navarro Co., TX ]

ELIZABETH RICE GROVES (1867-1929) was the daughter of Richard and Pauline (Wharton) Groves. She and her three sisters were born in Milford, where her father was a pastor of a church. After she married, her sisters lived alone in the Emmett vicinity after their father and mother left them there while they traveled with an evangelist. The parents were never heard from again. One sister, Ethel (1869-1923) married Pat Felton (1865) who was the son of Hugh Emberry McAfee's sister Georgie Anna. After the death of his mother, Pat went to live with his uncle, and was reared as part of the H.E. McAfee family. The Feltons made their home Floydada, Texas. Another sister, Lula, married a Mr. Cooper and lived in Plainview. The youngest Sister, Pearl married David (Dave) Guinn and lived in Graham.
Navarro County Death Volume
Elizabeth Rice McAfee b 1-31-1867
daughter of R. Groves and Pauline Whorton
date of death 9-4-1932 (died of apoplexy)
buried at Emmett, Texas
See Navarro County History; Volume II, pg 459 for Hugh Embury McAfee Family History
---
MOTHER CORSICANA MAN BURIED MONDAY IN EMMETT CEMETERY

Mrs. Bettie McAfee, mother of I. D. McAfee of this city, passed away Sunday, Sept 4, at the home of her daughter, Mrs. Herman Daniel of Emmett. The funeral service was conducted by Rev. W. O. Waddill, pastor of the Methodist Episcopal church of Dawson, and she was buried in the Emmett cemetery Monday at 3 o'clock p.m.
She is survived by 11 children, I. D. McAfee, Corsicana; Mrs. Arthur Fagola, Blooming Grove; Mrs. Fred Mitchell, San Antonio; Mrs. Russell Smith, San Angelo; Mrs. Steve Johnson, Graham; Mrs. Herman Daniel, Emmett; T. D. McAfee, Graham; H. I. McAfee, Graham; E. T. McAfee, Fischer Store; R. E. McAfee. Irene and R. W. McAfee Graham.

EMMETT
EMMETT, Sept. 8. (Spl.) The Emmett community was shocked Sunday afternoon about 1 o'clock to learn that Mrs. W. M. McAfee had passed away. She died a1 the home of her daughter, Mrs Ollie Daniels of near Emmett She was born in Corsicana, Jan 3, 1867, and was at the time of her death, 65 years of age. She married W. M. McAfee and to this union thirteen children were born, eleven of whom survive Thirty grandchildren and four great-grandchildren, two sisters and a number of other relatives and a great host of friends also survive. She belonged to the Methodist church of Dawson. She was buried in the Emmett cemetery.

Notes:

Corsicana Daily Sun - Sept 9, 1932

in the obituary, she is misidentified as "Mrs. W. M. McAfee" should be "Mrs. H. E. McAfee"
| | |
| --- | --- |
| | |
Corsicana Daily Sun - April 14, 1926
Life and Death of H. E. McAfee
Mr. McAfee was born in Mississippi, July 8, 1859, and came to Texas at the age 16 years and was converted soon after and joined the M. E. church of which he has been a most devout and conservative member since. He was married to Elizabeth Rice Graves in 1880. To this union thirteen children were born eleven of which are living and were present at the funeral.
Mr. McAfee was faithful man in all religious works, a kind loving father and husband, never neglecting the family alter around the fire side, the Holy Bible ever near and well worn with constant use, and seemed his chief delight to read and ponder over the wonderful truths of God. He was a teacher in Sunday School for a number of years; the old and young can testify to the fact that he wasked daily with God. Mr. McAfee was a great lover of music and composed several songs, two "Whiter Than Snow," and "Will You Miss Me When I'm Gone," were sung at the funeral. Bro. Wagner of Blooming and Bro. Boldware expressing many beautiful and kindly deeds done by this noble man. In late years he had became very despondent, fearing cancer would take him away and it bore on his mind until he gave way under the strain and on April 6, 1926 ended it all at the home of his son, Edmond, near the spot where he settled some fifty year ago. The children talked to him telling how they loved and appreciated him and want him to stay with them, and encouraged him to take a new hold on life, but he fearing he would be a burden, didn't encourage them. The noble deeds and Christian influence will live on and on in the lives of those who knew him. So amid the heart aches and sorrowing ones his body was lowered to its last resting place.
One of his old favorites, "The Unclouded Day" was sung. Thus leaving I. D. McAfee, Corsicana; Mrs. A. Fagala, Blooming Grove; Mrs. Fred Mitchell, Georgetown; Mrs. R. Smith, Corsicana; Mrs. Steve Johnson, Graham; Irvin McAfee, Graham; Dee McAfee, Hillsboro; Ollie, Edmond, Rufus and Richard of Emmet and wife to mourn for a great and noble father and husband. A great host of other relatives and friends left the flower covered mound, knowing he had gone to his heavenly home.
One who Loved Him.
The Blooming Grove Times - Friday, April 23, 1926
Submitted by Karen Rost
---
WHITER THAN SNOW
H. E. McAfee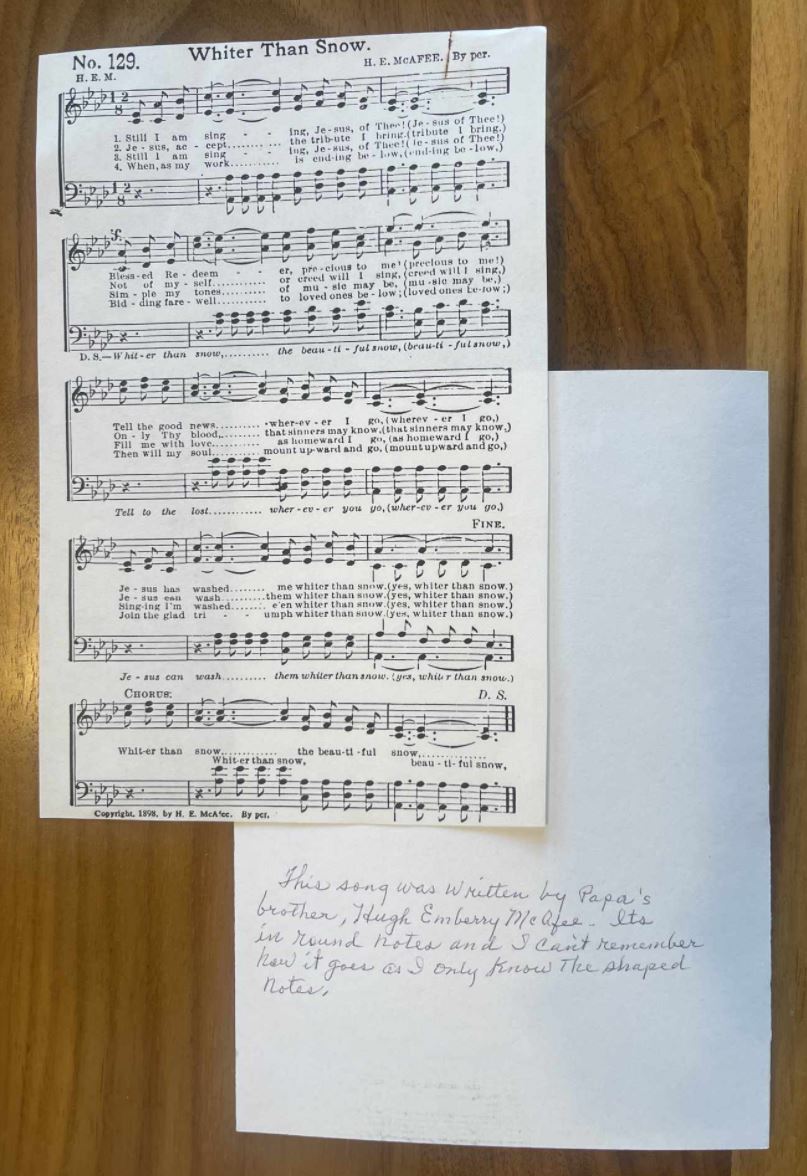 ---
Other Articles
W. L. Bailey of Emmett is going to move to Raleigh and H. E. McAfee of near Blooming Grove is going to move back to his place at Emmett.
The Corsicana Daily Sun - Thursday, September 23, 1909
---
Descendants of Hugh Embury McAfee
1 Hugh Embury McAfee
b: 6 Jul 1859 in Meridian, Lauderdale Co., MS
d: 6 Apr 1926 in Emmett, Navarro Co., TX
Burial: Apr 1926 Prairie Grove Cemetery, Emmett, Navarro Co., TX
+Elizabeth Rice "Bettie" Groves
b: 31 Jan 1867 in Corsicana, Navarro Co., TX
d: 4 Sep 1932 in Emmett, Navarro Co., TX
m: 21 May 1882 in Emmett, Navarro County, TX
Burial: Sep 1932 Prairie Grove Cemetery, Emmett, Navarro Co., TX
2 William Lee McAfee
b: 29 Jan 1883 in Emmett, Navarro Co., TX
d: 11 Feb 1883 in Emmett, Navarro Co.
Burial: Salem Cemetery, Hill Co., TX (Cemetery Marker)

2 Ira Decherd McAfee
b: 11 Feb 1884 in Emmett or Frost, Navarro Co., TX
d: 27 Feb 1960 in Graham, Young Co., TX
Burial: 1960 Prairie Grove Cemetery, Emmett, Navarro Co., TX
[ Obituary | Death Certificate ]
+Nancy Caroline "Nannie" Ballew
b: Dec 1882 in Fetzerton, TN
d: Aug 1948 in Los Angeles Co., CA
Daughter of Absalom Posey Ballew & Partelia Aveline (Coxsey) Ballew
m: 16 Aug 1903 in Navarro Co., TX
Burial: 1948 Prairie Grove Cemetery, Emmett, Navarro Co., TX
+ Lyda York (Miller) McAfee

2 Mattie Mae McAfee
b: 15 Apr 1885 in Emmett, Navarro Co., TX
d: Jan 1974 in Austin, Travis Co., TX
Burial: Dresden Cemetery, Navarro Co., TX; (Obituary) (Death Certificate)
+Albert Arthur Fagala
b: 5 Jan 1885 in Dresden, Navarro Co., TX
d: 17 Jan 1952 in Navarro Co., TX
m: 6 May 1906 in Navarro Co., TX, Parsonage of the Blooming Grove Methodist Church
Burial: 19 Jan 1952 Dresden Cemetery, Navarro Co., TX (Obituary) (Death Certificate)

2 Eva Florence McAfee
b: 8 Jan 1887 in Emmett, Navarro Co., TX
d: 13 May 1970 in Dallas Co., TX
Burial: Prairie Grove Cemetery, Emmett, Navarro Co., TX (Obituary)
+Fred White Mitchell
b: 1 Apr 1885 in MS
d: 9 Jun 1956 in Palo Pinto Co., TX
m: 3 May 1903 in Navarro Co., TX
Burial: Prairie Grove Cemetery, Emmett, Navarro Co., TX (Obituary)

2 Clementine Zolena McAfee
b: 18 Nov 1889 in Emmett, Navarro Co., TX
d: 22 Feb 1952 in St Anthony Hospital, Amarillo, Potter Co., TX.
Burial: Oak Grove Cemetery, Graham, Young Co., TX
+Russel Vines Smith
b: 1889 d: 23 Sep 1939 in Young Co., TX
m: 28 Dec 1915 in Navarro Co., TX
Burial: Oak Grove Cemetery, Graham, Young Co., TX

2 Henry Clay McAfee
b: 12 Jan 1891
d: 10 Feb 1891 in Navarro Co., TX
Burial: Prairie Grove Cemetery, Emmett, Navarro Co., TX

2 Georgie Anna McAfee
b: 21 Feb 1892 in Emmett, Navarro Co., TX
d: 16 Nov 1971 in Graham, Young Co., TX
Burial: Oak Grove, Graham, Young Co., TX
(Obituary)
+John Steven Johnson
b: 1 Dec 1890 in Mertens, Hill Co., TX
d: 7 Jun 1971 in Graham, Young Co.,TX
m: 26 Aug 1913 in Navarro Co., TX
Burial: Nov 17, 1971 at Oak Grove Cemetery, Graham, Young Co., TX


2 Ollie LaVina McAfee
b: 11 Nov 1893 in Emmet, Navarro Co., TX
d: 22 Sep 1970 in Memorial Hospital, Corsicana, Navarro Co., TX
Burial: Prairie Grove Cemetery, Emmett, Navarro Co., TX
( Obituary )
+Herman Daniel
b: 25 Jan 1900 in Fairfield, Freestone Co, TX
d: 28 Jan 1972 in Navarro Co., TX
m: 19 Nov 1926 in Navarro Co., TX
Burial: Prairie Grove Cemetery, Emmett, Navarro Co., TX
( Obituary )

2 Travis Dewitt McAfee
b: 2 Oct 1895 in Frost, Navarro Co., TX
d: 17 Aug 1967 in Compton, Los Angeles Co., CA
Burial: Ingleside, Los Angeles Co., CA
+Georgia Lee Thorne
b: 19 Jan 1897 in Hubbard, TX
d: Aug 1990 probably in Provo, Utah
m: 22 Dec 1916

2 Hugh Irvin McAfee
b: 25 Feb 1897 in Emmett, Navarro Co., TX
d: 1 Apr 1947 in Graham, Young Co., TX
Burial: Elmwood Cemetery, Bowie, Young Co., TX
+Ronie Lee Barnhart
b: 1896 in Rowan Co., NC
d: 13 Apr 2000 Young Co. TX. [or Sep 2, 1948]
Burial Elmwood Cemetery, Bowie, Montague Co., TX
m: 8 Mar 1916 in Navarro Co., TX

2 Edmond Thomas McAfee
b: 16 May 1899 in Frost, Navarro Co., TX
d: 18 Jul 1966 in Arkadelphia, AR
Burial: Friendship Cemetery, AR
+Ola Dollie "Dutch" Gorham
b: 22 Jan 1897 in Ozan Creek, Wallaceburg Township,
near what is now Blevins, Hemstead Co., AR
d: Nov 1984 in AR (probably in Arkadelphia) m: 1921

2 Rufus Evans McAfee
b: 22 Feb 1901 in Emmett, Navarro Co., TX
d: 15 Mar 1986 in Hillsboro, Hill Co., TX (in a Hillsboro Hospital)
Burial: Prairie Grove Cemetery, Emmett, Navarro Co., TX
( Biography Page )
+Gladyce Helen Littlejohn
b: 21 Jan 1907 in Mertens, Hill Co., TX
d: 1 Mar 1997 in Navarro Co., TX
m: 10 Apr 1927 in Navarro Co., TX

2 Richard Weightman McAfee
b: 24 May 1906 in Blooming Grove or Frost, Navarro Co., TX
d: 23 Nov 1961 in his home Stoney- Ford, Calif
Burial: Paradise, Butte Co., CA [Obituary]
+Charlotte Amelia Kalla
*2nd Wife of Richard Weightman McAfee:
+Norma Dee Daniel
b: 6 Oct 1908 in Lanely, Freestone Co., TX
d: 9 Jun 2003 (probably in Idaho)
m: 15 Oct 1925 in Hill Co., TX
CENSUS
1900 Navarro Co. TX ED 106 Sheet 25b
1910 Navarro Co. TX ED 95 Sheet 17b
1920 Navarro Co. TX ED 162 Sheet 11
Submitted by Edward L. Williams