Pvt. W. E. Ellis, of Frost, was born September 11, 1897, and was educated in the public schools of Sleigh, Texas. Entered the service on September 6, 1918, being assigned to 25th Company 165th D. B., at Camp Travis. He developed pneumonia October 10, 1918 and died in the Base Hospital at Camp Travis nine days later. He gave his life for his country, and even though he did not die fighting on the battlefields, his is the honor of making the supreme sacrifice.
History of Texas World War Heroes - World War 1
Walter was the son of Wilson Owen Ellis and Margaret Ambrilla (House) Ellis. He was born in Runge, Karnes Co., TX, and educated in the public schools of Sleigh, Texas. At the time he signed the Draft Registration on July 5, 1918 he was single with brown eyes and light colored hair. On Oct 4, 1918 he entered the base Hospital, Camp Tavis, near San Antonio, Bexar Co., TX because he had contracted Influenza. He died six days later on Oct 10, 1918 at 8:40 pm from Broncho Pneumonia. On Oct 12, 1918 he was sent home to frost for burial in the Frost Cemetery next to his parents.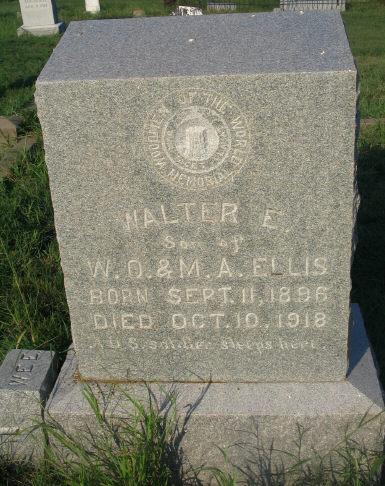 Frost Cemetery, Frost, Navarro Co., TX
Marker Photo by Edward L. Williams
Walter Ernest Ellis


Sep 11, 1896 - Oct 10, 1918

A Few Brief Facts Concerning The Navarro County Boys
Who Made The Supreme Sacrifice

Following is a list of the boys from Navarro county who made the supreme sacrifice during the world war, whether being killed on the battlefield or dying of disease in France or at the various army camps throughout the country. After untiring work this list has been compiled and is believed to be correct:

WALTER ERNEST ELLISóDied of pneumonia, at Camp Travis, Texas. Was sick six days. Trained at Camp Travis, Texas. Entered the service September 6th, 1918. Was 22 years and 2 months of age. Was a private. Body buried in the Frost cemetery, Frost, Texas. Was single. Belonged to the infantry, 25th Co., 165th Division, Depot Brigade. Address of deceased, Frost, Texas. Parents, Wilson Owins and Margaret M. Ellis, Frost, Texas.

Notes:
The Corsicana Daily Sun - Friday, March 12, 1920
Submitted by Diane Richards
Date of Birth listed in 1896 in Navarro County Cemetery Records

Draft Registration card states his place of birth as Carson City, thought to have been misspelled version of Karnes City, TX, which is the county seat of the familiar place of birth of Runge, TX.

Information submitted by Edward L. Williams & Dana Stubbs