Isaac Vanvert Green was born on June 29, 1865 near Springplace, Murray Co., Georgia. He is the son of Abner Jefferson and Elizabeth Jane (Coxsey) Green. He is not related to the other Green family in the Prairie Grove Cemetery except thru marriage.

Nancy Mandy "Amanda" Green was the daughter of Benjamin Green & Amanda (Sandlin) Green. Nancy was married first to Thomas John Dunagan (1874-1894), also buried at Prairie Grove. After his death, she married Isaac Vanvert Green on Dec 12, 1896 in Navarro Co., TX. Isaac died in on Jan 21, 1924 in Satin, Fallas Co., TX. Nancy died September 23, 1955 in Hearne, Robertson Co., TX. They are both buried at the Prairie Grove Cemetery at Emmett, Navarro County, Texas.

Nancy's brother, Robert Natches "Bob" Green married Nettie Williams.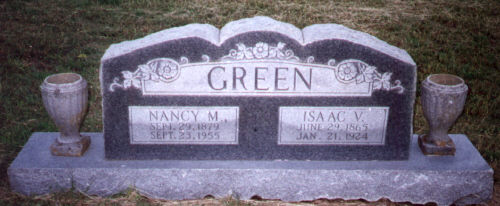 HEADSTONE
GREEN
NANCY M.; Sept 29, 1879; Sept 23, 1955
ISAAC V.; June 29, 1865; Jan. 21, 1924
Prairie Grove Cemetery, Emmett, Navarro Co., TX
Dorris Erastus Green and his two sisters, one is Nancy, wife of I.V. Green, but we are not sure which one
Please contact Ed Williams if you and Id these two ladies. Thanks !
OBITUARY
Suddenly Ill; Man Falls on Face in Flaming Forge
I. V. Green, of Satin, Dies Soon After Being Rescued From Fire in a Blacksmith Shop.
I.V. Green, of Satin, in Falls County, well known in Waco, was found Monday morning at 10 o'clock in his blacksmith shop, lying face down on a bed of live coals in the forge. Mr. Green having fallen in that position when seized with acute indigestion.
He was found by Dave Lampkin, a negro. Mr. Greene lived four or five minutes after being dragged of the coals. The burns did not cause death, however as apparently he had just fallen a few seconds before.
Mr. Green ranked as one of the prominent and worthy residents of Satin.
Funeral services will be held at 10 o'clock this morning at the Satin church. Rev. W. O. Wright officiating, burial will be at Emmett, where the body will be taken in the motor hearse of F. M. Compton of Waco.
Active pallbearers; R. V. Walker, W. H. Lewis, W. D. Walker, T. B. Westbrook, Wesley Sharp. W. V. Magee. Honorary: Lee Davis, T. C. Westbrook, J. M. Wynne, J. W. Brewer, A. O. White, L. C. Smith, J. E. Newby, J. P. McBride. R.Y. Boxley. J.H. Kennenberg.
Mr. Green came to Texas in 1885, stopping first in Navarro county, coming later to McLennan, then going to Satin 15 years ago. He s survived by his wife, 10 children, four brothers, and six sisters.
Notes:
View Obituary from the Waco News-Tribune- Jan 22, 1924
(sent to me by Derwood Johnson of Waco, TX)
Buried at Prairie Grove Cemetery, Emmett, Navarro County, Texas
1900 Navarro Co., TX ED 106 Sheet 25, ln 59
1920 Census; Falls County, Texas sheet 8, line 68
Isaac V. Green born GA age 53 living in Falls County, TX, wife Nancy 30, Walter a Son, Almer, 19 son; Ollie daughter 18, Albert son 16; Halie daughter 14; Coke son 11; Preston son 7
TXDI: I.V. Green; McLennan Co., TX; 1-21-24; #2675
Some info from Linda Eddleman Ruiz
Submitted by Edward L. Williams June 2003