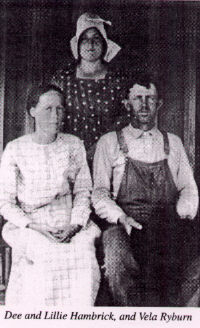 Decaleb Lipscomb "Dee" Hambrick was born May 8, 1885 in New Market, Madison Co., AL. He was the son of William Eldridge Hamrick (1857-1933) and Mary Elizabeth Elmore (1860-1904).
Dee married Margaret Lillie Honea, the daughter of John Berry Honea (1862-1934) and Margaret Catherine Perry (1865-1943), on March 21, 1909. Margaret was born on March 17, 1892 in Alabama.
Joe and Dee moved to Oklahoma for a while by. Their son, Joe Hambrick, recalled that they took the trip in a wagon, fording the Red River and the fear of quicksand. They lived in a a dugout, a simple structure dug half in the ground with a roof. Dee became sick and they had to moved back to Texas to be near their families for help. Dee and his father, William E. Hamrick, bought a farm together about four miles west of Athens Texas. Dee later moved to Navarro County where he worked as a Tennant Farmer on several farms around Frost and Emmett.
Dee and Margaret had eight children:
Hester Mae Hambrick
William Burns Hambrick
Cabe Washington Hambrick - Death Certificate
Lee Roy Hambrick
Lester Newton Hambrick
Mattie Marie Hambrick
Joe D. Hambrick - 78th Birthday - 2001 & WWII Biography
Lester Ray Hambrick
-----
Retired Blooming Grove Farmer Asks Red Cross Support, Cites Experience

By BETTY JEAN CLAY
Daily Sun Staff

Less than a month ago this story might have been an obituary notice of a retired farmer, but instead it is a 69-year-old Blooming Grove man's tribute to the Red Cross blood program and the skill of his doctor in saving his life.

Rare-Type Blood
Because renewed life had been pumped into his body in the form of 13 pints of rare-type blood provided by the Red Cross, Dee Hambrick walked into the Daily Sun this week to tell his story and ask his fellow citizens of Navarro County to support the Red Cross. He asked that the public support the Red Cross in the current fund campaign particularly so that the blood program might be continued to do for others what had been done for him.

Never Sick Before
"I had never been sick in the hospital before," he said in telling how he had been carried to Memorial Hospital on Christmas Day critically ill with a stomach ulcer. His doctor revealed that Hambrick had lost more than 80 per cent of his blood hemorrhaging from the ulcer.

Due to the heavy loss of blood and his semi-conscious condition, his doctor, who was contacted for additional details, recalled that it was first believed he was beyond resuscitation. But his faint heart-beat prompted doctors to place an immediate order with the Waco Red Cross blood center for 8 pints of the rare-type blood to replace Hambrick's fast dwindling supply in a desperate attempt to keep him alive.

Two-Hour Job
"We hand-pumped that 8 pints of blood into him-about a two-hour job and he opened his eyes and began to revive, the doctor recalled. Before Hambrick was carried to surgery, 5 more pints of blood were obtained from Waco and administered to build up the weakened man while 90 per cent of his stomach was removed.

Hambrick was dismissed from the hospital on January 10, a "well man," he smilingly declared thanks to the blood he received through the Red Cross and the successful operation.

"Look at me, here it is less than a month after I got out of the hospital and the doctor tells me I am as good as I was before I got sick," he declared proudly.

Praise for Red Cross
"My doctor said my life couldn't have been saved if it hadn't been for the Red Cross and the blood they rushed here from Waco for me."

The retired farmer said he had never given much thought before to the necessity of a hospital of hospital or doctor having a supply of blood available for emergency cases like his own until after he came so near death.

"But I can see it now—the necessity for people to give blood to the Red Cross. If more people give blood, maybe someone else's life can be saved like mine was," he said.

Donates Blood
Hambrick and his wife revealed that when the January Red Cross blood operation came along, their son, Joe, visited the operation to make a donation as a partial replacement of the blood he had been given. They added that another son, Cabe of Arlington, had given blood to Red Cross operations prior to Hambrick's critical illness, and that both would, they felt sure, continue to be supporters of the Red Cross.

"Tell the public we believe in the Red Cross and that we ask them to support it," Hambrick asked in leaving.

Notes:
------
Dee died on Dec 22, 1977 in Corsicana. Margaret died on Dec 24, 1974. They are both buried in the Prairie Grove Cemetery at Emmett, Navarro County, Texas.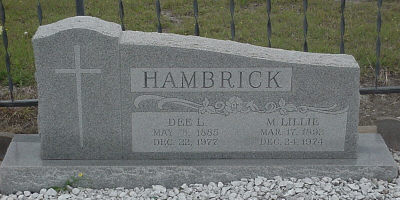 Prairie Grove Cemetery, Emmett, Navarro Co., TX
Marker Photo by Edward L. Williams
OBITUARY
Margaret Lillie (Honeay) Hambrick
Mar 17, 1892 - Dec 24, 1974
Mrs. D. L. (Margaret Lillie) Hambrick
Funeral service were held Wednesday, December 25, 1974, at 1 pm at the Corley Funeral Chapel in Corsicana for Mrs. D. L. (Margaret Lillie) Hambrick, 83, former resident of Frost and Blooming Grove. She had resided at Maywood Manor Nursing Home in Kerens with her husband, D. L.
Hambrick. She died Tuesday morning in Memorial Hospital.

Rev. David Hale officiated and burial was at Emmett Cemetery.

Mrs. Hambrick was a native of New Market, Ala., and a member of the Baptist Church.

Survivors include her husband of Kerens; three sons, Lee Roy Hambrick of Olney, Joe Hambrick of Corsicana, and Lester Hambrick of Corsicana; one daughter, Mrs. Hester Seale of Kerens; nine grandchildren and two great-grandchildren; a brother, C.A. Honea of Tyler; a sister, Mrs. Bertie Shelton of Meridian and a number of nieces and nephews.

Pallbearers were G.B. Pullin, Cecil Honea, Dan McNeil, Ed Formby, William Bolen, and Billy McNabb.

Obituary Notes:
The Blooming Grove Times - Jan. 8, 1975
Submitted by Karen Rost
Decaleb "Dee" Lipscomb Hambrick
May 8, 1885 - Dec 22, 1977
D. L. Hambrick
Services will be at 2 p.m. Saturday at the Corley Funeral Chapel for Dee L. Hambrick, 92, resident of Kerens, who died Thursday in the Corsicana Nursing Home.
The Rev, David Hale will officiate, with burial following at Emmett Cemetery.
He was a native of New Market, Ala., lived in Kerens 80 years, was a retired farmer and a member of the Baptist Church.
Survivors include three sons, LeRoy Hambrick of Olney, Joe Hambrick and Lester Hambrick, both of Corsicana; a daughter, Mrs. Hester Seale of Kerens, nine grandchildren, and two great-grandchildren.
Notes:
Some info from Joe D. Hambrick's Book "As I Remember It.... Memories of Joe D. Hambrick", 1977
SSDI: Margaret Hambrick, 17 March 1892, 15 Dec 1974, 76626 (Blooming Grove, Navarro Co., TX)
TXDI: Hambrick Margaret L 12-24-1974 NAVARRO Female