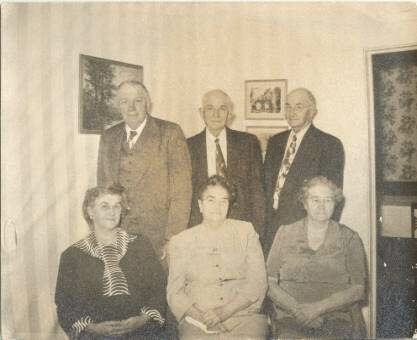 x
From left to right back row: Ernest B, Bratton,and Gid McDowell. Front row: Mattie, Janey (twins) and Elizabeth Jane Caroline (Bessie) This picture was taken at Uncle Bratton's home in Corsicana in November 1952.
This is a brief history on these six brother and sisters:
Ernest Brown McDowell, my Grandfather, was Born at Blackstock, S.C. December 19, 1881. Died at Meridian, Texas on July 6, 1956. He married Byrdie Jane Campbell, May 3, 1907 in Navarro County, Texas. Byrdie Jane was born November 12, 1886 in Drane, Texas. She died at Meridian, Texas October 28, 1982 and both are buried at Waco Memorial Park, Waco, McLennan County, Texas.
Ernest and Byrdie lived first in a log cabin that was her grandfather's, David Wilson Campbell. He had built it on land awarded to him for his service in the Republic of Texas Army and as a member of Company "B" of the frontier Texas Rangers. He was a Lieutenant in General Houston's Army at the battle of San Jacino, where Texas Independence was won. However, it is understood that he and probably his platoon (?) were assigned to "guard the baggage" or the vital food, supplies and belongings. David Wilson Campbell was the father of Brydie's father: Joseph Patterson Campbell.
Later, they moved to Bazette, Texas where most of the children were born. In the early 1920's an exploratory oil was drilled on a small place owned by them and as it was being drilled, Grand-Dad sold off blocks of royalty stock. He has mentioned that he lost $10,000.00 on the last night of drilling, as he was offered that sum for the last block of royalty. He did not sell and the well came in with salt water, not oil! Later, they would take some of this money and buy a half-section of land near Olton, Texas, in Lamb County, which was share-cropped by a young couple moved out there for that purpose. In 1931, he went back and bought another full section nearby. They moved the family there in early 1932 and lived there until 1954, when they moved to Meridian, Bosque County, Texas, where they lived until death. They had six children and they were all born in and around Bazette, Texas, Navarro County.
Rufus Bratton McDowell, Born at Blackstock, South Carolina, October 24, 1872 Died: Corsicana, Navarro County, Texas, April, 1956. Buried: Oakwood Cemetery Corsicana, Texas. Married to Emma McEntire, Born: Navarro County, 1876. Died there 1956. [Obituary]
Gideon Jackson McDowell, born at Blackstock, S.C. January 11, 1889, the baby of the family. He died at Kerens, Navarro County and is buried in the Prairie Point Cemetery at Bazette, Navarro County. He had no children and was first married to Myrtle Sessions who died in the early 1940's. He later married Elise Watson. She had no children and still survives, living at Balch Springs, Texas near Dallas with her sister. [Obituary | WWI Veteran]
Martha R. "Mattie" McDowell (later Eady), the twin of Aunt Janie. She died at Dallas, Texas and was buried at Frederick, OK., I do not have marriage or birth records, but her husband was W. T. Eady and is also buried at Frederick, Ok. They had a daughter, Pearl and a son Arthur.
Janie Caroline McDowell "Aunt Janie". Her twin will be mention below. They were born at Blackstock, S.C. November 22, 1883. Janie died at Dodge City, Kansas October 12, 1966 and was buried at Anadarko, Oklahoma. Unfortunately, Aunt Janie in her 'teens, met a traveling salesman that Mamma said was the best looking man she ever saw, who pursued aunt Janie and she became pregnant and gave birth to a son named Hubert. He was raised by her parents and/or siblings. He lived with my grandparents until entering the army in World War I. When he returned I understand he went to the Dallas area, although I do not recall any contact. He was given the name of McDowell and other members of the family, notable Aunt Mattie and her family kept in contact with him. Aunt Janie first married Charley Humphrey and after his death, Ed Griggs.
Mary J. Elizabeth McDowell. Aunt " Bessie". Born at Blackstock, S.C., August 6, 1876. Died at Pueblo, Colorado June 6, 1956 and buried at Fowler Cemetery, Fowler, Colorado. She married Luther Shifflet but they were divorced a good many years later.
Ernest Brown McDowell
This picture shows my Grandfather when he is young and I am guessing the older picture is not to far from when he passed away.
My Grandfather and Grandmother's family including my father Edwin B. McDowell
From left to right, back row: Mac, Ernestine, Erma, and James
Front row: Betty, Mama, Grand-Dad and Edwin B. McDowell
Here is a brief history about their children
Erma Theresa McDowell, born in the Campbell log cabin at Drane, Navarro County, Texas on October 31, 1908. She died at Meridian/Clifton, Bosque County on July 5, 1994. She first married Samuel Edward Jenkins at Plainview, Texas November 7, 1935. He served as a Combat Military Police Officer in the 94th Infantry Division, with many battles in France and Germany. Erma and S. E. came to Meridian, Texas with their mom and dad in 1953. S. E. died at Clifton, Texas, April 1966. Erma married James Eldridge Kyser in Temple, Bell County in 1974, He died at Clifton, Texas in 1996. Erma was buried next to Samuel Jenkins in the Waco Memorial Park, Waco, Texas. Eldridge was buried in the Bazette Cemetery next to his first wife, Lilla. Erma had no children, except for twins who died at birth.
Neal Campbell McDowell, nicknamed Son or Mac, was born on February 15, 1915 at Drane, Navarro, County, Texas. He married Ella Miller at Olton, Texas in 1936. He died at Meridian, Texas on April 22, 1968. Ella lived for many more years and died in 1995. They are buried together in the Waco Memorial Park in Waco, Texas. Mac and Ella also came to Meridian when their mom and dad did in 1953. They had three sons: Neal Dayton McDowell, born at Olton, Texas September 25, 1937; Gerald Dwayne McDowell, born at Plainview, Texas, December 18, 1939; Garry Glenn McDowell, born at Plainview, Texas November 19, 1943. All three survive.
Louise Ernestine McDowell, born in Corsicana Texas, at Joseph P. Campbell's new house on January 18, 1923. She married Joe W. Allison at Abilene, Taylor County, Texas in 1947. He served in the U.S. Navy as a Quartermaster during World War II. She died at Amarillo, Potter County, Texas April 6, 1980. Joe had already died at Clarendon, Texas in June of 1966 Both are buried in the Clarendon, Texas cemetery. They had two daughters: Paula Lanette and Nelda Larue Allison , both born in California.
Edwin Burton McDowell, born at Bazette January 19, 1926. He married Frances Turner on January 6, 1945.in, Boca Raton Florida. He was stationed there while in the Air Force. He served with the 8th Air Force in England/Europe in World War II. Both he and Fran survive. They have lived in Valley Mills, Texas since 1957. They moved their from Houston. They have two daughters: Caroline Jane McDowell, Hinton, Kaiser and Lee Ann McDowell, Sears, Land.
Betty Jeanne McDowell, the youngest daughter. Born at Bazette, Texas May 23, 1927. She Graduated from Wayland College and taught school. She married William Waldo Cox, after his return from service as a Sergeant in the U. S. Marines in the South Pacific in World War II. They had two children; William Ricky Cox and Theresa Jerilyn Cox. Waldo died and is buried in the Plainview, Texas Cemetery, Betty survives.
James Elwin McDowell, Born at Bazette, Texas on January 19, 1931, Edwin's birthday; and grew up in Lamb County, Texas. he moved to Meridian, Texas with his Mom and Dad in 1953. He died July 2000.
Notes: