Rev. James Campbell Osborne & Sarah Hogan (Coats) Osborne
Photo Courtesy of James Kelley



From my Great Grandfather's Marriage License in 1892 ...ed williams
Family of James Campbell Osborne
Submitted by Edward L. Williams
1 James Campbell Osborne b: 16 December 1829 in near Moulton, Madison Co., AL to Ephraim Brevard and Nancy (Smith) Osborne, he died on 28 September 1922 in Emmett, Navarro Co., TX. Burial: Prairie Grove Cemetery at Emmett, Navarro Co., TX
.. +Sara Epsie "Sandy" Coats b: 12 October 1832 in TN d: 3 November 1924 in Emmett, Navarro Co., TX m: 11 April 1850 in Bradley Co, AR Burial: Prairie Grove Cemetery, Emmett, Navarro Co., TX. She was the daughter of Sanders and Eliza Coats
........ 2 Mildred Linzy Osborne b: 3 February 1851 in Bradley Co, AR d: 9 Aug 1940 in Hill Co., TX. Burial: Salem Cemetery, Irene, Hill Co., TX; Obituary
............ +William Monroe Bruton b. Feb 21, 1841 d. 1890 m: 19 July 1876 in Navarro Co., TX Burial: Salem Cemetery, Irene, Hill Co., TX
........ 2 Eliza Hogan Osborne b: 16 September 1853 in Bradley Co, AR Burial: Elmwood Cemetery, Mineral Wells, Palo Pinto Co., TX
............ +Abraham Smith b: 5 March 1846 d: Oct 1, 1931 m: 6 January 1871 Burial: Tidwell Cemetery, Thornton, Limestone Co., TX
........ 2 William Franklin Osborne b: 4 March 1856 in Bradley Co, AR d: 14 May 1946 in Frost, Navarro co., TX Burial: 15 May 1946 Prairie Grove Cemetery, Emmett, Navarro Co., TX
............ +Ida Talula Talley b: 6 April 1869 in Hope, Columbia Co., AR d: 26 January 1943 in Emmett, Navarro Co., TX m: 15 November 1885 in Dresden, Navarro Co., TX Burial: Prairie Grove Cemetery, at Emmett, Navarro Co., TX
........ 2 Ephraim Brevard Osborne b: 27 January 1859 in Bradley Co, AR d: 30 November 1932 in Emmett, Navarro Co., TX Burial: November 1932 Prairie Grove Cemetery, Emmett, Navarro Co., TX (Biography)
............ +Nancy Elizabeth Smith b: 5 November 1859 in Bradley Co., AR d: 15 March 1936 in Emmett, Navarro Co., TX m: 18 July 1877 in Spring Hill, Navarro Co., TX Burial: March 1936 Prairie Grove Cemetery, Emmett, Navarro Co., TX; Daughter of George Washington & Martha Ann (Butler) Smith.
........ 2 Nancy "Nannie" Jane Osborne b: 29 August 1861 in Bradley Co, AR d: 30 September 1954 in Tarrant Co., TX Burial: Dresden Cemetery, Navarro Co., TX (Biography & Obituary)
............ +William Martin Lindsey b: 21 December 1858 in AR d: 4 September 1925 in Mexia, Limestone Co., TX m: 9 September 1880 in Navarro Co., TX (License) Burial: 5 September 1925 Dresden Cemetery, Navarro Co., TX (Biography & Obituary)
........ 2 Martha Elizabeth Osborne b: 25 June 1866 in Bradley Co, AR d: 15 October 1958 in Eldorado, Schleicher Co., m: 23 December 1881 TX Burial: Eldorado, Schleicher, TX
............ +John Bolton Bruton b: Feb 17, 1859 in TX m: 24 December 1881 d: Jan 17, 1926 in El Dorado, Schleicher Co, TX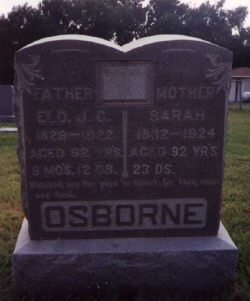 Prairie Grove Cemetery
Emmett, Navarro Co., TX
---
In Memory of Sister Sarah Osborne Mrs. Sarah Osborne (Nee Coats) was born in Bedford County, Tenn., October the 12th 1832. Moved with her father's family to Arkansas at the age of thirteen.
She was converted and united with the Missionary Baptist Church at the age of fifteen or seventeen years.
She was married to J. C. Osborne in 1850. They moved to Hill County, Texas January the 1st, 1869. Afterwards moved to Navarro County in January 1876. Died November the 3rd, 1924.
Her funeral services was held at Prairie Grove Baptist Church where her membership was. Services were conducted by H. A. Conway, her pastor, and W. Z. Corbin, her former pastor, in the presence of a large crowd of relatives and friends.
Sister Osborne was a real help meet to her husband in a long life of active ministry. A true Christian wife, an affectionate mother, and a good neighbor. No one among us was more highly esteemed and loved, for her noble and devoted Christian character than was Sister Osborne.
She was the mother of two noble sons, and four daughters, which all of them survive her.
Her husband preceded her in death a little more than two years ago.
She had 46 grandchildren and 118 great grandchildren and 11 gr-gr-grandchildren, besides a large number of friends.
Resolve that in the death of Sister Osborne, the children have lost a devoted mother, the church a faithful member, the community a good neighbor.
Resolved the 2nd. a copy of this Memorial be placed in our church records, and a copy to the Baptist Progress.
Committee,
J. A. Cook
Mrs. H. A. Conway
Mrs. Gill
Notes: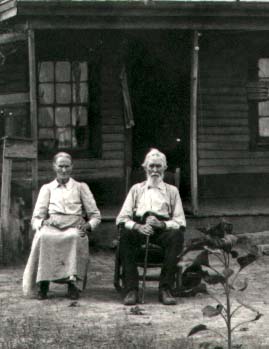 Photo Courtesy of Bobby Jones & Anita Adler
Photo Courtesy of Melissa Davis
Names provided by James Kelley
Front Row: Sarah Hogan (Coates) Osborne & James Campbell Osborne
Second Row From left to right: William Franklin Osborne,
Eliza Hogan (Osborne) Smith, Mildred L. (Osborne) Bruton,
Ephraim Brevard Osborne, and Nancy Jane (Osborne) Lindsey.

(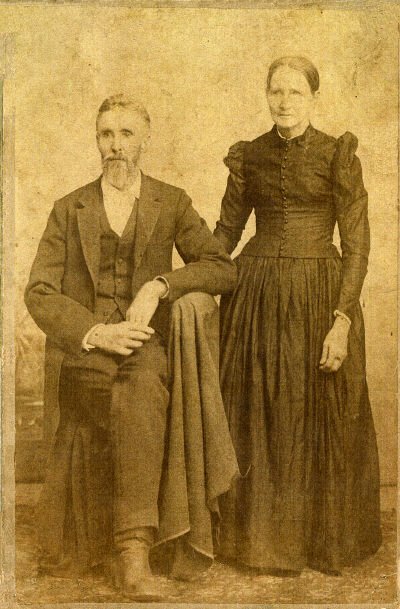 Photo Courtesy of Melissa Davis
James Campbell Osborne & Sarah Hogan (Coates) Osborne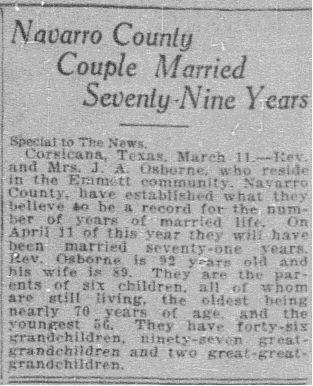 Submitted by Pam Caldwell
(Clipping states J. A. Osborne, but this is Rev. James Campbell Osborne.
He married Sarah Hogan Coates on Apr 11, 1850 in Bradley County, Arkansas)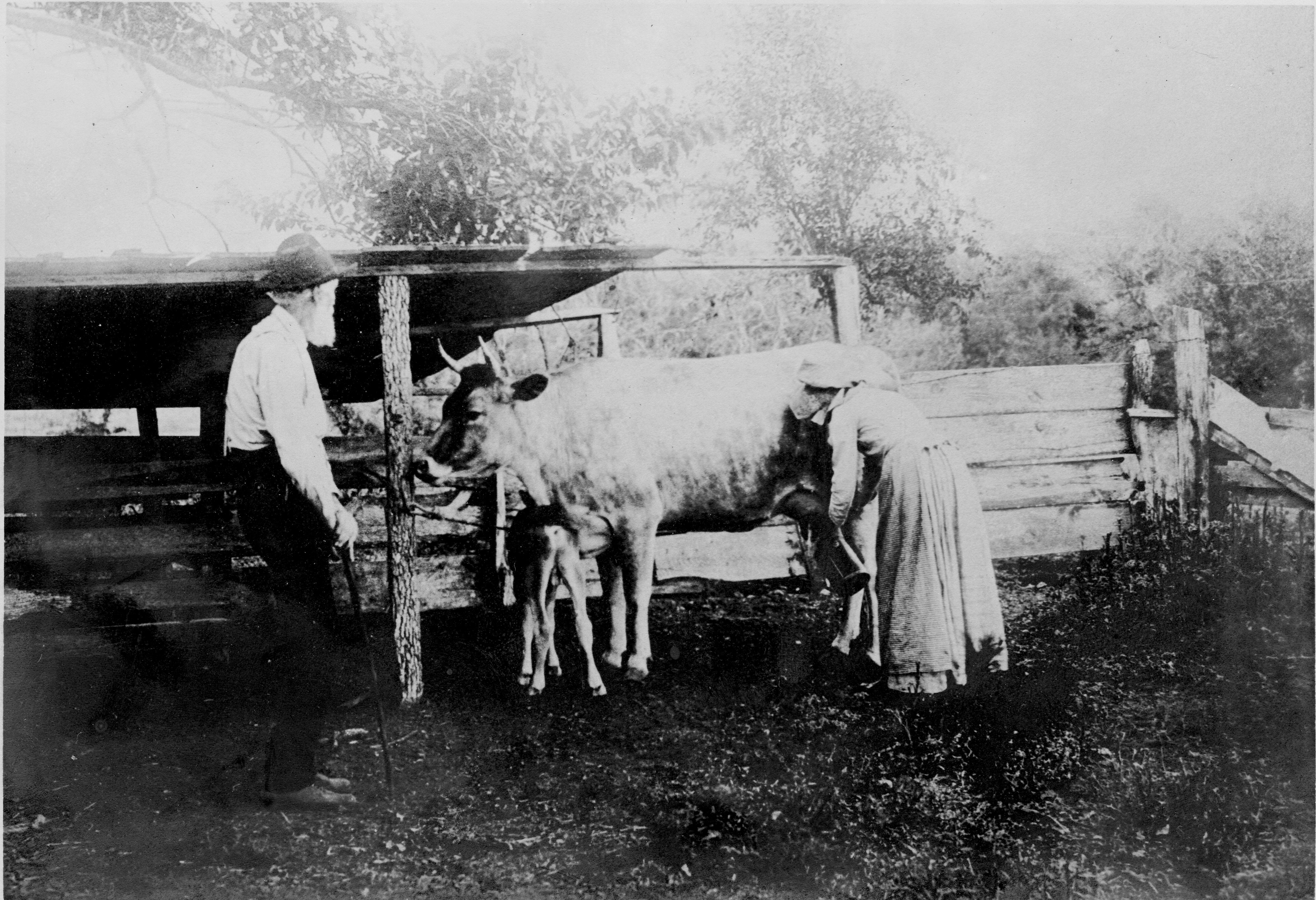 J.C. and Sarah Osborne
Photo submitted by Robert Ballew