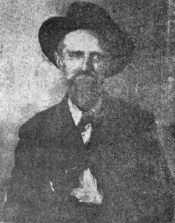 Excerpts From "The North and South American Review"
By Edward M. (Ned) Polk, III
Originally published in "The Navarro County Scroll", 1966
Reprinted with permission of the Navarro County Historical Society
This article was given by Edward M. Polk, III (Ned), son of Mr. and Mrs. Ed M. Polk, Jr., and contains excerpts from a book by his uncle, J. M. Polk, "The North and South American Review,: written by Polk in 1914. This old gentleman was quite a character in the early days of Corsicana and Navarro County, frequently making his visits to his relatives in the course of an evening, and being gone before they rose the next morning.
By way of introduction, and before entering upon the subject of our title page, I will try to give you some idea of pioneer days. For in this work I shall undertake to give you a little variety as well as some facts of history and general information. I was born in Greene county Missouri, five miles east of Springfield, on the 7th of October, 1838. My father, Thomas M. Polk, son of William, was a native of Maury County, Tennessee, born three miles from Columbia, about the year 1810. His father, William, son of Ezekil, was born in Mecklenburg County, North Carolina, nine miles from Charlotte Courthouse, September 10, 1776. About the year 1842 or 1843 my father moved to Lawrence County, Missouri, and settled on or near the head of Honey Creek, twelve miles south of Mount Vernon. I was 5 or 6 years old at that time.
I can remember seeing a company of men on their way to the Mexican war in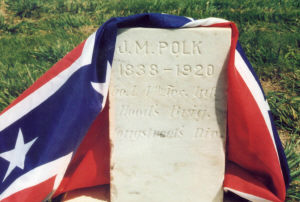 1846. But I was not old enough to know what it meant. In 1849 my father moved to Phillips County, Arkansas, but my brother and sister and myself were left at Springfield, Missouri to attend school. Going to school was too tame for me; I longed to be in the woods with my dogs. It was a mixed school, most of them girls. One day I killed a large snake and thought it would be a good joke to frighten the girls with it. I took it by the tail and tossed it in among the girls on the playground. A first-class tanning was my reward. Out teachers, Mr. and Mrs. William M. Peck, later removed to Fairfield County, Texas, where they lived and died.
In 1851 we left Springfield in a two-horse wagon for St. Louis. There were no railroads in the country then. At St. Louis we stopped at a hotel. We boarded the first steamboat for Walnut Bend, Arkansas -- The "Bunker Hill" No. 3 -- and reached home. Father thought the best way to settle me and to teach me the worth of a dollar was to put me to picking cotton. In 1854 and '55, brother and I attended school at Batesville, Arkansas.
I came to Texas in 1859 at the age of 21 and settled in Navarro County.
Harvey Matthews tells me of another noted character of early days in Texas, George Porter, a native of Alabama. He became involved in that country and he saw no way out of it except to die, so he had the news circulated all over the country that he was dead. He had an old hickory stick put into a coffin in the house and the people all came in, held a great ceremony over it and buried it. When this man was done he started for Texas. He undertook to build a mill on the Trinity River, which place still bears the name of Porter's Bluff; went to New Orleans and contracted for machinery, and on his way back he took the yellow fever at Shreveport and died again. Next and last that was heard of him was in California, where he became involved and died again.
About the year 1833 Sterling Robinson and Judge Slaughter and others brought a colony from Tennessee to Texas and others soon followed from the different states, and many of them settled in what was then known as Robinson County. The country site was Nashville, and later moved to Wheelock then to Owensville; from there to Calvert and from Calvert to Franklin.
Brit Dawson, who lived and died near the town of Dawson, named after him, on the Cotton Belt railroad in Navarro county, was present when the mill was started. No trouble to hear him talk 300 yards, and it was very amusing to hear him telling about the windmill.
The people all came in with their corn, and "first come, first served." The corn was put into the hopper and the mill started. At first a puff of smoke, and then a blaze of fire, then the rocks soon broke out of the box and went tumbling down the hill -- and this put an end to the windmill.
Navarro County was organized in the early 1840's and Corsicana was the county site. Brit Dawson and Jimmie Little were there on one occasion when court was in session and as usual they took on a little too much "booze." It was cool weather and Jimmie Little and Brit Dawson were put in a room together at the hotel, and during the night when the whiskey began to get "cold," Little became very restless, and Dawson says to him, the next day: "Little, I would as soon try to sleep with a young mule as you. What was the matter with you?" "Oh, I was dreaming." "What was you dreaming about?" "Well, I thought I was an unmarked yearling and Brit Dawson was after me with a cow whip."
Shoe leather was hard to get in the early days, and the women could hardly afford to wear shoes on Sunday, or when they went visiting, and instead of asking them to take off their bonnet or shawl, they would be invited to "Come in and take off your shoes and let your toes spraddle."
Beaton Stroud moved from Alabama to Texas, and settled where Calvert now stands, and after the close of the Civil War. His heirs sold the land to the Texas-Central railroad. My brother tells me about finding Mandred Stroud on the streets of Corsicana, a little bit "how come you so," and took him in his buggy and carried him home. They were near neighbors and lived about twelve miles west of Corsicana. When they had gone about four or five miles, Mandred Stroud says to him, "Yes, Billie, you read the Bible, but can you tell me who made God Almighty? Your father, Billie, is intoxicated on the subject of religion, and you are intoxicated about making money, and I am intoxicated on whisky."
In the year 1869 and 1870 I was traveling for A. Sessions & Company, wholesale grocers and commission merchants, Galveston, Texas. I was going around over the country hunting orders and sometimes I would get orders to leave. Stopped at Gainesville, Cooke county, Texas. Some hard characters there in those days. Only one hotel in the place kept by a man named Fletcher. Court was in session and I was put in a room with a New Orleans man. It took him about an hour to dress and get ready for breakfast, and when he came down to the wash-stand he commenced making complaints about the dirty towel; and old man Fletcher, a hard old citizen, says to him, "You are the hardest man to please I ever saw. No less than one hundred men wiped on that towel this morning, and you are the first man to complain about it."
I enlisted in the Confederate Army at Corsicana, Texas, July, 1861, as a private in Captain C. M. Winkler's company. President Davis had called upon the Governor of Texas for 20 companies of infantry to go to Virginia, and I was selected by the company to go to Austin and have this company received. I succeeded and made the trip in due time. On my return, about the 18th of July, I found them encamped near the old Battle Creek Church, near where the town of Dawson now stands. On the 19th we started for Houston. We were mustered in at Harrisburg the following August. From there we proceeded to New Orleans via Beaumont, Niblett's Bluff, and New Iberia, La. We reached Richmond, Va., without much delay, but our losses in the winter of 1861 from sickness and exposure incident to camp life, were very heavy. I had the measles, had a relapse and developed a case of typhoid-pneumonia, and my fate was uncertain for about six weeks. For ten or twelve days I did not eat a mouthful of anything. Mrs. Oliver, a citizen of Richmond, had me removed to her house, and, by close attention, managed to pull me through. Had it not been for this woman my bones would have been in the sod of old Virginia today.
(He tells a great deal about his experiences in the army and how many times he was wounded, each time giving credit to Mrs. Oliver for saving his life.)
Polk closed with the idea that the war was caused by the central government gaining too much power which should still be in the hands of the states. He gives a list members of Company I, Fourth Texas Infantry, Hood's Brigade, Longstreet's Corps, Confederate states, Army of Northern Virginia, listing the dates and locations of their deaths.
The closing chapters of the book are on his life in South America during the ten years he spent in that country. Vivid descriptions tell of life in that area of the world, and of his attitudes toward the various countries and the peoples.
Notes:
---
Private - Was wounded in the arm in the Battle of Gaines's Mill, Virginia on June 17, 1862 and was again wounded on Sept 20, 1863 at the Battle of Chickamauga. A minie' ball had entered his head in the temple in front of the right ear, and had lodged in the back of his head. It was removed by a war surgeon. By March of 1864 he was able to travel again and was recommended for promotion by General Hood. Jefferson Davis, himself, wrote a memo on behalf of Polk saying that he thought Polk was fit for promotion. Polk was commissioned as a Captain on December, 18, 1863. He then left the war in Virginia and went to Arkansas, where he joined General Price's army in March 1864. He lived in Confederate Home in Austin, Travis Co., TX as of Jan 1, 1908.
---
J. M. Polk was a POW at St. Louis, MO from June 29, 1864 until end of war. He is buried at the Texas State Cemetery in Austin. (Section: Confederate Field, Section 1, Row L, Number 31)
Notes on Photograph:
James M Polk was the author of The North and South American Review. A wrap he published in 1914 and is used by many Hood's Texas Brigade researchers all over the country today.
Notes:
Submitted by Norman Stubbs, Commander of J. L. Halbert Camp 359, SCV