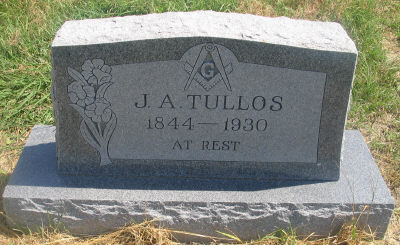 James Alexander Tullos
Frost Cemetery, Frost, Navarro Co., TX
Photo by Edward L. Williams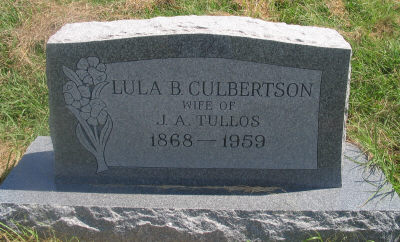 Lula Bell (Culbertson) Tullos
Frost Cemetery, Frost, Navarro Co., TX
Photo by Edward L. Williams



Cornelia M. (Pruitt) Tullos
Frost Cemetery, Frost, Navarro Co., TX
Photo by Edward L. Williams

James Alexander TULLOS was born on or about 3 Oct 1844 in Mississippi (probably Neshoba County), the oldest child of Alfred and Lousia DENNIS TULLOS. He migrated with his parents to Polk County, Texas, circa 1858, and is listed with the family in the 1860 Polk County, Texas, census (named misspelled as TULLIS, as it is on the 1870 and 1880 Navarro County census, spelled as TULLOS on his tombstone in the Frost cemetery, as well as on his parents tombstones in the Navarro Mills, Navarro County, Texas, cemetery). He died 26 Nov 1930 and is buried with both of his wives (Cornelia M. PRUITT and Lula B. CULBERTSON) in the Frost cemetery.
James Alexander TULLOS enlisted in Company E., 7th Texas Mounted Volunteers, C.S.A., on 31 Aug 1861 at Sumpter, Trinity County, Texas, according to his application for a Confederate pension from the State of Texas (number 46709). His second wife, Lula, also received a widow's pension (number 48096).
According to James Alexander TULLOS' Confederate pension application he served for the duration of the war. A War Department letter, dated 8 May 1925, attached to his application states:
"The records show that one J. A. TULLOS, age 18 years, enlisted August 31, 1861, at Sumpter, as a private of Company E, 7th Regiment, Texas Cavalry, Green's Brigade, C.S.A. He is reported on the company muster rolls as follows: Roll for October 24 to Dec 31, 1861, presence or absence not stated; June 30 to December 31, 1862, "present, a corporal"; January and February, 1864 "(Corp.) Absent. Detailed to attend to horses by order General Magruder." No latter rolls are on file and no subsequent record of him as a member of that regiment has been found."
The 7th Regiment participated in the campaign to capture New Mexico and Arizona (Jan - Apr 1862). Some of the men died due to thirst while campaigning in the desert.
Following the unsuccessful Arizona Territory campaign the 7th Regiment participated in the Confederate recapture of Galveston, Texas, on 1 January 1863. Elements of the 7th, leaving their horses ashore, boarded two small ships protected from cannon shot by bales of cotton stacked on deck (Cotton clads). The Federal fleet was forced to retire, and Union troops on shore surrendered.
Following the recapture of Galveston, the 7th Regiment was assigned to the Trans-Mississippi Department until it was surrendered on 26 May 1865 by General E. K. Smith.
Notes:
---
James Alexander "Jim" Tullos
Oct 13, 1844 - Nov 26, 1930

J. A. Tullos, Frost Pioneer Farmer, Dies

FROST, Texas, Nov. 29. - J. A. Tullos, 86, died here and funeral services were conducted by the Masonic fraternity. Mr. Tullos had long been a resident of this community, having first settled in Navarro County at Cross Roads and later when the Cotton Belt was extended from Corsicana to Hillsboro and Frost was established he was among the first of the new town's citizens.

Mr. Tullos was a retired farmer and one of the directors of the Citizens' State Bank, Frost. He left a wife and eight children.
Notes:

PIONEER RESIDENT FROST COMMUNITY BURIED THURSDAY
FROST, Nov. 27.—(Spl.)— Funeral services for J. A. Tullos, age 85 years, who died at his home here Wednesday afternoon at 5:45, were held at 3 o'clock Thursday afternoon from the Baptist church of
which he was a member. Services were conducted by Rev. D. P. Cagle, pastor. Burial was in the Frost Cemetery.
Mr. Tullos was a pioneer of this community and was active in civic and church affairs. He was one of the leaders of the community and always took an active part in any enterprise for its betterment.
He was a Confederate veteran.
Surviving are his wife and eight children, J. M, Tullos, Corsicana; Mrs. J, E. Porter, Shreveport, La.; Mrs. H. G. Gardner. Shreveport,; La.; Mrs. M. Hester, Corsicana; Will Tullos, Las Cruces, New Mexico;
Claude Tullos, Clyde Tullos and Guy Tullos all of Frost.

Notes:
Services Held For Mrs. Tullos Frost Church

Mrs. Lula Bell Tullos, 91, widow of the late J. A. Tullos of Frost, died Thursday afternoon at the home of a son, Clyde Tullos, at Blooming Grove, where she had resided the past eight years.

Funeral services were held Friday at 3 p.m. from the Frost Baptist church with burial in the Frost Cemetery. The rites were conducted by Rev. C. C. Ellis, pastor, assisted by Rev. Harold Thompson, pastor of the First Methodist church in Frost.

A native of Tennessee, Mrs. Tullos resided in the Frost community 63 years before going to Blooming Grove.

Surviving are two sons, Clyde Tullos, Blooming Grove, and Guy Tullos, Frost; two daughters, Mrs. Lucille Hester, Austin and Mrs. Erline Gardner, Shreveport, La; seven grandchildren, 11 great-grandchildren and other relatives.
Grandsons were pallbearers.

McCormick Funeral Service directed.

Notes: