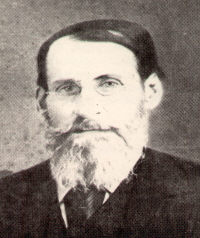 Robert Newton White was born in South Carolina on Dec 8, 1810, and on January 21, 1840, he married Julliett Means. To this union were born two children, Hugh and Mary Jane. On Oct 14, 1845, Mr White and his family arrived at Dresden in Navarro County Texas.
Robert White was appointed the first postmaster of Corsicana but he could not serve as he was already serving as the County Clerk. He served Corsicana as County Clerk for ten years and resigned in 1856 because of his failing eyesite. He then devoted his time to raising livestock and horses near Dawson. Robert moved back to Corsicana around 1870 and was among those who were instrumental in getting a railroad to Corsicana in 1871.
Mr. White was a Presbyterian and was one of the sixteen people who organized the Church in Corsicana on May 16, 1853. Robert, with John McQuiston, purchased property and donated it to the Third Avenue Presbyterian Church. Mr. White was a Mason. he died May 25, 1891. A painting of him can be seen today hanging in the Navarro County Clerk's Office at the County Courthouse in Corsicana. A painting of Mrs. White can be seen at the old log home in Pioneer Village.