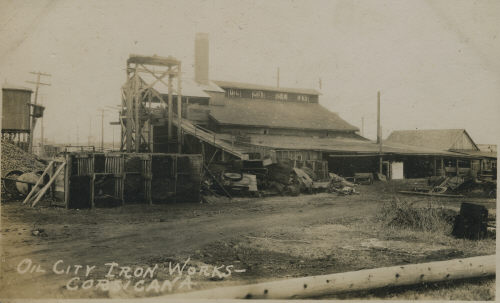 Photo Post Card from the collection of Edward L. Williams
History of Oil City Iron Works
By William Clarkson, III
Originally published in "The Navarro County Scroll", 1975
Reprinted with permission of the Navarro County Historical Society
---
Cotton has been the major crop in Navarro County since the late 1840's. The industry reached its peak during the period 1920 - 1940. There were one or more cotton gins in every town, village and hamlet in Navarro and surrounding counties during those days. Oil City Iron Works (henceforth referred to as OCIW) played a major role in helping keep hundreds of these gins in good repair by furnishing supplies and parts. The machine shop specialized in overhauling boilers and steam engines (later diesel engines) used as power in the ginning process. The foundry cast ribs for the gins and the repair shop sharpened the circular saws that rotated between the ribs. The ginners within a 20 or 30 mile radius relied almost solely on OCIW to keep them going during the cotton season in the Black Land Belt. As is noted in the brief history, the cotton gin manufacturing division (formerly Winship Manufacturing Company and later Corsicana Manufacturing Company) was sold to Continental Gin Company in 1898. After that time, OCIW functioned as cotton gin and oil mill repair specialist in the cotton industry in the East Central Texas area.
OCIW has played a significant part in the oil industry in Navarro County since the first "oil boom" in 1898. The foundry cast set collars and shoes, forged fish-tailed drill bits, turned tool joints for drill stem and repaired Kelly joints during these early days in the "oil patch". They also repaired boilers and steam engines used to operate the drilling equipment and walking beam pumping units.
There was actually no significant change from a period of serving the cotton industry to a period of serving the oil industry - you might say that OCIW played an important part in both industries simultaneously.
In the 1930's, OCIW established itself with the leading oil field equipment manufacturers as a supplier of machined castings. The company enjoys the position of being a leader in this specialty to this day.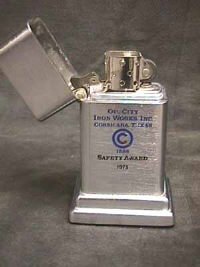 OCIW operated the oldest oil field supply house in Texas up until 1969, when the supply division abandoned this line.
Both William Clarkston, Sr. and later William Clarkston, Jr. engaged in a minor way in shallow oil well production a a sideline at one time during their days with OCIW. Their acquaintance with people in the oil industry and knowledge of the equipment used brought oil operators in from surrounding areas to utilize OCIW's repair services.
The cotton industry in Navarro County began a decline after World War II and finally has been overshadowed by the cattle and grain industry, agriculturally. Consequently, the cotton industry is no longer a factor with OCIW.
OCIW surely has experienced some "hard times" during its near century of existence.
Most of the hard times that can be recalled took place during the 1920-1940 era.
In 1926, OCIW experienced a disastrous fire which completely destroyed the foundry division. It was a financial struggle to rebuild, but it was done and business bounced back to normal by 1927.
During the years of the "great depression", the payroll had to be trimmed and in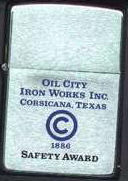 order to keep some key officials on the payroll, William Clarkston, Jr. removed himself as president from the payroll for a period of five years. He moved to Houston with his family - commuting to Corsicana monthly to oversee his shallow oil well production and consult on OCIW affairs. In 1936, he returned to Corsicana to reorganize the company's financial structure. From that time forward, OCIW has experienced steady growth.
OCIW has grown from a four man crew in the foundry and machine shop operation in 1886, when it was Corsicana Manufacturing Company, to a payroll of 325 in 1974.
OCIW is rated among the top gray and ductile iron jobbing foundries in the United States. The company enjoys a national reputation for highest quality work among most of the leading machinery manufacturers. Listed among the approximate 70 regular foundry accounts are companies such as Caterpillar Tractor, Armco Steel, Likes-Youngston, Emsco Division, U.S. Industries, Clark Equipment, Baker Oil Tools, Halliburton, Western Gear, DeLaval Turbine, American Crane Company. These and others represent a multitude of diverse industries which OCIW serves with distinction.
OCIW was a pioneer in the development of the usage of "ductile iron" in herring-bone gears for power transmission equipment. Equipment principally used on deep will pumping units.
OCIW currently produces approximately 18 million pounds of castings per year, 60 per cent being ductile iron. The company produces castings weighing from a few pounds up to 12,000 pounds.
The company ranks among the three largest employers in Navarro County with over a million dollar payroll.
Further information on William Clarkston, Sr. - As noted in the original Brief History of OCIW, W. C., Sr. was born in Charleston, South Carolina in 1858. His father, a prominent plantation owner prior to the Civil War, distinguished himself as a Confederate Sniper Company Commander on Ft. Sumpter during the battle. W. C., Sr., too young to serve in the Confederate forces during the Civil War, made his way to Texas after the war with what small financial help his now financially destitute father could offer. (The family land had been confiscated by the Union Army after the war.)
W. C., Sr. made his way to San Antonio in the late 1870's and opened a machine shop in that city. In the early 1880's he moved his machine shop operation to Cleburne, Texas. On a trip to Corsicana in 1885, he met and a short time later married the daughter of a pioneer doctor of Navarro County, Dr. J. W. Gulick. (Born 1829 - Philadelphia - University of Pennsylvania Med School - Died 1898 - Corsicana, Texas - Buried in Oakwood Cemetery, Corsicana).
Wm. Clarkston, Jr. was born in Corsicana in 1887, attended the Corsicana Public Schools where he was prominent in high school athletics. He attended the University of Texas and joined the Beta Theta Pi Fraternity. His roommate and fraternity brother was Mike Hogg, son of Governor Hogg who was in office during their college days. After two years in Austin, W. C. Jr. transferred to Armour Institute (Now Illinois Institute of Technology) in Chicago, which is those days an outstanding Mid-Western Engineering school. After graduation from Armour, W. C., Jr. went to work for Elgin-Joliet and Eastern Railroad in Joliet, Illinois, as a draftsman. One year later he took a job with American Sheet and Tin Plate Company in Gary, Indian as a structural engineer. In 1911, W. C., Jr.''s father prevailed upon him to resign his job in Gary and return to Corsicana to work with him as a partner in OCIW. In 1915 he married the daughter of a pioneer Texas family from Bastrop and Palestine.
W. C., Jr. was a life long member of St. John's Episcopal Church in Corsicana, he was active in the Corsicana Chamber of Commerce, a charter member of the Corsicana Rotary Club, Corsicana Country Club, Texas Manufacturers Association and Texas Chapter of American Foundry Association of Civil Engineers. He was honored with a lifetime membership in the ASCE one-year prior to his death.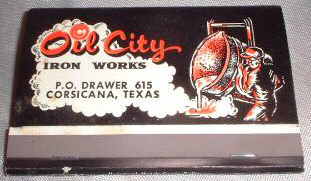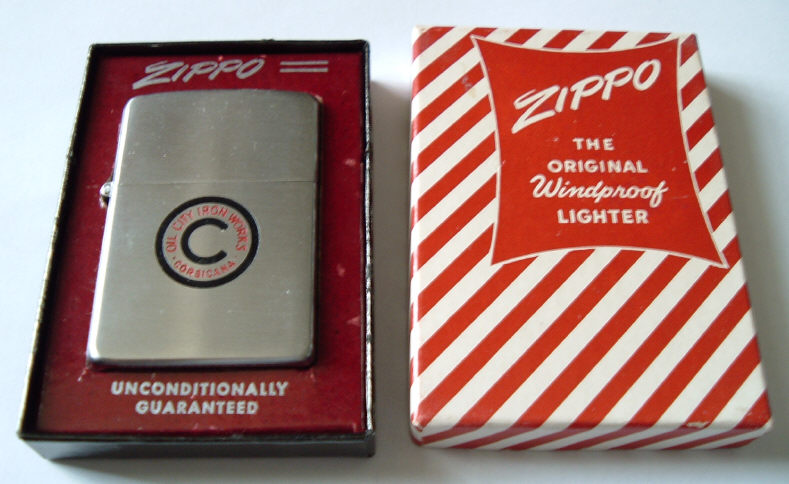 This Oil City Lighter is from the collection of Robert "Bob" Taylor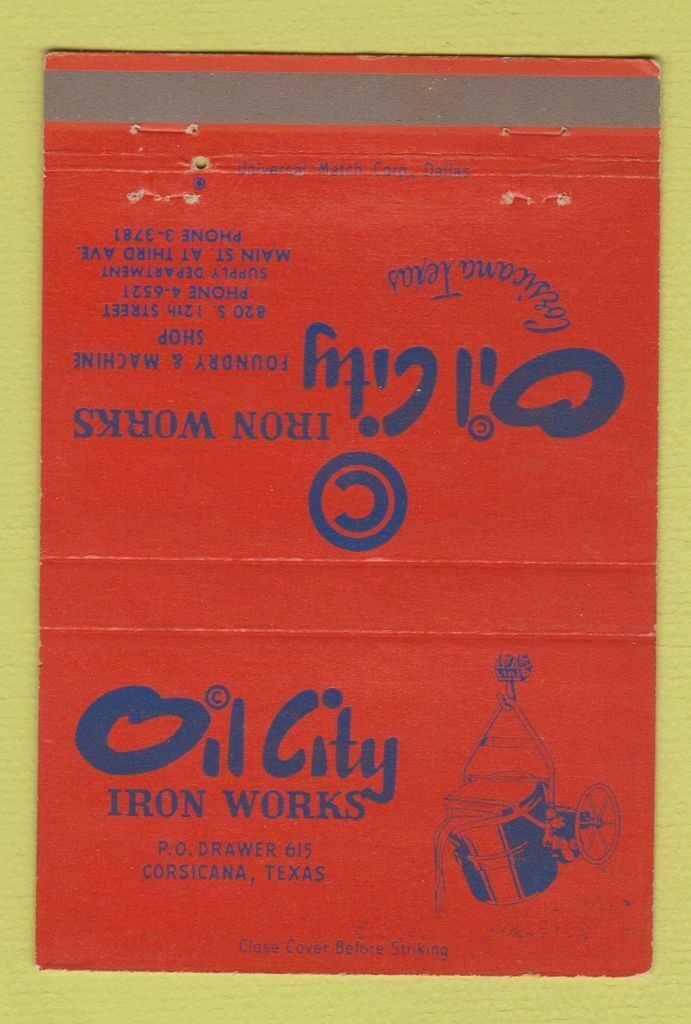 ---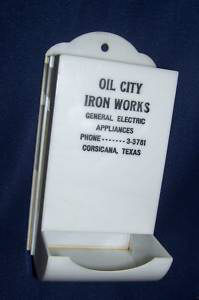 Match Box Holder

---
Iron City Castings