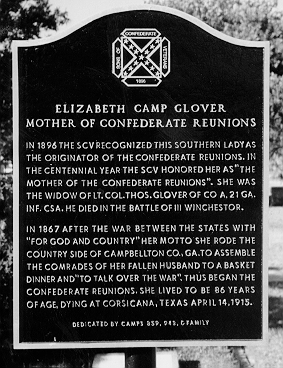 Elizabeth Camp Glover
Mother of Confederate Reunions
In 1896 the SCV recognized this southern lady as the originator of the confederate reunions. In the centennial year the SCV honored her as "The Mother of the Confederate Reunions". She was the widow of Lt. Col. Thos. Glover of Co. A. 21 GA Inf. CSA. He died in the battle of III Winchestor.
In 1867 after the war between the states with "For God and Country" her motto she rode the country side of Campbellton Co., GA to assemble the comrades of her fallen husband to a basket dinner ant "to talk over the war". Thus began the Confederate Reunions. She lived to be 86 years of age, dying at Corsicana, Texas April 14, 1915.
Location: Oakwood Cemetery, Corsicana, Texas
Notes: