Dresden United Methodist Church
by Mrs. Ruth E. Ramsey,
Originally published in "The Navarro County Scroll", Vol. XXII - 1977
Reprinted with permission of the Navarro County Historical Society
---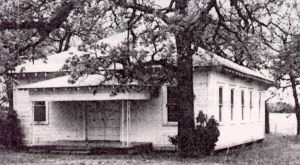 Dresden United Methodist Church (on the Blooming Grove Charge Circuit) is the present official title of a small Methodist Church in the rural community of Dresden, Texas. This church, like most Methodist churches in the United States, has had several official names. Since it was organized before the Civil War, it was known as Methodist Church. Following the Civil War, its name became Methodist Episcopal Church, South. In 1939 official Methodism made a name change, The Methodist Church, to indicate the new broad scope and range of Methodism. Then again in 1968 official Methodism made another change, United Methodist Church, at the unification of the Evangelical United Brethren Church and the Methodist Church.
Even though these four official titles will be found in the records of this Dresden church, the present members and others interested in and concerned for this historical church affectionately call it "Dresden Methodist Church". Many just say "Dresden Church".
The name Dresden, according to Taylor's History of Navarro County, comes from the once thriving, popular historical community of Dresden, Texas, Navarro County, located five miles south of Blooming Grove, Texas (Highway 22) and fifteen miles west of Corsicana, Texas (county seat of Navarro) on Farm Road 744. Dresden United Methodist Church is located at the southwest side of the old Dresden village, facing Farm Road 744 and resting adjacent to the well-known Dresden Cemetery.
Dresden United Methodist Church had its beginning with the donation of land by the recognized founder of Dresden - Ethan Melton.
Alva Taylor's History of Navarro County(1962) states on pages 35 and 50 that Ethan Melton, a pioneer settler and founder of Dresden (the village also known as Richland, Melton and "Spanky") gave in 1847 or 1848 three acres of land in the Dresden community to be used for a Methodist Church, school, and cemetery. The trustees of these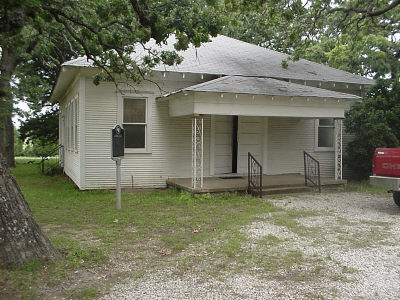 three acres were Jacob Hartzell, Ethan Melton, and Henry Cook.
This same information was also stated in Mrs. George Baum's summary account of her family records. Mrs. Baum was Priscilla "Sweet" Hartzell, descendant of Jacob Hartzell, the first businessman of Dresden. However, her records give the date 1847 for Melton's donation of land for the church.
Mrs. Martha Elizabeth Carroll Hartzell Fultz in the "Short History of the Dresden Methodist Church" (a brief account written for a church homecoming) stated that "in 1851 when her father, Benjamin F. [Franklin] Carroll, and family came to Dresden, the Methodist Church which her family attended was on the postmaster's land." Ethan Melton was the postmaster. She also stated that the "first Sunday preaching appointment extended back to 1849.
Reubin Carroll, a descendant of Ben F. Carroll, now living in Blooming Grove (1976) says that Ethan Melton gave the land for the church in 1850. Dates 1847 by Taylor and "Sweet" Hartzell Baum, 1849 by M. E. Carroll Hartzell Fultz, and 1850 by R. Carroll are given for the year of land donation for a church. They all agree on site and acreage.
Since Ethan Melton was a Methodist, he desired a church of that denomination to be organized and a building erected for the purpose of religious worship and training for the pioneers of Dresden village. To provide worship, to giving training, to offer fellowship, to serve the needs of a community: these four have been and are the purpose of this rural community church.
An interview with Mrs. Norman (Lucy Melton) Brister, one of Ethen Melton's descendants; facts from Taylor's History of Navarro County, and an article written by Lucy Faye Brister, Melton's great-great granddaughter (recorded in Navarro County Scrolls of 1958 and 1972) all give the following data concerning the life of Ethan Melton, donor of the original site of Dresden Methodist Church: Pioneer Ethan Melton, recognized founder of Dresden, Texas, was born Oct 8, 1793 in Georgia. [note: other sources list place of birth as Chambers Co., AL] At age forty-two he was appointed legal attorney of and for his brother Eliel Melton, who was killed in the battle of the Alamo in Texas. Ethan came to Texas to settle his brother's estate. Ethan remained to become a citizen of Texas, purchasing land in 1841 on Richland Creek in Robertson County (later Navarro County was created from part of Robertson County). In 1842 Melton married Lucinda Hill, a widow. Their wedding is considered to be the first in Navarro County. [note: married 7 July 1843] Lucinda died in 1847. [note: some sources list July 1845]
After the death of his first wife, Ethan Melton married Hannah Welch. [note: married 12 July 1847] They started a community known as Melton, Richland, "Spanky", later to be re-named Dresden. Ethan Melton was appointed the first postmaster in Navarro County, known as Melton (later known as Dresden). He was an active Methodist and Mason. He died November 13, 1873. [note: some sources list date of death of 18 November 1873]
A Methodist church was built on the Ethan Melton donated land, and first Sunday of each month was designated as "Preaching Day". Early church records were destroyed by storm and fire; therefore a list of charter members, first lay preachers, and circuit riders are not available. However, Mrs. Martha Elizabeth Carroll Hartzell Fultz states in her brief history of the Dresden church that "in the early part of 1853 she remembers that F. P. Ray, a traveling preacher, preached for us. Also, James Johnson was the presiding elder. Both of these were single men. The Spanish pony was a necessity for the early preachers; so were the Bible and a six-shooter. With these, they were ready for the trail. At times the preachers' support was meager. They did not complain. We all shared alike ---shared the hardships of pioneer life, the leaky cabins, and the 'plain livings'." A few members were added to the church while F. P. Ray was on the Red Oak Mission, the circuit in North Ellis County that served pioneer Dresden Methodist Church.
Martha E. Carroll Hartzell Fultz further stated that "in 1854 we had a sweeping revival. Our preacher, Brother Cooley, with the help of two Presbyterian preachers (Phineas and Robert King, two brothers), pulled down the strongholds of Satan and closed the gambling houses. Heads of families who were steeped in sin and immorality were converted. It was a great day for Dresden. I can safely say it has not been as wicked since."
Mrs. Martha Elizabeth Carroll Fultz must be mentioned as an active force for good in this church --- A Brief History of Dresden Church. Martha Elizabeth Carroll Hartzell Fultz was a remarkable lady, a memorable lady of early Methodism in Dresden and Navarro County. She lived in the Dresden community for seventy-eight years. She was born March 10, 1840, in Mississippi. She came to Texas with her father and the family, stopping near Marshall, Texas (Harris County) then moving on to Dresden, Texas in 1851 (called "Spanky" at that time). She remembered that the family went to church on the postmaster's land the first Sunday after coming to Dresden. Her mother was a Methodist and became a member of the early Dresden Methodist Church. Martha remembered that a number of slaves also attended the pioneer church.
Martha herself, was converted in 1856 and joined this pioneer Methodist Church at Dresden which (according to her brief church history) was said to be the oldest Methodist appointment in Navarro County. She remained a loyal, active member of the Dresden Methodist Church until her death in 1929. She stated in her history that "she and the church had grown old together."
For a special church celebration, Martha Elizabeth Carroll Hartzell Fultz was asked to write a summary history of the Dresden Methodist Church. This task she accepted and accomplished in 1918 for the church homecoming. At that time she had been a member for sixty-two years and was the oldest member of the Dresden Church. She wrote with pride and love for her church, stating that "the organization and the church is said to be the oldest appointment in Navarro County. It clings to the old-timers next to his faith in God; and to change it is like pulling down a monument that is dedicated to a cause sacred to all the old members of Dresden. The sixties (1860's) with its war clouds could not erase the first Sunday preaching from a few men who were left to take care of the women and children. Somehow we had a preacher and we knew the promise was to a few and we made use of it. The camp-meetings of the seventies (1870's) were seasons of rejoicing. Boys were converted at Dresden who are working for the Lord. Henry Stewart was one of our boys. Men and women who have bright religious experiences and are working for the Master date their conversions at Dresden. We had good meetings in the eighties and nineties. The church at Dresden at times has been low, but all the time good men and women have been faithful in church and Sunday School work. Brother T. H. Burton, a young preacher, had fine meetings in 1912 and 1913." In a simple, yet loving manner, Mrs. Martha Elizabeth Carroll Hartzell Fultz wrote in long hand her historical contribution to her church. This simple, brief history of the Dresden Methodist Church has been read on many occasions. It has been typed, zeroxed, and given to many of the former members of the Dresden church.
Martha Elizabeth Carroll was one of twelve children of Benjamin F. Carroll and wife Hulda Harper Carroll. Her father was a school teacher, a postmaster, and a judge in the pioneer days of Dresden. Martha Elizabeth married Dan Hartzell, son of Jacob Hartzell and wife Elizabeth Berget Hartzell. Jacob Hartzell and his family arrived (according to Taylor's History of Navarro County) at Dresden in the spring of 1845. The Hartzells had originally migrated from Dresden, Germany, came to Pennsylvania, then migrated to Texas. The son, Dan Hartzell, who became the husband of Martha Elizabeth Carroll, died November 12, 1891. Years later the widow married D. [Deckard] B. Fultz, a farmer of Dresden, Texas. The Hartzells and Carrolls played a very active part in the history of early pioneer Dresden. Martha Elizabeth Carroll Hartzell Fultz was a staunch supporter of the Dresden community and the Dresden Methodist Church.
Concerning the ownership of property, the pioneer Dresden Methodists were recipients of land given by Ethan Melton. Two church building were built on the original land site. The first church building, described by both Mrs. Martha Elizabeth Carroll Hartzell Fultz and Mrs. George (Priscilla "Sweet" Hartzell) Baum, was a log house. Both stated that this log church house was destroyed by a storm. It was replaced by a long narrow frame church house built in 1856. According to James Grover Melton (a long-time Dresden citizen, age 87, now living - 1976), the first frame church building stood at the site of Amos Carroll's grave on the south side of the Dresden Cemetery. Also according to Edgar Fox (another long-time Dresden citizen now living - 1976), the frame church that was located in the present cemetery bounds of Dresden was located about forty yards from the west entrance to the Cemetery from Farm Road 744. This driveway went straight to the church. J. A. (Albert) Lane owns one of the cemetery lots on which the frame church was originally located.
Since the Dresden Cemetery was rapidly expanding, the third church edifice, a frame building was erected on a plot of ground (1.50 acreage) of the Call Survey (shown by enclosed map) purchased adjacent to the northwest side of the Dresden Cemetery known as the 2.80 acreage of the John Smith Survey which had been purchased and is now owned by the Dresden Cemetery Association. Because the original church site had been a part of the Ethan Melton donation, the church trustees and members decided to keep the church as near the cemetery grounds as possible. A fire destroyed the third edifice in 1923.
Immediately, the Methodists of Dresden erected a fourth church building, the present one. However, the building was erected about one hundred feet northwest of the third edifice but still on the 1.50 acreage of the Call Survey, facing Farm Road 744. Ownership of church property is recorded as Warranty Deed, Dresden Methodist Church, Volume 129, Page 503 in Deed Records, Navarro County, Corsicana, Texas.
The present building, one with a low ceiling, is a white frame church with a low overhanging front porch. The members of the church recently accented the appearance of this rural church with a brick marker bearing the name DRESDEN UNITED METHODIST CHURCH in large four inch black letters. Other facilities owned and kept by the church are one tool shed and one out-door rest room.
Even though the Dresden Methodist Church was from its beginning a Methodist denominational church, it was indeed much more --- it was then at the beginning and is now regarded as a community church. The group that meets in this church building are just Dresden "home-folks" and the church is just "home" for the many descendants (near and far) of the early pioneer members of Dresden village and their many, many friends.
The role of this church can be summed up in these words: a community church, a community center, a community home for the purpose of fostering Christian worship and good neighborly fellowship. Besides, there are certain note-worthy achievements of this rural church which must be listed:
First, it is still (though few in church members) a very active church. For one hundred twenty-seven years, (1849-1976) from the "first Sunday preaching" appointment of 1849 to the present 1976, this church has sponsored and encouraged Christian learning and living. To remain open and active for 127 years is indeed a great achievement.
Second, according to the recent (1973) researched and written history of the Blooming Grove United Methodist Church entitled Summary of a Century, the Dresden Methodist Church helped to bring to full growth the Blooming Grove United Methodist Church at Blooming Grove, Texas 76626, a church five miles north of Dresden. Blooming Grove Methodism began as a mission church known as White Church in 1869 on Rush Creek, four miles north of Dresden. For eight years it remained a mission church. In 1877 the White Church (later known as the Blooming Grove Methodist Church) membership expressed a desire to become a charge church. The Dresden Methodist Church willingly offered to become the "mother church". The pastors of the Dresden Methodist Church shared part of their time with the Blooming Grove Methodists. From 1877 to 1893 (at which time the Blooming Grove Methodists of White Church purchased lots on the corner of Third and Kerr Streets in the incorporated town of Blooming Grove (1887) and built their first charge church in 1893) Dresden Methodists "mothered" the growing mission church until it reached the full maturity of a charge church. Sixteen years of aiding this bit of Navarro County Methodism was indeed a memorial and admirable achievement.
According to the history booklet Summary of a Century the pastors serving the Dresden charge church and its newly acquired Blooming Grove circuit were:
| | | |
| --- | --- | --- |
| Date | District | Pastors |
| 1877 | Corsicana | C. H. Ellis |
| 1878 | Corsicana | C. W. Swofford |
| 1879 | Corsicana | R. C. Armstrong |
| 1880 | Corsicana | F. M. Winburne |
| 1881 | Corsicana | J. P. Hulse |
| 1882 | Waco | E. L. Armstrong |
| 1883 | Waco | L. G. Rogers |
| 1884 | Waco | L. G. Rogers |
| 1885 | Waco | William Vaughn |
| 1886 | Waco | J. M. Bond |
| 1887 | Waco | C. E. Gallagher |
| 1888 | Waco | C. E. Gallagher |
| 1889 | Waxahachie | C. E. Gallagher |
| 1890 | Corsicana | C. E. Gallagher |
| 1891 | Corsicana | C. E. Gallagher |
| 1982 | Corsicana | Sam C. Vaughn |
Third, according to a recently researched and typed history of the Dresden Cemetery ( now in the possession of the Navarro County Historical Society, Corsicana, Texas, 75110 ), the Dresden Methodist Church has had for ninety-nine years ( this coming May 1, 1976) an "open-house" policy towards the Dresden Cemetery Association, the oldest organized group of its kind in Navarro County. This association is welcome to have all of its business meetings and its annual meeting of membership on the first Friday in each May in this Dresden church at which time a beautiful and fitting memorial service is presented. The Dresden Cemetery Association is indebted to this church for its "open-house" policy.
Fourth, the Dresden Methodist Church has and has always had an "open-house" policy concerning indoor funeral services for those families who desire to bury their beloved dead in the adjacent Dresden Cemetery. This is indeed a Christian gesture to share church facilities to all regardless of church affiliation.
Dresden United Methodist Church is affiliated with the state and national organization of Methodism. At present this church, on the Blooming Grove United Methodist Church Charge Circuit, is listed in the Waxahachie District of the Central Texas Conference. Brother Richard Laster of Blooming Grove is the present pastor. Dr. C. C. Sessions is the Waxahachie District Superintendent. Dr. W. McFerrin Stowe is the present Bishop of the Central Texas Conference.
This church has maintained the reputation of meeting all of its financial obligations and of making in a commendable manner a full and complete church report at its annual church sessions.
Many of the members of Dresden Untied Methodist Church, past and present, have followed the pursuits of farming and cattle raising; others have followed the professions of medicine, law, engineering, teaching, and preaching. The two names associated with this church who are best remembered and most often discussed are Founder Ethan Melton and Church Historian Martha Elizabeth Carroll Hartzell Fultz. Together, their lives, already sketched in this historical essay, covered the last half of the nineteenth century and the first third of the twentieth century. Since their gifts of land donation, their active lives for Christ and the the church in this historical community, and of the legacy of a brief, written history of their beloved Methodist community church have left a deep imprint on the lives of Dresden citizens and a precious memory for present pioneer descendants, and a definite challenge for the future members of this rural church, these two names (Ethan Melton and Martha Elizabeth Carroll Hartzell Fultz) are the only two to be lifted up in the category of prominent people. At least, they are historically prominent.
As one can see from this report, Dresden United Methodist Church is a viable body, small in membership but large on faithfulness, loyalty, and active service.
Also, the reasons for desiring to commemorate this church are surely self-evident for those who read this report; however, let these reasons be briefly reviewed.
First, Dresden United Methodist Church is historically important, being for one hundred twenty-seven years an active Methodist church, said to be the oldest Methodist charge in Navarro County.
Second, this church has been more than a denominational church --- it has been a community church.
Third, even though it is located in a rural area, it is by no means inactive. It still functions and lends its services to persons near and far.
Fourth, it served as a "Mother Church" to a struggling mission church, White Church, now the Blooming Grove United Methodist Church which in turn now serves and aids the Dresden Church.
Fifth, this is the U. S. A. Bicentennial year, 1976. What more fitting way to honor our country's birthday than to honor this historical Dresden Methodist Church, an offspring of early U. S. A. Methodism? It would indeed be fitting to honor this church which had its beginning only seventy-four years after our nation had declared its independence. At present, after one hundred twenty-seven years of fruitful existence, this church still helps to strengthen the country of which it is a vital part.