View Full Size Photo
Submitted by Judy Brown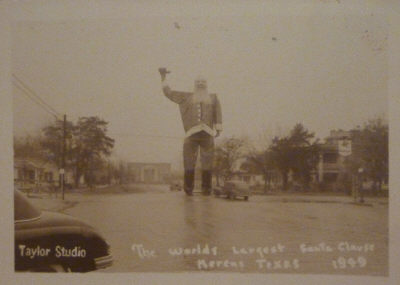 Real Photo Post Card of
The Worlds Largest Santa Clause
Kerens, Texas 1949
Taylor Studio [Alva Taylor, Corsicana]
From the Collection of Edward L. Williams
[ Full Size Photo ]

Big Tex,the 52 foot icon of the Texas State fair, was actually created in the town of Kerens, in Navarro County Texas. The local merchants, looking for a way to draw shoppers from Corsicana and Dallas, came up with a gimmick that would encourage people to spend money at local stores. The Kerens Chamber of Commerce and city boosters built what they claimed was the world's largest Santa Claus. Standing 49 feet, this Santa was constructed from iron-pipe drill casing and paper mache with seven foot lengths of unraveled rope for a beard. He was placed at the foot of Colket Street.

The promotion was a huge success during the 1949 holidays, as people came in from miles to see the giant Santa. By 1951, the novelty wore off and the Santa was sold to State Fair President R. L. Thornton who purchased Santa's components for $750 and hired Dallas artist Jack Bridges to create a giant cowboy out of the material.

In 1952, Big Tex made his debut wearing size 70 boots and a 75-gallon hat. Tex towered 52' above wide-eyed visitors. His denim jeans and plaid shirt were donated by the H. D. Lee Company of Shawnee Mission, Kansas. Cosmetic surgery the following year straightened his nose, corrected a lascivious wink and allowed him to talk.

See also: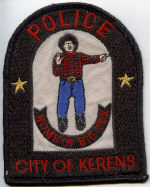 From the collection of Edward L. Williams
For some time, Big Texas was symbolized on
the Kerens City Police Dept Patch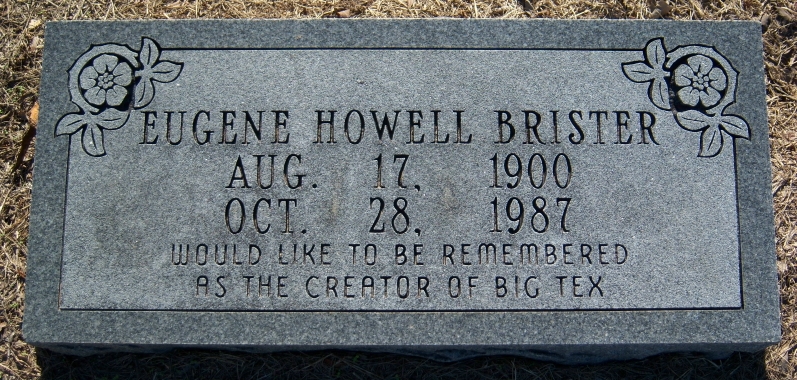 EUGENE HOWELL BRISTER
AUG. 17, 1900
OCT. 28, 1987
WOULD LIKE TO BE REMEMBERED
AS THE CREATOR OF BIG TEX
Kerens Cemetery, Kerens, Navarro County, Texas
October 2012 - The end of Big Tex ....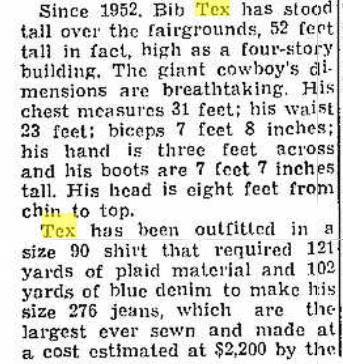 The Corsicana Daily Sun - Wed., Aug. 2, 1961
Submitted by Diane Richards