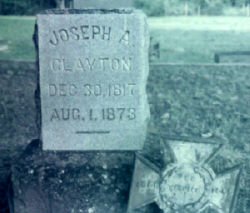 Photo by Dana Stubbs
Old Chatfield Cemetery
Joseph A Clayton
Dec 30, 1817 - Aug 1, 1873
Joseph Alvey Clayton, soldier and community leader, was born in Marshall County, Tennessee, on December 30, 1817. He moved to Texas in the early part of 1835 and joined Capt. Amasa Turner'sqvcompany, but fought in the battle of San Jacintoqvas a private in the artillery under Lt. Col. James C. Neill.qv Clayton also saw action at the battle of Chapultepec during the Mexican War.qv He married Amanda Poole in Tennessee on June 1, 1847, and they had eight children. He lived near Washington-on-the-Brazos until 1852, when he settled near the site of present Kerens in Navarro County. Clayton represented Navarro County at the Secession Conventionqv early in 1861, and after hostilities began he served as the captain of a reserve company in the Nineteenth Infantry Brigade, Texas Militia. Clayton was a Baptist and Mason and took an active role in community affairs. He was twice involved in efforts to establish fairgrounds in the county. He died as a result of a farm accident on August 1, 1873, and was buried at Chatfield in Navarro County.
BIBLIOGRAPHY: Joe M. Daniel, "Navarro County Goes to War," Navarro County Scroll, July 12, 1965. Daughters of the Republic of Texas, Muster Rolls of the Texas Revolution (Austin, 1986). Sam Houston Dixon and Louis Wiltz Kemp, The Heroes of San Jacinto (Houston: Anson Jones, 1932). Louis Wiltz Kemp Papers, Barker Texas History Center, University of Texas at Austin. Wyvonne Putman, comp., Navarro County History (4 vols., Quanah, Texas: Nortex, 1975-84).
"CLAYTON, JOSEPH ALVEY." The Handbook of Texas Online. http://www.tsha.utexas.edu/handbook/online/articles/view/CC/fcl21.html
---
OBITUARY
Aug 1, 1873
Died on Friday the 1st day of August 1873 Joseph Alvie Clayton aged 55 years seven months. He was born in Giles County Tenn., moved to Texas in 1835, was actively engaged in the Texas revolution. His tragic death has envolved [sic] the county in the saddest gloom. He lived 16 days after the fatal accident. We may truthfully say that in him "there was no guile."
He belonged to no church; had honesty without policy, principle and not expediency characterized his life, and endeared him to all who loved truth and virtue. He had strong family ties, [was] an effectionate [sic] husbandand kind father, a fast friend and brave soldier. Just past the meridian of life, he has been cut down in his usefulness in an unusual and unlooked for manner. We sympathize in common with his many friends, with the orphanage he has left, and cordially promise comfort and support.
Oh blindness to the future kindly given,
That each may fill the place marked by heaven,
Who sees with equal eye as God of all,
A hero perish or a sparrow fall.
See Also: