The Dawson Family
of Dawson, Texas
Submitted by Carl W. Matthews
---
The Railroad had reached Corsicana in 1880 and began moving across Western Navarro Co., Texas through Corbett and Purden, across Richland Creek and the Akers Bottom, up the hill a mile or so South of where Dr. George Washington Hill had built the "Old Trading Post" in 1848, and just North of where Brit Dawson had built his imposing two storied home ten years later. It was 1882 and Sam Frost and two of Brit Dawson's sons had already planned and surveyed a town located a mile or so West of the Dawson home. There would be a depot and a wide main street. Commercial structures were planned on both sides of the railroad and residential lots would surround the area of commerce. The Town would be named Dawson.

DAWSON IN ENGLAND AND IRELAND

The Dawson Family name, prominent in English history, was first found c1611 in Westmoreland County of Northwest England in a community called "Acorn Bank." Sir Richard Dawson lived there with his daughter whose name was Juliana. Mary Dawson, daughter of William Henry Dawson, Vicount of Carlow, married 1753 Archibald Mervin Thomas Dawson, Lord Mayor of York, married Elizabeth Hutton in 1703, daughter of Thomas Hutton of Popleton. Edmond Dawson lived with his daughter, Isabella, at Warton in Lancastershire. All locations were in the Northwest of England and near the Irish Sea.

Thomas Dawson , brother of Sir Richard Dawson, arrived in North Ireland 1633 where he purchased lands located, probably in Co Antrim, from D & G Phillips and constructed Dawson Castle. Thomas Dawson married Arabella Upton, served as Commissioner of the Irish Muster of 1683, was a Member of Parliament from Co. Antrim, and died n 1695.

His brother, Joshua Dawson, apparently, settled in Co Wicklow in the area of Londenderry. Joshua served as a Member of Parliament from Wicklow, was Secretary of State in 1710, and died in 1727. His son, Arthur Dawson, Esq., served as a Member of Parliament from Londonderry, was Baron of the Exchequer in 1742, married Jane Oreil of Shanes Castle, and died 1775. His brother, William Dawson, married Sarah Newcomen (widow of Col. Dawson of Tipperary) and they had a son, Arthur. Sister, Mary Dawson, married Henry Hamilton, who was a Member of Parliament.

Arthur Dawson (1743-1822) married in 1775 Catherine Paul, daughter of George and Ariminta Paul of Monck. One Paul Family from the Londonderry area settled in Virginia. Ann Paul , sister of Audley Paul, was married in 1769 to Gen George Matthews who, with his brother, Sampson Matthews, served under George Washington during the American Revolution. Children of Arthur and Catherine Paul Dawson were George Robert Dawson; Henry Dawson who became Dean of St. Patricks Cathedral in Dublin; Arminta Dawson; Maria Dawson who married Henry Remmic of Dublin; Louisa Dawson; and Isablla Dawson who married Richard Cane, Esq. of Dublin.

The Dawson Family of Ireland was prominent in the Plantation Areas of North Ireland, but was, also, prominent among families in the South of Ireland, particularly in the areas of Dublin and Tipparary.

DAWSONS COME TO AMERICA

Capt. Anthony Dawson is recorded as having settled in the Albemarle Sound area of North Carolina in 1693 and substantial settlements of the family were recorded soon thereafter in Edgecome County. Albemarle Sound is a large estuary located fifty or sixty miles south of the mouth of the James River of Virginia. More Dawson families settled in the areas of the New Bern and New River estuaries located in Craven and Onslow counties.

These settlement suggests that these Dawsons were from the English branches of the family rather then having arrived there by way of Ireland, though they could have migrated from Ireland. Regardless, they were sufficiently affluent to create large plantations and to expand their holdings as the family grew. Capt. Anthony Dawson probably arrived in the Albemarle Sound area with other settlers and established his holding some fifteen or twenty miles inland. The William Arrington family settled a few miles to the north in what is now Northhampton Co. One of the Arrington daughters, apparently, married a Mr. Bugg and their son married one of the daughters of Brittain Dawson who died in 1795 in Richmond Co, Georgia.

The Dawsons were, apparently, fond of creating settlements adjacent to estuaries. Col. Anthony Dawson had first settled in the area of the Albamarle Sound estuary. Later, more Dawson settlements were found adjacent to the Newbern and New River estuaries, both located a short distance down the coast from Albermarle Sound. The date of settlement in Craven and Onslow counties is not known, but they were, probably, made at some point after the Edcombe area settlement.

The undated will of William Arrington of Northhampton Co reveals relationship with the Dawson. John Dawson and Nathan Williams served as executors of his will. Henry Dawson had witnessed the will. The names of Dawson, Arrington, and Williams surface in the late 1700's in Richmond Co. Georgia.

The Dawson Family of Richmond Co Georgia may have had roots in Northhampton Co NC.. The undated will of William Arrington of Northhampton Co was listed in Wills of North Carolina. Sons were Briggs and William Arrington who received the plantations. Executors were John Dawson and Nathan Williams. The will was witnesssed by Henry Dawson. William Arrington Buggs shows up in Richmond Co. Georgia as the favorite grandchild of Brittain and Sabra Dawson. His mother was, probably, a daughter of William Arriangton.

1693 Capt. Anthony Dawson was in the Albemarle Sound area, not far from the areas occupied by later Dawson families.

EDGECOMBE CO NC is one county South of Northhampton.
1749 Col. J Dawson Exec. for Will of Joseph Howell ..
1748 Will of John Dawson was filed wife was Mary.
Sons were John, Demey, Sollomon.
Daughters were Patience & Martha
1758 Henry Dawson was wit. for Will of William Kinchen

ONSLOW & CRAVEN COS were accessed by estuaries similar to Albemarle
1774 Christopher Dawson witnessed Will of Richard Graves in Craven Co
Richard Graves b. 1730 Wife: Hannah
s. Thomas
d. Mary SEE RICHMOND CO, GEORGIA


Geneaolgical "HUNCH" - The Brittain Dawson family in Richmond Co Georgia in the late 1700's had lived in the coastal areas of Georgia with the Arringtons, Graves, and other families. A thorough check of that area is in order.

John Dawson died in Edgecombe Co NC in 1748. He had married Mary and their children were listed as John Dawson, Demey Dawson, Sollomon Dawson, Patience and Martha Dawson. John Dawson had been a leader among his peers and had served as a Member of the General Assembly and in the General Court at Edenton in 1737.

Henry Dawson served as executor of the will of William Kinchen of Edgecombe Co in 1758. No mention was made of a wife. His children were John, William, Martha, Elizabeth, and Temperance. Kinchen Dawson was found in Richmond County Georgia in 1820. One of the Dawson boys must have married one of the Kinchen daughters.

Col. J. Dawson was executor of a will in Edgecombe Co in 1749. Joseph Howell had died and left his wife, Margaret with Joseph, Thomas, Mary, Murphy, and Martha. The Howell family is, also, found in Richmond Co Georgia in the late 1700's. A daughter of Brittain and Sabra Dawson married a Howell and lived in Richmond Co. Georgia.

The earliest reference to Dawsons in Craven Co was when "F" Dawson served as a witness to the will of Robert Boyd whose wife was Sarah and his children were Francis Boyd and Sarah Boyd.

Christopher Dawson served as a witness to the will of Richard Graves of Craven Co. in 1774. Richard Graves was born in 1730 and his widow was Hanna. His children were Thomas Graves and Mary Graves. Richard's brother, Thomas Graves, had sons Richard Graves and Francis Graves. This family was prominent in Richmond Co Georgia ten years later.

Dawson family members from North Carolina listed as having served in The American Revolution included:
Benjamine Dawson, Henry Dawson, Hy Dawson, two John Dawsons, Isaac Dawson, Levi Dawson, Matthew Dawson, and Penelope Dawson.

When interior Georgia began to be settled, particularly in the Savannah River area, many familiues from Rowan Co. North Carolina and Augusta Co. Virginia made their way there. Other families were newly migrated from North Ireland by way of Charleston and the Scotch-Irish settlement of Williamsburg. The names found in legal documents of Richmond Co Georgia
were to found a century later at Dawson, Texas.

General George Matthews had fought with George Washington and was captured by the British after having been wounded at Germantown. After his release from a British prison ship in New York harbor, he was assigned to the command of General Nathaniel Greene which was located in South Carolina. During his tour of duty in the South General George Matthews purchased a sizable acreage on Goose Pond, northwest of present day Augusta, Georgia and settled there in 1784. The area became known for its wealthy families and large plantations.

The Brittain Dawson Family was there before 1781 and some Dawson Family members, probably, reside there today. The history of early Richmond Co. Georgia is filled with names of families who migrated there from Virginia and the Carolinas, and, perhaps, some who came directly from North Ireland. Most interesting is the fact that many of those names were to be found a century later in Western Navarro Co. Texas. Richmond Co Georgia names included Graves, Love, Wilkinson, Culbreath, Wallace, Curry, McMillan, Pendergast, Sykes, Murphy, Turner, Wilkerson, Wilson, Ward, Barron, Parrish, Sidwell, Hull, Matthews, Skinner, Lawrence, Hoge, Savidge, Sims, Silbert, Calhoun, Cook, Clemons, Fullerton, Flint, McCullough, Odom, Robertson, Scott, Talliferro, Wells, Lee, Loveless, Wright, and Walker.

The trail of many of those families did not go directly from Richmond Co. Georgia to Western Navarro Co Texas, but included intermediate stops across Alabama, Missisissippi, Middle Tennessee, and Southeast Texas. Some relatives and friends who had been left behind in Virginia and the Carolinas, who never lived in Richmond Co. Georgia, were to be found in the intermediate locations of Maury Co. Tennessee; Iuka, Tishimonga Co. Mississippi; Morgan, Calhoun, and Lawrence Counties in Alabama.

Brittian Dawson, Grandfather of Brit Dawson, was in Richmond Co. Georgia as early as 1781 when he served as executor for the will of his friend Chaplan Williams who had lived in Effingham Co. Other legal documents bear witness to the actions of Brittian Dawson from 1781 until his death in 1795.

A deed recorded December 26, 1785 states that Brittian had given a slave to his Grandson whose name was William Arrington Buggs, perhaps a Christmas gift. When Sarah (Sabra) Dawson, widow of Brittain, died in 1817, she left her home to William, stating that all her children were already comfortable in their own homes.

Several other legal documents involving members of the Dawson Family give indication that they were more than "a little' affluent. (Richmond Dawson was given a grant of 987,000 acres in Montgomery Co Georgia, a county that had only 407,680 acres (Near Vidalia, GA)

Charles Dawson, who died in 1795, sold Rev. Loveless Savidge a lot in Augusta where the Baptist Church of Christ was erected. Charles Dawson had purchased 1000 acres on McBeans Creek in Richmond County in 1789 and 300 additional acres on Spririt Creek in 1792. Richmond Dawson sold 114,000 acres of land on the Canouche and Ogeeche Rivers in 1794 to John Cobb, "Late of Philadelphia, Pennsylvania and now of Augusta, Georgia."

Sarah (Sabra) Dawson was probably the second or third wife of Brittain Dawson . All children of Brittain Dawson MAY have included….NOT PROVEN: Charles Land owner who died in 1795 Richmond Had land transaction in 1794
Dread m. 1800 Elizabeth Patterson, probably daughter of Gideon Patterson David No record of marriage
Elizabeth m. Howell (Joseph Howell died in 1749 Edgecomb Co NC. Wife
Margaret
s. Joseph and Thomas Howell
d. Mary, Murphey, Martha
m. John Harwood
m. Mr. Beal
Sarah m. Henry Greenwood
Jonas B m. Polly Brantley Phillips
(Polly Dawson m. Gen Valentine Walker) Widow or Daughter?
Henry C m. Daughter of George W Darden
James Lived in Greene County
(William C Dawson of Greene Co served as Governor of Georgia 1798-1856
He served the un-expired term of John Coffee plus two of his own
He was born in Greene Co. and died at Greensboro He was a physician
1845 - Named Judge of Ocmulgee Circuit
1853 - Became US Senator
John E Lived in Wilkinson County, Georgia - Wife Margaret 1782-1806 -
Married Kizzia in Alabama 1808
Mary Margaret m. Charles Arrington Buggs
Grace m. Mr. Rowell

Dread Dawson had married in 1800, a date which would estimate his birth as c1780. He would have been thirty-seven in 1817 when his Mother's will was probated and when, in all likelihood, the sizable estate was divided. Dawson family tradition states that Dread migrated from Richmond Co Georgia in 1817 to Alabama.

This was a time when the vast territories of Western Georgia. Alabama and Mississippi..were opened for settlement. Land was sold for as little as one-half cent per acre to those who were made aware of the opportunity. General George Matthews, who had led the settlement of Richmond County, had served three two year terms as Governor of Georgia by 1800 and had an active role in the settlement of the Western Georgia Territories. The Dawson Family, without doubt, was one of the most influential in all of Eastern Georgia and it must be assumed that their close friendship with General George Matthews would have given them knowledge of the low prices of the lands to the West and an opportunity to purchase large tracts.

The Dread Dawson Family prospered in Alabama.. Dread Dawson was a successful Planter who owned many acres of land and was said to have owned more than one hundred slaves. Brit Dawson was said to have been born on that Alabama Plantation July 15, 1817. The site of the Dread Dawson Plantation has not been identified, but it may have been in the Southeastern portion of what became the State of Alabama and may have expanded into Florida where his son, Brit Dawson, was born. John Dawson and others associated with Richmond Co. Georgia were found there in the early 1800's and John Dawson filed a sizable claim there for Indian depredations. More, the 1850 Census Navarro Co Texas .shows Britt Dawson b. 1820 in Florida.

Dread Dawson disposed of his Alabama holdings in 1825 and migrated to Mexican Texas in the area of present day Jasper County, Texas. Many American families were eager to acquire the rich and inexpensive land located in the Mexican province that was just across the Sabine River, the boundary that divided Mexican territory from the Louisiana Purchase Territory owned by the United States. The area settled by Dread Dawson and his family was sixty or seventy miles up the Neches River, north of Port Arthur, Texas.

The Dawson family remained there for eight years and, probably, continued to increase their holdings. It was in 1833 that Dread Dawson succumbed to the lure of even more inexpensive land and made still another move, this time to Robertson's Colony which was headquartered at Fort Franklin. The Dread Dawson family was said to have settled several miles west of Fort Franklin in an area on the Brazos River known as Milam's settlement. Sterling Clack Robertson, son of Tennessee pioneers who had grown rich with land expansion, had received permission to settle a vast area of Mexican Texas with eight hundred families. He had led the initial group there by horseback in 1830 and another group by boat in 183l. Dread Dawson, probably, went from the Jasper area to Robertson's Colony for an inspection trip at some point between 1830 and 1833 and moved his family there in 1833.

Young Brit Dawson was nineteen when Sam Houston issued a call for volunteers to serve in an army to free Texas from Mexico. Brit Dawson, under the command of Col. Robertson, is said to have joined Houston's group while they camped on the West Bank of the Brazos and engaged in training. Meanwhile, Santa Anna, the Mexican Dictator, continued his march up the Texas coast without serious interruption until he mounted an attack on the Alamo. When conditions were more favorable Sam Houston moved his army into position and, when the time was right, made his attack on Santa Anna at San Jacinto. The brief, but decisive battle, resulted in the capture of Santa Anna, capture of the Mexican Army, and Freedom for Texas. It is said that Brit Dawson gave a good account of himself at San Jacinto.

Brit Dawson may have been at San Jacinto, but no documentation exists to that being fact. The only Dawson name appearing in the official report was Nicholas Dawson who served as a 2nd Lt under the command of a Capt.A Roman and with a group that may have been from the Beaumont area. His relationship to the Dread Dawson family is not known.

Gen. Sam Houston issued a formal report dated April 25, 1836 to President David G Burnett of The Republic of Texas. General Houston's report provides a lengthy and detailed narration of how the battle was planned and executed. He included in the report a list of those who participated, those killed, and those wounded. A thorough check of the names included finds no mention of Brit Dawson. In fact, few, if any, names of individuals known to have resided in Robertson's Colony were found in the list. There was a reason why.

One report stated that when Sterling Clack Robertson returned from his trip to Tennessee to his colony near Christmas 1835, he began, immediately, to organize a company of men to help his long time friend, Sam Houston. Brit Dawson was, no doubt, in that group. The report stated that Robertson led his men to Houston's training camp on the West side of the Brazos River and joined Houston's army. Meanwhile, Indians, realizing that many men of the settlement had left, began to raid the homes and villages to the North. When Houston learned of the Indian raids he dispatched Robertson and his men to protect the frontier. Robertson had served under General Andrew Jackson in the War of 1812 and had learned the necessity of obeying military orders. He and his men responded immediately to the Order of General Houston. They would miss San Jacinto by ten days.

Brit Dawson did have opportunity to participate in fighting Indians. The "Morgan Massacre" occurred near present day Marlin, Texas on New Years Eve 1839 and when word of the incident reached Fort Franklin men of the village formed a group to retaliate. Brit Dawson was among that group who responded to give chase to the savages. The Indians, led by the old Andarko Chief, Jose Maria, were found and a vicious hand to hand fight began. The list of men who participated included Brit Dawson, Joseph McCandless, William Fullerton, G W Morgan, Eli Chandler, Andrew McMillan, R H Matthews, John Marlin, and others. William Fullerton, who had fought at San Jacinto in 1836 and whose brother settled at Libert y Hill near Dawson, was one of several men who died in the battle.

After the Victory at San Jacinto Brit Dawson was said to have assisted his father with the cattle farming operation. Three years passed and he was out on the prairie attending a herd of cattle as they fed on the lush grasses. A wagon train appeared in the distance and Brit Dawson rode across the prairie to meet the newcomers. The wagon train included the Walker family from Mississippi and their beautiful daughter, Elizabeth. Brit Dawson, now twenty-two years of age, lost no time in seeking her hand and they were married in 1839. (The fact is that William Walker and some of his sons were already living in the Franklin area. His wife and other members of the family were expected to join them by wagon train and Brit Dawson was an early greeter. However, it makes for a good story.)

Brit and Elizabeth Dawson continued to live near Fort Franklin and had three
children.
Sarah Dawson who would marry George Rogers.
W Henry Dawson who would marry Susan Fullerton.
Elizabeth Dawson who would marryDavid Spence
All three children, with their families, settled in Western Navarro County.

Elizabeth died shortly after the birth of the third child and Brit Dawson was, without doubt, devastated by the loss of his wife. He left his three children with his Mother and began moving a small herd of cattle to the North in search of better grazing areas. He was camped on Battle Creek in 1847, approximately fifty miles North of Franklin. The little creek had been given its name in 1838 when a group of surveyors had been savagely killed by Indians not far upstream from where Brit Dawson was camped.

Few families were living in the area at that time. The William Richey family had settled several miles to the West on the headwaters of Richland Creek. Some early historians stated that William Richey was living in the area at the time of the Battle Creek Massacre or soon thereafter. Those statements were based on stories that Susannah Cannon, a step-daughter of William Ritchey, had gathered the bones of the men killed in the massacre and piled them under a large oak tree, perhaps the one where the monument stands today.

Ethan Melton had built a cabin on the North side of Richland Creek. Dr. George Washington Hill would open a Trading Post several miles North in 1848, but he was still at Franklin in 1847.

The Richey family was from Giles County, Tennessee and had come to Robertson's Colony early. The Richey and McCandless families had purchased Giles County land from Sterling Robertson in 1830. Annie Richey, who would later marry Issac Lee, was born in 1830. Her mother died and William Richey married the Widow Cannon. Later, they joined Robertson at his Colony, scouted the area north of Fort Franklin, and selected their Leagues of Land near the headwaters of Richland Creek. The McCandless family, who were residents near Wheelock, received a grant in the same area, but did not settled there until 1854 and 1858.

Brit Dawson had known the Richey family at Fort Franklin and rode over for a visit. Brit Dawson needed some help managing the herd and sought William Richey's assistance. William Richey had a step-daughter whose name was Susannah Cannon..and she was pretty. The story has been related by family members that Brit Dawson spent more and more time at the Richey place where "serious courting" began in 1848.

It was on November 2, 1848 that Brit Dawson rode to the County Seat in Corsicana and obtained a Marriage License. He returned to the Richey place by way of Ethan Melton's store at Dresden where he purchased a "side-saddle" as a wedding gift for Susannah. They were married at the Richey home and immediately rode the fifty miles to Franklin to visit his parents. The newlyweds remained to visit for a month and to permit Brit Dawson's three children to get acquainted with their new mother.

Brit and Susannah Dawson and the three children moved into a three room log cabin that William Richey helped build on a land grant Brit Dawson had acquired. Ten children were born there to Brit and Susannah.

Nancy Dawson who married Alex Berry
Mary Dawson who married Blake Lee
William Dread Dawson
David Dawson who married Jan Randolph
Louise Dawson who married Don Dickson
Amanda Dawson who married first Jim Dickson
married second Tom Fread
Anna Dawson who married John David Lawrence
Emma Dawson who married William Lawrence
Britton C Dawson who first married Alice Bolden
Married 2nd Nora Whitley
Elijah Frank Dawson

When the sixth child was born to Brit and Susannah the three room cabin, obviously, became much too small for the Dawson family and in 1859 work was begun on a new home..larger and more grand than any other in the area. Brit Dawson hired a Mr. Berger to build the new house. Tom Lee and his family had arrived from Georgia in 1858 and settled near the Brit Dawson home. Brit Dawson needed someone to take ox carts to Houston and haul lumber for the new house. Tom Lee had three boys, Jim, John, Blake. Jim Lee was hired as driver for one of the wagons. Blake remained behind and courted Brit's daughter, Mary, and married her. Jim Lee is remembered as living behind and west of the old school. John Lee lived in east Frog Level.

The new Brit Dawson home was framed with heavy beams joined by means of mortise and tendon rather than nails and contained ten rooms. Fluted columns rose two floors from the concrete porch that spanned the front of the house. The balcony over the front porch, cleverly designed by Mr. Berger, was suspended by chains secured to heavy beams in the attic. The chains were, later, replaced with steel rods. The long rear porch faced South and on the far end was a well with bricked sides. The water was cold and sweet and many weary travelers who journeyed the dirt road that ran in from of the house stopped to quench their thirst.

Alva Taylor, a Navarro Co. Texas Historian, wrote the following concerning the construction of the Brit Dawson home.

In 1859 Britton Dawson hitched up several wagons with oxen and drove to Houston, Texas to purchase lumber to build a two and one-half story house. The trip was a long and tedious journey. There were no roads to travel, no bridges with which to cross rivers and streams. To cross a river with a wagon load of lumber, they would unhitch oxen at the river bank, swim the oxen across and with a long wire cable tied to the wagon, the oxen would drag the wagon across. After the lumber was brought in, a carpenter, Mr. Berger was employed to build the house. Mr. Berger, with the help of a few slaves, built the house in two years. It was called "The Big House" and had ten rooms, four upstairs and four downstairs, and two in the attic which were never finished Each room was 18 feet square. The house was so well put together that today the two stair steps do not squeak. All windows and doors open and close with ease. The ceiling over the stairs is covered with rawhide and painted. The house had 108 window glassed, 12 glasses to the window. On the north side of the house is the kitchen, spinning room, and the servants quarters. The fireplace was built of native rock taken from the battle creek nearby. These rocks were ground smooth by slaves to make them fit. Each piece of timber in the house was hand cut and joined together by mortising. On the front of the house was the long porch, one on each story. The porch was 50 feet long and 28 feet wide.


Amanda Dawson was born while Mr. Berger was constructing "The Big House" and was said to have been so tiny at birth that Mr. Berger commented that she would not live. Brit Dawson made a $l,000.00 bet with Mr. Berger that Amanda would live. Mr. Berger lost that bet and is said to have paid Brit the wager. Amanda lived a long and useful life, married twice and bore
several fine children. "Aunt Mandy" and her second husband, "Uncle Tom" Fread, lived for many years on the West side of Dawson's Main Street. The two story house on the North and across the street was occupied by Dr. H. L. Matthews until his death in 1924.

"Aunt Mandy" enjoyed sitting on her front porch on Dawson's Main Street in the afternoons and I often stopped by for a visit on my way home from school. Her fingers would be busy with sewing or snapping green beans, but she would talk about the times when she was a little girl living in "The Big House." Once, she told me about several Indians riding up into their front yard. She and her Mother and several small children were alone and were frightened. The Indians dismounted, walked up the steps of the porch, and without uttering any word, entered the house. She stated that the Indians walked throughout the house..upstairs and down. The Indians never touched them or any object in the house. When the Indian's curiosity was satisfied they exited the house, mounted their ponies, and road away.

After the Civil War Yankee soldiers occupied the area in and around Spring Hill. It was remembered that they frequently stopped by "The Big House" for a home cooked meal. "Aunt Darcus," the Dawson's faithful cook, would prepare the food and the Yankees would eat their fill. They would feed their horses at the barn. Then,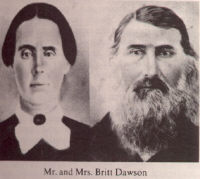 they would curse Brit Dawson for being a
"rich old Southerner."

Brit Dawson was, indeed, a "Rich Old Southerner." He was said to have had the largest herd of cattle in all of Navarro County. He is recorded as having sold 15,000 head of cattle in 1886 to a Mr. Hubby and his associates. The price was $7.00 per head. $105,000,00 in 1886 would translate into several million today. And Brit Dawson had more cattle and he had accumulated large land holdings.

One of his "cowboys" was Adolphus "Dolph" Martin who had been born a slave in Kentucky in 1856. He had lived for a time at Daingerfield in East Texas and had arrived at Spring Hill in 1878. Dolph was said to have "branded all day for Brit Dawson and branded all night for Dolph Martin." Dolph was a fine horseman who, also, rode as a jockey for George Washington Savage, operated a cotton gin, became a major land owner, and raised a fine family. Several members of his family are buried at Spring Hill Cemetery. His son, Lewis Martin, born 1900, lived in Dallas, and died there in October 1999.

One by one his children married and each one was given a large plot of land nearby. Brit Dawson was said to have stood six feet three and weighed two hundred forty pounds. He was remembered as having had a loud, booming voice. That voice was so powerful that, some said, he could stand on the balcony of "The Big House" and be heard by his children at their homes some distance away.

J M Polk wrote about Brit Dawson in 1914 in The North and South American Review. Polk was son of Thomas M Polk, son of William Polk, son of Ezekiel Polk born 1776 nine miles from Mecklenburg Co. NC Courthouse. He had arrived in Navarro Co. Texas in 1858.

Corsicana was the County Site and Brit Dawson and Jimmy Little were there when court was in session and as usual they took on a little too much "booze." It was cool weather and Jimmie Little and Brit Dawson were put in the same bed at the hotel. During the night when the whiskey began to get "cold" Little became very restless, and Dawson says to him the next day: "Little, I would as soon try to sleep with a young mule as you. What was you dreaming about?" "Well, I thought I was an unmarked yearling and Brit Dawson was after me with a cow whip."

Polk mentioned Capt. Winkler's Confederate company camped 1861 near the old Battle Creek Church , near where the town of Dawson now stands. He recounted that the company was mustered at Harrisburg and went to New Orleans via Beaumont, Niblett's Bluff, and New Iberia, La. They went from New Orleans to Richmond. Polk moved his family to South America after the loss of the war by the South and remained there for ten years before returning to Navarro Co. Texas.

Brit Dawson died September 4, 1903 and was buried beside his wife, Susannah, in the Family Cemetery just North of "The Big House." He had lived eighty-six exciting years and had witnessed changes he could never have imagined as a child. He had lived in the Territory of Alabama, Mexican Territory, The Republic of Texas, and in the Thirty-eighth State of the United States Texas. His Father had fought in the War of 1812 and he had joined Sam Houston's army and fought Indians. He had driven ox carts and ridden trains pulled by huge steam locomotives.

His son, Britton C. Dawson, lived in "The Big House" until his death in 1907 and his widow," Miss Nora ", continued to live there. I never observed Miss Nora on the streets of Dawson. Some said that she was a recluse. Children spoke in hushed tones that "Miss Nora was a Witch." I had always been attracted by "The Old Dawson Place," but had never visited there. My Father had talked about how he and other boys had wrestled in a fighting ring that E. O. (Buster) Zeanon had constructed in one of the upstairs rooms, but that had been may years before. Buster Zeanon had married Mary Spence, daughter of Elizabeth Dawson who married David Spence.

I was nine years old in 1934 and our milk cow had developed some type of sickness after the new calf was born. My Father had "doctored" cattle all his life and instructed me to gather some mistletoe which he had seen on some trees growing on the road below the "Old Dawson Place." He explained that the mistletoe had medicinal properties that would make our cow well. The early morning had been crisp and cool, but the afternoon sun was shining brightly. As I returned by the "Old Dawson Place" I was thirsty and decided to stop and seek a drink of water. I cautiously knocked and the lady inside cracked the door and asked if she could help me. It was "Miss Nora," but she didn't look like any witch I had ever seen in books. She told me help myself at the well at the end of the porch and I did. I was preparing to leave when "Miss Nora" appeared with a tray that held fresh home baked bread, butter, some home made grape jelly, and "sweet milk."

"Miss Nora" said that I looked like I might be hungry, and that was the understatement of the year. I was..always hungry! I had eaten an early lunch, but it was now almost four in the afternoon. "Miss Nora" and I sat on the edge of the porch while I ate the food she had offered. She wanted
to know who I was. Yes, she had known my Grandfather and my Father. She told me that she had lived in the house for a long time and that her husband was the son of the man who had built the house. I told her that my Father had spoken of being there when he was a boy. Yes, she remembered.

"Miss Nora" wasn't a witch at all. She was just a lonely lady who wanted to have someone sit beside her, eat her bread and butter and grape jelly, and talk awhile. She inquired if I would like to see the inside of the house and I did. Everything inside was old. The beds, the chairs, the wood stoves, the lace curtains, the area carpets, the dishes all looked like something from a museum. "This is the Edison," she said. I had never seen an Edison, but I decided the instrument must have been an "old time" phonograph. This one had cylinders instead of flat records and I was pleased when she offered to play the machine with the big horn protruding from the wooden box.

"Miss Nora" carefully turned the crank to wind up the mechanism, placed one of the many cylinders in position, and activated the machine. Music came out of the huge horn and "Miss Nora" smiled when I expressed my pleasure.

We went upstairs and there was the fighting ring my Father had mentioned. The heavy ropes surrounded the square mat and there was a bell nearby. I could imagine my Father and several other local boys wrestling as a group against "Bo Zeanon." "Miss Nora" led me out on the hanging balcony and pointed to the iron rods which held the balcony in place. I looked down on the yard below and could imagine Indians riding up on their ponies, their bodies almost naked..their faces painted. I could almost see the Yankee soldiers as they rode their horses up to the house and demanded to eat the food that "Aunt Darcus" had prepared. I could almost hear Brit Dawson "booming" his voice across the fields to summon some of his children.

The autumn sun was beginning to fade as I left "Miss Nora" and "The Big House." My afternoon had been exciting. I had been introduced to a part of American history that few others were permitted to experience. And I had found a new friend. I was walking the dirt road toward home, almost to the Corsicana Hiway..and looked back. "Miss Nora" was standing on the porch. She waved "Goodby" and I waved back. I never saw her again. "Aunt Nora" died the next year 1935.

***********************************************

DAWSON FAMILY - BRITISH ISLES
1632 W Dawson Camorse m. Jane Lawson (Dawson?)
1650 (No name) Dawson, Ripon, MC
1662 William Henry Dawson, Vicount of Carlow
d. Mary Archibald Mervin
Edmond Dawson Warton, Lancashire
d. Isabella
1703 Thomas Dawson Lord Mayor of York
m. 1703 Elizabeth dau. Thomas Hutton, Popleton
1768 Thomas Dawson Tanfield
d. Charlotte Barbara m. George Hutchinson
1773 Richard Dawson York m. Anne Gee

CASTLE DAWSON - NORTH IRELAND
Family established 1611 Acorn Bank, Westmoreland in England
Sir Richard Dawson, Acorn Bank, Westmoreland
d. Juliana
Thomas Dawson purchased Dawson Castle lands in Ireland 1633 from G & D
Phillips
(Plantations of Ireland: Robinson
Sir Thomas Phillips obtained 3000 +- in County Londonderry
near Limavady and Castle Dawson.)
s. Thomas ( d-1695)
Commissioner of Irish Muster 1683
MP from Co Antrim
m. Arabella Upton
s. Joshua, Esq. ( - 1727) MP Wicklow
Sec. of State 1710
s. Arthur , Esq. ( -1775)
MP Londonderry
Baron of Exchequer 1742
m. Jane Oriel of Shanes Castle
s. William m. Sarah Newcomen (Wid of Col Dawson, Tipperary)
(Tipperary is in South and may have been settled by the Dawson family
prior to 1600)
s. Arthur
d. Mary m. Henry Hamilton, MP

Nephew Arthur Dawson, Esq. (1743-1822)
m. 1775 Catherine Paul Dau. George & Ariminta Paul, Monck
(Gen George Matthews married Ann Paul 1766,
a sister of Audley Paul who had married Jane Matthews
Parents of Ann & Audley were John and Jane Linn Paul of
Donegal, a community across the River Foyle from
Londonderry
George Robert
Henry Dean, St Patricks, Dublin
Ariminta
Maria m. Henry Remmis, Dublin
Louisa
Isabella m. Richard Cane, Esq. Dublin

1781 Walter Dawson Carrickmacross, CoDown
d. Sarah Anne m. Oliver Wise (3rd Marriage)
s. Leonard

DAWSON BIRTHS & MARRIAGES IN IRELAND
Co. Armagh 1747 Elioner Lee b.
Co. Antrim 1742 Arthur m. Jane Oriel
1712 Edward b. William ( -1739)
1750 Elizabeth b. William of Belfast
1759 James b. Richard of Carnmony
1764 James m. Elizabeth Caruthers of Belfast
1771 Edward b. Samuel
Co. Down 1750 Elizabeth m. Edward Hull
(Hull family found Richmond Co GA)
Dublin 1701 Anne b. William & Anne
1712 Anne b. John & Margaret
1712 Arabella b. Joshua & Mary
1715 Catherine b. John & Grisdel (Grizzel?)
Co. Fermanagh 1775 John b. Samuel & Margaret Graham
Co. Londonderry 1653 Arthur b. Samuel
1659 Anne m. Thomas Williams
1719 Arthur b. Joshua
1745 Arthur b. William & Sarah Newcomer
1796 Arathaminta m. Arthur
(Note: Family names of Evans and Lee were found in Londonderry)
Co. Tipparary 1774 Col. D m. Sarah Newcomer

Note: All of the above were in Northern Ireland (Ulster) with the exception of the marriage of Col. Dawson to Sarah Newcomer in Co. Tipparary. Tipparary was settled early by Thomas Matthews, who became the First Duke of York.

*****************************************
MISC. DAWSON INFO
Palm Beach Fl City Library

1693 Anthony Dawson, Albemarle Co NC
1696 Capt. Anthony "Justice"
No date John Dawson m. Charity, dau of John Alston

John Dawson Member General Assembly of North Carolina
Present, General Court at Edenton NC 1737
Wit. will in Edenton 1753
Wit. will in Bertie Co 1726
Wm J Dawson Bertie Co NC Owned five slaves 1791
Thomas Dawson Wit. will in Chowan Co 1732
John Dawson Jr Posted bond Guildford Co 1773
James Dawson same
John Dawson Will 1748 Edgecomb Co NC wife: Mary
s. John, Demey, Solomon
d. Patience & Martha


1774 Christopher Dawson Craven Point NC wit. Will of
Richard Graves b. 1730
s. Thomas
d. Mary
Uncle: Thomas Graves s. Richard, Francis

1793 Robert Dawson m. Sabra Kiff Onslow Co NC
1833 Brittan Dawson m. Martha Bryan Onslow Co NC



DAWSON FAMILY SOLDIERS IN AM REVOLUTION
Benjamine, Henry, Henry, John, Isaac, John, Levi, Matthew, Penelope




DAWSON FAMILY IN GEORGIA

1834 Col A B Dawson (Hamilton GA) m. Mary A Jourdan (Putnam Co)
Hamilton GA is just north of Columbus where Jacintha Dawson married in 1829.
This may have been Col. Dawson's 2nd marriage)
1844 Eliz Ann Dawson 1796-1844 Consort of Maj John Dawson (John
Rogers Dawson,
s.George & Ruth Rogers Skidmore Dawson ?)
1836 Col George Dawson died Served in War of 1812
(s. George & Ruth Rogers Skidmore
Dawson?)
1829 Jacintha E Dawson (Columbus) m. Richard Marks
Ann Matthews b. c1765 dau. Gen. George Matthews -
m. Meriwether Marks of Staunton VA. Their daughter, Martha,
married Andrew Barry of Staunton, VA. Could Richard Marks have been
their son?)
1837 Rev John Dawson performs wedding ceremony for Morgan E Dau of Isaac
Walker
1806 Margaret P Dawson 1782-1806, wife of John Dawson died (Notice that
John m. Kizziah 1808 and that the recording of that marriage was in Alabama.
John E Dawson filed a $3,533. claim for Indian depredations in Dothan Co
Alabama)

WILLIAM C DAWSON 1798-1856 Born & died in Green Co, Georgia
Son of George & Ruth Rogers Skidmore Dawson
Physician
Served un-expired Governor Term of John Coffee..served two more of his own
1845 - Named Judge Ocmulgee Circuit in Georgia
1855 - U S Senator from Georgia


DAWSON FAMILY IN GEORGIA 1820 CENSUS
Briton Burke Co 003 Need to check this, Old Brittain had died in 1795 and
Young Brit b. 1817 was too young. There may have been more than two
Brittain Dawsons) (1850 NavCo TX Census: Brit Dawson b. 1820 in
Florida???)
George Jr Greene Co s. George & Ruth Skidmore Dawson
Reuben " s. George & Ruth Skidmore Dawson
Thomas " s. George & Ruth Skidmore Dawson
Wm C " s. George & Ruth Skidmore Dawson
b.1798 Ga Gov, US Senator
Gibson Putnam Co
John Morgan Co
Kirchen Pulaski Co NOTE: Henry Dawson was Exec. of will of William
Kinchen, Craven
Co NCC 1758 s. John and William Kinchen
dau. Martha, Eliz, Mary, Temperance
Robert Wilkes Co

DAWSON FAMILY SLAVE OWNERS GEORGIA 1850
Chris Chatam Co 326 Savannah
George Green
Reuben
Susan
Wm C
James C Richmond South of Augusta
John E Muscogee West GA Columbus
H C or HB Muscogee
John R Muscogee

REFERENCE BOOK Collection of Family Records: DAWSON FAMILY
Charles C Dawson 1874 (Found in Library of Virginia, Richmond)
Three branches of Dawson family came to America: Yorkshire Kentish Irish


JOHN DAWSON b 1735- Rowell, Westmoreland Co, England Said to have arrived South Carolina 1750 & became Plantation owner Married Joanna Monck dau. Thomas Monck Grandau Col. Thomas Broughton (Interesting, Brittain Dawson 0000-1795, family married into Rowell
family.
Monck family is mentioned in Richmond Co GA history)

ROBERT DAWSON was said to have been an English emigrant who settled at Town
Point, Onslow Co, North Carolina (Onslow Co NC, middle coastal area off
Onslow Bay.near..Jacksonville, NC)
He was said to have married Sabra Kiff who died in 1851 (no way!)
Children were:
s. Robert 1767-1827
s. John 1793 (May have married Martha Green Hunter.
Mann Dawson 1838-1921 is buried Lawrence Cemetery Maury Co TN
(Manning???)
Marker sates he was son of John & Martha Green
Hunter of NC
One John Dawson died Maury Co 1843
s. Briton m. Martha Bryant Note: Elizabeth, dau. of Ann Bryan (Bryant) had
Leonard married a Dawson in Craven Co NC by 1773
Sarah s. William Dawson, John Dawson, Jesse Dawson
Martha d. Mary who had married a Cook (See Richmond Co GA)
James d.Elizabeth who had married a Dawson and had son, John. Robert

The Brittain above MAY be the same Brittain who died Ricmond Co GA 1795. He MAY have married Martha Bryant who bore five children and died. Brittain may have then married Sabra (Sarah) who could have been related to Brittain's Mother, Sabra Kiff. Children listed in will of Sabra Dawson included: Sarah & James
MORE, Brittian MAY have married Elizabeth Bryant who died in 1773 in Craven
Co

The DAWSON FAMILY history found at Richmond, Library of Virginia, made no reference to the Dawsons who settled Richmond Co GA

GEORGE DAWSON
British soldier who deserted when he realized that England was wrong in their action against the colonies. Joined and fought with Washington
m. Mrs. Ruth Skidmore of North Carolina who had a son at the time of the marriage, Sam Skidmore The family moved to Greene Co Georgia after the AmRev

s. Gen Thomas Dawson m. Susan Rogers, dau. of John Rogers of North Carolina (Rogers family continues to surface with Dawsons See Union Spring AL
1837
George A Dawson
Thomas Henry Dawson
John Rogers Dawson
James Crosby Dawson
Reuben Joseph Dawson
George Dawson
William Curran Dawson
s. Reuben
s. John (One John Dawson 1754-0000 m. Miss Atherton and had sons
Levi
John
William Johnson
s. George
s. William C. b. 1798 Gov. Georgia, US Senator, Dawson Co GA names for him

DAWSON FAMILY IN ALABAMA
John Dawson b. 1794 GA m. 1808 Kiziah
Joseph Dawson b. 1815 SC m. 2nd 1831 Eady Price from North Carolina
Rev. Thomas H Dawson 1809-1893 m. Annie (1827-1893) Russell AL (No of
Mobile)
Dr. Thomas H Dawson m. 1843 Martha A Hardwick Columbus GA-

DAWSON FAMILY IN TEXAS 1850 CENSUS
Dread Robertson Co 236
Brit Navarro Co 110 Slave owner 203
Brit 30 Fla $1820
Susanna 20 TN
Nancy 1/12
Henry 6
Eliz 4
Sarah 9
David C Caldwll Co 457
Elizabeth Robertson Co 236
Fielding Williamson Co 334
Francis Milam Co 008
James Williamson 330
John "
Samuel "
Samuel F "
J. Collin Co
J L LaVacca
Campbell Bexar
Annie E Harris

DAWSON FAMILY SLAVE OWNERS TEXAS 1850
Navarro Co Brittain 203
Williamson Co John 681
Caldwell Co Martha 248
Williamson Co Samuel R 681

DAWSON FAMILY IN TEXAS 1860 CENSUS
Navarro Co Britton 244 Spring Hill
Robertson Co Dread 180 Wheelock
Jefferson Co John 419 Beaumont
Grimes Peter 245 Anderson
Brazos Co Richard 086 Boonville

Copyright 1997
Carl W. Matthews
POB 454
Roswell GA 30077 404 587 4350