General Wilburn Hill King, CSA
Submitted by: Jane Graf
---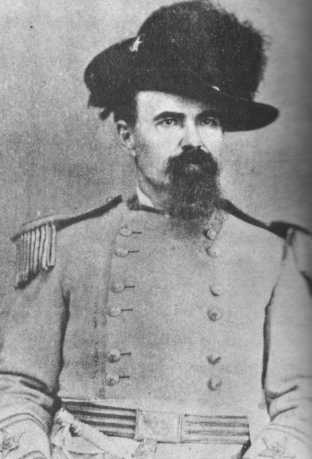 Wilburn Hill King (1839-1910) Confederate officer, state legislator, and adjutant general, (qv) son of Alexander and Mary Douglas-King, was born in Collodenville, GA (Monroe County) on June 10,1839. He received his education at Americas, GA and was considering a career in either law or medicine. He started his military career in 1861 as a private in the Third Missouri State Guard Infantry and advanced to the rank of captain. After the battle of Oak Hills (Wilson's Creek) and the Missouri troops' inability to get service in the CSA, King resigned and moved to Texas. He enlisted as a private in Company B of Colonel William B. Ochiltree's (qv) Eighteenth TX Infantry. When the regiment was mustered into service on May 13,1862, King was promoted to major and shortly thereafter to colonel. He was severely wounded at the battle of Mansfield ( Sabine Cross-Roads) in April 1864. While in the hospital recovering from his wounds he was promoted to brigadier general by order of Gen. Edmund Kirby Smith (qv) on April 16, to date from April 8. After returning to duty King was put in command of Walker's Texas Division (qv) but had to transfer to a less strenuous position because of his wound. He took command of Polignac's Brigade, (qv) Mouton's Division, when General Polignac departed to France. King was later transferred back to Walker's Division, where he remained until the end of the war.
After the war he went to Central America and purchased a sugar plantation. He then returned to the US. In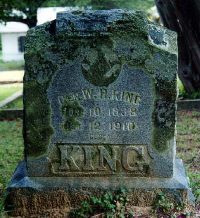 December 1867 he married Lucy Furman. The couple left for Central America soon afterward. King returned less than a year later, after the deaths of his wife and infant. He mad his home in Sulphur Springs, TX and served Hopkins County for two terms in the TX House of Representatives. From July 25, 1881, until January 23, 1891 he was adjutant general for the State of Texas.
In retirement King wrote a "History of The Texas Rangers" which was included in Dudley G. Wooten's (qv) Comprehensive History of Texas(1898), King died in Sulphur Springs on October 12,1910. His body was taken by train to Corsicana and was met at the depot by a contingent of Confederate veterans from Camp Winkler and a large group of Masons. King was given Methodist funeral rites and a Masonic burial in Oakwood Cemetery, Corsicana.
Bibliography: Confederate Veteran, Aug. 1908, April 1911, Marcus J. Wright, comp., and Harold B. Simpson, ed., Texas in the War, 1861-1865 (Hillsboro, TX: Hill Junior College Press 1965).
---
Wilburn Hill King
Lawyer, farmer, public official; b. Collodenville, GA, June 10,1867. s. Alexander and Mary Douglas-King; ed. Americus, GA 1846-55 studied medicine and law and practiced law; m Lucy Furman, Dec 1867 Served 4 yrs in CSA as pvt., 1st lt., capt., maj. lt. col., col, brig. gen. and acting maj. gen. Has served a s mayor of Sulphur Springs, TX; member TX legislature 4 yrs; adj. gen of TX nearly 10 yrs. Democrat Home; Sulphur Springs, TX Died 1910
David S. Walkup, Who's Who Texas
---
Wilburn Hill King son of Alexander and Mary Douglas-King, was born June 10, 1839 in Cullodenville, GA. He attended school in Americus, GA, between 1846 and 1853, studying law and medicine. After making a short trip to TX in 1856, he returned to locate in Cass County in 1860. During the Civil War he served in the Confederate Army in the 18th TX Infantry, rising from private to acting major genera. In December, 1867 he married Lucy Furman. He began to practice law at Jefferson in 1873 and in 1874 moved to Sulphur Springs, (where he also practiced law per the Census) where he was elected mayor. He was a member of the Texas House of Representatives from 1878 to 1881, when he was appointed adjutant general of Texas serving until January 23, 1891. He died at his home in Sulphur Springs in 1910.
Bibliography; Who Was Who in America (1943)
One of his obituary is located in the Fort Worth Record.; Historical Marker at Hopkins County Court House.; Home County of Texas Confederate 1839-1910
Georgian Moved to Texas 1861 Rose to the rank of colonel, 18th Texas Infantry. led Regiment in Red River Campaign of 1863 to prevent split of South along Mississippi Commanded the 18th in Red River Campaign 1864 to stop invasion of Texas Wounded Mansfield, LA and mad brigadier general Recovered to Lead Walker's Division for a time and brigades in Louisiana and East Texas. Texas Adjutant General 1881-91.
---
TX Historical Commission (Marker Star and Wreath)
A Memorial To Texans Who Served The Confederacy
Erected by the State of Texas 1963
Texas*
In the Civil War*
Texas made an all-out effort for the Confederacy after a 3 to 1 vote for secession * 90,000 troops, famous for daring and mobility, fought on every battlefront* A 2,000 mile frontier and coastline was successfully defended from Union Troops and savage Indians. State and Private Industry produced war goods* cotton-life blood of south traded thru Mexico for medicine and military supplies* Texas was store house of Western Confederacy* Citizens mad sacrifices to produce food and clothing for Texas fighting men.
---
Our family has one surviving letter written by Wilburn, he talked of fishing and remember me to the family. He was a relative of my great grandfather Seth Thomas King of Hopkins County, TX. I believe they were cousins but I have not had a chance to confirm. All I have is a letter written by Seth's daughter stating that General King was Kin.
---
Notes: