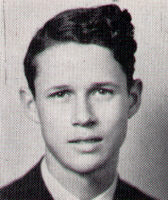 Ira Dewitt McAfee
1935 Corsican Yearbook
Ira Dewitt McAfee was born March 23, 1918 in Navarro County Texas to Ira Decherd & Nancy Caroline "Nannie" (Ballew) McAfee, a grand son of Hugh Embury & Elizabeth Rice "Bettie" (Groves) McAfee. He graduated from Corsicana High School, class of 1937. He married Joycelyn E. Swanford and had two sons, Decherd Conrad McAfee and Leslie Dowen McAfee.
Decherd Conrad McAfee was born May 22, 1950 in Dallas and died June 19, 2001. He married Martha Wilson on May 26, 1998 in Plano, Collin County, Texas. He died on June 19, 2001 at his residence in Plano. Decherd is buried at Cottage Hill Cemetery, Celina, Collin Co., TX. (Obituary)
Ira died on March 10, 1960, two days after the death of his father. He is buried in the Crown Hill Cemetery in Dallas, Texas.
---
OBITUARY

McAFEE
Ira DeWitt 9862 Webb's Chapel Rd. Survived by wife. Mrs Jaycelyn McAfee; sons, Decherd and Leslie McAfee. all Dallas; brother. H. D. McAfee. Arlington: sisters. Mrs. Fred Ware. Corsicana: Mrs. Vivian Ferguson. Brownwood: Mrs. Aletha Brandon. Compton, Calif.: Mrs E. H. Parry of Puyallup. Calif. Services Saturday. 2:30 p.m. Sparkman's Ross Avenue Chapel. Rev. Drexel Rylie officiating. Interment Crown Hill. SPARKMAN'S 2115 Ross Ave. RI8-2187
---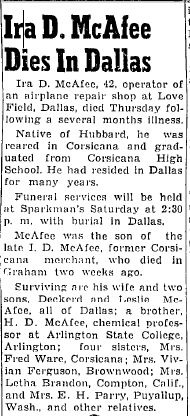 Corsicana Daly Sun - March 11, 1960

The Dallas Morning News - Mar 11, 1960
---


Ira Dewitt & Joycelyn McAfee
1918 - 1960 || 1920 - blank
Crown Hill Cemetery, Dallas, TX
---
Notes:
Corsicana City Directory: 1936 - McAfee Ira D jr r1418 W 1st Ave
Submitted by Edward L. Williams ... November 2002