Elias Pinkney "Pink" Thomason
My family left Alabama for Texas in 1889, arriving in Navarro County on December 7th of that year. They followed their eldest son Elias Pinkney Thomason, called Pink. College educated Pink had been a schoolteacher back home in Blount County until some scoundrels in the neighborhood burned down the schoolhouse. Looking for new opportunity and less arson, in 1887 Pink settled in Italy, Ellis County. He left a fiancée behind in old Alabama, until such time as he made his fame and fortune in Texas and prepared for them a suitable home. Alas, wedding bells were not to ring for Pink and his beloved, 16 year old Janie Burns. Janie's patience wore thin as the months passed without sufficient progress towards matrimony. She wrote him a final 'Dear Pink' letter, telling him how she'd spent some $3.75 in postage already and wasn't going to spend any more, fortune in Texas or not. She later married a coal miner named Andrew Jackson Allen and she and Andy lived happily ever after back in old Alabama. Apparently, a coal miner in the ground was worth any two dreamers in the clouds.

The Burns family had strong ties to our Thomasons. Janie's dad was Calvin Alexander Burns, local Baptist minister and good friend of Pink's dad Bailey Thomason. The Reverend Burns had a brother named Alfred who had already emigrated to Navarro County about the same time as our tribe. His son 'Ferd' recalled taking instruction under Pink at Emmett and Crossroads schools in the early '90's.

After a short stay at Frost, the remainder of our family joined Pink in Italy. In 1890 the family moved to Barry on some land old Bailey Thomason bought from William Varnell. They were soon settled in and growing cotton and cane in the rich, black soil. The younger children, (my grandfather John and his sister Ola), attended school at Little Briar, just down the road from their land which was on the north side of present day Highway 22, about a mile to the Corsicana side of Barry.

Great-Grandfather Zachariah Bailey Thomason was a confederate veteran. Besides my grandfather John Allen and Great Uncle Pink, Bailey had three other sons. George and Young were lawyers practicing in Corsicana. They dabbled in real estate, oil exploration, and lawsuits; depending on demand. Bailey's other son Mack Thomason ran a café at 207 Beaton Street until late 1900. His sole employee was a black man named Henry Eckward. They catered to the oil field crowd, gamblers, bartenders and assorted other toughs in the Beaton Street neighborhood. That location was for many years afterward the P. Samuel Men's Clothing Store. Today, it is an antique shop.

Sometime during the 1890's, whitecappers came along and threatened violence on all negroes engaged in the cotton picking business. It seems profits were down and the blacks worked too cheap. Whitecappers were called that because their chosen means of disguise was somewhat akin to the Klan except they chose pillowcases for hoods and sheets for robes. I've often wondered what their wives thought of them cutting out eyeholes in the good linen! Word went out that all negroes who valued life and limb needed to be out of the county by sundown. When a group of mounted men came by the farm all dolled up in pillow cases and matching sheets and looking for stragglers, my great grandmother Nancy hid an old negro hired hand in a trunk. That evening, under the cover of darkness, she took the old man to the county line herself, hidden in her wagon under a tarp. She had cooked him some food to take along in exile, and his safe exit from Navarro County was made without further incident.

Finding little fortune in the teaching profession, Pink bought out a another fellow's stock in merchandise and became a dry goods merchant in Corsicana, on 6th street. On Valentine's Day 1897, ten years removed from his jilting at the hands of Janie Burns, Elias Pinkney the former teacher, now successful merchant, stopped by the Alfred Burns farm to tell them he was that very day marrying a local girl, Francis Elizabeth Moore. I suppose that besides just being sociable, he wanted to make sure word got back to their cousin Janie Allen in Alabama that old Pink was doing just fine, thank you very much, and Miss Moore would be the beneficiary of his talent and enterprise instead of her.

'Bettie' Moore was the daughter of George Elbert Moore of Emmett. Moore descendents live in the Emmett area to this day. By 1900, Pink and Bettie Thomason had quit the mercantile business and moved north to Dallas where they operated a little café on Main Street. In 1898 and 1899, son Clyde Elbert and daughter Anna Lee were born. Towards the end of the year 1900, Bailey Thomason sold his property back to the Varnell family and departed westward for Haskell, northward from Abilene by sixty miles or so. Pink and Bettie, children in tow, joined them there, as well as Mack, who had sold his café business on Beaton Street. Brothers George and Young had gone ahead of the family and established a fledgling law practice in the West Texas town. The family went to Haskell to get in on the ground floor of the boom that would surely follow the railroad's imminent arrival in the little west Texas town.

Well, as the years went on, things just never seemed to work out quite the way Pink planned. Hard luck, drought, stock market tumbles, recession and depression seemed to doom every enterprise. He was gone much of the time, out 'prospecting', instead of growing roots where he was. Our family exhibits some of this footloose trait to this day. In the end, he was reduced to traveling the dirt roads of Texas, selling fruit and vegetables from a broken down horse drawn wagon. What promise reduced to such hardscrabble reality! Wife Bettie grew tired of his chasing rainbows that were never quite caught. She divorced him in 1916 after nearly twenty years of high expectations and low returns. (Perhaps a trait first love Miss Burns had detected in Pink early on?) Bettie moved back to Emmett with the children and lived with her mother, the widow Mrs. G. E. Moore; probably a very humbling experience for one whose hopes had been so high back on that Valentine's day, 1897. Bettie later married a 'Brother Conway'. I don't know if Brother was his name or his title, but he was a preacher connected to the Conway's who ministered at Prairie Grove and surrounding Baptist congregations. Bettie's son Clyde as a young man worked at cotton gins in Frost. He married Ora Corilla Gill, daughter of Benjamin C. Gill. Their daughter Geraldine (Gerry) grew up to marry Leonard Green. Bettie's daughter Anna Lee never married, but was engaged 3 times. The first one was a farmer and died from a farm accident. He had his arm pulled off and bled to death. She didn't like her second suitor's mother and decided she was going to wait until the lady died but he got pneumonia and died. Then the third was killed in the war. (I'm not sure which war) Anna Lee gave up at last and lived the remainder of her life without husband, but surely not for lack of effort.

Today, most descendents of old Bailey Thomason live within a circle of about a hundred miles from where we first landed in Texas; at the railroad's end in Frost, Navarro County. I and my father Jack Sr. are alive and well over here in East Texas, holding down Palestine. My brother John thrives in his Denton domain, Kenneth scratches out a living at Southlake, and little brother Jackie is the new Superintendent of schools at Buffalo ISD, southward in Leon County. Jan Green Serface, great-granddaughter of Pink, guards the westward reaches in Waco, and her mother Geraldine Thomason Green Ballew resides in Waxahachie. So we haunt the old neighborhood yet, some 106 years after our family left Alabama to find fame and fortune on the plains and prairies of Texas. My Thomason, Gill, Green, Moore kin (through Great Uncle Pink Thomason) are buried at Prairie Grove cemetery in Emmett. Pink himself rests in peaceful repose away up in Haskell, buried beside his father and mother. Scattered here and there in places like Fort Worth, Dallas and Waco are the balance of the family who have crossed the river and rest under the shade of the trees. Their worries and cares are over. Old injuries forgot, eternity embraced, grass grows green and flowers bloom on the final resting places of all my departed kin.
Peace to their memories!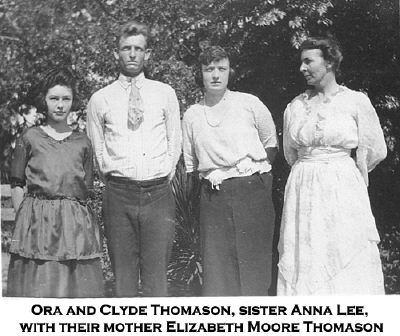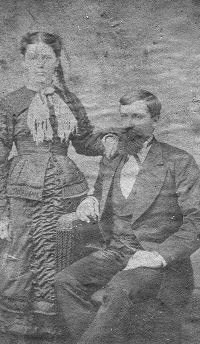 Zachariah Bailey & Nancy Thomason

Notes:
Zachariah Bailey and Nancy Ann Thomason are buried at Willow Cemetery in Haskell, Tx. With them in the family plot are children Young Lytle,Elias Pinkney, Rosy Viola and Matilda Ann. (by Michael Thomason)

Submitted by: Michael Thomason