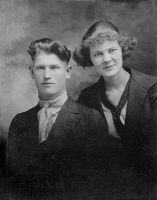 Harvey & Essie Williams
Harvey Thomas Williams, son of Rev. James Sampson & Della Caldonia (McAfee) Williams, was born August 7, 1899. He married Essie Mae Berryhill on April 24, 1921 in Navarro County Texas. Essie was the daughter of Andrew Jackson Berryhill (1874-1934) & Lillie Belle (Adams) Berryhill (1880-1952). She was born May 30, 1901 in Roane, Navarro Co., TX. Harvey was a produce salesman in Corsicana. Harvey died on Oct 3, 1986 in the Mel-Haven Convalescent Center in Corsicana, Navarro Co., TX
(Obituary for Harvey).
Essie died 21 June 1995 in Corsicana, Navarro Co., TX.
(Obituary for Essie)
Harvey and Essie are buried at the Campbell-Elrod Cemetery, Drane, Navarro Co., TX.
They had one daughter, Margie Winona (Williams) McDaniel, who passed away in Corsicana on Dec 5, 2012. She married Percy Loyce McDaniel, Jr. (1920-1994) on March 7, 1942 in El Paso, TX. Percy served in WWII and in Korea. Percy and Winona are buried in the Campbell-Elrod Cemetery in Corsicana. (Obituary for Percy).

Campbell-Elrod Cemetery, Drane, Navarro Co., TX
Notes: