SS Corsicana - Launching Ceremony
Navarro County Historical Society
Gyro Compass from the Corsicana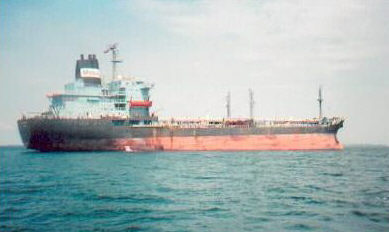 SS Corsicana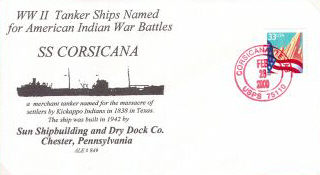 SS Corsicana Envelope
T2 Oil Tanker - Kennebac ex USS Corsicana
SS CORSICANA
Researched by Wyvonne Putman

The Bethlehem Steel Company Ship Building Division, 25 Broadway, New York City built an oil tanker that was named for the city of Corsicana. The tanker was built for the Socony-Vacuum Oil Company Incorporated at Sparrow Point Yard, Baltimore, Maryland.
The SS Corsicana's keel was laid on August 12, 1940 and she ws launched on April 19, 1941. The tanker had an overall length of 501 feet, 4 1/2 inches, a beam of 68 feet and a depth of 37 feet. She had a deadweight of 16,000 tons, a tank capacity of 129,000 barrels and was powered by steam turbines. The SS Corsicana was the first of eight speedy tankers for the Navy for use with the American Fleet. The cargo was divided into 24 compartments allowing many different grades of oil to be carried at one time. Pumping capacity was designed to load and unload the vessel in about 16 hours.
Mrs. Edwy Rolfe Brown, of Dallas, formally of Corsicana, wife of the vice-president of the oil company, was sponsor for the new vessel and crashed the bottle of champagne across its steel prow in the traditional ceremony at the launching. Mayor John C. Calhoun, was unable to attend the launching, so Mrs. Luther A. Johnson, wife of Corsicana's Congressman, was present to represent the town of Corsicana, Texas for which the tanker was named.
The president of the oil company, speaking at a luncheon in honor of the sponsor held after the launching, outlined the part played in the construction of the vessel by his firm and then said: "Admiral Emory S. Land, chairman of the U.S. Maritime Commission, said that the Navy, in an emergency, would require more high-speed tankers."
Edwy Rolfe Brown was Chairman of Magnolia Petroleum and Vice-President of Socony-Vacuum Oil Company, became Magnolia's first Vice-president and General Manager. On Christmas Day 1898, the first stills were fired and a band of pioneering oil men began a refinery that was destined to be the first refinery west of the Mississippi River, later the Magnolia Petroleum Company.
On February 14, 1913, seven Corsicana citizens signed promissory notes for $5,000 each for the construction for the YMCA building, these were George T. Jester, F. N. Drane, J. A. Thompson, J. L. Halbert, J. P. Stephenson, Abe Mulkey and E. R. Brown.
A scrap book and the Champagne bottle that was used to launch the SS Corsicana are at Pioneer Village.