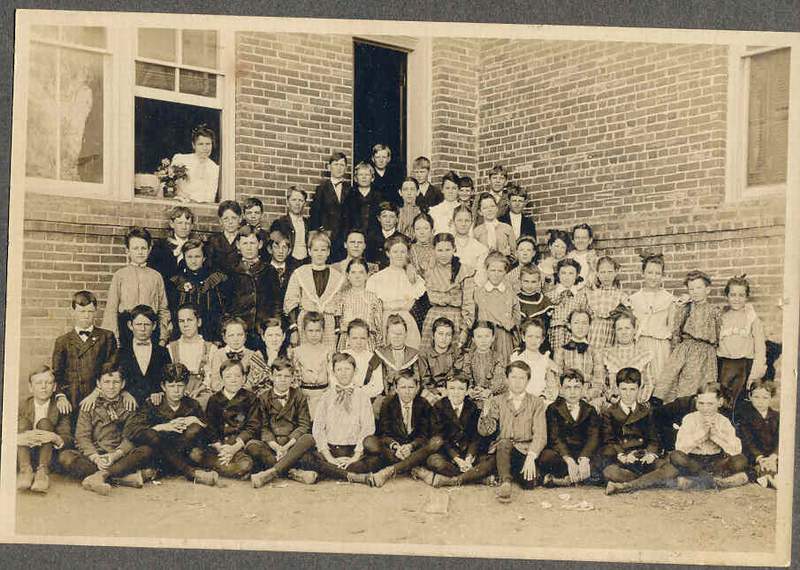 Click on photo for full size
I recently obtained a box of family photographs from my mother. In it I found a school group shot that I have determined contains many of the students from the graduating class of 1912 - including my great-aunt, Fern Cheshire.
The photo in my great aunt's handwriting is a list of names. It appears that she was working on a class reunion sometime in the 1960's - perhaps a 50 year reunion. She has made comments as to places of residence, whether deceased, and married names of female students. Listed below are the names of the students as transcribed from her notes.
Submitted by: Marlinna Stringer August 2002
Notes in red were not on original note but were added to help identify and place these individuals. Please email me with any additional info to be added to this page. ...ed williams
Names associated with unidentified school group photo.
MALES
Robert Elliott - Dallas
Walter Blair - Dallas
See his Biographical Notes
Douglas Jackson - deceased
Lewis D. Hixson - unknown
Roy Fox - deceased
Leo Fox - deceased
William White - deceased
Dr. Carl S. Wilson - Houston
Dr. Maxwell S. Molloy - El Paso
Maxwell was born Nov 8, 1894 and died in Aug 4, 1978 in El Paso, TX
Robert Hailey - Nashville, Tennessee
Opie Wills
James Payne - deceased
Percy McKinney - Corsicana
Percy Preston McKinney, son of John Preston & Emma Cordelia (McGee) McKinney. Born Nov 1, 1893 and died Jan 18, 1990. I assume he is buried at Hamilton-Beeman Cemetery, next to his wife, Mary Ruty (Garner) McKinney. He and Mary were married on Aug 22, 1916.
Reginald Nicol - Jacksonville
Reginald Meade Nicol was born Dec 25, 1894 and died Sept 4, 1985 in Jacksonville, Cherokee County, Texas
Trim Hale - Rockdale
Augustus P. Mays
Augustus Pace Mays.
See his WWI Biography and Biography as Judge
Hubert B. Love (Sal.) I believe this stands for Salutatorian
Biography
Hood Parker (Pres.) - deceased
Hood Parker was born Sept 18, 1894 and died Jan 1957
Daniel H. Kiber (V.Pres.) - San Antonio
Daniel H. Kiber was born May 13, 1894 and died April 22, 1978 in Bexar Co., Texas
FEMALES
Eunice Houston (Val.) - Corsicana (valedictorian?)
Ila Mae Norris - Wichita Falls - Died Sep 29, 1964; Crestview Memorial park, Wichita Falls, Wichita Co., TX
Ethel Roughton - Wortham
May T. Bingham - Dallas (Steely)
Rachel Ross Hunter - died Nov 10, 1985; Sikeston Memorial Park, Sikeston, New Madrid Co., Missouri
Augusta Mirus Green - died Dec 16, 1953; Oakwood Cemetery, Corsicana, Navarro Co., TX
Lillian Jones
Modena McAfee Sutton
Daughter of Almerine Cicero & Margaret Elizabeth Terry. Modenia married James Ross Sutton on June 27, 1920. She was born May 16, 1895 and died on Nov 29, 1966.
Gussie Ruth Smith - Cochran
Katrina Stout Wright
Marie Waltman - died May 30, 1984, Oakwood Cemetery, Corsicana, Navarro Co., TX
Josephine Bogy Parke - died Oct 3, 1924; Forest Park Cemetery, Houston, Harris Co., TX
Lena May Bonner
Daughter of Houston H. & Mary F. (Cheek) Bonner. She was born on Nov 1, 1894 and died Sept 14, 1934. She is buried in the Oakwood Cemetery, Corsicana, Navarro Co., TX
Christie Minter Williams - Ruston, LA
Kathleen O'Neil Steele
Sadie Cohen Marks - Sherman; died 2, 1982, West Hill Cemetery, Sherman, Grayson Co., TX
Loretta Elms Norwood - Wichita Falls
Lilla Kerr Turner - Nac(ogdoches?)
Rose Johnson
Louis Clapton
Annie George Holmes Nichols
Helen Park Stryker - Fredonia, KS - died Sep 30, 1976; Fredonia City Cemetery, Wilson Co., KS