George Valentine Petty
he last buffalo to be killed in Navarro County was in 1853 by George Valentine Petty. Mr. Petty and his family moved to Texas from Lincoln County, Tennessee in 1849. They built their home on the north side of Corsicana near the later day site of the underpass of Highway 75. Mr. Petty was up early one morning in the fall and saw several buffalo grazing in the bushes up the creek to the west of the house. He called to his wife, Polly, to fetch the "Old Meat Gun" as it was called. She did, and when the buffalo turned to run, George let him have it - the last buffalo killed in Navarro Co. Mr. Petty was one of the first four trustees for the Baptist Church property of 1851. Petty's Chapel, a combination school and church, was named in his honor. George V. Petty appears on a land grant authorization of 320 acres in Navarro County, 29 July 1854.
He married Mary G. Redden b. 28 May 1808 d. 14 September 1900 in 1822 in TN.
Notes:
---
7/11/2002 Former Corsicana resident receives civilian award at Fort Bragg
By BARBARA FORMAN/Daily Sun Staff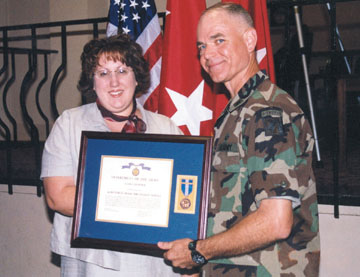 Former Corsicana resident Kari Hubmer, left, is presented the Achievement Medal for Civilian Service at Fort Bragg. Courtesy photo.
Ingenuity and hard work have paid off for a former Corsicana resident who recently received the Achievement Medal for Civilian Service.
The Department of the Army in Fort Bragg, N.C. awarded Kari Hubmer as Employee of the Year. A total of 140 nominations were submitted and over 5,200 fellow employees could have been selected in the same category as Hubmer.
She was recognized for her professional work and the database she developed to track billing and expenses. The research she did resulted in huge savings for the department and led to a net increase of $15,000 in sponsorship and advertising money, and helped to decrease the budget variance.
In addition to the savings she also improved the mailing system, a savings of $1,500 per year .
The Department of Defense stated her work had been in keeping with the highest traditions of the department and was a reflection of her credibility.
"I think by always looking for ways to improve processes, you eventually end up saving money and time, which is why I think that I won," Hubmer said.
She is the management assistant for the Community Activities and Services Business Center, XVIII Airborne Corps, Fort Bragg and the United States Army. She was nominated by Lori D. Bruschi, who is marketing chief for the department's business center.
Several people in Hubmer's office noticed her unique ability to maintain and implement the department's budget. She said one of her biggest obstacles was dealing with all of the different regulations on how to purchase requests and contract items.
The department she works in is responsible for various activities at Fort Bragg. Part of her job includes finding distinct and diversified ways to keep morale, welfare and recreation readily available for people serving the Army. She has been employed by the U.S. Federal Government for over seven years.
"I take my work seriously," she said. "I can be creative and yet still be effective."
Her parents, Ralph and Lynn Zainhofsky, are residents of Corsicana and Mr. Zainhofsky is a manager for K-Mart Distribution Center.
Before Hubmer left Corsicana she was transferred to Karlsruhe, Germany and later to Fort Bragg for the career she now has in the Army. At one time she worked for HEB and said she has made many friends during her stay.
Hubmer is married and has two daughters. Her husband is also in the Army and has been in active duty for over 16 years. In addition to her family she said she really loved her work and the people who worked with her.
She takes pride in what she does and strongly believes when assigned a task it should be done above and beyond average, she said.
The Army has acknowledged her accomplishments and in May she was recognized as one of the best.
Barbara Forman may be contacted via e-mail at [email protected]
Corsicana Daily Sun Extracts Index || Corsicana Daily Sun Website
---
Eyes of Texas Now Upon Him


All the Live-long Day

Dr. Richard Sanchez is alive and well in Texas. He became a Texan in early March when he stepped into the presidency of Navarro College in Corsicana, after resigning as president of Grossmont College in mid-February.
His resignation came as a surprise to many, on and off the Grossmont campus, partly because his status had been vindicated only a few months earlier, when district board members reversed their earlier action to terminate his contract. But Dr. Sanchez had qualms about what might happen when his contract was up, feeling that the trustees might not renew it. Trustees Rick Alexander and Ron Kraft both indicated they had doubts about a future for Sanchez at Grossmont. Sanchez said he didn't want to be in the position of wondering, so he decided to quit and seek another job.
He contacted a consultant and learned of the presidential opening at Navarro, a school of 11,000 students in Corsicana, about 50 miles south of Dallas. He told the Grapevine that he was one of five finalists for the job, and he was chosen after a long interview with faculty members and administrators, an open forum with 60 members of the Corsicana public, who also queried his wife, and a four-hour session with the seven members of the district board.
Navarro has about 4,500 students seeking credits, Sanchez said; the remainder of the 11,000 are taking non-credit courses. At the moment, the college plans to put science, arts and technology students into one big building on the campus in an effort to better integrate the disciplines. Navarro's district has a population of 260,000 residents, and the school is much more a live-in institution than Grossmont, having 14 dormitories on the campus. It feeds Texas A&M, Baylor and Oklahoma Universities.
Soon after he was given the Navarro job, Dr. Sanchez and his wife picked out a house on two-plus acres, 12 minutes from the college, so the chore of buying was completed before he returned for his final days at Grossmont, and the couple were in their new home before he started work March 2.
The Grapevine is a free newsletter for retirees of Cuyamaca and Grossmont Colleges. This article used with Permission of Pat Higgins, Professor Emeritus
Grossmont College. All rights reserved.
---
Biography relocated to: John Allen Rogers Biography Page
---
I can add a little background on one of the soldiers in Moss' s Company. W. W. Andrews was my g-grandfather. He was born in St.Francis Co. Ark. in 1833, came to Texas 1849. Died Parker Co. Texas 1907. He moved his family to Golaid Co. shortly before the C. W because of the indian situation in Parker Co., then returned here after the war. He was paroled east of the Mississippi, as he related to family members the great difficulity he had crossing it to return home. His wife was Rebecca Seela, and she had two brothers in Texas units, Jacob Seela in the 27th Texas Cav., survived the war, and Isaac Seela Jr. 2nd Texas Infantry, died in hospital, Okalona, Miss. W. W. Andrews' mother-in-law, Rebecca Seela, nee White, had a sister who married Abraham Onstott. The Onstotts in the 19th Texas were related to him. Also the above Jacob Seela married his first cousin, a daughter of the above Abraham Onstott. I believe the Francis Marion Onstott in the 19th Texas to be the son of Abraham Hood Onstott, the brother to the wife of Jacob Seela. Hood Onstott was an early settler of Parker County, and was the first sheriff of Johnson Co., Texas. Jacob Seela, along with his father, Isaac Sr. signed the petition to create Parker Co. in 1855. William Seela, brother to my great grandmother, served in the 15th Kansas Cav.
Submitted by Don Johnson, Weatherford, Texas [email protected]
---
MY NAME IS ROBERT WINSTON NELSON, SON OF JAMES HOGG NELSON, SON OF EDWARD JEFFERSON NELSON AND SARAH ELLEN GARNER.
JOE NELSON WAS MY DAD'S TWIN BROTHER AND IN THE ARTICLE BY THEM I WOULD LIKE TO POINT OUT AN DIFFERENCE I HAVE WITH THE DATE JEFFERSON WISE, EDWARD JEFFERSON NELSON AND THOMAS MONROE SPENCER WENT TO OKLAHOMA (NEAR MADILL).
MY GRANDMOTHER TOLD ME THAT THEY WENT TO OKLAHOMA IN 1896 AND CAME BACK IN 1900. I THINK THIS IS CORRECT AS ALL OF THEIR CHILDREN WERE BORN IN NAVARRO COUNTY. THEIR FIRST WAS A BABY GIRL IN 1900 AND I THINK THAT IS THE REASON THEY CAME BACK TO NAVARRO COUNTY. I WAS BORN ON PARK STREET IN CORSICANA MARCH 14, 1931.
THANK YOU,
BOB NELSON
This note is in reference to info found at another website: List of Burials & Bios
---

1) J. R. Williams was a CSA vet who applied for his pension in 1909 while a resident of Navarro county. He moved to Pinkston (on Hwy 22 between Blooming Grove and Corsicana) in 1898. Prior to that date he had lived in Harrison Co and possibly Clay Co, TX.

2) J.R. Williams died on 2/26/1923 in Olney, Young Co, TX and is buried in True Cemetery, Young Co TX. True was a small community 5 mi so of Olney.

3) J. R. Williams is listed on the Navarro Co website as a Confederate Vet who applied for Pension# 18205. This is the correct application for the J. R. Williams I was looking for. HOWEVER, it is NOT the same J. R. Williams who is buried in Oakwood Cemetery. I believe that J. R. Williams is the one who is listed in the funeral home list as the son of "App Williams". That Williams family is originally from Winchester, Franklin Co, TN. .... correction made 8/2002

4) I know that J.R. Williams had a daughter, Maud Ella Williams, who was married in Navarro Co in 11/4/1903 at her parents' home in Pinkston. I also know that he had a son T. W. Williams who requested his final pension benefits.

Do you have any other info that might be of some help??? I would be thrilled to get anything that either includes or excludes people from this specific Williams family.

Thanks so much,

Jenise SMith
Flower Mound, TX
[email protected]
---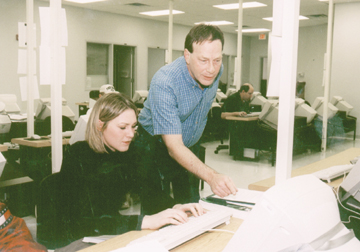 Navarro College computer science instructor Don Mershawn is the Distinguished Faculty Lecturer for 2002-2003. Courtesy photo
4/13/2003 Longtime Navarro instructor reaps keen honor from peers
From Staff Reports
Navarro College is pleased to announce the Distinguished Faculty Lecturer for 2002-2003, an award designed to acknowledge outstanding faculty for their excellence in teaching and their contribution to students, college, and community.
The honoree for this award is Don Mershawn, computer science instructor who has been employed for Navarro College for over 26 years. The Navarro College Foundation, a non-profit organization designed to assist Navarro College in fulfilling its mission and serving students and the community, sponsors this award in conjunction with the college.
Mershawn was nominated and selected for this award by his peers, which he regards as an immense honor. This award includes a $2,500 stipend sponsored by the Navarro College Foundation and administered by the college with the recipient holding this title of distinction for one academic year. The selection process occurs during the spring semester of each year with nominations for the award solicited from students, faculty, staff, and community using established criteria.
To be eligible, the honoree must be a full-time member of the Navarro College faculty for a minimum of five years and must meet one of the following criterion with documented evidence regarding the faculty member's relationship to: The college, students, and service to the college or community.
College criterion: The faculty member has reinforced ideas through techniques and resources while teaching courses in his/her field of study; developed a course syllabus beyond the required format; demonstrated current or past involvement in his/her field of study through publication of works in journals and texts; and developed courses that further student learning.
Students criterion: The faculty member has demonstrated student involvement by being visible and personally supporting his/her students, which could include serving as a mentor for students.
Service criterion: The faculty member has received recognition, honors, and awards from colleagues, students, and community in relation to the nominee's service to the college or community; and has assumed leadership positions relative to the college and or the community.
The selection process involves a committee appointed by the Chairman of the Navarro College Faculty Association. This committee reviews all nominations and makes a selection. The recipient for the ensuing academic year is announced at the annual college commencement ceremony, and the recipient assumes the role at the beginning of the new academic year, beginning with the fall semester.
Mershawn, serving as the Distinguished Faculty Lecturer for the 2002-2003 academic year, will represent Navarro College through his presentation, "Computers That Changed Our World," and will present to any community service club and special event, upon request. He will also present his "Distinguished Faculty Lecture" presentation to the public during the current spring semester Tuesday in Dawson Auditorium on the Corsicana campus with an open invitation to students, college personnel, and the community.
A reception will immediately follow the lecture, which will allow Mershawn to interface with students, staff, and community members. His presentation will also be published in a brochure and mailed to various recipients throughout Texas.
Mershawn's roots are deeply anchored in the Corsicana and Navarro County community. He graduated from Corsicana High School in 1967.
From 1968 to 1972, during the Vietnam War, Mershawn served his country as a Morse Code Intercept Operator using top-secret code word clearance in the United States Army Security Agency. During this time, he served with the 509th Radio Research Group in Vietnam from June of 1969 to June of 1970.
"I retrieved and translated Morse Code during the Vietnam War. You see, the universal language is numbers and that's what I translated and decoded for our military." That's all Mershawn noted about his mission in the war. "I really can't disclose much more information."
Most of his service for the military was spent at the Army Security Agency School at Ft. Devens, Massachusetts working as a clerk typist and as an administrative specialist.
Mershawn returned to Corsicana and attended Navarro College obtaining an Associate of Science degree in Psychology, with honors -- a Psychology Department Award Winner -- in 1973. He decided to continue his education at East Texas State University (Now Texas A&M University-- Commerce) majoring in Computer Science with a minor in Sociology. He graduated in the top 5 percent of his class with a Bachelor of Science in 1974. In 1975, Mershawn earned a Master's of Science degree in Counseling at East Texas State University, again finishing in the top 5 percent of his class. He continued his post-graduate studies at East Texas State, along with the University of North Texas in Denton, Sam Houston State University, and the University of Texas of Tyler.
In January of 1976, Mershawn, once again, returned to his roots in Corsicana accepting a position as a project coordinator for a seven-county area for Community Services, Inc. weatherizing the homes of the elderly.
Mershawn accepted his first position with Navarro College in January of 1977 as an International Student Counselor and part-time Computer Science/Social Science instructor.
"It didn't take long to realize that teaching was what I really wanted to do," remarks Mershawn.
In 1979, he became a full-time Social Science instructor teaching Psychology, Sociology, and Political Science.
"In the Fall semester of 1980, the Computer Science instructor got mad and quit two days before classes started," Mershawn adds. "I was asked if I could fill in, and I agreed."
He had the opportunity to move back to Social Science later, but since he was happy teaching Computer Science, he declined. Mershawn has continued to teach Computer Science and was honored with the prestigious NISOD award in 1993 that recognizes excellence in teaching. He enjoys teaching computers because "students can verify their own learning." He believes that computers are taught more effectively through a self-paced course.
"Everyone learns at a different pace," Mershawn said. "I enjoy watching students receive immediate gratification when they demonstrate computer knowledge. Teaching how computers work and how computers can help us in our world is a passion of mine. I enjoy it so much."
It was during WWII that computers changed the world dramatically. Mershawn's lecture, "Computers That Changed Our World," includes the people who are responsible for the first computers; information about how computers were used for decoding secret information for the military; and fun facts about computers, such as how the term "bug" became a popular term when computers don't work properly, etc.
"Did you know it was a college student that designed and developed the first calculator?" Mershawn said. "Did you know that the term 'computers' used to be referring to the people that actually figured numbers and did the tedious programming by hand?"
It has always been a dream of Mershawn to teach at Navarro.
"Me, my Dad and my brother went to every Navarro football game growing up," Mershawn said. "When the Bulldogs played out-of-town, we listened on the radio. I am still a very loyal Bulldog fan. Teaching at Navarro is a dream come true!"
---
Retired May 31, 1972, Died July 31, 1998
Brigadier General William C. McGlothlin Jr., is vice commander of Air Training Command's Lackland Military Training Center at Lackland Air Force Base, Texas. He assists the commander in directing the operation of one of the largest installations in the Air Force. The center conducts basic training for all enlisted airmen and precommissioning training for college graduates selected to enter officer career fields in the Air Force. In addition to the Basic Military School and the Officer Training School, a wide range of training functions are conducted at the center by Lackland's 3275th Technical School.
General McGlothlin was born in 1923, in Corsicana, Texas. He received his high school diploma from Kemper Military School, Boonville, Mo., and attended its junior college division until he was appointed to the U.S. Military Academy at West Point, N.Y. He graduated in the class of 1944 with a bachelor of science degree, an aeronautical rating of pilot, and a commission as a second lieutenant. He received a master of science degree from The George Washington University in 1965.
He entered B-24 pilot training at Smyrna Army Air Base, Tenn., in June 1944, and after graduation he was selected to attend the B-24 instructor school. He remained at Smyrna as an instructor pilot until March 1945, when he entered B-29 combat crew training at Maxwell Field, Ala., and MacDill Field, Fla.
After a short tour of duty with the 44th Bombardment Group in Salina, Kan., General McGlothlin was assigned to the Air Transport Command, in January 1946, as a ferry pilot with the 555th Ferrying Group, Memphis, Tenn. In September 1946 he was assigned to the 54th Weather Reconnaissance Squadron at Morrison Field, Fla.; and in August 1947, he went with the 54th Squadron to North Field, Guam, where the unit became known as the "Typhoon Chasers." He served as squadron training officer and assistant operations officer. Later he was assigned to a special detachment that served as the weather reconnaissance organization for the Sandstone Atomic Project on Kwajalein Atoll.
In October 1949 he returned to the United States, where he was assigned to Headquarters Air Weather Service, Washington, D.C., as the tactical inspector for the worldwide weather reconnaissance system. In November 1950 he was selected as aide to General L.S. Kuter, commander of the Military Air Transport Service, with headquarters in Washington, D.C.
In November 1951 General McGlothlin became the assistant executive to the deputy chief of staff, personnel, Headquarters U.S. Air Force. In 1953 he volunteered for duty in Korea and completed B-26 combat crew training. He arrived at Pusan, Korea, in August 1953, and served as an operations officer and commander of the 37th Light Bombardment Squadron, 17th Bombardment Group.
He returned to the United States in August 1954 and joined the initial staff of the U.S. Air Force Academy, Colo., in January 1955, where he served as director of physical education and as a member of the Academy Board. General McGlothlin next attended the Armed Forces Staff College, Norfolk, Va., graduating in January 1958. He was assigned to Headquarters Pacific Air Forces, Hawaii, in March 1958, and served as executive, deputy director, and director of the secretariat for the commander in chief.
In April 1961 he was assigned to the Organization of the Joint Chief of Staff in Washington, D.C., as administrative secretary and then as a member of the Operations Directorate of the Joint Staff. In August 1964 he entered the National War College, Washington, D.C.
In June 1965 he reported to MacDill Air Force Base, Fla., as vice commander of the 12th Tactical Fighter Wing. He organized the advance party of the wing for its transfer to Southeast Asia and arrived with the organization at Cam Ranh Bay, Republic of Vietnam, in October 1965. General McGlothlin flew 86 combat missions in the F-4C Phantom II aircraft.
He returned from Southeast Asia in November 1966 and reported to Reese Air Force Base, Texas, and Air Training Command as the deputy commander for operations, 3500th Pilot Training Wing; from April 1968 to July 1969 he was commander, 3560th Pilot Training Wing, at Webb Air Force Base, Texas; then moved to Randolph Air Force Base, Texas, as commander of the 3510th Flying Training Wing. In April 1970 General McGlothlin was named commander, Air Force Recruiting Service, also at Randolph Air Force Base.
In September 1.971 General McGlothlin went to Lackland Air Force Base, Texas, as vice commander of Air Training Command's Lackland Military Training Center.
His military decorations and awards include the Legion of Merit, Distinguished Flying Cross, Bronze Star Medal, Meritorious Service Medal, Air Medal with three oak leaf clusters, Air Force Commendation Medal, and the Air Force Outstanding Unit Award Ribbon with oak leaf cluster. He is a command pilot with more than 6,000 hours of flying. He has held a Federal Aviation Administration commercial pilot's license since 1955 and has been active in the Air Force Aero Club activities.
General McGlothlin's hometown is Corsicana, Texas.
He was promoted to the temporary grade of brigadier general effective April 1, 1970, with date of rank March 20, 1970.
(Current as of Feb. 1, 1972)
---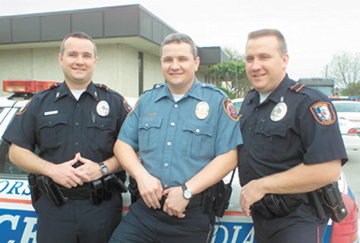 The Jock brothers -- Robbie, Joey and Paul -- are a law enforcement family in Corsicana that have followed similar paths. DAILY SUN photo/KIRK SIDES
4/20/2003 ALL IN THE FAMILY: Jock brothers' law enforcement careers come from following similar life routes
By DEANNA PAWLOWSKI/Daily Sun Staff
It is a tale of one city, and three brothers.
Robbie, Paul and Joey Jock are three brothers who left home to see the world, but returned to their roots and embarked on careers in law enforcement.
All three joined the military in order to leave Corsicana for new experiences, only to return home at the end of their tours, marry hometown girls, and have families. Robbie and Paul both work for the Corsicana Police Department, while Joey is an officer for the Corsicana Independent School District.
Robbie Jock, the eldest brother, was youngest brother Joey's protector, as well as partner in crime.
"We did the typical boy stuff -- broke stuff in the house, and all that," Robbie said.
While Robbie and Joey, who look and sound much alike, were mischievous youngsters, Paul also had an ornery streak.
"I got in a lot of trouble when I was young," Paul said.
Though Paul is the middle brother, he has been in many ways the leader. He was the first Jock brother to join the military, and the first to become a cop. He joined the army upon completion of high school.
"I didn't want to work warehouses," Paul said. "I wanted to travel, see the world, and accrue some college money. I wanted to serve my country, too."
During the first Persian Gulf war, he spent time in Saudi Arabia, Kuwait and Iraq. He worked as a supply clerk and in the motor pool. He was also in the Unit Police, where he was stationed at a remote site that had no military police.
"Between my grandparents and my parents, we were pretty well raised," Paul said. "We have quite a few family members in the military."
After spending five years in the army, Paul returned home to Corsicana. His friend, Lee Thomas, was a deputy with the Sheriff's Department, and his mother-in-law, Jeanie Teetz got him an application. Paul was hired by the Navarro County Sheriff's Department and spent four years as a deputy.
While working full time as a deputy, Paul went to college for two straight years, and obtained his Associate's Degree. He then decided to apply for a position with the Corsicana Police Department. After hiring on with the police department, Paul continued his education at the Texas A &M University-Commerce local campus.
"I finished my last two years worth of school in a year and a half," Paul said.
Paul completed his course work while working for CPD full time as a uniformed officer in the drug interdiction unit, working security on Sundays at Southpark Gardens, and helping wife Brena raise their four children; Jonathan, Presley, Ethan and Landon. He also puts in 25-30 hours a week working security at the NASA camp.
Paul has also recently received his Master Peace Officer license, with nine years of service. This is the highest license an officer can hold, and is achieved through a combination of training points, education and years of service.
"There are very few master peace officers running around," said Corsicana Police Chief G.M. Cox. "Less than 25 percent of our force has their Master Peace Officer license."
Soon Paul will begin work on his Master's Degree through Sam Houston State University. Once he achieves this goal, he would like to teach at the Police Academy, or move into a management position with the city.
"People said I'd never amount to much," Paul said. "I had to prove them wrong."
Brother Robbie didn't have as clear a direction as Paul. After high school, he went to work at Chattanooga Glass, and then worked for TruServe Corporation, which was Cottar at that time. He decided at age 23 that he would join the Air Force to get out of Corsicana, and see a little bit of the world.
With wife Lisa still in Corsicana, Robbie was sent to San Antonio for basic training. Daughter Colby was born while he was in San Antonio, and was a week old before Robbie was able to see her.
Robbie and his family were then stationed in Grand Forks, N.D. for the first three years of his air force career. His job in the military was as security police, which is the air force version of military police.
The family was sent to Ramstein, Germany, where daughter Cassidy was born. After four years in Germany, Robbie and Lisa decided to return their children to the town where they were born. Robbie exited the air force in Germany, and returned to Corsicana, where he went to work for Kmart Distribution Center.
Like Paul, Robbie soon realized that a warehouse job was not what he wanted, and observed that Paul was really enjoying his job with the police department. After a three to four month process, Robbie finally joined the police force as well, just two years after exiting the military.
"It is something I personally feel good about doing," Robbie said. "It is something different all the time, and if you help one person in a week that says thank you -- it makes it all worthwhile.
"Chief Cox and the general public expect the best. I get to work with a lot of good people."
Joey Jock followed his older brothers' lead, joining the Army following high school.
"I just followed suit -- Paul was in the service, then Robbie," Joey said.
He was sent to South America, where he was a sniper. He also picked up a working knowledge of Spanish. This was followed by two years in North Carolina in the 82nd Airborne.
"When I got orders to go to Korea, I decided to give up the military -- with a little encouragement from Paul and Robbie," Joey said.
He and wife Leah had already lived apart for about three years, and he decided it was time to return to Corsicana. Like Robbie, he took a job a Kmart Distribution Center, but spent only five months there before being hired by the Navarro County Sheriff's Department.
"I enjoyed working and meeting with the public," Joey said.
Joey's friend Brent Thompson had gone to work for the CISD as a campus policeman, and convinced Joey to seek a job with the CISD. With hours that were more conducive to family life, and better money, it was not a difficult decision to pursue that course.
Joey is now employed by CISD as campus policeman for Collins Middle School, Drane Middle School, and all the elementary schools.
"We are a presence -- peace of mind for the kids, and the parents feel more confident with us there," Joey said. "We do not handle any discipline problems, only criminal acts -- stealing, assaults, etc."
Being bilingual was one of the selling points that helped him get the job, as there is such a large Hispanic population in the school district. He also likes the hours, which are during school hours, because it allows him to spend more time with sons Dalton and Levi.
Like Paul, Joey does some moonlighting -- working Saturday nights for the Housing Authority, and sometimes installing windows for Larry Acock. And also like Paul, he is ready to further his education.
Since his CISD job gives him summers off, Joey plans to begin work at Navarro during the summer semester on his associates degree.
"I got an associates in electronics -- but will have to start over with the basics to get my degree in law enforcement," Joey said.
"I always knew that I wanted to be in law enforcement. Paul was the most influential factor there.
"I respect him for the way he does his job, and I admire the way he's gone after his education. Paul eats, sleeps and breathes police work."
Robbie echoes this sentiment.
"I think Paul is the better officer as far as the business end of it," Robbie said.
Robbie and Joey's priorities are with their families. Lisa and Leah Jock are both nurses, and Robbie and Joey share the parenting duties with them.
"Robbie and I are both real family oriented," Joey said.
Three brothers -- many similarities, some differences, lots of mutual respect and admiration.
---
Biography moved to Bethel Johnson Page
---
John A. Woodall arrived in Navarro Co. between 1860-1870. He was b. 1824 AL, married Lacy Melissa Harris in Greene Co. AL in 1845 and moved his family to Nacogdoches Co. TX @ 1859. The family moved to Navarro Co. before the 1870 census, which lists him as a ginner; and 1880 as a farmer. The family lived at Dresden. John died on 27 Sep 1890, the day after a tornado hit Dresden. He is buried at the Dresden Cemetery. Lacy Melissa went to live with Mary and Albert Luke Jones. She died 1920 and is buried at Hope Cemetery in Clay Co. TX. John and Lacy Melissa had nine children:

1.. Sarah Catherine b. 1848 AL; married W. Scott Sheppard 1866 Navarro Co.; had three children: Alice b. 1869, Walter W. b. 1870 and Samuel Joseph b. 1871.
2.. Joseph S.L. b. @ 1850 AL; married Mrs. Nancy A. Tisdell?; she already had three daughters. They had six children together: Alcista @ 1873, Tiny/Livvy @ 1869, Jody/Jack @ 1871, Augustus 1874, Alabama @ 1877 and Dallas 1878. Family in Cherokee Co. in 1880.
3.. Samantha J. b. @ 1852 AL; married William L. Harris in 1873 Navarro Co.. They had four children: Charley @ 1874, Alvia @ 1875, John @ 1887 and James @ 1879. Samantha was living with son, John or James, in 1930 Navarro Co.
4.. Mary A. "Mollie" b. 1856 AL; married Albert Luke Jones 1876 Navarro Co. They had two children: Maggie @ 1877 and James 1880. Albert and Mary were in Montague Co. 1920 and are buried at Hope Cemetery, Clay Co.
5.. Francis Marion b. 1858 AL; married Cinderella Dixie Sheppard 1878 Navarro Co. They had fourteen children: Wyley 1880 Navarro Co., (all others born in Falls Co.) Annie Judidiah 1882, Frankie Cinderella @ 1883, George W. @ 1884, Lizora 1886, Jessie 1887, Sidney S. @ 1891, Curtis S. @ 1893, Bella/Bessie @ 1895, Minnie/Mozelle @ 1896, Marshall @ 1897, Verneal 1898, Rex 1900 and Ozell @ 1905. "Frank" and Dixie and buried at the Bremond Cemetery, Robertson Co.
6.. Emma P. b. @ 1861 TX, married J. A. Jones 1880 Navarro Co.
7.. Nancy C. b. @ 1863 TX, married R.C. Degges/Deggs/Deggars 1879 Navarro Co. I have found a M/M R. C. Deggs as members of the Bazette Church of Christ 1885-not there in 1897. Cannot find them on any 1880 census.
8.. Nolie L. b. @ 1865 TX; married J. A. Perry 1887 Navarro Co. Cannot find them on any censuses.
9.. William Sidney b. 1873 Navarro Co. TX; married Mrs. Alice Wheeler McDade @ 1893 Navarro Co. She already had two children: Nora @ 1888 and Walter Nolen 1889. W.S. and Alice had six children: John Noland 1894, Jesse A. 1896, Ana/Emma 1898, Nellie @ 1904, Raymond @ 1905, Cinderella Dixie 1908. The family was in Falls Co. on the 1900 census.
NOTES
Info submitted to TXGenWeb by Buddy Baker
---
GEORGE FRANKLIN GREEN AND ELINOR WINIFRED ELLETT George Franklin Green, son of Charles Green and Martha Catherine Craig Green, was born April 9,1859 in Shelbyville, Bedford, Tennessee. Charles Green was born in Copenhagen, Denmark 1828. Elinor Winifred Ellett, daughter of William Jackson Ellett and Eleanor Jane Dickson Ellett, was born Dec. 9, 1861 in Owens Cross Rds., Madison, Alabama. George and Elinor were married Dec. 29,1881. They moved to Bazette, Navarro, Texas in 1897. George Franklin Green was baptized a member of the Church of Jesus Christ of Latter-day Saints May 10, 1908. They were endowed and sealed Sept. 3, 1913. They were called by Church authorities to come to Kelsey to help with the branch there. George was called as Branch President. He served in that position seventeen years. George and Winnie were prominent in the community of Bazette. He owned and operated a general store in Kerens, Texas when he was called to Kelsey. He sold his property in Bazette and Kerens. He purchased a home and land in Kelsey and became a farmer and she became a good farmer's wife, also a good Branch PresidentÂ's wife. George and Winnie were the parents of eleven children. Only five lived to be adults; four of them made their homes in Kelsey. Daisy Ellena married Earnest Stuart Jones, Robert Jones married Georgia Etta Jones, sister of Earnest Stuart Jones, Viola married Tom Perry, and later Odell Gage, Leon Nathional married Ada Elizabeth Ault, Irena married Jim Bounds and lived in Paris, Texas.
Extract from http://kelseytx.com/stories/e49georgefranklingreen.htm
---
I was recently doing some research regarding my grandfather Walter Blair (deceased). I came across the Corsicana High School Index and saw where my grandfather was listed with the class of 1912.
Some info regarding him after high school. He graduated from The University of Texas in 1917 (Electrical Engineering) and served in both WWI and WWII. He later went on to be a vice president at Texas Power and Light
He died in 1963.
Additionally, his father, J. E. Blair was the superintendent of schools for Corsicana. [Photo of J. E. Blair]
Regards, Kevin Croft
---
William Lorraine Bringhurst, Dr.
Dr. W. L. Bringhurst, Superintendent of the Orphans' Home, died at Corsicana on February 18, 1913. His widow is a daughter of General Sam Houston. A sketch of his life appeared in the Dallas News of February 19.
---
William Lorraine Bringhurst, Ph.D.
Acting President July 1, 1890-January 20, 1891
Born: Alexandria, Louisiana; August 22, 1844
Died: Corsicana, Texas; February 19, 1913; buried in Bryan
Professor of physics, 1882-1885; professor of English and history, 1885-1893; acting president July 1, 1890, to January 20, 1891.
---
Acting President of Texas A&M University July 1, 1890 - Jan 20, 1891.
---
Henderson City Cemetery, Henderson, Rusk Co., TX
A grandson of legendary Texas statesman Sam Houston lies here in a long forgotten grave. Sam Houston Bringhurst (March 3, 1878 to October 11, 1895) was the son of Houston's daughter, Nettie Powers Houston and her husband, William Lorraine Bringhurst, who was a professor in the Henderson College
http://www.cemeteries-of-tx.com/Etx/Rusk/cemetery/hendersoncity.htm
See Also:
---
Edward Harper Calhoun

Edward Harper Calhoun was the nephew of Huldah Harper Carroll. He and his grandmother, Mary Hudson Harper, accompanied Benjamin Franklin Carroll Sr. and Hulda Harper Carroll to Harrison County, Texas between 1840 and 1850. Edward moved to Blooming Grove, Navarro County Texas with Benjamin and Hulda between 1850 and 1860. He married Elizabeth (Dutch) Melton January 2, 1855.

E. H. Calhoun, 5/7/1831-2/2/1863 was the Son of Emily Harper Calhoun 4/1/1809-1837and Duncan Calhoun of S.C. and the grandson of Edward Harper Sr. 1767-1837 and Mary Hudson Harper 1776-2/15/1852, of S. C. His great grandfather is thought to be Solomon Harper of S.C (d. 1800). E.H. was likely born in Copiah County Mississippi where Duncan was listed in the 1830 census along with Edward Harper Sr.
Notes:
---
Sarah Jane Bryce - born 16 February 1830, Carroll Co. GA; married Alfred J. Smith 12 October 1845; they moved to Texas. In 1862, the Smiths left with a group of colonists for Brazil and were shipwrecked on the Isle of Pines, arriving in South America a year after starting out.
I show Alfred and Sarah Jane listed 1860 census in Dresden, Navarro,Texas.
I would like any info on this group.
Thanks
Sue Smith - [email protected]
---
Family Notes: Joseph Epheldred Ingram
Joseph Epheldred Ingram, Civil War Veteran, Nov 4, 1829 - Feb 5, 1915 Husband of Sarah "Sallie" Asenath (Owens) Ingram & was actually the son of JOSEPH Gaston Ingram (originally spelled Ingraham) & Mary Katherine Thompson.
It is through Mary Katherine Thompson's lineage that I am related to George Washington (president), but only as a very distant cousin since George had no children of his own through his marriage to Martha.
About Joseph Gaston Ingram / Ingraham;
Joseph's first name was believed to had been Washington but was later discovered that he had a son named Washington. One son was named Charles Washington and another son was named George W. (nicknamed "Doctor") (middle name could possibly be Washington, don't know) Ingram.
Joseph Gaston Ingram / Ingraham was believed to have had somewhere between
32-34 children. Most of the children have been discovered. This Joseph was married at least 4 times to obtain so many children. Joseph was also a circuit Methodist minister / preacher and a farmer. Joseph is believed to had lived to be at least 110 years of age.
Joseph Gaston Ingraham / Ingram settled in Covington Co., Mississippi as early as 1820. He migrated back to Alabama in the mid 1820's then returned to Mississippi in the 1840's. He is found in Newton Co., Mississippi until 1859. In 1860 he is found in Covington Co., Mississippi, once again, where he died in 1882.
The location of the Ingraham Cemetery is in Section 7, Township 7 N., Range
14 W SW 1/4 of NW 1/4. It is located near Seminary, Covington Co., Mississippi. In 1982 the cemetery had been cleared and had become a field, or pasture, for grazing cattle.
This information provided by Yvonne Davis and fellow researchers of the Ingraham / Ingram family lineage.
Notes:
---
Jack Gorman was married to my cousin. He died when I was 3 years old. He was killed on the job in McAlister, Oklahoma. He was squatted down working on a bolt cutter. The driver of a bull dozer did not see him and ran over him. I was caring for my cousin when she died and I have all of the clippings of him. He was a former wrestler and boxer and taught Gene Autrey to stunt fight. I have a picture of him in his fight costume. His description on some of his papers says he had cauliflower ears due to his fights. Any way I know nothing of his parents. He is buried at Rose Hill. He traveled a lot. But did die in Okla. He was a veteran also. I have his social security card. His number is 451-24-0464-- and simply says Jack Gorman--at the time it was issued he was at the Roosevelt Hotel in San Angelo, Tx. I think Joyce married him in West Texas also.
Notes:
---
Dorsey McGraw
Apr 8, 1915 - May 5, 1989
Dorsey was well known around the Blooming Grove area. He had been proprietor of Quality Food Store for many years.
Horace and Lena (Dorsey) McGraw were his parents. Dorsey was born 8 April 1915 and married Sarah Louesther Hollifield 23 September 1939.
Two children were born to this couple. Harold Don born 15 Mar 1940 married Virginia Marie Warl 19 December 1959. They had three children Ricky Don born 2 December 1961. Donna Marie born 24 August 1962 and Debbie Lynn born 15 January 1964.
Linda Gale McGraw was born 14 September 1942 and married 17 September 1964 Robert C. Bray. The Brays children are Patti Rena born 10 December 1966, Kimberly Lynn born 4 September 1969 and Robert Timothy born 15 November 1972.
Dorsey and Louester are known and loved by their many relatives and friends in Navarro County. by Helen Dozier Varnell
Notes:
---
Dewey Davidson Matthews
b: 01 Aug, 1919, Dawson, Texas – d: 12 Feb, 1995, Corsicana, Texas Staff Segeant Service Company, 358th Regiment, 90th Infantry Division, US Army

Trained at Camp Barkeley, Abilene, Texas Departed from Camp Kilmer, New Jersey, on March 23, 1944, to Liverpool, England, where the 90th trained for the D-Day landing.
Landed at Utah Beach, D-Day plus 3.
Fought with the 90th through France and Germany under General Patton.
Fought iat Hill 122, Falaise Gap, Metz, and Battle of the Bulge.
At end of war, 90th's position was in Czechoslavakia.
He won a Bronze Star for meritorious service.

A couple of war anecdotes:

My father was driving a truck that was the lead vehicle in a convoy. The colonel in charge ordered the convoy to stop at a river crossing and left to find HQ and receive further orders. In his absence, General Patton and staff drove up and asked my father who was in charge of this column and why wasn't it moving across the bridge? My father, driving the lead truck replied, "I guess I am, sir." At that, the general replied, "Well get this (expletive) column moving, sergeant!" The column promptly crossed the bridge!

A friend of my father commandeered a Jeep and told my father to jump in for a ride. They mistakenly drove toward the front line and stopped in a grove of trees. After a few moments, the driver exclaimed, "Let's get out of here, I can smell Germans! As they were driving off, Germans were just around the corner and approaching the grove of trees!

Thank you,

Monty Matthews
Plano, Texas
Notes:
---
Bryan Thomas Barry (October 26, 1851 - March 5, 1919), attorney, was mayor of Dallas for three terms: 1894-1895, 1897–1898 and 1904-1907.
Bryan T. Barry was born October 26, 1851 near Dresden, Navarro County, Texas to Augustus Barry and Margaret Eleanor Younger. He married Odora Elizabeth Williams, daughter of Thomas M. and A. Elizabeth Williams, on May 1, 1874 in Robertson County, Texas. They had two children Charles T. Barry and Lela Barry. After her death in 1914, he married Ellen Sophie Hermany Stone, daughter of Charles W. Hermany and Caroline Levy, and widow of Aubrey Stone.

Prior to moving to Dallas, Barry lived in Navarro and Robertson counties. He was the original land owner of 300 acres that became the community of Barry, Texas. He was admitted to the bar in Houston, Texas in 1872 and practice law in Corsicana.

Bryan Barry moved to Dallas around 1889 where he became involved in banking, investments and law. He headed the law firm of Barry & Etheridge, was Secretary/Treasurer for Texas Savings and Trust

In the 1893 election W. C. Connor won the election for mayor by 2 votes over Bryan T. Barry. Barry brought suit contenting that there were questions about some of the votes, but Connor was seated by the city council. W. C. Connor resigned as mayor in January 1894 and the city council decided to hold a special election. However, the state supreme court ruled on the appeal of the previous case and declared Barry to be the mayor. After which the city council decided to seat Bryan Barry as mayor. He was re-elected mayor in 1894 and was replaced by Franklin P. Holland in the 1895 election. He was elected again in 1897, serving one year and being replaced by John H. Traylor. In 1904, he was once more elected mayor and served until 1906, when Curtis P. Smith was elected.

Barry T. Barry died March 5, 1919 in Dallas, Texas and was interred at Oakland Cemetery, Dallas, Texas. He and his first wife, Odora Williams Barry, were re-interred at Grove Hill Cemetery, Dallas in December 1934
---
Lucille Yates, "Washington, Seattle, Passenger Lists, 1890-1957"
Name: Lucille Yates
Event Type: Immigration
Event Date: 1928
Event Place: Seattle, King, Washington, United States
Gender: Female
Age: 25
Birthplace: Frost Texas
Ship Name: Empress Of Russia
Birth Year (Estimated): 1903
Affiliate Publication Title: Passenger and Crew Lists of Vessels Arriving at Seattle, Washington, 1890-1957.
Affiliate Publication Number: M1383
Affiliate Film Number: 140
GS Film number: 2266126
Digital Folder Number: 004877031
Image Number: 00675

---
Elizabeth "Betty" (Perry) Hanks
Born: Feb 7, 1892 in Cabot, Lonoke Co., AR
Died: Feb 18, 1980 in Camarillo, Ventura Co., CA
Born Elizabeth Perry to Lorenzo Dow Perry and Charles Wade (Smith) Perry on February 7th, 1892 at Cabot, Arkansas. She went by "Lizzie" during younger years.

"Married Thomas Hanks on June 3rd, 1909. He was born on December 3rd, 1867 in Anderson County, Texas and died January 25th, 1934. He is buried at Corsicana, Texas.

'Lizzie', the last twenty years (*1935 - 1955*) her friends called her "Betty", spent her early childhood in Arkansas and her later childhood in Oklahoma and Texas. She has always enjoyed music and learned to play at an early age. The family enjoyed singing and she would accompany them. She began playing for church when about fourteen years old. It was at church where she was playing that she met Tom, who was a visiting minister. They were married June 3, 1909 at Lamesa, Texas. Their first home was in Lockney, Texas.

She attended Scarritt College in Kansas City.
(*Scarritt College for Christian Workers was a college that trained missionaries, teachers and other people dedicated to sharing Christianity.*)
There she had many wonderful experiences. Her training in music has been an immeasurable part of her life.

They spent several active years during the time that Tom was in the ministry. Even when they returned to the Hank' property to live, near Hillsboro, Texas, when he was inactive in the ministry, she was active in the community as a leader in church youth groups and school. They lived there for a number of years, and two of their children were born there. It was the same place his parents had lived. The property was originally homestead land.

Later, they moved to Corsicana. After Tom's death, Lizzie returned to college and took special training at North State Teacher's College at Denton, Texas and continued her music study. For two years, she was an adult education supervisor in Navarro County and Corsicana.

In 1937, she made the decision to move to Southern California where part of her family was living. She continued studying to teach music and one season she studied at a Music Conservatory in St. Louis Missouri. For the past twenty years, she has been a successful music teacher and continues to teach in Alhambra, California where she resides.

Betty, as all her California friends know her, has always participated in church activities and is a devoted Methodist. She is an active member in the Alhambra Musicians Club. Her hobby is growing roses and she has a beautiful rose garden. Also, she enjoys her many friends, going to plays, and to light operas. She is a very doting grandmother."

Perry Family History (1769 - 1955)
by Frances Perry Winter

(*...*) Edits & added information by Marvin Perry 2015
---
John N. DAVIS, buried at Cryer Creek Cemetery, was my great grandfather. He married Mary Elizabeth (Mollie) GREEN. Her parents were Henry G. GREEN and Malinda (POOL) GREEN (also buried at Cryer Creek).
Mollie's sister, Martha Jane (Mattie) GREEN married John N. DAVIS' brother, Thomas J. DAVIS. The only child of Thomas and Mattie who lived to adulthood was Lyman T. DAVIS, who was a cook on the Chisholm Trail into OK, and later started Wolf Brand Chili in Corsicana. (I just noticed on Google Maps that Lyman's home and garage on the Emhouse Road have been raised. Sad. I have vivid memories of going to see him - Mama driving her new Buick on the wavy, rollercoaster-like road. Loved to bounce around in the back seat!
Following the death of John N. DAVIS (thrown from a horse which he was breaking in, fell on a sharp stump and punctured a lung), In 1882, Mollie married John Henry DAVIS, a had a son (John Thomas DAVIS). Some people mistakenly record John Thomas DAVIS as John N. DAVIS' son and brother to Othman, my grandfather, and brother to Bert - the only two children John N. and Mollie had). Following the death of John Henry DAVIS, Mollie married Z. B. WALKER.
Well, I have rambled. Sorry. I know you do not need all of this information. However, I am frantically writing a book on the DAVIS/GREEN/GILCREASE/BROCK/ and many other lines. I have tons of old photographs that I simply must get online - just beginning to learn how. Hope to take a course at the Dallas Public Library or hire someone to help me. I am 77 and just praying that I can preserve and publish everything for future generations. Any suggestions are welcome.
Kindest regards,
Gail Abbott
---
Larry Wilbur Hickson
b. Dec 8, 1933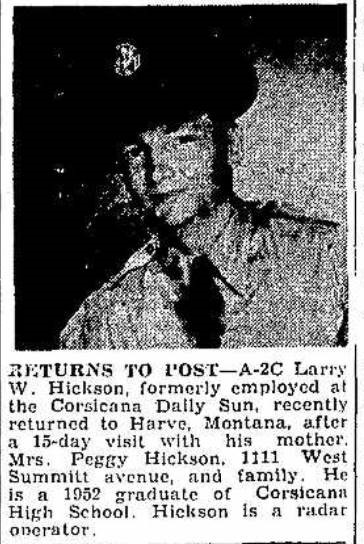 CHS grad. 1952 s/o Dalbert Franklin Hickson and Hattie Bell "Peggy" (Smith) Hickson
---
John Allen "Johnny" Johnston
Mar 31, 1931 - Sep 19, 2009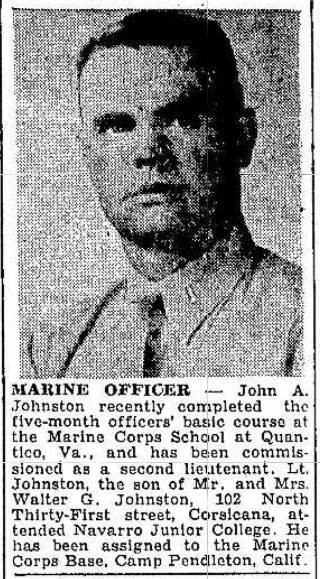 Notes: