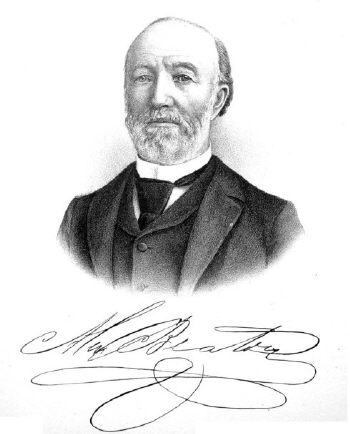 Alexander Beaton, son of Donald and Margaret Beaton, was born February 19, 1820 in Iverness, capital of the Highlands of Scotland. His parents died when he was thirteen years of age. He received an academical education in his native town. When he was seventeen years of age he was sent to London, England, to work in the office of an accountant. He was affiliated with this office for six years.
While in London, Mr. Beaton attended and witnessed the Coronation of Queen Victoria on June 18, 1837. He was later to tell of the grand pageant to his family and friends.
Mr. Beaton came to America in 1843, landing at New Orleans, Louisiana, where he filled an appointment secured for him before he left London. In 1844, The Morning Delta newspaper headlined an article on Yellow Fever, then raging in the city, and advised all un-acclimated foreigners and strangers to leave New Orleans immediately. With this warning and advice he at once resigned his situation there and left for St. Louis, Missouri. He remained in that state until he entered the United States Army as a volunteer in the Mexican War.
For the time being he taught school and read law, making Bolivar, Polk County, Missouri, his home. While there he met Colonel Thomas Ruffin, a profound lawyer, and Judge Ruffin of the Supreme Bench, and read law in the office of the judge, who was an uncle of Colonel Ruffin.
In the summer of 1847 while he was engaged in reading law in Missouri, another call was issued to raise a regiment of mounted volunteers in New Mexico to serve in the Mexican War then in progress. Mr. Beaton at once abandoned his studies and volunteered as a Private in Company K of the Third Regiment.
He was honorably discharged in 1848 and received $8.00 per month as a Mexican War Veteran. While in Taos, New Mexico, Major Beaton frequently met and chatted for hours with the famous and noted scout and mountaineer, Kit Carson. Carson had relatives in Taos and would often call at army headquarters.
Major Beaton and Colonel Ruffin came to Texas following his discharge from the army in 1848, stopping in Houston for a brief period. They stayed for a little while at Washington, a new town that had sprung up like magic in Washington County. They then settled temporarily at Brenham where Major Beaton taught school for five months and then located at Richmond in Fort Bend County.
In 1849 Colonel Ruffin became discouraged with the outlook in Texas and decided to return to North Carolina, his native state. He tried hard to persuade his friend, Beaton, to accompany him, but to no avail. Ruffin located in Goldsboro, North Carolina, where he opened a law office. He was nominated at a Democratic Convention in 1850 to serve for that Congressional District and remained continuously in that office until the period of secession. When the Civil War began he entered the Confederate Army and raised a regiment. He was killed at the battle of Kelly's Ford, and where it was found on his death that he had a brigadier general's commission in his pocket.
Major Beaton arrived in Corsicana March 16, 1850, where his first job was to assist R. N. White, County Clerk, in the duties of his office. While so employed he was appointed by the Commissioner's Court to fill the un-expired term of assessor-collector of the incumbent in the tax office. He had to travel alone over what was later named Hill, Johnson, and McLennan, then unorganized counties. Navarro County was sparsely settled and Indians made occasional raids and attacks on the settlers.
He obtained his license to practice law in 1851 and then became a partner of Colonel Roger Q. Mills, doing business under the name of "Mills and Beaton".
When the H. & T. C. Railroad became a possibility to Corsicana in 1871, Major Beaton was appointed chairman of the finance committee to secure the railroad, and he gave both money and land for the purpose. He thought the future of the little city would be ruined if they did not get the railroad. Other members of the committee included R. N. White, James Kerr and J. R. Loughridge. Captain Haines was the locating engineer and Captain Alexander A. Angus was terminal agent. The community of Angus was named after the latter.
Major Beaton and the railroad committee, with the help of James Kerr, Sr. and Colonel William Croft, worked long and hard to secure the railroad for Corsicana. For this reason, grateful citizens named the main street in the city for Beaton.
He was a dedicated Democrat, democratic to the core in his views of government. He believed in America; that all men, as good citizens yielding strict obedience, each man holding sacred the rights, duties and obligations he owed to his fellowman.
Beaton was raised a true blue John Knox Presbyterian, the church of his parents and forefathers for many generations, with whose Calvinistic and authoritative teachings he later could not agree. Therefore he became a member of the First Methodist Church with Mrs. Beaton.
He voted for secession from principles and believed at the time that, in so doing, he was right. He had a lingering feeling of great respect for every true Confederate who had put his life in peril or had done other services at home or abroad, on land or sea, for his favored and chivalrous South.
In 1873, during the term of Mayor T. J. Haynes, the city of Corsicana passed an ordinance to issue city bonds in the amount of $100,000 to be given to the Methodist Church of Texas as a "pure donation", the consideration or inducement being that the said Methodist Church would establish and locate permanently in Corsicana a denominational school and university, the same that is known today as Southwestern University located at Georgetown, Texas. The city council based their authority to do so by virtue of a provision in the then current city charter. Under the terms of the city ordinance the question was submitted to the citizens at a duly held election, with the results being seventy percent, or the majority, in favor of issuing the bonds.
The glaring and outrageous injustice to property rights as well as the illegality of the entire proceeding aroused a large body of the tax paying citizens to immediate action. A number of the leading men of the city, property owners and heavy tax payers, met at once for consultation. Major Beaton, Captain James Garitty and Major A. M. Lea were appointed to take steps to guard the rights of the citizens and defeat the issuance of the bonds. Their prompt action in this matter made it possible to have the action rescinded and the bonds were not issued; thus Corsicana was saved from a debt that would have hung like a pall and blight over the progress of the city for many years.
Major Beaton was later to say that he never felt more satisfaction that he did in the defeat of the ordinance.
On July 11, 1852, Major Beaton married Elizabeth Jane McKinney, daughter of the Reverend and Mrs. Hampton McKinney. She moved, with her family, to Navarro County in 1846 from Madison County, Illinois, where she was born and partly reared. The Beatons had three children; Ralph, who was in real-estate and insurance and a member of the firm of Damon, Beaton & Co.; Thomas Ruffin, named for the Major's old friend, Colonel Thomas Ruffin, and was also in partnership with H. G. Damon and his brother, Ralph; their daughter, Mary Kate, married Dr. S. W. Johnson, who was a prominent physician of Corsicana.
Major Beaton was never an office seeker. He was notary public in 1853 and 1854. The Texas Legislature passed an act in February, 1854, to legalize the acts of Alexander Beaton, Notary Public, Navarro County. He was a deputy clerk in November 1850. Beaton gave land for a military school in the early days of Corsicana and many of the sons of the early settlers attended this school. It was located at the south end of Fifteenth Street, with an enrollment of 200 students. It was very successful during its day. Major Henry Bishop, his wife and brother, founded the school.
Major Beaton and his family lived in a beautiful home built on what was to become known as "Gem Hill." Around 1884 he sent about 150 precious and semi-precious stones to Colorado to have the surface polished. He had found these stones at "Gem Hill" and had a private collection that was the wonder and admiration of all who saw them. All of the stones were found in the form of water-rolled pebbles, some on the surface, some turned up by the plowshare, and some under the surface at a depth of six feet.
He also found at Gem Hill the evidence of the work of prehistoric man. The last years of Beaton's life were spent in the study of "nature's secrets".
The Navarro County Historical Society wishes to locate a Texas Historical marker on Beaton Street in front of the Cooper Shoe Store, in the very building that is owned by a granddaughter of Alexander Beaton.
Major Beaton died June 11, 1899, and is buried in Oakwood Cemetery in Corsicana.
Notes: