CHERRY, JOHNSON BLAIR
(1901-1966)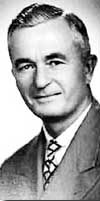 Johnson Blair Cherry, football coach and oilman, was born at Kerens, Navarro County, Texas, on August 7, 1901. He began his coaching career at Ranger after graduating from Texas Christian University in 1924. After three years at Ranger he moved to Northside High School in Fort Worth. In 1930 he was named head coach at Amarillo High School and thus embarked on a remarkable career that saw his fabled Sandies win eighty-six of ninety-one games and four state championships in seven years. In 1936 he married Florence Snodgrass of Amarillo; they had two children. Cherry was hired at the University of Texas in 1937 by Dana X. Bible,qv and served as first assistant on the Longhorn staff for ten years. When Bible retired after the 1946 season, Cherry was named head coach. He accepted the challenge of following Bible and gambled on a new formation, the "T." As executed by quarterback Robert Lawrence (Bobby) Layne,qv the formation was an immediate success. In Cherry's four years at Texas, he had one Southwest Conferenceqv championship, three postseason bowl games, and an overall record of 32-10-1. He resigned after the 1950 season, in which his Longhorns ranked number two nationally and became the school's first team to win all of its Southwest Conference games, to enter the oil business in Lubbock. Cherry was voted into the Texas Sports Hall of Fameqv shortly before his death in Lubbock on September 10, 1966. He was buried in Llano Cemetery, Amarillo.
BIBLIOGRAPHY: Joe B. Frantz, The Forty-Acre Follies (Austin: Texas Monthly Press, 1983). Denne H. Freeman, Hook 'Em Horns: A Story of Texas Football (Huntsville, Alabama: Strode, 1974). Vertical Files, Barker Texas History Center, University of Texas at Austin.
Jones Ramsey
"CHERRY, JOHNSON BLAIR." The Handbook of Texas Online. http://www.tsha.utexas.edu/handbook/online/articles/view/CC/fch25.html
See Also:
---
JONES, ERIN BAIN (1896-1974)
Erin Bain Jones, attorney, author, philanthropist, and lay expert on environmental issues, the daughter of Lewis E. and Barbara (Harris) Bain, was born at Kerens, Texas, on July 28, 1896. Extensive travel-first with her family, as her father, a bank examiner, moved from job to job, and later with her husband, John Leddy Jones, a wealthy businessman-instilled in her a life-long desire for knowledge. After receiving a bachelor of arts degree from the University of California at Berkeley in 1922, she enrolled in the first law school class at Southern Methodist University and graduated in 1928. She went on to earn three additional degrees at SMU: a master's degree in comparative literature (1935), and master's (1968) and doctoral (1969) degrees in law.
Mrs. Jones made significant contributions by her legal research, her local and statewide civic activities, and her interest in oceanography and the environment. She wrote two books, Earth Satellite Telecommunication Systems and International Law (1970) and The Law of the Sea: Oceanic Resources (1972). She was an associate of the Marine Biomedical Institute at the University of Texas Medical Branch at Galveston and served on that body's national advisory committee. Although not herself a scientist, she traveled to both the North Pole and the South Pole on oceanographic research expeditions and studied energy and pollution-related problems. She was a member of the American Bar Association and the International Federation of Women Lawyers. She served as a consultant to the advisory board of the Texas Atomic Energy Committee. A staunch friend of education, she also served on the executive committee of the Chancellor's Council of the University of Texas System.qv She contributed funds to the University of Texas as well as to Dallas Baptist College, Baylor University, and SMU. She donated the Erin Bain Jones Library of Comparative Literature to SMU. She was a cofounder and first president of the Friends of the Dallas Public Library and a member of the boards of directors of the Dallas Museum of Fine Arts (now the Dallas Museum of Artqv), the Dallas Civic Opera Company, and the Dallas Theater Center.
Southern Methodist University recognized Erin Jones as a Distinguished Alumna in 1962; she was subsequently chosen one of five annually selected Women of Achievement in 1970. She died in an air crash at Galveston on April 30, 1974.
BIBLIOGRAPHY: Dallas Daily Times Herald, May 1, 1974. Dallas Morning News, January 19, 1973, May 2, 1974. Proceedings of the Philosophical Society of Texas, 1974.
Joseph W. McKnight
---
See Joe D. Hambrick - 78th Birthday - 2001 & WWII Biography
---
James Warren Stewart
1843-1914
James W. Stewart is my great-great-grandfather, and Robert Victor Stewart is my great-grandfather. James Warren was born 18 Dec 1843 in Newton County, GA. He would enlist with the 36th Georgia Infantry, Company A, at Mt. Vernon, GA, on 15 Jan 1862, under the command of Col. Joseph Glenn. He would take part in the Vicksburg Campaign, having fought with the 36th at Champion Hill, MS, and would surrender at Vicksburg 4 Jul 1863. On 9 May 1863, he would be paroled. He would continue to fight with the 36th Ga. Inf., and at some point in time was captured again. According to his documentation that I have obtained from the War Dept., he was a POW at Nashville, Tn, and took an oath of allegiance to the Union on 4 Jan, 1864.
Interred at Dresden Cemetery
Submitted by Robert J. Stewart III