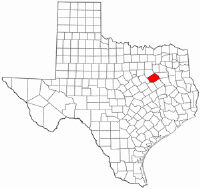 NAVARRO COUNTY. Navarro County (F-19) is in north central Texas and is bordered by Henderson, Freestone, Limestone, Hill, and Ellis counties. The Trinity River forms its northeast boundary. The center of the county lies forty miles south of Dallas at 32°05' north longitude and 96°30' west latitude. The county covers 1,068 square miles of level and rolling blacklands and has some woodland areas of oak, hickory and pine, but is mainly open and gently rolling prairies. The valley, or bottom, soil is black loam with a mixture of some sand and is very rich. Grasses are tall, primarily buffalo grass and Texas grama, and trees along the streams include oak, elm, pecans, bois d'arc, and mesquite. Between 30 and 40 percent of the land is considered prime farmland. Natural resources include clay, limestone, sand, gravel, oil, and natural gas. Over 200 million barrels of oil have been taken from the county since 1895. County elevation ranges from 293 feet in the southeast corner to 536 feet in the northwest corner. There are many watercourses throughout the county; two of the largest are Chambers Creek and Richland Creek. The temperature ranges from an average low of 36° F in January to an average high of 96° in July and averages 66° year round. Precipitation averages 37.74 inches per year, and the growing season is about 259 days.
During the settlement of Texas the predominant Indian tribes in Navarro County area were the Iones, Kickapoos, and Comanches. One of the first white groups to settle in the area, the families of John, Silas, and Ben Parker,qqv built a fort near the site of present Groesbeck (Limestone County) on the Navasota River in 1833. On May 19, 1836, the fort was attacked by Kiowa and Comanche Indians, and the settlers were either killed or taken captive, including Cynthia Ann Parker.qv The first Mexican land grant in the area that became Navarro County was to Thomas J. Chambersqv on September 23, 1834. His grant consisted of 35,424 acres fourteen miles east of the site of present Corsicana. Chambers served as surveyor counselor and supreme judge for the Mexican officials and in 1836 received an empresarioqv contract to bring 800 families to Texas. In 1836 George Washington Hillqv was sent to the area to be an agent to the Kickapoo Indians. He built a trading post south of the site of present Spring Hill. In October 1838 a surveying party of about twenty-four men arrived at the trading post and set their camp one mile west. On the morning of October 4, the surveyors were attacked by the Kickapoos. In what is now called the Battle Creek fight,qv all but seven of the surveyors were killed. A rescue party was sent back to bury the dead, but only bones were found. One mass grave was dug one mile west of the site of present Dawson.
In the spring of 1839 more families moved in and settled around the trading post. Two growing settlements were Porter's Bluff and Dresden. All of the legal work for the two sites was conducted at Franklin, the county seat of Robertson County, 125 miles south of Hill's Trading Post. People in Porter's Bluff and Dresden felt they needed their own county with a local authority to handle legal matters. In the spring of 1846 a group led by Edward H. Tarrant,qv a Texas Ranger, met at the home of Thomas I. Smith.qv The men at the meeting drew up a petition for a new county to be made out of Robertson County, with a temporary county seat to be located at the home of W. R. Howe. Clinton M. Winkler,qv a local lawyer, presented the petition to the state legislature in Austin, and it was approved on April 25, 1846. The new county included all the portion of Robertson County within the east bank of the Brazos River to the northwest corner of Limestone County. It also extended to the Trinity River and north to Dallas County. It was named Navarro County in honor of José Antonio Navarro,qv a Texas patriot. The county seat remained at Howe's home until his death in 1847. On February 8, 1848, a committee headed by Tarrant voted to set up a permanent county seat at the halfway point between Porter's Bluff and Dresden. Rev. Hampton McKinney was already living at the site and later constructed the McKinney Inn at the location. On February 25, 1848, Thomas Smith donated 100 acres of land at the McKinney site, and C. C. Taylor was employed to construct a town plot. José Antonio Navarro chose the name Corsicana in honor of the Isle of Corsica, his father's birthplace. The town is located forty-five miles southeast of Dallas on Interstate Highway 45. Over the next twenty years the original Navarro County was divided into the following counties: Limestone in 1846, Ellis in 1847, Tarrant in 1847, part of McLennan in 1850, Hill in 1853, Johnson in 1854, Parker in 1855, Palo Pinto in 1856, and Hood in 1866.
In 1850 Navarro County had a population of 2,190. Of this number, 1,943 were white and 247 were black. By the beginning of the Civil Warqv the population had risen to 5,996, of which 4,105 were white. In 1861 there were 1,920 slaves in the county valued at $3,440,000, and the residents, on February 23, 1861, voted for secessionqv by a vote of 213 for and three against. Over 60 percent of the white males in Navarro County wore the uniform of the Confederacy. The first military company organized in the county was the Navarro Rifles. The group consisted of ninety men, and a training camp was set up in Spring Hill on March 6, 1862. In the fall of that year a second company was organized, and in 1863 three more were started. The Navarro Rifles left Texas in 1861 and fought with Hood's Texas Brigadeqv in Virginia. Throughout the Civil War and continuing through the turn of the century the county population rose. In 1870 the number was 8,879; it increased 244 percent within the next ten years, to 21,702. By 1900 the population was 43,374. Private schools were first established in the 1850s. In 1865 a military school was built in Corsicana, and a female college was established in 1880. The Corsicana public school system opened in 1880, and the first class graduated in 1884. Growth in Navarro County was helped greatly in 1871 when the Houston and Texas Central Railway came through. In 1880 the Southwestern and Cotton Belt railways were added, making it easier for businessmen to ship their goods to market. Most businesses were in two areas-farming and, after 1895, oil. By 1880 there were 2,793 farms valued at $2,246,500 in the county. The main crops grown included cotton, corn, tobacco, peaches, sweet potatoes, and pecans. The number of farms and their values increased through 1900. Livestock production also increased; cattle, hogs, and poultry were raised. Oil was discovered in the county in 1894. In 1895 the first railroad tank car of oil was shipped from Corsicana by the Corsicana Petroleum Oil Company. By 1898 Corsicana had a refinery that produced 500 barrels a day. Along with agriculture and oil, there were a growing number of manufacturers in the late 1800s. Manufacturing establishments grew 250 percent between 1860 and 1900. The number of employees jumped from twenty in 1860 to 655 in 1900.
By 1900 most religious denominations in the county had established their own churches. The Baptists and Methodists recorded deeds to church property as early as 1851. In May 1853 twenty members of the Presbyterian Church met. Mr. and Mrs. John Noonan donated land for a Catholic church in 1870, and in 1871 the St. John Episcopal Church was organized. The First Christian Church was formed in 1888, the Church of Christ in 1889, and the first Jewish synagogue was built in 1900. Newspapers published in the county began before the 1900s also. The papers include the Prairie Blade in 1859, the Corsicana Times in 1857, the Courier in 1880, and the Democrat in 1885. The Daily Sun, started on March 2, 1897, was still in operation in the 1980s. The county prospered from 1900 to 1930. The population increased from 47,070 in 1900 to 60,507 by 1930. Farm production showed a similar rise; in 1930 6,513 farms produced 88,017 bales of cotton. Manufacturing grew also, but began a decline after 1920, when fifty-three establishments fell to forty-three in 1930. Under President Franklin Roosevelt the Work Projects Administrationqv built roads through the county in the 1930s. Other works included picnic tables, a fishing pier, and a boathouse at Lake Halburt. From 1930 to 1970 population and agriculture decreased. The population declined to 51,308 in 1940 and to a twentieth-century low of 31,027 by 1970. The number of farms in the county decreased to 3,158 by 1950 and continued to decline to 1,796 by 1969. Cotton production dropped from 70,652 bales in 1950 to 6,970 bales in 1969. Livestock dropped to 1,599 cattle and 1,570 hogs in 1969. After 1970 the population rose to 35,600 in 1980. Though the total number of farms decreased to 1,464 in 1982, the production of cotton increased to 8,477 bales. Cattle increased to 90,596 that year. Manufacturing reached a low of twenty-six establishments in 1940 but has risen steadily since then. The county business patterns show the most growth in employment from 1953 to 1980 in construction, wholesale trade, finances, and services. A growth in education has continued from the mid-1930s. In July 1946 county residents voted to build Navarro JuniorCollege. Classes began on September 16, 1947; the enrollment was 238. In 1988 the county had school districts at Corsicana, Kerens,Mildred, Dawson, Frost, Blooming Grove, and Navarro. The number of residents over twenty-five years of age with a high school or college degree increased from 17.7 percent in 1950 to 48.5 percent in 1980. Navarro County voters generally supported the Democratic partyqv from 1848 through 1992, voting for Republican presidential candidates only in 1972 and 1984. In 1990 the county population was 39,926. Primary crops grown were oats, wheat, hay, sorghum, and cotton. Primary vegetables included potatoes and sweet potatoes; peaches and pecans were also grown. Livestock included cattle, milk cows, and hogs. Industries included oil, gas extraction, road construction, meat packing, fruit and vegetable canning, and the manufacture of prepared foods, men's hats, rubber products, oilfield machinery, and glass containers. Five railway lines cut through the county, and major roads included Interstate Highway 45, U.S. Highway 287, and State Highway 75. Corsicana was the largest town in the county and had a population of 22,911, more than one-half of the total county population. Smaller towns included Kerens (1,702), Blooming Grove (847), and Dawson (766).
BIBLIOGRAPHY: Annie Carpenter Love, History of Navarro County (Dallas: Southwestern, 1933). Wyvonne Putman, comp., Navarro County History (5 vols., Quanah, Texas: Nortex, 1975-84). Alva Taylor, History and Photographs of Corsicana and Navarro County (Corsicana, Texas, 1959; rev. ed., Navarro County History and Photographs, Corsicana, 1962).
Julie G. Miller
"NAVARRO COUNTY." The Handbook of Texas Online. http://www.tsha.utexas.edu/handbook/online/articles/view/NN/hcn2.html