Charlie Ray Green was born Sept 23, 1917 in Emmett, Navarro County, Texas. He was the fifth child born to Benjamin William and Alice Elizabeth (Pevehouse) Green. He is the grandson of Caleb & Mollie (Williams) Green and also of James Franklin & Mary Cathryn (Caldwell-Hollman) Pevehouse.
The Benjamin Green family consisted of eight boys and one girl. They resided in the Emmett community for six years. They moved to Retreat and lived there for three years. In 1926 they moved to the Whorton farm south of Frost in the small community of McCord.
Charlie attended school at Retreat and McCord. On October 17, 1941 he went into service in the 220 Armored Engineers. During World War II, he served in the European Theater Operations in France and Germany. He received the Good Conduct Medal, four Battle Stars, the Overseas Medal, and the Rifleman's Medal. He was discharged on Oct 9, 1945.
Charlie married Willie Bee Cook, the daughter of William Henry & Mattie Bell (Combs) Cook, in Louisville, Kentucky on December 14, 1942.
Willie Cook Green was a Frost Native. There were eight girls in her family which lived south of Frost at Jones Ranch. Mr. and Mrs. Will Cook came to Texas as a young couple from Olive Hill, Tennessee and lived most of their lives near or in Frost. They are buried in the Frost Cemetery.
Willie was a graduate of Marnello National School of Cosmetology in Dallas. She worked for the hair styling division of Sanger Brothers as well as working in Tennessee and Kentucky during World War II. She operated a beauty shop in Frost for 32 years.
After World War II, Charlie ran a farm near Frost. Willie and Charlie were both active in the Frost Methodist Church.
Charlie and Willie have one son, Ronald Ray Green. Ronald is a graduate of Frost High School and the Dallas Tabulating and I.B.M. College. He is married to Elizabeth Sue Fair Green. They have three children: Ronald Todd, Matthew Glenn, and Candace April.
Willie died on July 1, 1992 and was laid to rest in the Frost Cemetery. Charlie passed away on Jan 17, 2003 at the Medical Center in Lancaster, Dallas Co., TX.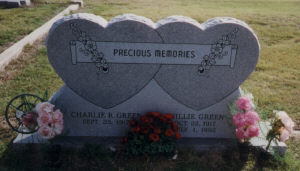 Frost Cemetery, Frost, Navarro Co., TX
Marker Photo by Edward L. Williams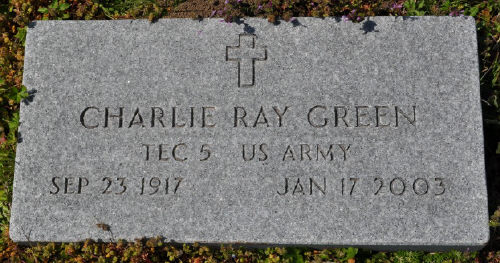 Frost Cemetery, Frost, Navarro Co., TX
Marker Photo by Karen Rost
Notes: