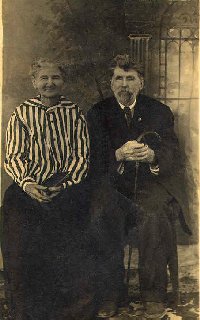 Henry Thomas Williams was born in Georgia in 1832. He moved to Alabama in 1842, to Mississippi in 1851, and to Arkansas in 1854. On May 5, 1862, he enlisted in the Confederate Army, Co. G 2nd Arkansas Infantry at Pine Bluff Arkansas. This unit participated in more than forty-five various engagements during its career including Shiloh, Siege of Corinth, Perryville, Chickamauga, Chattanooga, Spring Hill and the Siege of Atlanta until their final surrender at Bennett's House on Apr 26, 1865. H. T. fought two days in Nashville and was wounded in Spring Hill, TN.
After the war, H. T. returned to Arkansas where he married a widow, Martha Jane Lindsey, nee Thomas, on Dec 12, 1866 in present day Dorsey County, Arkansas. Martha was born in Jasper County, Mississippi in December 1841, the daughter of John Covington Thomas and Sarah (Terrell) Thomas. Martha's first husband, Arthur Jones Lindsey, was killed October 18, 1863, in the Civil War. She and Arthur had three children, two that died as infants, and a third, William Martin Lindsey.
Henry Thomas and Martha had three children while living in Arkansas, Mollie Othella, James Sampson "Samp", and Joseph Thomas Williams. The family moved to Texas in Dec 1876 and settled in the Raleigh community of Navarro County but soon moved to the Emmett community where their second daughter, Nettie, was born in 1878.
In Oct 1899, Henry Thomas applied for his Confederate Veterans Pension, #3161 in Navarro County. By 1910, Henry Thomas and Martha were living with their son Samp and his family. Henry Thomas died on Nov 4, 1916 and was buried at the Prairie Grove Cemetery in Emmett, Navarro County, Texas. Samp moved his family to Henderson County, Texas for a short time before moving to Corsicana. Martha applied for, and received, her Confederate Widows' pension #33538 and continued to live with her children. In the 1920 census she was enumerated with Samp's family in Henderson County on Jan 2, 1920 and was listed again with her son William Martin Lindsey in Mexia, Limestone County, Texas for the same year. It was in Mexia that Martha passed away on Aug 12, 1923. Her C.S.A. Widow's Mortuary Warrant, and Prairie Grove Cemetery Association records show she was buried in the Prairie Grove cemetery in Emmett. Today there is no marker but an obvious spot next to her husband and children marks her burial location.
Descendents who remember H. T. recall that when he would start talking about the war, he would get all worked up and bang his walking cane on the floor, cursing those "damn yankees".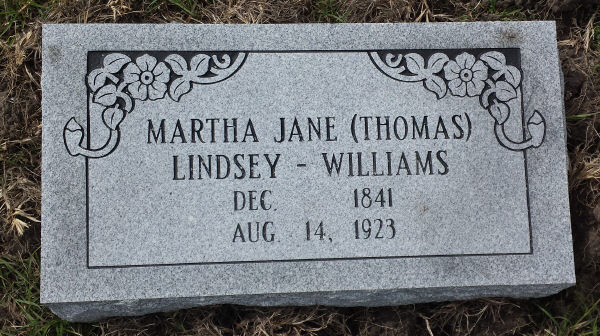 Marker Placed in 2014 by Williams and Lindsey descendents
---
OBITUARY



Uncle Henry Williams died Saturday night at the home of Mrs. Cale Green, near Emmett, Mrs. Green being his daughter. One more old ex-rebel has gone to his reward. On account of other duties I failed to attend the funeral.
Notes:
---
Children of Henry Thomas and Martha Jane (Thomas/Lindsey) Williams:
Name

Born

Died

Spouse

Dec 21, 1858

Sep 4, 1925

Mary E. Williams
Nancy Jane Osborne

5 Jan 1867

Dec 30, 1943

Calep Pinkney Green

26 Feb, 1870

Feb 6, 1938

Della Caldonia McAfee

Dec 28, 1871

Apr 20, 1930

Alice Zelina McAfee

Nettie E. Green
Mar 13, 1878
Jun 28, 1893
Robert Natche "Bob" Green
Notes: